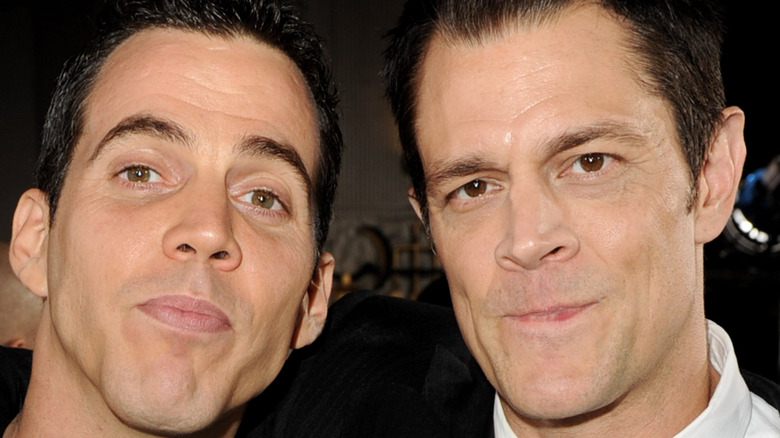 The following article includes allegations of risky substance abuse, disordered eating, mental health struggles, and suicide.

MTV's "Jackass" defined a generation. In a time before iPhone cameras and YouTube stardom, the series arguably stoked a bold — and probably irresponsible — fearlessness in early aughts youth. For many, it was an era of possibility, one where MTV wasn't just a seemingly unending marathon of "Ridiculousness," and Port-O-Potties still carried just the right balance of danger and literal toilet humor to feel exciting rather than something that should be avoided at all costs. The series, which debuted in 2000 and led to numerous TV spin-offs and feature-length films, was a glowing testament to a DIY ethos. It was definitive proof that, with a good idea and a camera, any ragtag group of friends could become stars.
Today, the world has changed. You don't even need to leave your bedroom to become TikTok famous, and many of the show's key players have shed their seemingly perma-adolescence to pursue serious film and entertainment careers or settle down and start families. Nonetheless, there's one thing they cannot shake: the "Jackass" curse. As Chris Raab described to Page Six, "Jackass" was "more or less a lifestyle," but one that led to lasting scars — both physically and emotionally — for much of the cast. The very thing responsible for their success also had a heavy hand in their struggle. Here's a look at the lives that were damaged by the franchise.
Johnny Knoxville maxed out his concussion quota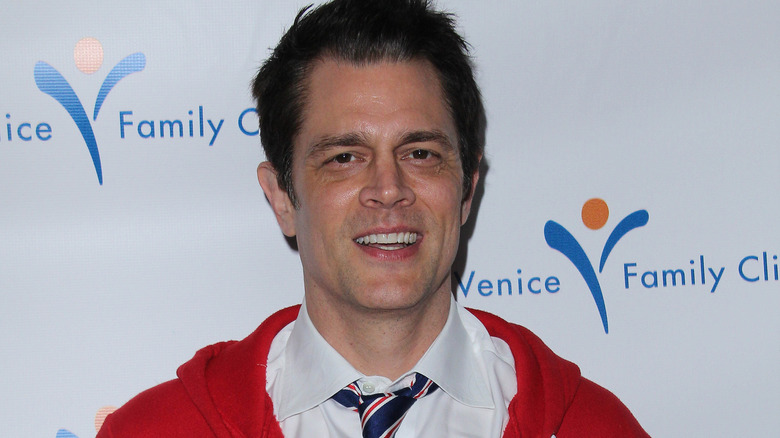 In 1998, Johnny Knoxville planted the seed that would become "Jackass." At first, it was a simple article in which Knoxville wanted to use himself as a test subject for self-defense equipment (think: tasers, pepper spray, and a bulletproof vest). "A few magazines wanted the story," he told Maxim, "but nobody wanted the liability." He eventually sold the idea to Big Brother Magazine, which turned the project into a video. With Spike Jonze and Jeff Tremaine on board, the trio shopped the video around to networks and landed at MTV.
Over the course of two decades, Knoxville managed to parlay his "Jackass" success into a serious film career. He's appeared in movies like "The Dukes of Hazzard," "Elvis & Nixon," and "Action Point," which he wrote and produced. Nonetheless, "Jackass" left him with a few battle scars. The writer revealed to GQ that, among a myriad of other injuries, he had to use a catheter for three years after botching a motorcycle stunt while filming MTV's tribute to Evil Knievel. As for his later work, 2018's "Action Point" was the source of four concussions. That's when he decided to throw in the towel — but not before sustaining broken bones, a brain hemorrhage, and another concussion after facing off with a live bull while filming "Jackass 4."
"I can't afford to have any more concussions," he told GQ. "I can't put my family through that."
The Jackass lifestyle fueled Chris Raab's addiction
By the time Chris Raab linked up with the creators of "Jackass" in 2000, had already received acclaim within the skateboarding community for two stunt videos he filmed with Bam Margera and Ryan Dunn as part of the CKY (Camp Kill Yourself) crew. Though he may have been ready for the success, he wasn't ready for the culture of rampant substance use that it created — and the way his castmates habitually justified their addictions.
In Page Six's "Jackass" profile, Raab revealed that he started taking painkillers for injuries sustained on-set, but the show's "obsessive lifestyle" was a perfect storm for addiction. "Before you know it, you're just so caught up in it," he said. "Then what happens is people are like, 'Raab, you have a drinking problem, you're doing too many drugs,' and you're like, 'I'm not as bad as this person and this person' and you're surrounded by a bunch of drug addicts and alcoholics and you're just pointing the fingers at each other."
He ultimately stepped away from the series once he started getting "darker into drugs and drinking." He got a job waiting tables (he'd blown through most of his "Jackass" money by then) and started rebuilding his life. Today, he's sober.
If you or anyone you know is struggling with addiction issues, help is available. Visit the Substance Abuse and Mental Health Services Administration website or contact SAMHSA's National Helpline at 1-800-662-HELP (4357).
Ryan Dunn was killed in a tragic drunk driving accident
When it came to filming the first season of "Jackass," Ryan Dunn dove right in — literally. His first stunt was diving into a tank of sewage. Over the course of three seasons, the star made a name for himself by performing some of the show's more dangerous stunts, like diving into 32-degree water or chugging an entire bottle of Jose Cuervo in less than a minute. He eventually graduated to the spin-off "Viva La Bam" and appeared in every "Jackass" film up until his 2011 death.
Dunn's death is by far the show's biggest tragedy. According to The Hollywood Reporter, the star had a blood-alcohol level that was "more than twice the legal limit" and was driving 130 miles per hour when his Porsche flew over a guardrail and crashed into a tree not far from Bam Margera's hometown of West Chester, Pennsylvania. Per The Guardian, the car burst into flames, and both Dunn and the passenger, "Jackass Number 2" production assistant Zachary Hartwell, were killed.
Dunn's death sent shockwaves across the "Jackass" community. Chris Raab, who'd been friends with Dunn since he was 12 years old, told Page Six that he was "completely destroyed." Margera's mother, April, admitted that Dunn's death affected her family "profoundly," and heartbreaking photos of Margera sobbing at the scene of the accident were splashed across tabloids. According to Daily News, the star said he'd never get over it.
The crash also claimed the life of Jackass Number 2 production assistant, Zachary Hartwell
Zachary Hartwell's gig with "Jackass" was a career shift. According to Radar, the "Jackass Number 2" production assistant was a navy veteran who served in two tours of Iraq. In 2011, the night of Ryan Dunn's tragic drunk driving accident, the pair were reportedly celebrating a business deal. Per The Hollywood Reporter, Dunn was thought to have had around 11 drinks prior to driving Hartwell home.
Hartwell was survived by his high school sweetheart, Rachel. The pair tied the knot less than a year before the accident, and Dunn's girlfriend reportedly served as a bridesmaid. "Now they are both widows, it is too sad for words," a source told Radar. The source also claimed that Hartwell "was not a big drinker at all."
According to TMZ, Hartwell's parents ended up suing both Dunn's estate and the bar where the men were reportedly drinking. They claimed that Dunn was obviously overserved and that Barnaby's West Chester was "negligent" for giving the clearly intoxicated "Jackass" star more drinks. They also claimed that Dunn was "reckless and negligent" because he was operating a vehicle while intoxicated and "driving at extremely dangerous speeds." At the time of this writing, it's unclear how the lawsuit actually played out.
Bam Margera started drinking to help him do Jackass stunts
Bam Margera has struggled with alcoholism for years, bouncing in and out of rehab and grabbing headlines for worrying behavior, including numerous social media rants and a bizarre incident where he was arrested for trespassing after reportedly claiming he had been hired to catch a hotel patron's wife in the midst of an affair. Without Margera's MTV show, he may have never picked up a single drink.
In an interview with Dr. Phil, Margera admitted that he never touched alcohol or drugs until he was in his early 20s. As a professional skateboarder, he needed "the balance of being on a handrail," but with "Jackass," alcohol helped him perform. "My job is to do dumb, jackass s**t, and the more shots of Crown Royal I'd do, the braver I'd be. Drinking helped me get paid," he told The Philadelphia Inquirer 2017.
The death of Ryan Dunn exacerbated Margera's substance use, and he was diagnosed with bipolar disorder and bulimia. He told Vice that at his lowest point, his diet was almost exclusively booze. As of this, he still seems to be struggling. TMZ claimed the star was fired from "Jackass 4" after breaking contract stipulations regarding his substance use. When asked about the situation, Johnny Knoxville told GQ, "I just want him to get better."
If you or someone you know is struggling with substance abuse and mental health, please contact SAMHSA's 24-hour National Helpline at 1-800-662-HELP (4357).
Missy Rothstein was 'finally free' after divorcing Bam Margera
Margera's ex-wife Missy Rothstein knew Bam before the fame. According to The New York Times, they became friends in sixth grade. Though they dated other people, they reconnected in 2005 and tied the knot two years later. Their path to matrimony was documented in their spin-off series "Bam's Unholy Union," and while Rothstein knew she married a "Jackass," she didn't expect him to actually act like one.
In an interview with Howard Stern, Margera revealed that "as soon [they] got married," Rothstein tried to get him to "grow up and stop drinking." As he recalled, "Drinking helps me do the stupid s**t I do. So, like, there's the door." According to Radar, the pair started having troubles two years later. Around that time, Margera was hospitalized after a four-day alcohol bender and told TMZ that marriage problems were to blame. "I may get a divorce … booze helps," he said.
On top of that, Rothstein's first year of marriage was marred by a nude photo leak. Margera, who took the photos, told Howard Stern that only the topless shots were supposed to be used, but someone ended up leaking them all. Needless to say, when Rothstein's divorce was finalized in 2012, she literally threw a party. According to Radar, she tweeted, "Finally free … who wanna come to my Divorce Party haha" along with multicolored balloons that spelled out the words "Just Divorced."
Steve-O's substance use was so dangerous that Johnny Knoxville staged an intervention
Steve-O has been sober for more than a decade, but "Jackass" nearly killed him — and not just the stunts. The show's hard-and-fast lifestyle enabled his descent into risky substance use, something he'd been navigating since childhood. On the show, Steve-O was undeniably fearless, seemingly performing every stunt thrown his way. Off the show, he lived by the same principles.
The stuntman started drinking before the age of 12 when his mother gave him "just a little bit of booze" to quell his crying, he admitted during an appearance on "In Depth with Graham Bensinger." Though he was already into drugs and alcohol before "Jackass," GQ reports that he got "heavier into both," trying ketamine, nitrous, and PCP. At one point, he even drank aluminum cleaner. "That would bring about some pretty disturbing incidents," he told Besinger. At the height of his addiction, Steve-O found himself barging into his drug dealer's home and snorting cocaine that he knew was contaminated with HIV-positive blood (though he didn't contract the virus).
"Jackass" almost killed Steve-O, but it also saved him. According to Access, everything changed when he sent an email that "hinted at [suicide]" to a handful of his closest friends. Johnny Knoxville staged an intervention, and (barring a 2008 relapse) the star has been sober ever since.
If you or anyone you know is having suicidal thoughts, please call the National Suicide Prevention Lifeline​ at​ 1-800-273-TALK (8255)​.
The Jackass crowd's drug-fueled parties enabled Brandon Novak's heroin addiction
Brandon Novak was an addict long before appearing in "Jackass Number 2" and "Jackass 3D," and his unwitting co-stars actually helped him avoid recovery. They made their best effort, with Margera booting Novak out from the studio during a taping of their Sirius XM show, "Radio Bam," for bringing drugs, but if Novak was going to get better, he had to do it himself.
In an interview with Gorilla Flicks, Novak revealed that he did heroin for 21 years and was first arrested for possession at the age of 17. He tried rehab. He actually tried it multiple times, but he kept bouncing back the same crowd of people, the ones he knew would enable him. "I would outthink myself out of the programs, rehabs, and meetings, thinking I could just do it a different way," he said. "And then with Bam and the crowd I ran with, you know, everyone liked to party. So if people wanted to be friends with me, they came up to me and handed me drugs."
At his lowest point, Novak was homeless. His mother had filed a restraining order (so as to not enable his addiction) and he started "selling [his] body" on the streets. At one point, he even contracted Hepatitis C after shooting heroin with a used needle he found on the floor of an abandoned house. He entered rehab one more time and has stayed sober ever since.
If you or anyone you know is struggling with addiction issues, help is available. Visit the Substance Abuse and Mental Health Services Administration website or contact SAMHSA's National Helpline at 1-800-662-HELP (4357).
Ehren McGhehey got 25 different surgeries during his Jackass tenure
Ehren "Danger Ehren" McGhehey joined the "Jackass" cast when the show was picked up by MTV, but he already knew his way around career-defining injuries. According to Mirror, a broken neck ended his professional snowboarding career, but it appeared to do almost nothing to deter him from performing dangerous "Jackass" stunts — including the things he didn't want to do like drinking his own pee or being chased by bulls. As he explained to Page Six, the cast was all competing for screen time, which pushed stunts to become more extreme the longer the show went on.
During all two decades of "Jackass," Ehren admitted that he's had "many, many injuries," including "25 surgeries" (nine of which were on his knees), "three broken backs," and his infamous Lamborghini tooth pull. He's never taken it lightly. "The pain is real [from the surgeries]," he told Page Six. "That's the other thing, with the way that we live as humans now with sports and stuff we do, it's almost like people live like it's a video game. I'm here to tell you it's not. You only get one body. Take care of it."
McGhehey is testing his one body one final time with "Jackass 4." In the decade between flicks, he also worked as a tour photographer for Eagles of Death Metal and appeared in the sketch comedy series "Portlandia."
Don Vito's lecherous TV personality led to a real conviction
Vincent Margera's "Jackass" persona was also his downfall. Though Bam Margera knew him as his uncle, fans only knew him as the lecherous Don Vito, who bumbled his way through "Viva La Bam," making lewd remarks and bearing the brunt of his nephew's often humiliating pranks. He was beloved on the show, so absurdly oblivious that Bam's behavior actually seemed uniquely cruel, but his character was also someone you'd never want to hang out with in real life.
In real life, Vito's actions don't fly. They're too outrageous, too sordid, and — as his lawyers would eventually argue — too ridiculous to even be considered anything but made for TV. According to The Washington Post, this was the defense when Vito was arrested in 2006 after allegedly molesting three girls between the ages of 12 and 14 at a Colorado autograph signing.
"Fans came to see the crazy, outrageous, profane uncle," Pamela Mackey, Vito's lawyer, argued (via The Washington Post). "That's who they wanted their picture taken with. Fans expected to see Don Vito, not Vincent Margera."
The jury didn't buy it, and Vito was convicted on "two counts of sexual assault on a child." He ultimately had to register as a sex offender, spend 10 years on probation, and forgo his MTV character for a decade. Vito never got to reprise his role. He died in 2015 at the age of 59.
If you or someone you know may be the victim of child abuse, please contact the Childhelp National Child Abuse Hotline at 1-800-4-A-Child (1-800-422-4453) or contact their live chat services.