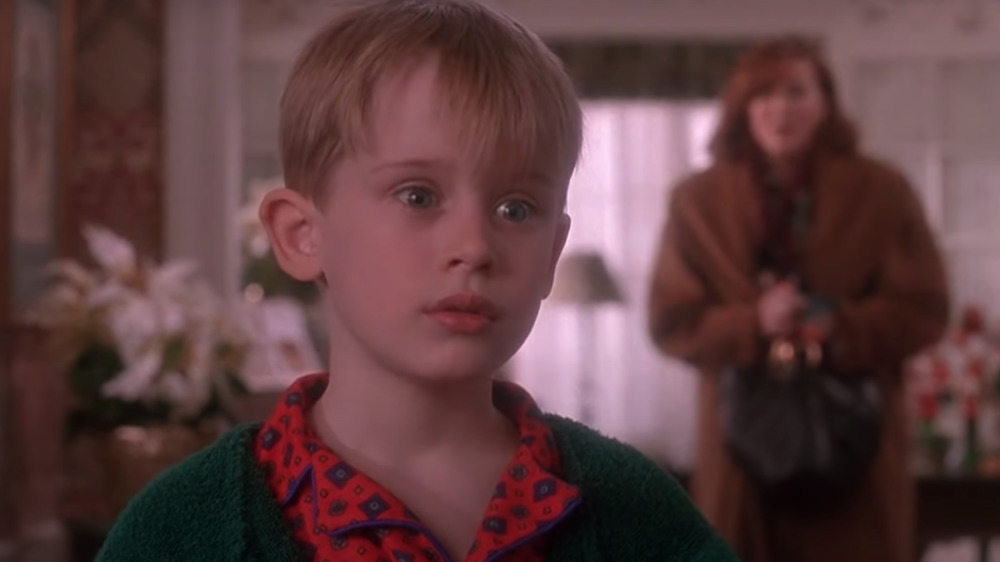 Home Alone is the gift that keeps on giving. For many of us, this film and its first sequel, Home Alone 2: Lost in New York, are a critical part of the annual holiday celebration. No matter how many times we've seen the original, we always laugh at the part where Kevin McCallister, the boy mistakenly left behind by his family around Christmas, applies cologne on his face after shaving and screams in agony. And we most definitely always cringe when he's faced with the task of protecting his home from bandits with almost deadly booby traps.
Released in 1990, Home Alone became an instant and lucrative classic: According to Box Office Mojo, it grossed nearly $500 million worldwide. A beloved holiday movie that has stood the test of time, the cast is one of the elements that makes this film memorable; actors like Macaulay Culkin, Joe Pesci, Kieran Culkin, and Catherine O'Hara help round out the unstoppable ensemble. Sadly, a couple of cast members have passed on: John Candy, who played a member of the polka band that gave Kevin's mom a ride home; John Heard, who played Kevin's father; and Roberts Blossom, the actor who portrayed Kevin's elderly neighbor.
On a more uplifting note, many of the members of the cast still lead successful careers in TV and film. Even so, a lot can change in three decades. Here's more about the totally unrecognizable cast of Home Alone.
Macaulay Culkin has outgrown the role of Kevin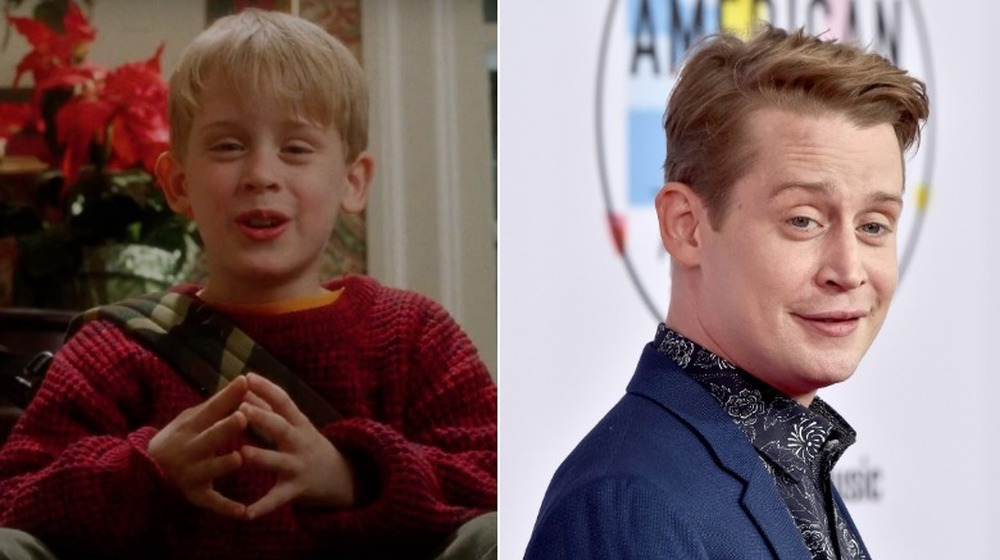 Macaulay Culkin was a child star and remembered as such for a long time before he outgrew the role that made him famous: Home Alone's Kevin McCallister. Culkin still looks the same as he did 30 years ago, albeit older, which doesn't help the fact that most of us remember him as that iconic character. Culkin has embarked on many entertainment-related projects since Home Alone, but he told Us Weekly he doesn't mind the fanfare the movie creates, especially during the holidays. "Christmas is my time of year," he said.
While most of us still see Culkin as Kevin, he's not so little anymore. When he turned 40 on August 26, 2020, he tweeted, "It's my gift to the world: I make people feel old. I'm no longer a kid, that's my job." As far as acting goes, Culkin hasn't really starred in too many since Home Alone 1 and 2. As Esquire pointed out in 2020, he's acted in four movies in the last 20 years. However, he's made a career in entertainment, founding a satirical website called Bunny Ears and a podcast by the same name. And, as Ryan Murphy announced on Instagram, Culkin is set to star in the TV series American Horror Story in 2021.
Catherine O'Hara went on to play another hit comedic role in Schitt's Creek
Catherine O'Hara has become quite the household name since her role as Kevin's mom in the first two Home Alone flicks. Her famous one-word line — "Kevin!" — shook us to the core and probably deserved an Oscar. O'Hara spends most of the two films frantically trying to get back to her son after accidentally leaving him home alone during the holidays… twice. She was a redhead in both movies but she now sports blonde tresses.
O'Hara's post-Home Alone filmography includes several Christopher Guest comedies, The Nightmare Before Christmas, and Schitt's Creek. Her portrayal of spoiled soap opera star Moira Rose earned her an Emmy for Outstanding Lead Actress In A Comedy Series in 2020. O'Hara's role as Kevin's mom might've not raked in the impressive trophies, but it surely will live on forever. She even celebrated the character's legacy when she recreated the "Kevin!" scream on TikTok in 2020, and it ended up going viral. Per PopSugar, O'Hara is married with two kids.
Joe Pesci, who played Harry, is best known for his gangster movie roles
As anyone who's seen the first two Home Alone movies knows, Joe Pesci has major comedic chops. On the flip side, he also has a knack for acting in serious movies about organized crime and gangsters. In Home Alone, Pesci, who now rocks facial hair and a few more wrinkles, played Harry, a dimwitted burglar, and one half of the Wet Bandits. In the film, he and Marv (played by Daniel Stern) attempt to burgle Kevin's household once the family leaves for Paris, not knowing little Kevin was left behind. That sets off a cat-and-mouse game in which Pesci's character loses to Kevin's dangerous booby traps.
While Pesci's comedic timing was spot on, he's opted for more dramatic roles over comedic ones ever since. His filmography includes A Bronx Tale, Casino, and Netflix's The Irishman. Oh, and he's a recording artist, too. As USA Today noted, Pesci has never been much of an interviewer, but he does "let his music do the talking." In 2019, he released his first jazz album in more than 20 years.
Daniel Stern, who played Marv, found TV success
Daniel Stern played dumb well as Marv, sidekick to Joe Pesci's Harry, and together they made up the Wet Bandits, a pair of burglars in Home Alone. Thirty years later, and Stern looks pretty much the same, except for a longer beard and white hair. During the 25th anniversary of the film in 2015, Stern told The Hollywood Reporter that Home Alone changed his life, and provided him with great opportunities in Hollywood. For the past couple of decades, Stern has enjoyed a steady acting career that's included roles on TV shows like Shrill, Manhattan, and House of Lies, as well as movies like Whip It and Bushwhacked. He's also taken up sculpting again, a hobby he's loved as a kid, accorinding to THR.
When asked by THR what he thought about a reboot of Home Alone, he didn't completely shoot down the idea. "I can see when people talk to me how closely they hold [the film], so it might be a little dangerous to try and mess with it," he said. "But if they want to try it, I'm available to play Marv's grandfather." Speaking of family, Stern is married with three children.
Devin Ratray, who played Kevin's mean brother, Buzz, has quite the list of Hollywood credits
Per Bustle, Devin Ratray was only 13 when he auditioned for the role of Kevin's big brother, Buzz. Thirty years later, and Ratray has lots of Hollywood credits — and facial hair — reminding us just how long ago Home Alone was released. He has since starred in series like Louie and Agent Carter and HBO's Mosaic. And yes, that was him in the 2019 film Hustlers.
Though Ratray has found success in Hollywood following Home Alone, he actually took a short break from acting to attend film school. In a way, Home Alone inspired the idea. After filming the feature, and eventually watching back the finished product, Ratray told Bustle that's when he learned the "power of cinema." As he put it, "Once I saw it, it was the largest lesson in filmmaking I'd ever experienced. To see what I read on script just translating into non-stop laughter." We agree, Buzz!
Kieran Culkin, who plays Kevin's cousin Fuller, went on to receive award nominations
Kieran Culkin plays Kevin's bed-wetting cousin Fuller in Home Alone, but he's actually Macaulay Culkin's real-life brother. Take off the glasses, and add some facial scruff and 30 years, and Kieran is a full-grown actor with Golden Globe and Emmy nods, thanks to his performance on HBO's Succession. Following Home Alone, he landed roles in several films, including Father of the Bride and She's All That. Despite acting at a young age, Kieran told The Guardian in 2019 that he was able "to avoid being a child star" and would do normal kid stuff like play video games.
When he turned 20, Kieran revealed to The Guardian that he suffered an internal crisis that made him question whether or not he wanted to be an actor. He'd keep acting for years, but it wasn't until the drama Succession came along that reignited his passion for it. "It took until I was 35 and I had been doing it for about 29 years for me to go, 'Hey, I think I want to be an actor.'" Kieran is married with one child.
Hope Davis, who played the French ticket agent in Home Alone, went on to find success in Hollywood
Hope Davis played a tiny role in Home Alone, so small her character name was "French ticket agent," according to IMDb. But everyone has to start somewhere, and that's what Davis did, and eventually the blonde bombshell found success in TV and film decades later. Following her stint in the holiday classic, Davis played a role in the 1990s Flatliners, before starring in About Schmidt and American Splendor. She later tried her hand at stage acting and was nominated for a Tony Award following her role in Broadway's God of Carnage in 2009.
You probably know her best as Tony Stark's mom, Maria, a role she played in 2016's Captain America: Civil War. Or perhaps as Nina Howard on The Newsroom. Or for her Emmy-nominated performance in In Treatment. One of her latest credits happens to have her working alongside Bryan Cranston on a Showtime miniseries called Your Honor. Suffice to say, she's had quite a career. Davis is married with two kids.
Angela Goethals, who played Kevin's sister Linnie, is enjoying her favorite role of all as mom
Probably one of the best lines in Home Alone is delivered by Kevin's sister Linnie, who was played by Angela Goethals. In the beginning of the film, as the family prepares for their upcoming holiday trip to Paris, Linnie tells Kevin, "You're what the French call, les incompétent." Translation: Incompetent. She was just 13 when she delivered the line. As The Sun pointed out, she didn't return for the sequel unlike most of the cast, but she made a lasting impression regardless, and she is actually fluent in French. Goethals went on to appear in films like Jerry Maguire and Spanglish, as well as the hit TV show 24.
Fast-forward a handful of years, and Goethals is sporting bright pink hair on Instagram — a significant change from her blond locks in Home Alone — and loves posting snaps of her children and hubby. Despite the laid-back lifestyle portrayed on Instagram, Goethals still has recent Hollywood credits to her name. Her last IMDb credit is a 2018 comedy short, and her last major TV role was a 2010 episode of Royal Pains. And In October 2020, she was part of one of Stars in the House's live-streamed productions.
Michael C. Maronna, who played one of Kevin's brothers, found lasting success from a '90s show
Michael C. Maronna looks almost the same today as he did in the 1990s holiday classic Home Alone. Perhaps a little older, and maybe a little less inclined to pick on his little brother. Maronna played one of Kevin's brothers in the film, though he had only a couple of famous lines, like this one: "Kevin, you're such a disease."
Still sporting that red hair all these decades later, Maronna found more long-term fame from the '90s Nickelodeon show The Adventures of Pete & Pete in which he played Big Pete Wrigley. The series is still so popular today that Maronna even hosts a weekly podcast inspired by it with his former cast mate and TV brother, Danny Tamberelli. Per IMDb, in addition to on-camera work, Maronna has done behind-the-scenes electrical work on countless TV shows like Blue Bloods and Luke Cage.
Hillary Wolf, who played Megan, one of Kevin's sisters, wound up competing in the Olympics
Unlike most of Home Alone's cast, Hillary Wolf, who played Megan, didn't pursue a career in Hollywood, but rather found her passion in athletics. She played one of Kevin's many siblings in Home Alone, and she uttered many solid lines at the start of the film. (Remember when she called Kevin "completely helpless" because he couldn't figure out how to pack for the family tip to Paris? Aw.) Wolf's last acting credit was Home Alone 2 in 1992. Why, you ask? She didn't have much time for acting because she went on to compete in the Olympics. As noted on NBC's Rio Olympics site recalled during the 2016 Summer Games, Wolf went to the Olympics in 1996 and 2000.
Wolf's chosen sport was judo, a Japanese-style of wrestling. According to NBC's Rio Olympics site, she started practicing judo at seven years of age, and then decided to quit acting when she won a national championship a year after Home Alone was released.
Gerry Bamman, Kevin's uncle Frank, found success in TV and movies
Uncle Frank in Home Alone is, as TCM put it, Gerry Bamman's "indisputable breakout role." His grumpy character famously (infamously?) despises Kevin, going so far as to call his own nephew "a little jerk." Sure, Kevin did accidentally start a domino effect that resulted in milk and soda spilling all over the family's food and passports, but there's no need for name calling!
Following that role, Bamman went on to star in a lengthy list of TV movies and shows, The Bodyguard, recurring spots on Law & Order and Law & Order: SVU, The Good Wife, and Sex and the City. And we cannot forget about his performance in Superstar, in which he played a priest listening to the hysterical confessions of Molly Shannon's Mary Katherine Gallagher. Sure, he's taken on a lot of roles since Uncle Frank, but he's still everyone's favorite uncle that they love to hate.