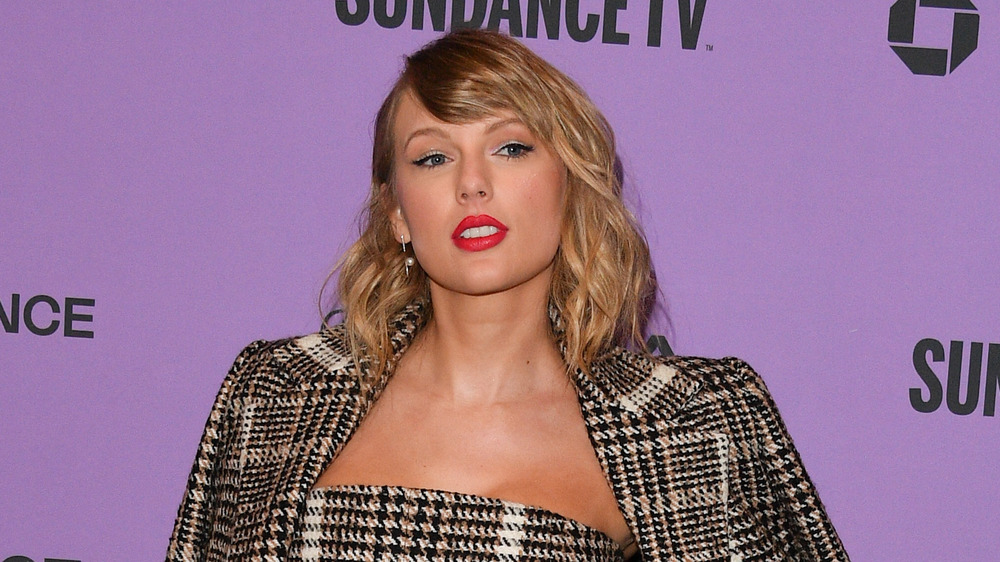 Taylor Swift is a legend in the music world. With nine record-breaking albums and almost 150 million Instagram followers and counting, it doesn't look likely that Swift's reign as the Queen of pop will be ending any time soon. While Swift's clever lyricism and sumptuous melodies have seen her dubbed "a songwriter for the ages," she's also been a massive style icon throughout her career; as her music has evolved, so has her fashion sense (via The Telegraph). In fact, the artist is famous for creating a brand new look for every single album she releases. While we can't imagine investing in a whole new wardrobe every few years, for Swift, it seems to be possible.
In fact, Swift's net worth is over $360 million, according to Forbes. And as Business Insider noted, Swift has spent a lot of this fortune on building a vast real estate empire. However, she also splashes out on her (seriously impressive) wardrobe. While the star isn't averse to wearing relatively cheap clothes in her day-to-day life, she also doesn't mind dropping a few thousand on a single outfit if the occasion calls for it. Here are some of Taylor Swift's most expensive outfits ever.
Taylor Swift wore a seriously expensive dress to the Cats premiere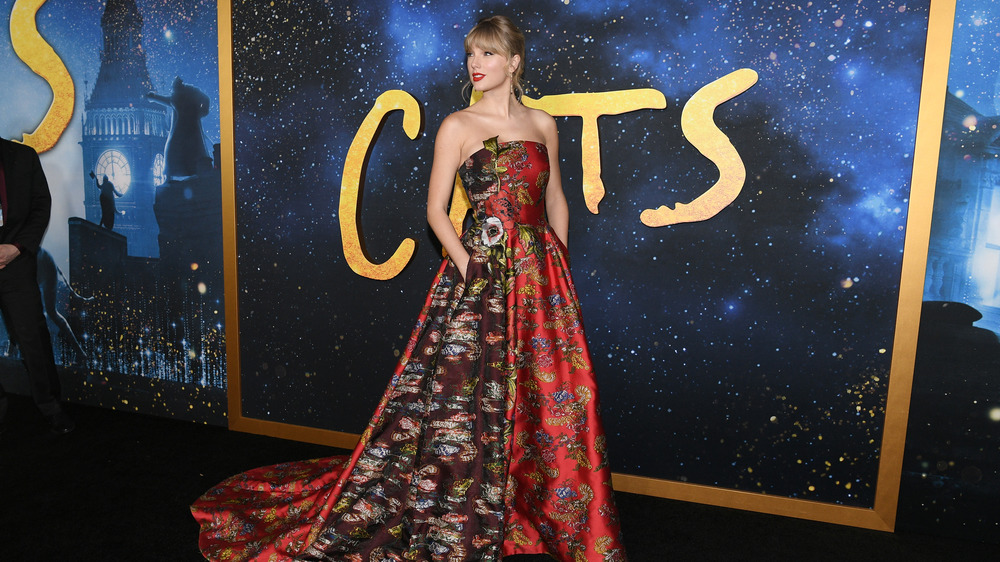 In 2019, Taylor Swift branched out from singing into acting, starring in the movie version of the famed Broadway musical Cats. For the premiere in New York City, Swift really went all out on her outfit. For her walk down the red carpet, the star donned a stunning, floor-length satin dress from Oscar de la Renta's pre-spring 2020 collection. The sleeveless dress featured a deep red background and a darker red panel. Additionally, a gorgeous, intricate floral pattern gave the outfit its timeless feel. Plus, the dress had pockets! According to the designer's website, the gown was worth a staggering $17,990 (via Insider).
But that wasn't all. Swift completed the chic look with some beautiful accessories, including a pair of Maxior earrings and a double ring by Borgioni. She also wore a sapphire ring by Beladora Oscar Heyman, reportedly worth $13,500. Talk about splashing out for one outfit! Nevertheless, it was totally worth it — while the movie may have been a flop, this outfit was most definitely not.
Taylor Swift's green sequined dress cost almost $30,000
It seems that Taylor Swift loves to look her best on the red carpet — and that means she splurges on some seriously stunning haute couture pieces. At the 2019 American Music Awards, Swift chose to wear a sleek, dark green sequined gown by Julian MacDonald (via Vogue). According to WWD, each of his dresses costs between $10,000 and $40,000. Plus, by the looks of things, Swift had the dress custom-made just for the occasion. Because of course she did.
Along with this pricey dress, Swift also wore two 18 karat rings worth $4,200, as well as a pair of 18 karat diamond hoop earrings designed by Ofira worth $15,000. She also wore an eye-catching pair of thigh-high black stiletto boots, reportedly worth $735. Altogether, this brings the outfit to roughly $49,135. Still, we can hardly blame Swift for splurging on this ensemble — after all, the sleek mermaid look definitely suits her!
Taylor Swift once paid almost $9,000 for a leotard
One of Taylor Swift's most memorable red carpet looks has to be the outfit she wore to the MTV Video Music Awards in 2014. This bold look saw Swift ditching the red carpet gown in favor of a modern, eye-catching, long-sleeved baby blue leotard covered with a design made up of random letters. At the time, InStyle hypothesized that the letters spelled out some kind of "secret message," and Entertainment Weekly joked, "Quick, make a boggle word out of Taylor Swift's dress!" But, the pattern was actually just part of Mary Katrantzou's design.
But this cute look didn't come cheap. In fact, the designer playsuit is reportedly worth $8,615, although it's no longer for sale. Swift completed the look with a pair of burgundy Elie Saad Wine Sandals and jewelery by Lorraine Schwartz. We have to admit — we're pretty glad Swift decided to splash out on this adorable playsuit. For one thing, her long legs looked totally killer in this outfit. Plus, it's frequently listed as one of her best all-time red carpet looks.
Taylor Swift's fashion in the Willow music video is surprisingly expensive
In 2020, Taylor Swift transformed her style once again for her woodsy albums Folklore and Evermore. Unsurprisingly, the musical shift came with a whole new look: Swift embraced the cottagecore trend. In the music video for the single "Willow," Swift wore a series of flowing, lace-trimmed gowns that looked like they'd been plucked off the racks at her local second-hand shop.
However, it turns out these outfits were a little more expensive than we thought. In one scene, Swift is seen in a romantic, floaty white maxi dress that is dripping with lace. The dress in question is by Zimmerman and is listed on Matches for a staggering $2,650. According to the listing, the dress is made with silk organza and velvet. Swift completed the look with diamond and pearl earrings worth $8,950 and a floral tiara that costs $1,225. That's a total of $12,825, for roughly 45 seconds of screen time!
Swift also wore a Gucci Liberty Floral dress for the last 30 seconds of the video, worth $4,800. Apparently, it costs money to nail the bohemian look like Swift did.
Taylor Swift went all out for the premiere of Miss Americana
Taylor Swift released a much-anticipated Netflix documentary about her rise to fame in 2020 called Miss Americana. To celebrate the film's release, the singer wore a stunning, houndstooth outfit to the premiere at the Sundance Film Festival. The look, by Carmen March, featured high-waisted trousers, a sleeveless bustier, stiletto books, and a knee-length pea coat — all of which were made of the same gray wool fabric.
The outfit was certainly a pretty bold look, and it didn't come cheap! According to Page Six, the bustier cost roughly $690, the pants cost $1,920, and the coat, which is no longer available online, probably cost at least $2,000, bringing the look to a total of around $4,610.
According to the Daily Mail, Swift's houndstooth outfit was actually a custom design by March. With her new cropped hairstyle and her signature red lip, this business chic look was definitely a hit. In fact, we are seriously into this wintery plaid ensemble.
For Taylor Swift's Evermore album cover, she splurged on a pricey coat
Taylor Swift collaborated with designer Stella McCartney for her 2019 album Lover. Together, they released a line of colorful, fun clothes for Swift's fans. In an Instagram Live video at the time, Swift reportedly said, "She's been a friend for a really long time and also just a woman that I respect so much. I respect what she creates, how she creates it" (via Yahoo! Style).
So, it came as no surprise when Swift chose a Stella McCartney coat for her Evermore album cover the following year. According to Good Housekeeping, the striking orange-and-black plaid maxi wool coat cost $2,875. However, the coat quickly sold out online. According to Insider, it only took a few hours for fans to snap up the coveted piece. We aren't surprised! It's a super cozy coat that looks perfect for moody walks through the woods. No wonder Swift's fans jumped on the trend so fast.
Taylor Swift wore a few thousand-dollar dresses in the "Blank Space" music video
One of Taylor Swift's most lavish music videos was released alongside her album 1989 in 2014. The video for "Blank Space" saw Swift prancing around a gigantic mansion, and featured sports cars, horses, chandeliers, and, of course, some shockingly expensive items of clothing. When it came to the video's wardrobe, Swift certainly didn't hold back in the least.
The Billfold tracked down the price tag for just about every item in the video. Swift wore a La Perla bustier worth $1,188, Christian Louboutin sandals worth $895, Kate Ermillo shorts worth $995, Ralph Lauren heels worth $995, and a Dolce & Gabbana skirt worth $1,295.
Swift also wore several designer dresses by Elie Saab, Jenny Packham, and Oscar de la Renta, according to InStyle. One Oscar de la Renta dress, which she wore while gazing at a portrait of her music video boyfriend, reportedly cost $6,490. Wow, that's a lot of seriously expensive clothes packed into one four-minute music video!
Taylor Swift spent thousands of dollars for a Reputation photo shoot
When Taylor Swift released her 2017 album Reputation, she also revealed a brand new bad-girl look, complete with leather, all-black ensembles, grunge-y jackets, and a new shaggy hairdo. And while the look was definitely less glam than her romantic princess look of the past, it was no less expensive — and honestly, we're not that surprised about it.
Along with her first single from the album, Swift published two magazines that were sold at Target. As People reported, the singer plunked down quite a lot of cash on her outfits for the cover photos. The first outfit saw Swift wearing a camouflage army-style jacket by Marc Jacobs. Apparently, this edgy piece cost $1,500.
In the other photo, Swift wore a pair of ultra high black boots, which are apparently Gianvito Rossi's Suede Cuissard Boots. Their price? A jaw-dropping $2,095. Yikes, it seems like Swift has a "big reputation" and a pretty big bank balance, too.
Taylor Swift shelled out thousands on this chic, minimalist jumpsuit
Taylor Swift upped her fashion game for the Billboard Women in Music Awards ceremony in 2019. After all, she not only accepted the award for Woman of the Decade, she also had a 15-minute speech to make. For the event, Swift wore a breathtaking blue jumpsuit with gold chain straps and a gold chain dangling belt by Oscar de la Renta; she paired that with silver Sergio Rossi platform heels and a pair of Ana Khouri earrings (via PopSugar). It's clear that Swift wanted to ditch the feminine floaty gown look for this event and show up looking like a total boss — and she certainly did.
While the singer looked undeniably stunning, Swift did shell out a hefty sum for this outfit. The jumpsuit was on sale at The Outnet for $1,048, down from $2,990. As for the metallic sandals, those probably cost the star around $840. Talk about a pricey outfit! She looked really good, though.
Taylor Swift wore expensive gowns to the Met Gala in 2011, 2013, and 2019
When it comes to the Met Gala, fashion is key. To that end, Taylor Swift chose to wear J. Mendel dresses at least three times at the event. In 2011, she wore a cream and black dress with an artistic, asymmetrical structured hem. In 2013, she sported a classy black maxi number with lace cut-outs and a jeweled high neckline. According to The Cut, the dress cost $8,990.
Then, in 2019, Swift wore J. Mendel yet again. However, this dress couldn't have been more different. This maxi gown was baby pink with yellow panels made of a floaty tulle material, with a romantic off-the-shoulder design. J. Mendel's creative director Gilles Mendel spoke to Page Six Style about the gown. "She always comes to me with an idea; in this case, the theme was pastel colors and soft tones," he explained. "Taylor wanted a really ethereal, hand-pleated moment, which is something we've always done so well." While we don't know the exact price of Swift's 2019 custom-made gown, a similar version cost $6,990 (via Entertainment Tonight).
Taylor Swift went all out on this outfit for Saturday Night Live
Even when Taylor Swift isn't strutting her stuff on the red carpet, she clearly doesn't mind spending a little extra to look her best. In 2019, she was spotted heading to the Saturday Night Live after party in New York City after appearing on the program. At the time, Swift was wearing the same outfit that she had on the show. As PopSugar noted, the star wore a pair of wide-legged black wool trousers from Libertine with sequined patterns, along with a tank from Alice + Olivia, an oversized blazer from Ambush, and a pair of silver flats by Christian Louboutin. The ensemble was the perfect mix of casual and party-ready.
There's no denying that the trousers took center stage in this outfit. And looking at the price tag, it's no wonder: they were sold by Libertine for $3,000. According to the listing, they are made with wool and have "hand-applied crystals."
Taylor Swift's all-pink outfit was more expensive than it looked
In 2019, Taylor Swift visited Stonewall Inn, the legendary New York gay bar, in celebration of her single "You Need to Calm Down." As Yahoo! reported, her look was on point; the singer went for a bold, all-pink look with a baby pink Saint Laurent blazer, a pink silk Saint Laurent star patterned top, and a pair of truly amazing sequined shorts by IRO. Swift also donned a pair of sandals by Kat Maconie.
Apparently, it costs a pretty penny to look this good! The blazer is no longer on sale, but other blazers by Saint Laurent tend to cost around $4,000 to $5,000. The shirt originally cost $1,350, and the shorts (also no longer on sale) reportedly cost $286 — and that's with a discount!
As for the shoes, they apparently go for $360. Altogether, that brings us to a total of around $6,496 for the ensemble in its entirely — a big price tag for an outfit to wear to a bar!
Taylor Swift wore a stunning dress in her extravagant "ME!" video
Taylor Swift's super colorful music video for "ME!" featured plenty of stunning outfits, including an all-yellow pantsuit, a massive ruffled pink maxi gown, and a baby blue band leader outfit. However, one outfit that definitely caught our eye was the stunning gown with a black velvet bodice and a white tulle tutu skirt covered in flowers that Swift wore at the beginning of the video.
The designer of the dress, Monique Lhuillier, was apparently pretty pleased that Swift selected the dress for the video. At the time that "ME!" was released, she posted on Instagram about the dress, writing, "Iconic @taylorswift in MLFall19 in her amazing new ME! Music Video!"
Not surprisingly, this stunning feminine gown doesn't come cheap; in fact, according to Saks Fifth Avenue, its original price was $4,995. We can't say we're shocked, as it truly is a stunning dress. We only wish Swift had the chance to wear it again!
Taylor Swift wore a dress worth thousands for Gigi Hadid's 21st birthday
One thing's becoming pretty clear: Taylor Swift loves wearing sequined outfits for her nights out. For her friend Gigi Hadid's 21st birthday in 2016, the singer sported a breathtaking, one shoulder, black sequined dress with an asymmetrical hem. According to the Daily Mail, the dress was designed by Hanley. Swift also wore a pair of platform leather boots by Vetements.
While both of these items are no longer on sale, Vanity Fair reported that the dress was worth $4,600 and the boots cost $1,655. That brings the outfit to $6,255 — pretty steep for a birthday party!
However, this was no ordinary birthday party, and Swift was apparently in charge of the celebrations, too (via Teen Vogue). Additionally, the weekend of festivities reportedly included jetting off to the Coachella music festival on a private jet. No wonder Swift shelled out on the perfect sequined outfit for the main event!