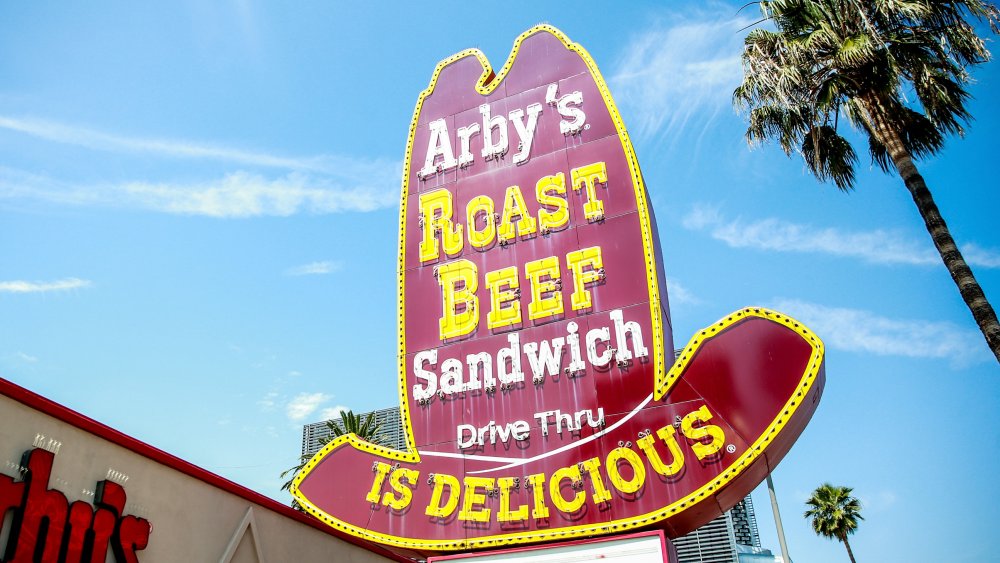 Arby's has been serving up its signature roast beef sandwiches at over 3,400 restaurants worldwide for over 56 years. The chain was founded in Boardman, Ohio in 1956 by Leroy and Forest Raffel, who wanted to start a fast food restaurant that specialized in something other than hamburgers. The founders decided roast beef sandwiches were the perfect fast food foil to burgers, and they were franchised within a year. Arby's has gone on to national and even international expansion and you can now find an Arby's in 48 states and four counties outside the United States: Canada, Turkey, Qatar, and the United Arab Emirates.
The Arby's menu is chock full of interesting menu items that go beyond the classic roast beef sandwiches. With three different gyros, an impressively large corned beef Reuben, an even buffalo chicken sliders, milkshakes, cookies, and floats. Thinking outside the box the next time you get a craving for Arby's will make your fast food meal even more rewarding, and the brand's secret menu is so popular it even has its own official website.
With many fast food secret menus, you'll encounter raised eyebrows from employees, and sometimes you even have to DIY your secret menu creations. At Arby's, at least for the time being, you can actually order a few secret menu items online as long as you use Doordash. The chain has generous policies regarding free extras, bread switches, and upgrades, making it one of the easiest menus to hack.
Arby's Meat Mountain Sandwich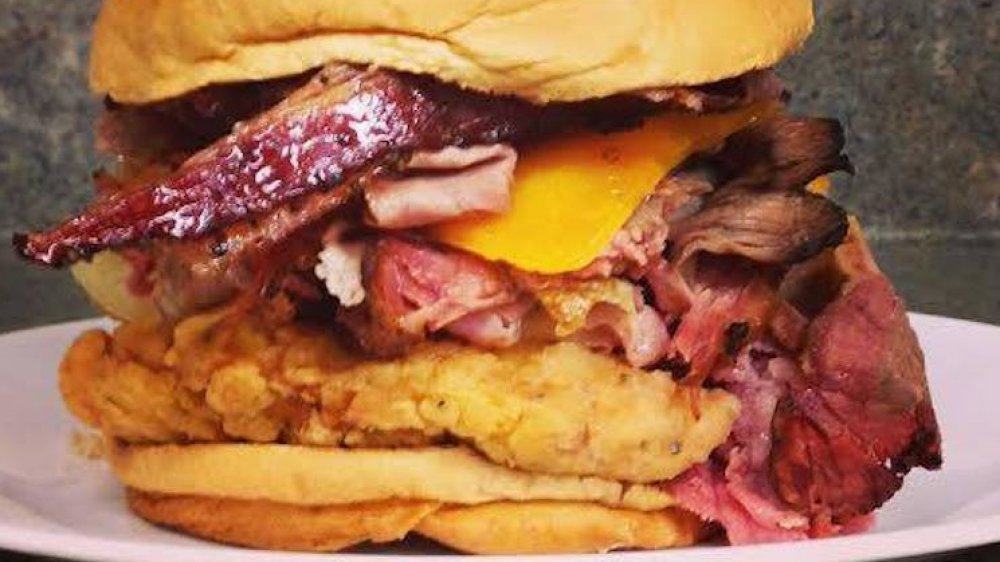 Arguably the most well-known item on the Arby's secret menu, the Meat Mountain Sandwich is supposedly the biggest sandwich that the roast beef sandwich chain has ever sold. The official secret menu website describes the Meat Mountain as a sandwich that comes with "almost all the meats." Which meats, you ask? The standard Meat Mountain comes with two chicken tenders, sliced roast turkey, pit-smoked ham, corned beef, 13-hour smoked beef brisket, USDA choice Angus steak, pepper bacon, and of course, roast beef. There's also both cheddar and swiss cheese packed in there, somehow, all sandwiched inside of a star-cut bun.
In 2017, Eater reported that the Meat Mountain Sandwich was being offered with a wild-caught Alaskan pollock fish fillet on top of all the other meats. To get the surf and turf variation, customers had to ask for their meat mountain Denali-style, and they'd get a free upgrade. While this is no longer an option on the current secret menu, there is a way that Denali-style fans can still hack the menu to get a meat mountain with some seafood on top. In July 2020, Arby's began offering a limited-time Beer Battered Fish sandwich made with cod, so you could either ask them to add a filet to your meat mountain, or order both sandwiches and mash them up yourself. Considering everything that's packed into this sandwich, Arby's tagline: "We have the meats," is an understatement.
Arby's Roast Ham & Swiss Sandwich
A ham and swiss cheese sandwich might seem like a surprisingly basic item to get a spot on a secret menu, especially since there is already a ham and Swiss sandwich on the regular menu at Arby's. However, fans insist that the secret menu version is far superior to the standard slider, which is literally just ham and Swiss cheese on a soft, slider-sized dinner roll. The off-menu version is better, bigger, and is much bolder in terms of flavor. Served on toasted honey wheat bread, the secret menu roast ham and Swiss cheese sandwich is piled high with sliced roast ham and cheese, then gets topped off with lettuce, tomato, and sliced red onion. If that isn't enough, there are two spreads on this sandwich: mayo and spicy brown honey mustard.
Since this sandwich is just a variation on the Market Fresh sandwiches and wraps that are offered on Arby's menus across the United States, you shouldn't have too much trouble ordering this secret menu item. Essentially, you will want to order a Roast Turkey & Swiss Market Fresh sandwich from the regular menu, but ask them to swap out the turkey for ham. For another classic secret menu variation, ask for a Roast Beef & Swiss, which is the exact same sandwich made with roast beef.
Arby's Turkey 'n' Cheddar
The Turkey 'n' Cheddar sandwich is another secret menu item that might seem pretty straightforward, but packs a surprising punch considering that it's made with only four ingredients — including the bun. At one point, it was actually listed as a regular menu item as part of the Turkey Roasters series, which was launched in 2012. The full lineup included the Turkey Classic and the Grand Turkey Club alongside the Turkey 'n' Cheddar.
This one is really not particularly difficult to order, and every Arby's location should be able to make you one. You want to end up with a classic Arby's Beef 'n' Cheddar sandwich, but ask them to hold the beef and swap in the freshly-sliced, oven-roasted turkey that they use on the Market Fresh Roast Turkey & Swiss and Roast Turkey Ranch & Bacon wraps.
Order this sandwich correctly, and you will get a soft, slightly sweet onion bun piled with slices of warm oven-roasted turkey, a warm melted cheddar cheese sauce, and the chain's signature zesty Red Ranch that gives their classic roast beef sandwiches the hint of zing that fans have come to expect. If you want to up the ante on this Arby's secret menu item, ask them to add bacon and turn it into a Bacon Turkey 'n' Cheddar. #HackTheMenu suggests a few other potential additions to this one, like adding onion tanglers, au jus, or an additional sauce to spice things up.
Arby's Double Stacked Reuben
The Arby's take on a reuben sandwich is already a thing of beauty in its own right. This sandwich was originally launched as part of the Big City Sandwiches campaign, which was first introduced in 2017. The lineup included the New York Reuben, the Fire Roasted Philly, and the Chicago-Style Beef Dip. The Chicago-Style Beef Dip is the only sandwich out of the trio that is no longer available — although you can hack the menu by ordering a French Dip & Swiss with roasted peppers, banana peppers, and Italian seasoning added, a sort of hybrid between the Loaded Italian and the French Dip & Swiss.
The standard Reuben starts with marbled rye bread, then adds melted Swiss cheese, sliced corned beef, sauerkraut, and thousand island dressing for a pretty classy fast food version of this classic New York deli sandwich. To make it a double-stacked Reuben from the Arby's secret menu, all you have to do is ask for your sandwich to be made with double meat — that's just about as easy as secret menu ordering gets! The Arby's Reuben sandwich is typically made with three and a half ounces of meat, so the double-stacked version will get you to a full seven ounces, or almost half a pound, of the chain's sliced corned beef.
Arby's Bacon Beef 'n' Cheddar
The Bacon Beef 'n' Cheddar is another variation on the signature Arby's Beef 'n' Cheddar sandwich. This one has also made appearances on the regular menu at Arby's, first as the Bacon 'n' Brisket Beef 'n' Cheddar, then as the Brisket Bacon Beef 'n' Cheddar. Over the years, this surprisingly simple secret menu item has become so popular, it earned itself a spot on the official secret menu. Popular secret menu website Hack the Menu admits that while this variation isn't particularly exciting, it is delicious, and that is generally the point of ordering a sandwich in the first place.
So, how do you order this one? Just ask for a Beef 'n' Cheddar with bacon added — it literally could not be simpler. At some stores, you can even order a Bacon Beef 'n' Cheddar, and chances are the crew will understand exactly what you're asking for. This is a great menu hack for fans of the original Beef 'n' Cheddar sandwich who want to try something that's just a little bit different. If you're a serious meat lover, but aren't quite ready to tackle the out of control Meat Mountain sandwich, you could also order this with either double bacon, double beef, or double bacon and double beef.
Arby's Ultimate BLT
According to QSR Magazine, Arby's first introduced the Ultimate BLT in 2002 as the sixth sandwich to join their lineup of popular Market Fresh sandwiches. Launched as a limited time only item at a $3.99 price point, the Arby's Ultimate BLT sandwich featured a whopping five slices of thick-cut pepper bacon with lettuce, tomatoes, and mayonnaise served on their Market Fresh thick-sliced honey wheat bread.
The sandwich was originally launched in the summer and is currently back on the official secret menu, labeled as "the quintessential summer sandwich." The version currently on the secret menu comes with eight slices of bacon rather than five, but everything else about the sandwich remains the same. If you want to further hack the Ultimate BLT from the Arby's Secret Menu, we recommend taking advantage of the bread switch policy and ordering your next Ultimate BLT on the marbled rye bread that the chain uses to make their corned beef Reuben sandwiches. Another great upgrade? Add some zesty Red Ranch to kick up the spice level of this secret menu fan favorite. If you're looking for something less spicy to add flavor to your BLT, ask for the Parmesan Peppercorn Ranch that's used on some of the Market Fresh sandwiches.
Arby's French Dip Max
The standard French Dip & Swiss, which is what the secret menu French Dip Max is based on, was first launched in 2007 as part of the brand's biggest menu refresh since 2001, QSR Magazine reported. According to Businesswire, new menu item was part of their line of new Toasted Subs, which included the Philly Beef Toasted Sub, the Classic Italian Toasted Sub, and the Turkey Bacon Club Toasted Sub in addition to their version of the French Dip. All of the original Toasted Subs are still available in slightly different forms on the current menu, rebranded as the Fire Roasted Philly, the Loaded Italian, and the Roast Turkey Ranch & Bacon, which is no longer served on a sub roll.
The French Dip & Swiss has stayed close to the original, and the classic version comes with Arby's famous sliced roast beef and Swiss cheese on a sub roll, served with a side of au jus for dipping. The French Dip Max is just a larger version of the original sandwich and is served with a whopping seven ounces of roast beef for a sandwich that clocks in at over half a pound in total. Don't order this one unless you're hungry — or willing to share.
Arby's The Rachel
Most people are familiar with Reuben sandwiches, a staple of the New York deli, but what about its sister sandwich, the Rachel? A Rachel is basically a Reuben made with roasted turkey, and there are a few variations that are generally accepted as standard. Some say that you swap the sauerkraut in a Reuben for cole slaw in a Rachel, and that's the version that Arby's chose to make when they launched their own official version of the sandwich as a counterpart to the Arby's Reuben in 2015. Other sources say that the Thousand Island Dressing typically used as the spread on a Reuben should be replaced with either barbecue sauce or French dressing when crafting a Rachel.
You can't order a Rachel with coleslaw at Arby's anymore (their version was only available for a month), you can, however, hack the menu to make a pretty great version. Order a Reuben, either regular or double stacked, and ask them to swap the corned beef for oven-roasted turkey, then ask for the barbecue sauce that they use on their Smokehouse Brisket sandwich instead of Thousand Island Dressing.
Arby's Super Roast Beef Sandwich
The Arby's Super Roast Beef sandwich is one of those unassuming secret menu items — similar to the Roast Ham & Swiss sandwich — that seems a little too simple to be on a secret menu. Trust us, though, this one is on there for a good reason. If cheesy sandwiches aren't really your thing, we absolutely recommend that you order an Arby's Super Roast Beef next time you have the opportunity. This secret menu item is a variation on the Arby's Classic Roast Beef sandwich, which is literally just the chain's sliced roast beef served on a sesame seed bun. It comes in three different sizes: classic, double, and half-pound, and depending on how much meat you want, you can base a Super Roast Beef sandwich off of any size.
To elevate this sandwich from classic to super, you'll want to ask for Red Ranch sauce, lettuce, and tomato to be added to your Classic Roast Beef sandwich. The official Arby's menu also recommends trying it with their zesty Horsey Sauce, a creamy horseradish-based spread that we think would make a great addition to the Super Roast Beef.
Arby's vegetarian sandwiches
In 2016, Vice reported that Arby's was playing an April Fool's Joke on vegetarians by offering a trio of "all-bread" sandwiches. The menu is supposedly only offered on Leap Year, so, every four years, but according to Grub Street, the joke is actually on Arby's, because vegetarians have actually been ordering some of the chain's signature sandwiches sans meat for a while now. The Leap Year campaign was little more than a marketing tactic, but dare we say that some of those meatless sandwiches actually sound pretty good?
The campaign focused on the Reuben, the Loaded Italian, and the Smokehouse Brisket sandwiches, so let's break it down: they're jazzed-up grilled cheese sandwiches that are probably a lot better than sticking a slice of American cheese between two slices of white bread and calling it a day. The meatless Reuben is a no-brainer, with melted Swiss on marbled rye, plus Thousand Island dressing and sauerkraut. The Loaded Italian is a grilled cheese on a sub roll, and with the addition of banana peppers, lettuce, tomato, red wine vinaigrette, and garlic aioli, which makes for a pretty robust meatless sandwich. The Smokehouse Brisket seems like it would be the most lacking, but onion rings with smoked gouda, mayo, and barbecue sauce is actually an appealing combo — especially if you order extra cheese.
Arby's Big Iowa
You won't find The Big Iowa on standard secret menu lists, but it's high time that this viral Arby's menu hack got the attention it deserves. The Big Iowa takes ham, turkey, and brisket, then adds melted cheddar, pepper bacon, red onions, parmesan peppercorn ranch dressing, and three mozzarella sticks, all inside of an onion roll. This sandwich sounds amazing, and it's probably one of the most unique secret menu items you can order from Arby's, but the story behind The Big Iowa is even more fascinating than the sandwich itself.
In 2017, a college student named Chris Jorgenson tweeted about making sandwiches out of processed American cheese and Pop Tarts, writing, "You ain't from Iowa if you never had one of these." The tweet prompted a viral internet gross-out contest where people tried to one-up each other's weird toaster pastry mashups. Seeing how much attention the concept was getting, Arby's asked Jorgenson to work with them to "make a real sandwich that Iowa can be proud of."
The Big Iowa is the sandwich that came out of that collaboration, and it was released as a one-day-only promotion at a single Arby's location in Iowa. This is probably the hardest secret menu item to order today, but most Arby's locations will have all the ingredients on hand to make a Big Iowa — you'll just have to walk them through the tasty details.