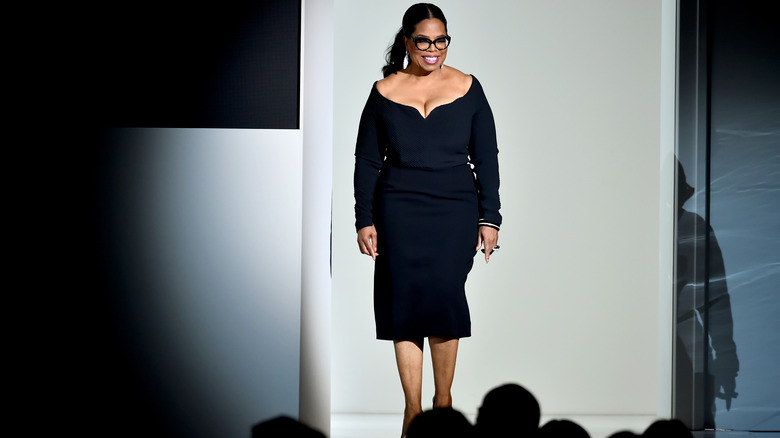 In 2011, after 25 years, The Oprah Winfrey Show aired its final episode. For fans, it truly was the end of an era — one in which the wildly popular daytime talk series would ultimately be syndicated on over 200 US television stations and in over 100 countries globally. The eponymous host, Oprah Winfrey, had arguably become one of the most trusted voices in the world.
Since The Oprah Winfrey Show shuttered, it's hard to say whether any other talk show has come close to filling the void for longtime Winfrey fans. The Ellen DeGeneres Show, now in its second decade on air, probably comes closest. Honestly, though, who doesn't still wish they could have made it to one of the annual Oprah's Favorite Things specials (and walked away with a ton of swag)?
So, what happened? It wasn't as though Winfrey didn't have a loyal viewer base. Here's why the queen of daytime TV really decided to walk away from her hit series while still on the top.
It was just "time"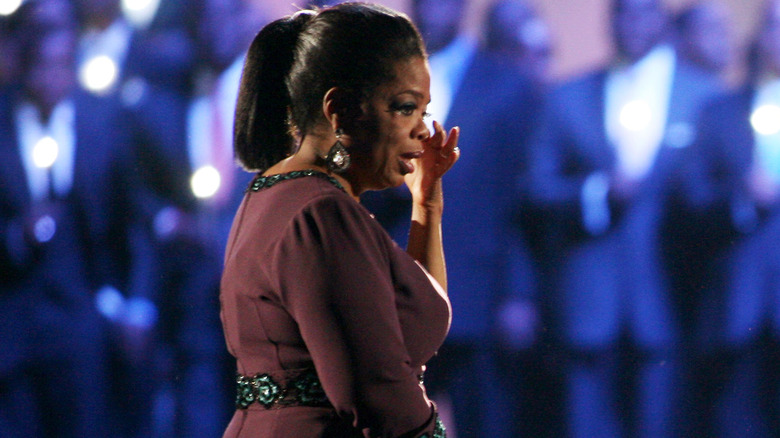 Sometimes, you just have to trust your gut. And Oprah Winfrey, more than most people, comes across as the type of person who honors that voice inside when it speaks to her. Such proved to be the case when it came to ending the show that had made her a household name.
In 2009, news broke that the show would stop running in 2011. In the spirit of honoring her abiding relationship with viewers, Winfrey tearfully addressed her impending exit. "Twenty-four years ago on Sept. 8, 1986, I went live from Chicago to watch the first national Oprah Winfrey Show. I knew then what a miraculous opportunity I had been given, but I certainly never could have imagined the yellow brick road of blessings that have led me here," she told her audience (via ABC News).
"I love this show, this show has been my life, and I love it enough to know when it's time to say goodbye," she added, further elaborating on the timing: "Twenty-five years feels right in my bones and it feels right in my spirit. It's the perfect number. It's the exact right time."
She had her OWN channel to worry about
The same year The Oprah Winfrey Show ended, Winfrey and Discovery Communication turned the Discovery Health Channel into an entirely new vehicle for Winfrey: OWN, or the Oprah Winfrey Network. However, the media mogul would soon find that success for OWN wasn't guaranteed.
"Every story about OWN was that it was struggling," Winfrey recalled to AARP in 2015. "I literally had a come-to-Jesus meeting with myself to say, 'Lord, what would you have me do?' What I know for sure is that the only way to hold onto yourself is through a spiritual base — otherwise you lose it."
And, well, someone must have heard Winfrey's prayers. In 2013, she landed a must-watch interview with decorated cyclist Lance Armstrong in the wake of his performance-enhancing drug scandal. As predicted, the interview proved to be a huge ratings spike for the network and, in turn, major revenue catalyst. "We were mesmerized and riveted by some of his answers," Winfrey said on CBS This Morning of the cyclist, who officially confirmed his use of the drugs (via ABC News).
Producing Tony Award-winning plays takes focus
It's never been any huge secret that one of Winfrey's favorite literary works is the Pulitzer Prize-winning novel The Color Purple by Alice Walker. If you'll recall, she starred in the film of the same name that premiered in 1985. In 2005, Winfrey decided to turn the beloved tome into a Broadway musical, too.
"The Color Purple has long been a part of my life, from the first time I read it over 20 years ago until now, I've always wanted as many people as possible to experience this story," she told Playbill in a statement. "To present this Broadway production is a dream come true and a full circle moment for me."
After the original run was nominated for a Tony Award, Winfrey went on to shift her producing work into high gear. It paid off in 2016 when — after staging a Broadway revival of the show starring Jennifer Hudson — Winfrey and fellow producers Scott Sanders and Roy Furman saw the production take home a Tony Award for Best Revival of a Musical.
60 Minutes needed a special contributor
Just because Winfrey wasn't helming her own talk show anymore didn't mean she was leaving TV behind altogether. In 2016, she became a special contributor for CBS News' iconic 60 Minutes. "There is only one Oprah Winfrey. She has achieved excellence in everything she has touched," executive producer Jeff Fager said of the decision to bring the former talk show host onboard. Fager cited Winfrey's massive arsenal of interviews as part of what made her uniquely qualified for the job.
As for Winfrey, she looked forward to exploring a more hard-hitting version of broadcast journalism — she told CBS News she'd been a "big admirer" of the show since her years as a young reporter. Calling the news program a "bastion of journalistic storytelling," she explained: "At a time when people are so divided, my intention is to bring relevant insight and perspective, to look at what separates us, and help facilitate real conversations between people from different backgrounds."
You can still win her 'favorite things' with Amazon
While it's true that you can no longer sit in Winfrey's studio audience during her legendary "Oprah's Favorite Things" episodes and rack up serious swag, you can still score Winfrey's faves — and, hey, you could possibly even win them next season.
In the absence of Winfrey's show, the benevolent host chronicles her favorite things on Amazon.com, running a giveaway competition in the weeks prior to Christmas. In 2017, that list ran the gamut from pricey items like a $1200 Gramercy bicycle to much more affordable Burt's Bees family PJs.
And since dreams really do come true, Winfrey herself will personally help you if you need assistance finding anything off her list. You know, sort of — she partnered with Amazon to voice Alexa when users inquire about "Oprah's Favorite Things." So, let's say you ask Alexa to shop from that list. Winfrey's voice will then come on and describe the different items available. If you want to keep anything the talk show maven prattles off, you simply need to say "yes." Holiday shopping has never been easier!
She did some (super)soul searching
Fans who missed Winfrey's masterful interviews didn't have to wait long for a fix. As part of OWN, she soon launched Oprah's Super Soul Conversations — Winfrey's "personal selection of her interviews with thought-leaders, best-selling authors, spiritual luminaries, as well as health and wellness experts."
The segment was met with so much success that Winfrey has since expanded it into its own little inspirational universe. In addition to a channel devoted entirely to videos of these interviews, fans (also known as "SuperSoulers") can listen to favorite interviews and "aha! Moments" from the interviews as part of an Emmy-winning Apple podcast by the same name.
Winfrey has picked the minds of strong female voices in entertainment like Reese Witherspoon and Mindy Kaling. She has asked New England Patriots quarterback Tom Brady to weigh in on kneeling in the NFL. She and Will.i.am. have discussed what it means when he says society is in spiritual "cruise control." Truly, there's a little something for everyone to draw inspiration from.
She has political aspirations to consider (fingers crossed!)
In January 2018, Winfrey set into motion a chain of events that could become historic (if actualized). It started at the 75th Annual Golden Globes, during which host Seth Meyers joked perhaps Oprah Winfrey would run for president. Winfrey, who was being honored with the Cecil B. DeMille Award for lifetime achievement, laughed it off. But then she delivered a speech that set the world on fire, and it was official — people wanted Winfrey to be POTUS. Winfrey was flattered by the internet's cries for "Oprah 2020," but she reiterated to Bloomberg that she had no intention of running.
However, Winfrey told People magazine the following month that she hadn't ruled out a bid entirely. "I had people — wealthy, billionaires — calling me up and saying, 'I can get you a billion dollars. I can run your campaign.' That many people saying something made me think, 'Am I at least supposed to look at the question?'" she told People.
So, that's what she did. "I went into prayer," she said. "'God, if you think I'm supposed to run, you gotta tell me, and it has to be so clear that not even I can miss it.' And I haven't gotten that." But that's not to say she won't. Here's hoping, right?
The acting bug bit her again
Prior to ending her talk show, Winfrey only had two major movie roles to her credit: 1985's The Color Purple, for which she earned a best supporting actress Oscar nomination, and 1998's Beloved. It wasn't until 15 years after the latter — when Winfrey's schedule had freed up considerably — that she returned to the big screen in the critically acclaimed Lee Daniels' The Butler in 2013.
Before the film's release, Winfrey's Oscar-winning costar Forest Whitaker praised the former talk show host for what she brought to scenes. "I think people are going to be startled by how grounded and powerful her work is," she told CBS News. In a separate interview with CBS News, Winfrey admitted returning to acting wasn't without anxiety, revealing, "I was really nervous, so I actually called in an acting coach for the first time."
Since then, though, Winfrey has found her stride with acting, starring in award-winning and acclaimed projects like 2014's Selma, 2017's The Immortal Life of Henrietta Lacks, and 2018's A Wrinkle in Time.
Apple came calling
Since Winfrey already has a podcast via Apple, it just makes sense that the powerful pair might find more ways to collaborate. In June 2018, the tech giant announced that Winfrey had signed a multi-year contract with them to create original content — including everything from film and TV to apps and books. "Together, Winfrey and Apple will create original programs that embrace her incomparable ability to connect with audiences around the world," Apple announced when news of the partnership broke.
According to Chad Kawalec, founder of Hollywood's The Brand Identity Center, it's a shrewd move on Winfrey's part. "She is just looking to increase her exposure in legitimate on-brand ways, and getting herself on different platforms will certainly help her do that," Kawalec told Fortune. "OWN has not really knocked it out of the park, and she's a smart woman. She knows that when she exposes her name, it extends her personal brand."