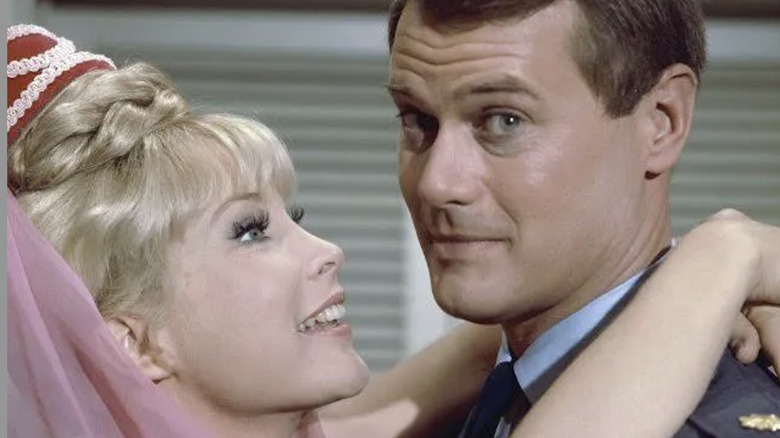 Having scored a ratings hit with "Bewitched," producer Sidney Sheldon set out to capture lighting in a bottle for a second time with another series about a magical blonde. Inspired in part by "The Brass Bottle," a 1964 comedy about a man (Tony Randall) who acquires a genie (played by Burl Ives), Sheldon conceived a TV comedy that paired an Average Guy — in this cast, NASA astronaut Tony Nelson (Larry Hagman) — with a beautiful genie determined to serve his every need. For the role of his genie — named Jeannie — Sheldon returned to "The Brass Bottle" and cast that film's female lead, actress Barbara Eden.
The resulting series, "I Dream of Jeannie" was, like "Bewitched," a frothy comedy and an audience favorite for five seasons, as well as a 1967 Emmy nominee for writing, while Eden netted two Golden Globe nods for her turn as Jeannie. The show has proven to have enduring popularity since leaving the airwaves in 1970, generating two TV movies, a short-lived animated series, and one of the most irresistible theme songs in sitcom history. Many of its cast members rode its popularity to subsequent fame; following is a list of the show's four primary cast members of and a host of recurring players and what they did after Jeannie's bottle was corked in 1970.
Barbara Eden blinked to stardom as Jeannie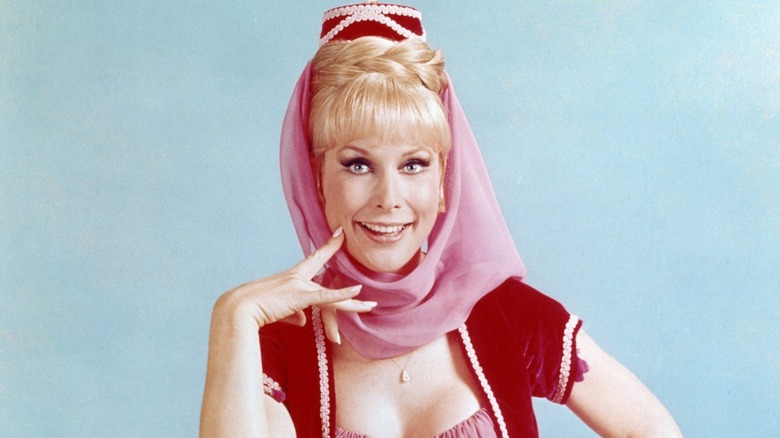 Actress Barbara Eden had appeared in many feature films and shows prior to being cast in "I Dream of Jeannie" at age 34. The Tucson, Arizona native co-starred with Elvis Presley in his 1960 Western "Flaming Star," and had been an appealing lead or co-star in several fantasy films, most notably George Pal's "7 Faces of Dr. Lao" and "The Wonderful World of the Brothers Grimm." But "Jeannie" was her breakout role, and she played the title character (as well as occasional appearances as Jeannie's mother and evil twin sister) throughout the show's run.
When "Jeannie" sealed up the bottle in 1970, Eden remained active on TV for decades. She starred in the 1978 hit comedy feature "Harper Valley PTA," which was based on the popular song of the same name, as well as a short-lived spin-off series; Eden also enjoyed her own primetime TV special (1972's "Love is Barbara Eden") and was a staple of TV-movies of the 1970s and 1980s, including the supremely creepy "The Stranger Within," for which she played a woman impregnated by extraterrestrials.
Eden also reprised Jeannie on three occasions, including the 1985 TV movie "I Dream of Jeannie … Fifteen Years Later"; Larry Hagman bowed out of such continuations of the series, but she reunited with him on other occasions, including a five-episode run on "Dallas." Currently on the verge of her nineties, Eden remains active on TV through voice acting work on "Shimmer and Shine" and a 2018 appearance on "Long Island Medium."
Larry Hagman: Nice guy Tony becomes TV heel J.R.
Though essentially a straight man to a Jeannie, Tony Nelson spent a great deal of time teetering perilously close to a nervous breakdown. The effort required to both restrain and hide Jeannie's powers would be enough to lay out most people, but Tony also had to contend with the constant snooping of NASA psychiatrist Dr. Bellows (Hayden Rorke), who suspected that Tony was responsible for the stream of strange phenomena that seemed to take place whenever he was around. For some viewers, it was hard to feel any pity for Tony — he was, after all, the absolute focus of a gorgeous woman in harem pants — but Tony's relationship with Jeannie required more energy than most.
Larry Hagman played Tony Nelson for all five seasons of "Jeannie," and directed three episodes of the series before it ran its course in 1970. The show provided him with a steppingstone away from the character parts that dominated most of his screen work prior to its debut, but he would wait until 1978 to gain the role that defined his career: the charmingly villainous J.R. Ewing on "Dallas." The series would earn him two Emmy nominations and largely replace Tony Nelson as Hagman's on-screen identity. He would reprise the role once more for a 2012 revival on TNT, but cancer would cut short his return to fame on November 23, 2013.
Bill Daily was a two-time TV sidekick MVP
Only one person other than Tony Nelson knew about Jeannie and her magic abilities, and that was Tony's best friend, Roger Healey. A U.S Army Corps of Engineer captain (and later major) and fellow astronaut, Roger discovers Jeannie and her bottle in Season 1's "The Richest Astronaut in the World," and does what many might do in his position: he uses her to make himself ridiculously wealthy. Of course, the scheme backfires on Roger, who is accused by his boss, General Petersen, of selling military secrets to obtain his fabulous wealth. Jeannie must step in and "blink" away the problem, which leads to a more respectful relationship between the two for the rest of the series.
Bill Daily played Roger Healy on "Jeannie" and reprised the role for both of the reunion TV-movies. By that time, Daily had gained stardom for a second sidekick role: airline pilot and intrusive neighbor Howard Borden on "The Bob Newhart Show." Daily remained active in guest roles on episodic TV and game shows, and occasionally returned to his first line of work — stand-up comedy — until 2018, when the 91-year-old died from natural causes on September 4, 2018.
Hayden Rorke was the suspicious but clueless Dr. Bellows
Leading the pack of sensible adults left stupefied by Tony Nelson's antics was Col. Dr. Alfred Bellows, a NASA psychiatrist assigned to figure out why the former astronaut was at the center of so much unexplainable phenomena. Much of Bellows' arc on the series was focused on playing incredulous straight man to Larry Hagman and Bill Daily, without ever figuring out that Jeannie was at the heart of the hijinks. That she managed to do so for 139 episodes and a TV-movie ("I Dream of Jeannie … Fifteen Years Later") is a testimony to either solid TV writing or Hayden Rorke's credible ineptitude.
Character actor Rorke played Bellows throughout the entire network run of "Jeannie"; the show was arguably his most notable credit, though he had been on screen in features and TV for almost two decades before it, and logged appearances on "Twilight Zone," "Bonanza," and "Perry Mason," among many other projects. After "Jeannie" ended, Rorke was a guest star on numerous TV series, including "Wonder Woman," and the critically acclaimed TV movie "The Legend of Lizzie Borden" with Elizabeth Montgomery. Rorke spent much of the 1980s in theater productions until his death from multiple myeloma at the age of 76 on August 19, 1987.
Emmaline Henry was Dr. Bellows' equally confused wife
Dr. Bellows wasn't alone in his inability to understand or explain the weird phenomena orbiting Tony Nelson. His wife Amanda was also in the dark about Jeannie and her powers, along with much of the NASA staff and the community of greater Cocoa Beach. But if it left her perplexed, at least Mrs. Bellows seemed content while pondering the imponderable.
Actress Emmaline Henry was actually a guest star on "I Dream of Jeannie" prior to signing on as Amanda Bellows; she appeared as a magician's assistant in the Season 1 episode "Is There an Extra Genie in the House?" Henry made her debut as Amanda the following season in "The World's Greatest Lover," and appeared 33 more times until the fifth and final season in 1970.
Henry — who had pursued a career as a singer prior to acting, and can be heard vocalizing in the Season 2 episode "The Greatest Entertainer in the World" — had been a TV vet since the mid-1950s, and remained a regular presence on the small screen both during and after her "Jeannie" run through guest shots on "The Carol Burnett Show" and "Love, American Style." She also logged occasional movie roles, most notably as Rosemary's friend Elise in "Rosemary's Baby."
After "Jeannie," Henry remained active on TV through appearances on "The Bob Newhart Show" and "Three's Company." Her final acting role came in a September 1979 episode of "Eight is Enough"; one month later, Henry died from a brain tumor on October 8, 1979.
Barton MacLane was the face of the military
General Martin Petersen was an affable career military man who played by the rules and was generous in his admiration for astronauts like Tony Nelson. On occasion, he was asked to throw his weight behind an investigation into the strange goings-on that seemed to swirl around Major Nelson, prompted by Dr. Bellows. Invariably, these turned up nothing of substance — or at least, nothing evident to the general, who usually sent the doctor packing after a stern talking-to.
Barton MacLane played General Petersen in 35 episodes of "Jeannie"; the actor, who began his film career in 1929 opposite the Marx Brothers in "The Cocoanuts," was a regular tough guy in dozens of films, including classics like "The Maltese Falcon" and "Treasure of the Sierra Madre." MacLane shifted to television in the late '50s and made his debut on "Jeannie" in Season 1's "Too Many Tonys." MacLane died while "Jeannie" was still in production on January 1, 1969, and his role was replace by Vinton Hayward's Major General Winfield Schaeffer.
Vinton Hayward: different general, just as baffled
When Barton MacLane died in 1969, another longtime character actor stepped in to take over as NASA's resident man of authority. Vinton Hayworth was tapped to play Major General Winfield Schaeffer, who was General Peterson's replacement as senior ranking officer. Like his predecessor, Schaeffer was on hand to express his affinity for Tony and Bill and field Dr. Bellows' requests for inquiries with gruff skepticism. On occasion, Hayworth got to step out of his rigid persona, most notably in Season 5's "Uncle a Go-Go," in which Jeannie's Uncle Aszmire disguised himself as Schaeffer.
Hayworth had actually been a guest star on "Jeannie" on Season 4's "Jeannie and the Top Top Secret," playing a different military man, but assumed Peterson's role on the series for 19 episodes until May 26, 1970, when he died of a heart attack. Like MacLane, Hayworth — whose film career began in the early 1930s, and who was the uncle of classic film stars Rita Hayworth and Ginger Rogers — died before his final "Jeannie" episodes were broadcast.
Woodrow Parfrey: Guest star of many faces
For many actors, a guest shot on a series like "I Dream of Jeannie" was a one-and-done arrangement, but for a select number of performers, the producers brought them back on several occasions to play an array of different roles. Woodrow Parfrey was one such repeat performers, enjoying appearances in four out of "Jeannie's" five seasons.
Invariably, Parfrey's role was an impartial party called in to explain the latest bizarre occurrence in Tony's life. In Season 2's "My Master, The Swinging Bachelor," he's asked to explain why a cake has turned adult party guests into children (the answer: Jeannie put a spell on it, natch), while in Season 4's "The Case of the Porcelain Puppy," he's convinced that Jeannie's accidental transformation of her aggravating mutt Djinn Djinn into a porcelain figurine is a lost work of art.
Parfrey played figures on both sides of the law in numerous features, including "Planet of the Apes" (1968) and "Dirty Harry," which marked one of several collaborations with Clint Eastwood. He remained active in films and on television for more than a decade after the final episode of "Jeannie," logging appearances in "The Outlaw Josey Wales," "Bronco Billy," and "Used Cars." Parfrey, whose son was underground publisher Adam Parfrey of Feral House fame, died of a heart attack on July 29, 1984.
Michael Ansara's Blue Djinn was family
Though the plot of "I Dream of Jeannie" begins with its pilot, "The Lady in the Bottle," the story of Jeannie herself begins several millennia before Tony Nelson crash-lands on that South Pacific island. In the Season 2 opener, Jeannie takes him back to the island where he found her bottle; there, Tony discovers a different bottle, which contains the Blue Djinn, an angry spirit who imprisoned her 2,000 years ago before also being trapped in a bottle. The Djinn is none too pleased to discover that Tony has freed Jeannie, and proceeds to create havoc for him.
The Blue Djinn was played by Michael Ansara, a character actor who specialized in both heavies and ethnic roles throughout his long screen career. "Star Trek" fans knew the Lebanese actor as Klingon commander Kang on the original series but his credits also included "The Soldier," the Season 2 episode of "The Outer Limits" penned by Harlan Ellison, who claimed that his script was plagiarized by "The Terminator." He also appeared in two other "Jeannie" episodes, playing Hawaiian ruler King Kamehameha in Season 3's "The Battle of Waikiki" and astronaut Biff Jellico in Season 5's "My Sister, the Homewrecker," and directed Season 5's "One Jeannie Beats Four of a Kind." How did Ansara get such access to "Jeannie?" It undoubtedly helped that he was married to Barbara Eden from 1965 to 1974.
After "Jeannie," Ansara continued to appear in features and on television, including Larry Cohen's cult horror film "It's Alive" and a recurring role as Killer Kane on "Buck Rogers in the 25th Century." He also voiced numerous animated characters, including Mr. Freeze on "Batman: The Animated Series" and "Batman Beyond," and reprised Kang on both "Star Trek: Deep Space Nine" and "Star Trek: Voyager." Ansara died from complications of Alzheimer's disease on July 31, 2013.
Abraham Sofaer, master of all genies
Like all of us, genies have to answer to someone. In the "I Dream of Jeannie"-verse, that individual was Haji, Master of All Genies, who quite literally wrote the book on the do's and don'ts of genie-dom. Haji's primary role on the series was to nudge Jeannie back on track when she used her magic in a non-authorized manner. Case in point: Haji's first appearance in Season 2's "There Goes the Bride," in which he puts several spells on Tony that send him to the hospital in order to counter Jeannie's love spell, which she cast to coax Tony into marrying her. Even though he was the Master of All Genies, Haji also had his own problems — namely his bumbling son Harold, played by Bob Denver in Season 3's "My Son, the Genie."
Character actor Abraham Sofaer played Haji on three episodes of "I Dream of Jeannie," but was replaced by actor/choreographer Andre De Shields in the first reunion movie, "I Dream of Jeannie … Fifteen Years Later." The Burmese-born Sofaer, who began appearing in features in the early 1930s, was also in dozens of television shows, most notably Season 1 "Star Trek" episode "Charlie X." After "Jeannie" ran its course, he appeared in a handful of features and TV shows, including "Kolchak: The Night Stalker," before retiring in 1974. Sofaer died of heart failure at the age of 91 on January 21, 1988.
Jackie Coogan was part of another odd TV family
By Season 5, the producers appeared to sense viewers' growing impatience with the will-they-or-won't-they aspect of Jeannie and Tony's relationship. Hence the season's two-part episode "Guess Who's Going to Be a Bride," in which Jeannie's frustration with Tony's unwillingness to marry her prompts a decision to become the queen of Basenji, a fictitious country overseen by her uncle Suleiman. The gambit worked, as Tony is sparked by her absence to propose to Jeannie, and the couple married seven episodes later in the appropriately-titled episode "The Wedding."
Hiding behind a faux goatee as Uncle Suleiman was actor Jackie Coogan, whom TV audiences of the 1960s and 1970s (and today) probably knew best as Uncle Fester on "The Addams Family." Coogan, who had been a major child star in the '20s — and the focus of a lawsuit that led to the first legislation to protect child actors — remained active on TV and in films after "Jeannie" ran its course. He reprised Fester for a 1973 animated "Addams Family" series and a 1977 reunion TV movie, "Halloween with the Addams Family," and guested on numerous series, including repeat appearances on "The Partridge Family" and "Hawaii 5-0." Health issues, including several strokes, forced him into retirement in the early 1980s, and Coogan died of heart failure at the age of 69 on March 1, 1984.
Future TV pitchman Dick Wilson battled pooches
Actor Dick Wilson was pitted against pooches in both of his appearances on "I Dream of Jeannie." In Season 2's "What's New, Poodle Dog?" Wilson works at the dog pound where Roger — having been turned into a dog by Jeannie over his planned double-date with Tony and two beauty queens — is taken and mistakenly abandoned. Three seasons later, Wilson was back at the pound for "Djinn Djinn, the Pied Piper," in which Jeannie's mischievous dog Djinn Djinn lands itself and General Schaeffer's Great Dane Jupiter behind bars.
Wilson — born Riccardo DiGuglielmo — was a Canadian actor with numerous TV credits including "The Twilight Zone," "Get Smart," and "Bewitched," but was best known as the zealous grocer Mr. Whipple in a series of commercials for Charmin toilet tissue that ran from 1964 to 1985 and 1999 to 2000 (the latter featured future "Mythbusters" star Adam Savage). Unlike many TV spokespersons, Wilson also remained active as an actor; his post-"Jeannie" credits included "The Bob Newhart Show," "The Rockford Files," and "Small Wonder." He died of natural causes at the age of 91 on November 19, 2007.
Kathleen Freeman played it broad
Let it never be said that "I Dream of Jeannie" didn't occasionally resort to extremes in order to nail down a laugh. Two episodes that really swung for the fences both featured the effortlessly funny character actress Kathleen Freeman. In Season 2's "My Poor Master, The Civilian," Freeman plays one of two "bad" secretaries conjured up by Jeannie to keep Tony from taking a job in the private sector, while in "U.F.Oh Jeannie," from Season 4, she's the matriarch of a backwoods clan that mistake Tony and Roger for invaders from space when their experimental ship crashes in hill country.
Freeman was no stranger to big, brassy characters: a featured player since the late 1940s, she stole scenes from the likes of Cary Grant, Marilyn Monroe, and Jerry Lewis, and earned enduring fame in the post-"Jeannie" part of her career with appearances in "The Blues Brothers" (she was The Penguin), Joe Dante's "Innerspace," and "Naked Gun 33 1/3: The Final Insult." A staple of TV comedies from the late '50s to the early 2000s, Freeman also lent her distinctive voice to numerous animated shows, including "Rugrats" and "Batman Beyond" (as Ma Mayhem). After netting a Tony award nomination for the Broadway run of "The Full Monty" in 2000, Freeman died from lung cancer at the age of 82 on August 23, 2001.
Fred Flintstone was Jeannie's dad
Though it took five seasons for Jeannie and Tony to get hitched, the idea was at the top of her to-do list from almost the first episode of the series. In fact, Jeannie announces her intention to marry her master in "My Hero?" which was the second episode of Season 1. She makes the decision while visiting her parents in ancient Persia, where she's whisked back with Tony to settle a score against Ali (Richard Kiel), a king-sized bully that defamed her good name. It's in this episode that we also learn that Jeannie was once a human until she ran afoul of Michael Ansara's Blue Djinn.
Playing Jeannie's father in the episode is Henry Corden, a legendary voice actor for countless animated TV series and films from the 1960s to the late 1990s. Corden was perhaps best known for assuming the voice of Fred Flinstone after the death of original voice actor Alan Reed in 1977. Corden also lent his voice to dozens of additional Hanna-Barbera series, including "The Jetsons" and "Josie and the Pussycats," as well as shows ranging from "The Banana Splits Adventures Hour" to "Alvin and the Chipmunks." After "Jeannie" ran its course, Corden remained active as both a voice actor and live-action player, including "Garfield and Friends" and "The Berenstain Bears Show." Corden died of emphysema at the age of 85 on May 19, 2005.