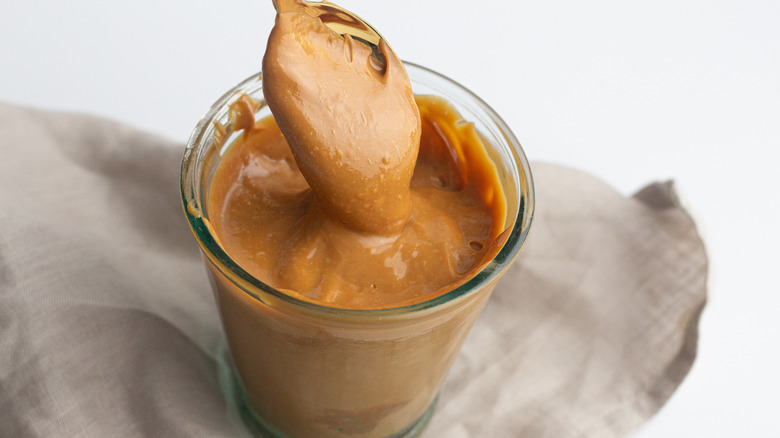 If you've got a sweet tooth, you're in luck. Dulce de leche is a very popular Latin American confection that is made simply by heating milk until it caramelizes. A popular addition to breakfast and, really, many other meals across the region, its gooey consistency also makes it a tasty addition to pies, cakes, and other pastries. One story related via Martha Stewart maintains that it was the creation of a maid who was working for Argentinian politician Juan Manuel de Rosas in the early years of the 19th century, though its true origins remain pretty mysterious.
But there's no need to leave dulce de leche in the past. Recipe creator Susan Olayinka of The Flexible Fridge has an extremely simple but effective way to enjoy this caramel treat. With just one ingredient — a can of condensed milk — and a preparation time of 5 minutes, this recipe takes no time to get going. Admittedly, the cooking time does stretch over an hour, so you'll need a bit of patience.
But the time is more than worth it to reach the sort of culinary glory that's in store at the end of the process. Plus, that time is almost entirely hands-off, leaving you to do whatever other work in the kitchen or elsewhere at home that you need to do. Now, let's take a look at how to make this popular Latin American dessert using nothing more than some condensed milk, water, and your handy Instant Pot.
Heat the condensed milk and water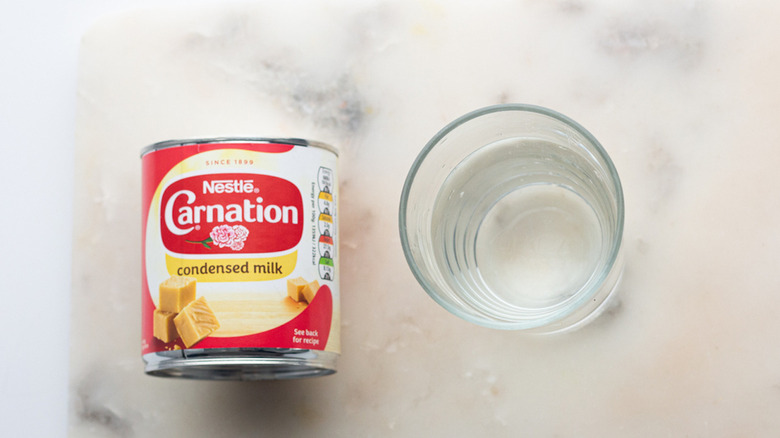 To make this dulce de leche, you need one 14-ounce can of condensed milk (note that it's different from regular milk or evaporated milk), 6 cups of water, and an Instant Pot.
Start by peeling the label off the can. From here, you have two options. You can heat the condensed milk immediately or you can add in some extra flavorings. Olayinka says the best way to achieve the latter is to pour your condensed milk into a mason jar and then add your favorite ingredients before putting it into the Instant Pot to heat. As for those add-ins, Olayinka says it could be could any number of things, including "cocoa powder, cinnamon, citrus zest, or even some salt for a salted caramel type flavor."
If you prefer the first route, rest assured that making the recipe as-is will result in some seriously delicious dulce de leche. Whatever method you use, the next step is to place the trivet inside your Instant Pot, then put the milk can or mason jar onto the trivet. From here, pour the 6 cups of water into the Instant Pot.
Now, set your Instant Pot to the "pressure cook" setting for 40 minutes. This will heat your mixture slowly and caramelize the sugars in the condensed milk. Once 40 minutes have passed, leave your Instant Pot alone for 1 hour and 15 minutes. After that cooling period is over, your pot should open without easily and without resistance.
Whisk your dulce de leche
When you first open the can of condensed milk after it emerges from the Instant Pot, you'll see that the insides have transformed into a dark brown mixture that's rich with caramel flavor. It may also be a tad lumpy, so the final step before serving your dulce de leche is to whisk it until it's smooth.
To do that, simply take your condensed milk can out of the Instant Pot and open it with a can opener. Now, carefully spoon the dulce de leche into a mixing bowl. An electric hand whisk is an ideal way to mix your dessert, but if you don't have one you can also use a hand whisk.
If you go with the hand whisking method, remember to move your whisk from side to side — that is, don't move it in a circular motion — and use your wrist to drive the motion. That will help you whisk more efficiently and will hopefully save some of that muscle power for bringing a spoon of the delicious dulce de leche straight to your mouth.
How you can serve your Instant Pot dulce de leche
Although you can dive right it and eat your dulce de leche as is after it's been blended, there are plenty of tempting additions to consider. Olayinka recommends avoiding anything too sweet, as the sugar overload can get pretty intense if you're not careful. and sticking to things like nuts and seeds. Olayinka also says that it "pairs well with cream […] as it mellows the sweetness out."
You can also pair this recipe with any number of desserts like cakes, cupcakes, and pancakes. "You can have [those pancakes] with sliced apples, bananas, strawberries, [you can] spread it onto brownies — the options are endless!" Olayinka said. Just remember to consider how the flavors of your sweet dulce de leche will pair with the particular ingredient you have in mind. And there's no harm in doing a bit of taste testing just to make sure, right?
If you have any leftovers, says Olayinka, you can store them in an airtight container in the refrigerator for up to 2 days. But if you're as big of a fan of dulce de leche as the rest of the world, chances are pretty good that you won't need to worry about it lasting that long, anyway.