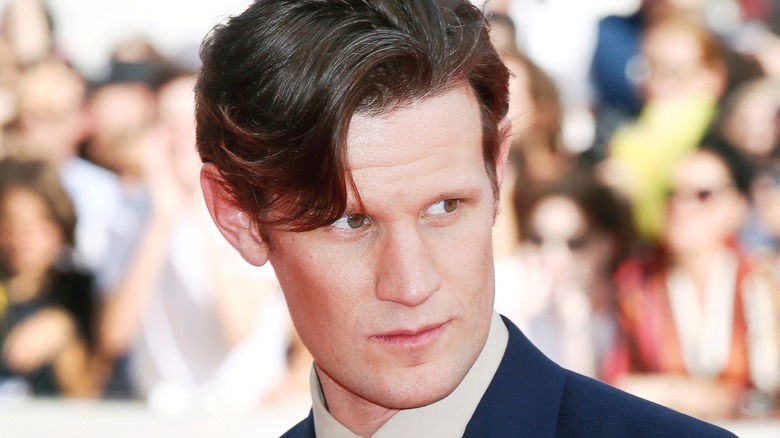 Since 2006, Matt Smith has been a consistent actor, appearing in a new project at least every year. From BBC's "Party Animals" to Netflix's "The Crown," he has taken on both fun and serious characters that really solidify his talent.
When one thinks of Smith, it is likely the first thing they think of is "Doctor Who." From 2010 to 2014, he portrayed the 11th incarnation of the Doctor, the time-traveling alien who takes his companions to different eras and planets where they find themselves in dangerous situations. After his departure, Smith has not yet returned to the series (though there have been references to his version in later episodes), but he has often spoken about the role and the future of the character. Smith continues to make an impact on his fans, especially on those who consider his Doctor the best. From childhood to starring as one of the most iconic science-fiction characters of all time, let's take a look at Smith's fantastic journey.
Matt Smith initially wanted to be a football player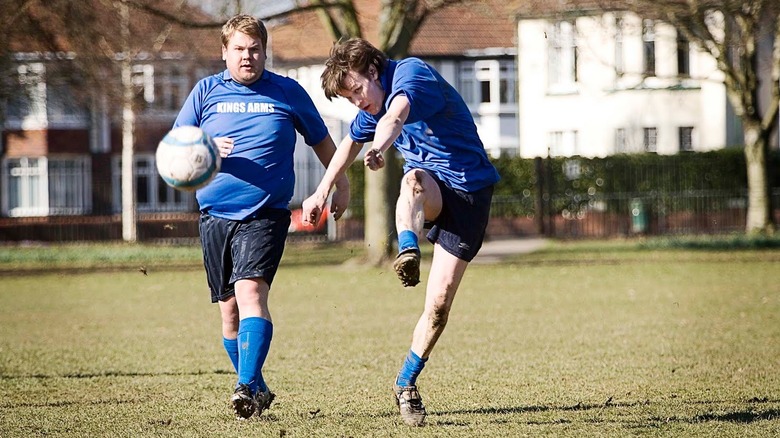 Born in 1982, Matt Smith grew up in Northampton, England, with his parents and sister. He had hopes of playing football professionally and even participated in youth teams near and around his hometown. Unfortunately, Smith suffered a major back injury at age 16 — and continues to deal with spondylosis (vertebral column degeneration) to this day — so his dreams came to a screeching halt. He had trouble telling people about the incident, particularly because playing the sport was a huge part of his identity. "I was the footballer and suddenly I wasn't that," he told The Irish News.
A drama teacher at his school saw his potential and suggested that Smith consider acting. Though he took up the advice, he kept it secret because he thought it was "a bit girly." However, he soon realized that being onstage gave him the same sense of freedom that playing football did. That feeling persisted and inspired Smith to study drama and creative writing at the University of East Anglia in Norwich (via the BBC).
His TV debut was with Billie Piper
Thanks to his time with the National Youth Theatre, Matt Smith earned an agent, as well as professional roles. His first offstage project, as well as his television debut, was in the BBC's adaptation of Phillip Pullman's "The Ruby in the Smoke." Starring alongside Billie Piper — who had already left "Doctor Who" a few months prior — Smith played Jim Taylor, a hopeless romantic and close friend of Sally Lockhart's who can easily read a person and their true intentions.
Jim appears in every book in the "Sally Lockhart" series, and Smith returned for the 2007 sequel, "The Shadow in the North." The rest of the books could reasonably be expected to be made for TV as well. Unfortunately for fans of Pullman's mystery novels and of Piper and Smith's contribution to them, that hasn't been the case. It is safe to assume that the series has been scrapped.
He gained more recognition for Party Animals
The same year "The Shadow of the North" was released, Matt Smith landed his first major television series in the BBC drama "Party Animals." The show follows people who are involved with the politics around Parliament, including those of the Labour and Tory parties. Smith played Danny Foster, a researcher belonging to the Labour Party, who, despite his political intelligence, is quite geeky and awkward when it comes to women. This is especially seen with his unrequited love for Kirsty MacKenzie (Andrea Riseborough), which causes struggle in both his personal and work lives.
Despite the positive feedback "Party Animals" received — it earned a Broadcasting Press Guild Award nomination for Best Drama series — BBC opted not to pick it up for a second season, and it ended with only eight episodes aired. After its cancellation, Smith went on to guest star in "Secret Diary of a Call Girl." He portrayed a salesman that spends the night with Hannah without knowing she is a prostitute called Belle; the role reunited him with Billie Piper.
The youngest Doctor
In 2009, it was revealed that Matt Smith would be replacing David Tennant as the Doctor in the long-running sci-fi series "Doctor Who." Being 26 at the time, he is still the youngest actor to have ever played the character. The casting choice caught many by surprise, and though Smith had enjoyed some previous success, he was still relatively unknown. His first appearance came in "The End of Time Part 2," in which the 10th Doctor reaches the end of his life and regenerates. Smith's first full episode as the Doctor was "The Eleventh Hour," which also introduced his new companion, Amelia Pond (Karen Gillan). He went on to play the character for four years — including in the 50th anniversary with David Tennant — until deciding to leave in "The Time of the Doctor."
Smith quickly won over fans' hearts with the way he masterfully maneuvers through the complexities of the Doctor, especially when it comes to the darkness and guilt the ancient Time Lord has carried for years. As expected, there was much disappointment when Smith announced his departure, but he thanked his fans for their love and support, calling them "unlike any other."
Matt Smith continues to thrive
"Doctor Who" has opened many doors for Matt Smith. Perhaps his most prominent role was that of Prince Phillip in the first two seasons of "The Crown." His performance earned him a Primetime Emmy Award nomination for Best Supporting Actor. As the series follows the British royal family through each era of their life, Smith was replaced by Tobias Menzies in the third season.
Smith took on another biographical project in 2018, this time portraying serial killer Charles Manson and exploring the way he manipulated countless women into committing deplorable crimes. Though the movie received average reviews, Smith's performance has been called "magnetic" and "strong" (via The Guardian).
He has much happening in the next few years. Like his co-star Karen Gillan, he will join the Marvel world in 2022 as Loxias Crown in "Morbius." Smith will also star in a "Game of Thrones" prequel, "House of the Dragon," as Prince Daemon, an ancestor of Daenerys Targaryen and younger brother to King Viserys I.