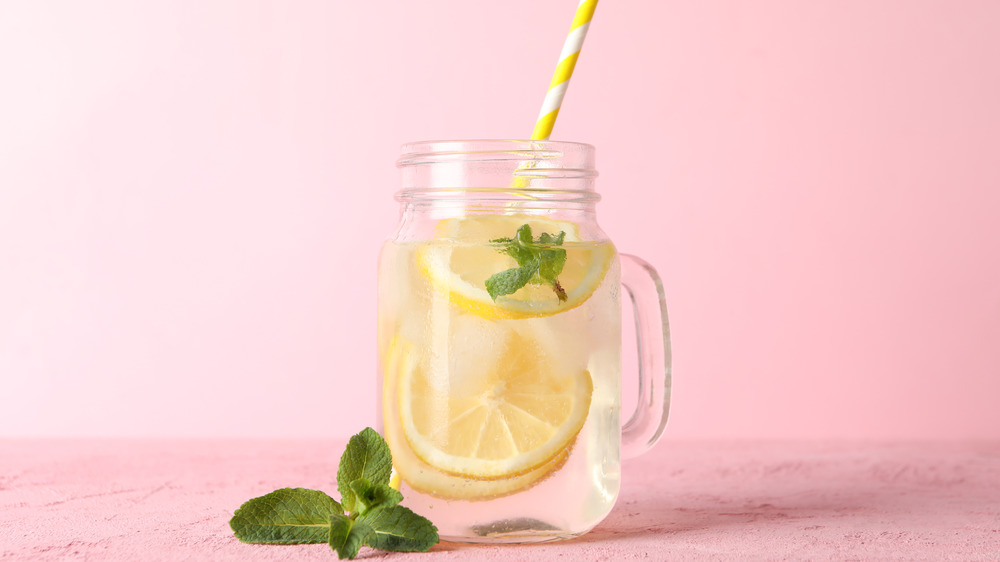 When you think about low-calorie drink mixes, the image of Crystal Light is probably the first one that pops up. The brand's pastel-colored fruity flavors including traditional lemonade and fruit punch (not to mention a collection of refreshing instant tea blends), comes wrapped in packets or bottles meant for anything from a single glass to a family-sized pitcher.
The mix quickly became a household favorite when it debuted in the '80s, recalls The Retroist. But Crystal Light hasn't always been a mainstay in grocery stores (or kitchen cabinets). There was a time when the manufacturer had to make bets on how American consumers wanted refreshments. Back in 2009, Kraft (the company that currently owns the Crystal Light brand) decided to position the drink as a water replacement (via The New York Times).
From then on, the brand made a decision to design their drink for health-conscious people that don't want the extra calories that juice or soda provide, but do want to increase their hydration levels.
And so, Crystal Light as we know it came to be.
It's still uber popular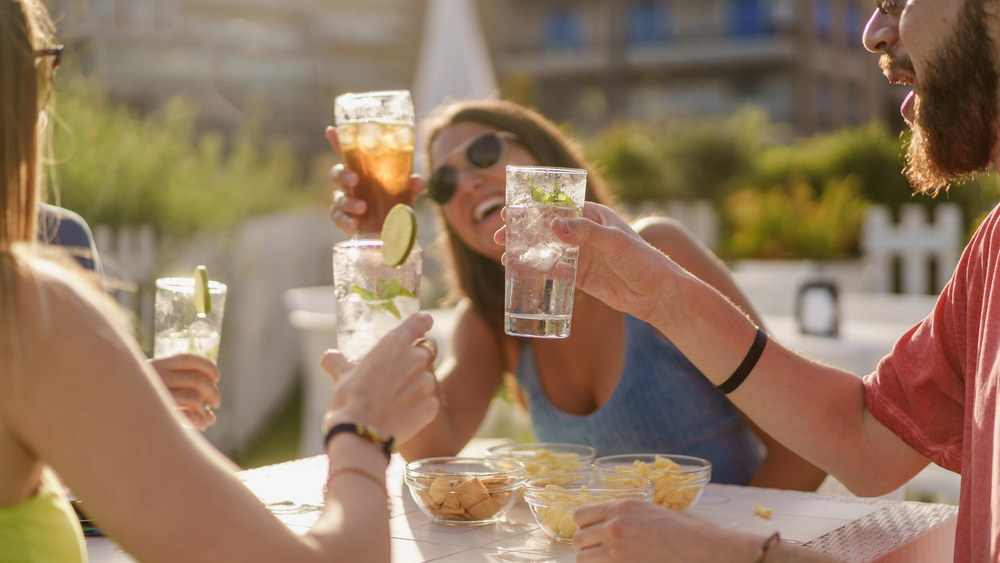 Even today, the brand remains incredibly popular and visible. A whopping 90 percent of consumers have heard of Crystal Light, with 46 percent holding a positive opinion of the brand. That kind of brand recognition is pretty remarkable—to compare, 94 percent of people recognize Coca-Cola branding and have heard of that company (via Business Insider).
As for demographics, Crystal Light tends to be more popular with Generation X, which holds a 52 percent favorable opinion, followed by a 45 percent approval rating from Millennials and 44 percent from Baby Boomers (via YouGov).
Even more impressive is the fact that the brand has maintained those numbers without much of a social media presence. Crystal Light's Facebook page currently has around 750,000 likes in spite of not making any posts since September 10, 2015 nor posting on the SipCrystalLight Instagram page since August 27, 2015. That doesn't stop social media followers from tagging the brand in their photos, though, with everyone from healthy living influencers to mommy bloggers giving the drink a spot in their feed.
Then there were those commercials
Even in the early days, influencers were utilized to grow the brand. Priscilla Presley's 1986 Crystal Light commercial fueled early interest in the burgeoning drink, as well as igniting speculation about her proficiency in martial arts. (Did she ever spar with Elvis?) Other star-studded commercials of the decade were just as fetching and helped the brand prosper, featuring all of the '80s highlights: big hair, shoulder pads, glitzy fashion, and sweetly earnest dialogue, like the catchphrase "I believe in Crystal Light because I believe in me," which quickly became the brand's rallying cry.
There was the one with Linda Evans stuck in a limo during a traffic jam—the actress then proceeds to pop wheelies on a bike and swing on a rope, Tarzan-style, to get an icy cold glass of the beverage. Another spot featured a mock dance routine with Raquel Welch (affectionally called Rocky) who turns up her nose at cans of Diet Coke and Pepsi in favor of a glass of Crystal Light.
There was also a Crystal Light aerobics competition
The drink's height of fandom in the '80s also gave America the Crystal Light National Aerobic Championship competition, which ran for a few years in the mid-80s. The videos will hypnotize you, the tights will confound you, but the workout moves are pure gold.
Vulture looked back at the phenomenon in an interview with the competition's 1987 host, the late actor Alan Thicke, who was also a fan of the drink. "I was a big fan of Crystal Light, and when they started producing it in actual containers instead of the powdered form that you had to mix, that's my style, that's my level of convenience, so I was on board for that," he said, adding, "I'm a berry flavor guy, as opposed to citrus."
Moving on from aspartame
After originally finding success with the artificial sweetener aspartame, Crystal Light manufacturers opted to being experimenting with new sweetening agents, eventually settling on the more naturally-derived Stevia in 2011.
At the time, Beverage Daily reported that Kraft had already begun using Stevia in other products (like Odwalla smoothies) with success and decided to make the switch in Crystal Light as well to appeal to consumers that wanted sweet-tasting foods and beverages but were looking to avoid artificial sweeteners.
Stevia, a shrub bush that is part of the sunflower family, is 200- to 300-times sweeter than table sugar. According to Medical News Today, the plant-based sweetener is more environmentally friendly, too—the manufacturing process requires about 20 percent less farmland and much less water to offer the same level of sweetness as other options like cane sugar.
Crystal Light cocktails are now a thing
Crystal Light's fruity low-cal options lend well to mixing with alcohol to create decidedly more…adult beverages. And they're not watered down lightweight drinks either, but rather drinks you'd be proud to serve at your next gathering.
For recipe ideas, check out DIY blogger Brit (of Brit + Co), who created a range of Crystal Light cocktails originally as an April Fool's Day joke. Great American Country has also published Miranda Lambert's diet-friendly drink, called the "Randarita," which mixes vodka, lemon-lime soda, water, and Crystal Light's Raspberry Lemonade flavor. Or, try the "Pinky Lady" over at Food.com—the cocktail mixes Crystal Light Pink Lemonade, peach schnapps, ginger ale, and vodka.
The Crystal Light website gives ideas as well, offering their own drink recipes like a fruity Pomegranate Sangria, Strawberry-Lemonade Vodka Slush, and no less than three types of sangrias (Peachy Iced Tea, Southern style, and Lemonade).
All about those flavors
Unlike the variety of flavors offered today (not to mention a SodaStream partnership), the first Crystal Light flavors didn't offer half the variety currently found on shelves. (Blackberry Lemonbabe, any one?)
At the time of Crystal Light's debut in the early '80s, the world of artificial sweeteners was far from certain. Fresh off the sting of the terrible reputation of saccharine (a derivative of cold tar, says Marketplace), food and beverage companies had to bet on what consumers would want next. General Foods bet on aspartame, rolling out the first Crystal Light flavors in tropical punch, cherry, grape, lemonade, and orange. According to an industry article by George Lazarus, the Wyler division chose the tropical punch and cherry flavors because they were the top-selling Kool-Aid picks.
The rest, as they say, is history.
In a crowded marketplace where diet soda sales are flatlining (via Marketplace), Crystal Light remains a popular choice with its fans.