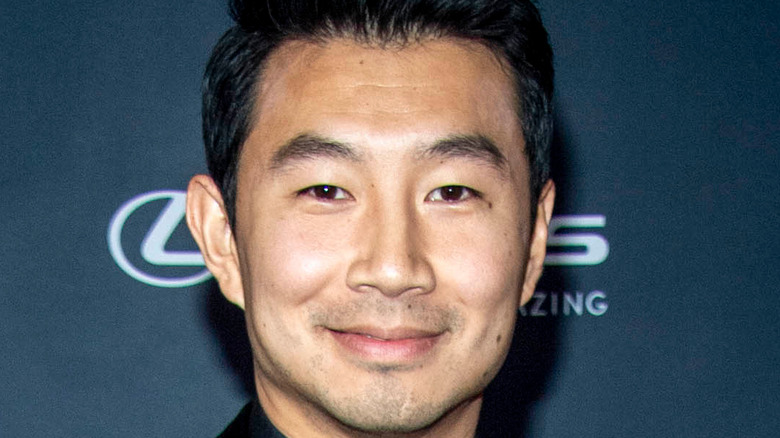 The Marvel Cinematic Universe is growing even larger and ever more imaginative and eye-popping with the theatrical premiere of "Shang-Chi and the Legend of the Ten Rings." Portraying the title character, an otherworldly skilled combatant with unbelievable powers and abilities: rising star Simu Liu. It's not often that a major Hollywood movie, let alone an entry in the intricately planned and intensely scrutinized MCU, stars an actor who isn't a household name (such as the highly successful Scarlett Johansson or Robert Downey Jr.). Still, Liu shows all signs of being on the cusp of carving out a permanent spot on Hollywood's A-list. For the better part of the decade, he's honed his skills primarily on Canadian television, with roles on hit shows that made a big international impact, such as the sci-fi epic "Orphan Black" and the very successful sitcom "Kim's Convenience."
Liu is a star in the making, with a remarkably interesting rise to fame characterized by drama, struggle, and ambition. Here's everything you might want to know about SImu Liu.
Simu Liu emigrated from China at a very young age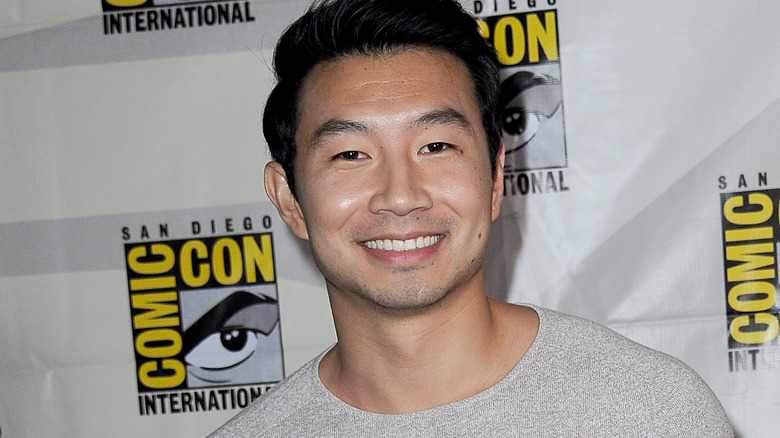 Simu Liu's path to stardom has been circuitous and singular, and his upbringing was similarly nonlinear and not cut-and-dry. Per Toronto Life, Liu was born in the northeastern Chinese metropolis of Harbin in 1989, and according to HuffPost, he spent his first few years of life living with his grandparents, because his mother and father had decided to become the first people in the family to leave China, and they had emigrated to Mississauga, Ontario, a large city outside of Toronto. By the time he was five years old, Liu's parents (his father won a spot in a graduate program at Queen's University) were financially ready to bring their son over. But they were essentially strangers to young Liu. "I was excited to finally meet my real parents and start my life in Canada, but I had no recollection of you," Liu wrote in an open letter to his parents published in Maclean's.
After moving to Canada, the sudden and complete replacement of parental units, along with adapting to a new culture, proved shocking and difficult for Liu. "We fought often … If I scored below an A, I was stupid," he wrote. "I ran away from home in 2005 after a particularly bad fight." Liu added that in the present day, he and his parents don't talk much about his childhood, but in 2019 he signed a deal to write a memoir, which really goes "back to the lives of my parents as they grew up in China."
Simu Liu tried to be an accountant
Becoming an actor wasn't really an option for Simu Liu growing up. His parents encouraged him to pursue a career as a skilled professional, something in the realm of a doctor, engineer, lawyer, or business. According to The Globe and Mail, Liu chose the latter, and after attending a high school affiliated with the University of Toronto, he graduated with a degree in business from the University of Western Ontario's Ivey Business School. His final class rank was middle-of-the-pack, which precluded Liu from landing a powerful or lucrative position in one of the companies based in Toronto's Bay Street financial district. "My option was basically accounting," Liu said, and he was hired by accounting conglomerate Deloitte to work at its downtown Toronto office.
Liu didn't like working for Deloitte, and Deloitte didn't much care for Liu. "Eight months in, they laid me off," he said. "The first round of cuts, and I was right out." He had been so unhappy crunching numbers all day that he figured he should "probably take some time and pursue something that I hadn't before, maybe just to try it." That's what led him into the performing arts, but he was still deeply ashamed of losing his job. "I considered throwing myself off my balcony to avoid facing you," Liu wrote in an open letter to his parents, published by Maclean's.
Everything hit at once for Simu Liu
Sometimes an actor's years of toil and struggle will pay off and they get their aptly named big break, a role in the main cast of a major network television show for example. That's their entry into the Hollywood system, and the first rung on the proverbial ladder to fame, with more chances and opportunities coming their way. It didn't quite happen that way for Simu Liu.
According to Time, his first work in film came when he responded to a Craigslist ad and was cast as a background extra in "Pacific Rim." After landing a recurring role on the modest Canadian crime drama "Blood and Water," in 2015, Liu was cast in three big shows virtually simultaneously. He landed the part of aloof car rental agency employee Jung Kim on the CBC's adaptation of the Ins Choi popular play "Kim's Convenience" (which quickly became one of Canada's most vital comedies), played former CIA analyst Faaron on NBC's version of the film series "Taken," and joined the international smash hit and Emmy winner "Orphan Black" in its fifth season as Mr. Mitchell.
Completing a very good 2016 for Liu: he was among the cast of the Toronto production of "Banana Boys," nominated for Outstanding Performance – Ensemble at the Dora Mavor Moore Awards (roughly the Canadian equivalent of the Tonys).
Simu Liu did a very specific kind of modeling
With more than three dozen film and TV credits to his name, including the Marvel Cinematic Universe bonanza "Shang-Chi and the Legend of the Ten Rings" and "Kim's Convenience," along with a high-profile Xbox ad campaign, actor Simu Liu is an increasingly familiar face on screens both big and small. But many filmgoers and TV watchers may already recognize Liu from something a bit more pedestrian and anonymous, and may not be able to place him.
The source: stock images. "I did ONE stock photo shoot for 100 bucks cash in 2014," Liu wrote in an Instagram post (via Buzzfeed), "and I have ended up on HUNDREDS of ads and storefronts and pamphlets and textbook covers." Licensed to and by Getty Images, Liu appears in series of outfits (usually a crisp white dress shirt with no tie and his sleeves rolled up), ready to get down to the task at hand of group projects in an office setting, alongside a revolving cast of other nameless models pretending to be corporate employees.
Simu Liu asked for a Shang-Chi movie years before he was cast in one
"Shang-Chi and the Legend of the Ten Rings" is the latest big-budget, comic book-based, cinematic extravaganza from Marvel Studios, and, as of this writing, it's scheduled to hit thousands of multiplexes in September 2021. Simu Liu will star as the title character, a superpower kung fu master who can tap into his superior fighting skills and deep stories of magical internal energy. "Shang-Chi" is historic in that it's the first Marvel Cinematic Universe entry to feature a hero of Asian heritage, according to the Los Angeles Times. It's a huge boost for representation and for Liu's career, and it's also a film that the actor has been personally angling for nearly a decade, well before he found a level of fame with "Kim's Convenience."
In 2014, Liu tweeted to Marvel, "great job with Cpt America and Thor. Now how about an Asian American hero?" Four years later, Marvel put "Shang-Chi" in development, per Deadline. In response to his quips at the characters played by Chris Evans and Chris Hemsworth, Liu once more tweeted at Marvel, writing, "are we gonna talk or what #ShangChi." The actor referenced that tweet with a quippy "Thanks for getting back to me" eight months later, when The Hollywood Reporter announced that he had been cast in "Shang-Chi and the Legend of the Ten Rings."
Simu Liu is very ready to play Shang-Chi
Portraying a superhero is one of the most physically demanding and taxing jobs an actor can take. Probably the only on-screen performance that requires more of an actor and which pushes their body to its absolute limits is starring in a martial arts movie. Marvel Studios' "Shang-Chi and the Legend of the Ten Rings" is both a superhero movie and a martial arts movie (with elements of emotionally-driven domestic drama, too, per Entertainment Weekly), which means star Simu Liu faced a monumental task in bringing his character to the big screen. And yet, nearly everything he had to do in "Shang-Chi" was at least sort of in the actor's wheelhouse.
"My martial arts experience was like backflipping in my backyard when I was a teenager and doing parkour with my friends," Liu told EW, downplaying his background. Some of the actor's first on-screen credits are as a stunt performer, engaging in death-defying activities on the films "Sick" and "Kill Order" and for the TV series "Heroes Reborn" and "Designated Survivor." For "Shang-Chi," Liu had to do a lot of his own stunts and not delegate to a stuntman, because, unlike many other MCU heroes, his character's face isn't covered by a mask or helmet. Additionally, Liu has taken to social media to prove his proficiency with gymnastics and his skills with nunchucks.
Simu Liu writes, directs, and produces films
While being merely an actor is a fine choice of profession and a way to tell stories and relate the human experience for generations to come, pretending to be people written by others isn't enough for the ambitious and prolific Simu Liu. In addition to pursuing roles, he also wants to keep up his sideline as a filmmaker. In 2013, he wrote, directed, produced, and starred in a short action movie called "Open Gym," and two years later, did all those jobs again on a superhero spoof called "Crimson Defender vs. The Slightly Racist Family." Also in 2015, Liu landed the role of Paul Xie on the Canadian police drama "Blood and Water," and shortly thereafter joined the show's writing staff.
Beyond shorts and TV shows, Liu wants to make movies for and about people of Asian descent. "I want to see us create a culture and identity for ourselves," he tweeted in 2018 before putting the call out for scripts about the Asian American experience that could be made into low-budget, independently produced features through his production company, 4:12 Entertainment.
Simu Liu explained the ignominious end of Kim's Convenience
"Kim's Convenience" debuted on the CBC in 2016, quickly becoming one of Canada's most popular and vital comedies and finding an audience in the United States when it hit Netflix. The action centered on prickly and conservative Korean-Canadian parents Appa and Umma, who ran a small Toronto market and tried to bridge the generation and cultural gap with their daughter Janet and adult son Jung, largely and sadly estranged from Appa. Simu Liu played Jung until the end — in March 2021, Deadline reported that "Kim's Convenience" would end with its fifth season, as producers opted to end the show following the exit of the series' showrunners.
When the final batch of episodes hit Netflix, Liu took to Facebook to bemoan the controversial circumstances that led to the series' conclusion, and why it likely won't be revived on a new network. Producers wanted to expand the world of "Kim's Convenience" with a spinoff focused on Shannon, Jung's boss played by Nicole Power, the single white actor on the show. "I love and am proud of Nicole," Liu wrote, "but I remain resentful of all of the circumstances that led to the one non-Asian character getting her own show … I will adamantly refuse to reprise my role in any capacity."
Liu also lamented the show's writing process, alleging that he and other Asian-Canadians who acted on the series were never consulted about their "lived experiences to draw from" by the "overwhelmingly white" "Kim's Convenience" creative staff.