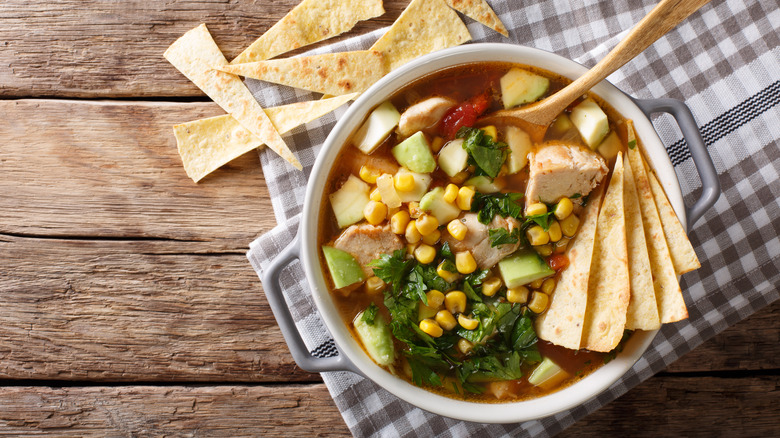 Sometimes it seems like folks feel they can slap "Southwest" onto any food item featuring beans and corn and call it a day, but Southwestern cuisine is far more complex than that. Born of influences ranging from the centuries-old cuisines of the Native Navajo, Hopi, and Pueblo nations as well as the food of nearby Mexico, Southwestern cuisine is as varied as it is delicious. And thanks to innovative local chefs, it manages to walk the line between tradition and modernity.
Southwestern cuisine reaps the benefits of a host of local ingredients. The local cuisine is often naturally plant-based, according to Eater, taking advantage of produce like corn, beans, and squash prepared in countless ways for maximum flavor. The presence of chiles is perhaps the most prominent defining characteristic of Southwestern cuisine, and you'll find chiles in a range of colors (and Scoville units!) on local tables for breakfast, lunch, and dinner. Influence from Mexican cuisine south of the border as well as the more meat-heavy Tex Mex cuisine lends even more variety.
Hatch chiles are a Southwestern staple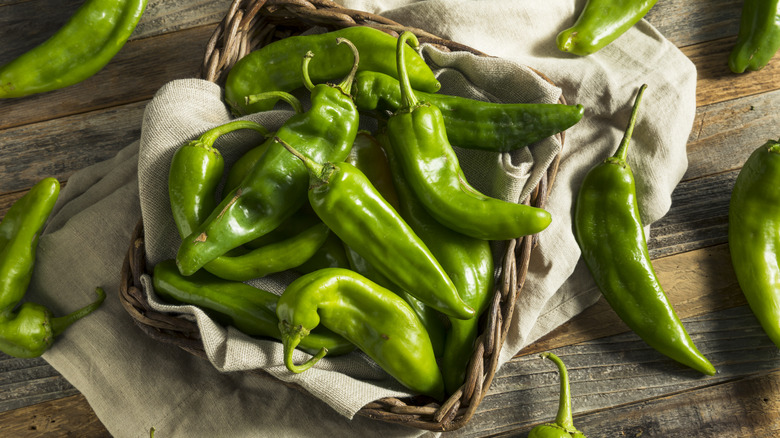 If you're going to talk about just one Southwestern staple, it's gotta be the Hatch chile. Grown and harvested in the Hatch Valley region of New Mexico, this green chile is omnipresent in Southwestern cuisine from New Mexico to Arizona and beyond (via Chile Pepper Madness). The mild chile (1,000 to 8,000 Scoville Heat Units or so, about a third as hot as a jalapeño) is frequently found not only in chile sauces but as a pizza topping, sandwich condiment, and bagel filling.
But perhaps the most beloved use of the Hatch chile, at least these days? Roasted and piled atop cheeseburgers with such frequency that according to i am a food blog, they're "practically a state symbol" at this point. On his "Diners, Drive-Ins, and Dives," Guy Fieri visited what was then the oldest restaurant selling the burgers, Bert's Burger Bowl. The restaurant closed in 2015, but the burger lives on: New Mexico True has even created its own green chile cheeseburger trail for those who want to discover this local delicacy.
The three sisters show the power of tradition
For centuries, local indigenous populations in the Southwest have been growing corn, beans, and squash together, dubbing the three plants the "three sisters" — and for good reason! These plants naturally create their own harmonious ecosystem by virtue of their unique properties. Bean plants reap nitrogen from the air and keep the other two sisters healthy; corn grows tall stalks that the bean plants can climb, like a natural beanpole or trellis. Squash, meanwhile, grows big leaves that cover the ground, keeping it moist, and the vines themselves have a prickly surface that keeps pest and vermin at bay.
Additionally, the three sisters aren't just grown together — they're often eaten together. Local favorite recipes combining the three veggies may include three sisters soup, three sisters casserole, and three sisters stew, enjoyed both at home and in restaurants. For ideas of how to use these specialties in your own kitchen, PBS offers some inspiration.
Calabacitas are New Mexican for zucchini
While it might seem like the "three sisters" of beans, corn, and squash are always together in Southwestern cuisine, this actually isn't always the case. And the New Mexico staple of calabacitas is a great example of how two sisters can play well together without the third.
According to New Mexico True, calabacitas is a dish where the starring role is played by summer squash: zucchini, crookneck, or light green-skinned calabacita squash. (After all, calabacita is literally Spanish for "little squash!") The squash is usually cooked with onion, tomato, corn, and chile, though every family has a slightly different approach to this side. You can add a bit of half-and-half, cream, or cheese if you like, but it's also delightful served plain: as a filling for tacos or all on its own.
Calabacitas also makes a delightful summertime side dish to your favorite grilled meats like marinated chicken, steak, or fish, or even grilled corn on the cob.
Pinto beans are a pretty, protein-rich treat
While you'll find all sorts of beans in the Southwest, pinto beans (so named for their spots of reddish color) are beloved in the Southwest. In fact, along with chiles, pinto beans are one of New Mexico's two official state vegetables (per New Mexico Magazine).
It's a high honor, but it's a well deserved one. After all, pinto beans have long fed the region, even in times of drought. Locals typically enjoy their beans simply: cooked until tender on the stovetop or in a pressure cooker, seasoned with chiles, spices, aromatics, and maybe some cured meat like bacon or ham hock, and served with hot cornbread or tortillas.
If you're a real fan of these beans, check out the Moriarty Pinto Bean Fiesta each September, which boasts a parade, a pancake breakfast, a pinto bean cook-off, a 5K run, and even crowns a pinto bean queen each year.
Blue corn is a Southwestern specialty
While you might be more familiar with yellow or white corn, Navajo blue corn is the stuff of local legend in the Southwest, cultivated in both northern New Mexico and northern Arizona. Traditionally hand-planted and hand-harvested, blue corn tends to be more expensive than its yellow or white counterparts, explains The New York Times, and Eater notes that it's prized for its higher protein content and nuttier flavor.
Blue corn also boasts a slightly different texture; blue corn tortillas, writes The New York Times, are "coarser, grainier and crumblier than those made of yellow corn." Indeed, blue corn tortillas are often difficult to roll and are thus instead stacked when making dishes like enchiladas.
Tortillas and tortilla chips aren't the only ways this local maize can be enjoyed, either: consider Navajo blue corn mush as a novel (and beautiful) way to showcase this Southwestern ingredient.
Fry bread is a Native American classic
Given its name, the method for making fry bread is probably no surprise: this simple, delicious bread is made by frying a simple dough in oil or shortening (via Smithsonian Magazine). The resulting bread can be enjoyed on its own, sprinkled with sugar, drizzled with syrup, or topped with typical taco fillings for delicious Navajo tacos. The fry bread base makes them much puffier and chewier than tacos made on corn or flour tortillas. (It also makes them far more difficult to eat out of hand, making a fork and knife almost mandatory for enjoyment.)
While fry bread has (thus far) not enjoyed the widespread renown that tortillas do, according to Eater, it and other Native American dishes are getting their day in the sun; chefs of Native heritage like Cecelia Miller, a member of the Tohono O'odham tribe and owner of Phoenix's Fry Bread House, boasts a James Beard America's Classic award for her renditions of ancestral local specialties — including fry bread.
Huevos rancheros is the perfect Southwestern breakfast
Combine eggs, tortillas, and loads of delicious seasonings, and you have huevos rancheros — literally, ranch-style eggs. According to The Austin Chronicle, huevos rancheros are similar to but still distinct from chilaquiles. The latter see tortilla chips combined with warm sauce so that they soften before the eggs are added; for huevos rancheros, the eggs are instead served over tortillas and then smothered in warm sauce, so the tortillas retain their texture.
Everyday Southwest writes that huevos rancheros are "THE classic southwest breakfast food," pairing corn tortillas with black beans and canned enchilada sauce to make their quick-and-easy version. But as What's Cooking America? writes, there is "no set recipe" for huevos rancheros. In the Southwest, you'll see them with all sorts of flavorings and sauces, from the super simple to the complex. Bingeing with Babish even made a version inspired by "Breaking Bad," complete with homemade tortillas and a smoky ancho chile sauce.
Sonoran hot dogs are a Tucson specialty
You can't visit Tucson, Arizona without sampling a hot dog — a Sonoran hot dog, to be exact. This local invention sees a hot dog first wrapped in bacon and then grilled until crispy. The resulting dog is stuffed into a split-top bolillo roll and topped with pinto beans, tomatoes, onions, mayo, mustard, and chile salsa.
According to NBC, as many as 200 people sell these dogs across Tucson, often peddling them out of trucks. Daniel Contreras is one former "doguero," now the owner of El Güero Canelo restaurant. Contreras not only competed against fellow doguero Benjamin Galaz on 2010's "Food Wars" (and won!), he also earned the James Beard Foundation 2018 America's Classics award for his dog.
But Contreras is not the only person turning out a truly magnificent Sonoran hot dog in Tucson. Tucson Foodie highlights eight awesome iterations of this local delicacy, from the version with a bun toasted in garlic powder at El Perro Loco to the cheesy version at Karamelo King.
Tex Mex enchiladas and more
The "Tex" in Tex Mex was originally an insult: a jab taken at the Texan approach to Mexican food, which was deemed inauthentic by English author Diana Kennedy in her 1972 cookbook. Today, however, Tex Mex is a cuisine in and of itself, boasting bold flavors and quite a few nuances as compared to Mexican cuisine from south of the border.
According to The Culture Trip, the major differences include bean color (Tex Mex cuisine uses black beans where Mexican uses pinto) and size (everything does indeed appear to be bigger in Texas, with its ultra-packed quesadillas and burritos). Tex Mex cuisine also tends to use more cheese and a distinctive chile gravy that Texas food historian Robb Walsh says is the essence of the cuisine itself.
Tex Mex enchiladas are a great example of Tex Mex flavors, boasting chile sauce, beef, and loads of gooey melted cheese.
King ranch casserole is a Texas staple beloved across the Southwest
According to Southern Living, king ranch casserole definitely has its roots in Texas: a combo of pulled chicken, green chiles, corn tortillas, and that old casserole standby, cream of mushroom soup. The result is one of the best examples of a marriage between the U.S. and Mexico we can think of.
Casseroles, after all, are an American stalwart that rose to popularity in the interwar years, when convenience food companies were looking for an alternative way to sell products developed for soldiers. According to culinary historian Ken Albala, they found their target audience in housewives looking for easily replicable, foolproof recipes: the casserole was born.
King ranch casserole stands out from some others thanks to its local Southwestern flavors and flair. Marrying not just cream of mushroom but also cream of chicken soup with Southwestern staples like corn tortillas, and of course, green chiles, this casserole effortlessly bridges the Rio Grande.
Chili con carne is a Texas staple
The official state dish of Texas, chili con carne is a phenomenal example of the marriage between Tex and Mex. Texas food historian Robb Walsh tells Texas Monthly that the dish originated in San Antonio among the Canary Islander population in the 18th century, noting that while indigenous peoples had indeed been stewing game with spices for centuries, the dish as we know it today — specifically with its heavy seasoning with cumin — betrays Berber influences.
A truly Texas chili con carne will have no beans in it: instead, it stays true to its name and marries beef and chiles. In Walsh's recipe, published in The New York Times, a combination of chuck and bacon is slow-cooked with spices and smoky ancho chiles for a richly flavored chili that's aromatic and fall-apart tender. The Sonoran iteration is similar and includes an option to serve beans… on the side.
Queso is a must for cheese-lovers
The first recipe for queso, according to the woman who literally wrote the book on the dish, appears in an 1896 cookbook and hails not from Mexico, but from the U.S (via Pasatiempo). Lisa Fain, proprietor of the Homesick Texan food blog and author of "Queso! Regional Recipes for the World's Favorite Chile-Cheese Dip," makes her native state proud with her approach to queso, showing readers just how versatile this combination of cheese and chiles can be.
Queso can range from a Velveeta-based dip that says smooth and dippable even at room temperature to a stretchy queso fundido common across Texas that must be eaten quickly lest it separate. The former is often served with tortilla chips, but the latter is far more frequently enjoyed with warmed tortillas and can be topped with a myriad of extra seasonings from chorizo to crawfish.
However you enjoy it, it's sure to conquer any cheese-lover's heart.
Chimichangas are basically deep-fried burritos
Who came up with the idea to take a burrito and deep-fry it? Probably Arizonans, that's who. While the legend is contested, the most popular origin story for the chimichanga comes from Tucson, as noted by Taste; it's said that in the 1920s, Monica Flin of El Charro restaurant accidentally dropped a burrito in the deep fryer and let loose a Mexican curse that gave the dish its name.
A chimichanga can also be compared to a flauta — also known as a taquito north of the border — with two major distinctions: a flauta is made with a corn tortilla, while a chimichanga is made with flour, and a chimichanga's ends are folded over, like a burrito, where a flauta's are left open, like the flute it's named for. Oh, and as with most things in Texas, a chimichanga is bigger.
However they came to be, chimichangas are now a classic of Tex Mex cuisine — and for that, we are oh-so grateful.