Will Poulter starred alongside Jennifer Aniston, Emma Roberts, and Jason Sudeikis in the 2013 comedy "We're the Millers." In the movie, his character, Kenny Rossmore, is a dorky teenager who passes himself off as David Clark's (Jason Sudeikis) son as part of a convoluted plan to pay back his marijuana supplier. The character, who loves the girl group TLC, has a series of misfortunes while on the RV trip with David.
For one, Kenny's crush (Molly Quinn) believes that he is in an incestuous relationship with his fake mother (Jennifer Aniston) and sister (Emma Roberts). He also gets bitten by a tarantula in a very unfortunate place, causing him to be briefly hospitalized. When "We're the Millers" was filmed, Poulter's career was not as established as his castmates'. However, if he still seems familiar, it may be because the British actor has made his mark on Hollywood and has had starring roles in a number of acclaimed projects. Here are some of the most significant roles throughout his acting career that you may recognize him from.
He was chronically unlikable in The Chronicles of Narnia: The Voyage of the Dawn Treader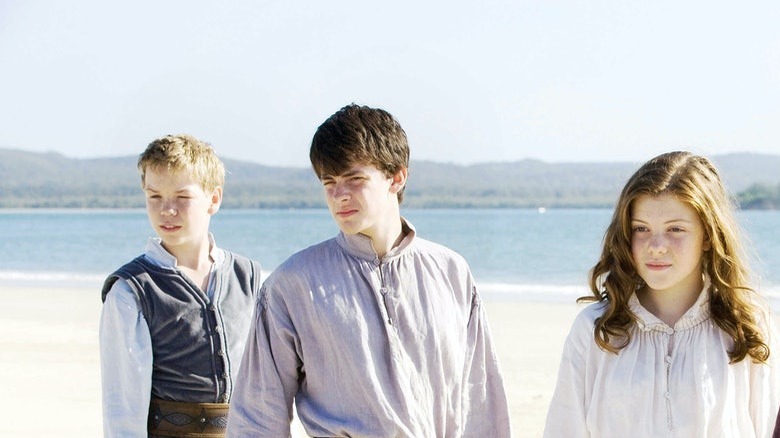 In 2010, Will Poulter played a relative of the Pevensie siblings named Eustace Scrubb in the third "Chronicles of Narnia" film, titled "The Chronicles of Narnia: The Voyage of the Dawn Treader." The unlikeable character accidentally goes on a dangerous adventure in Narnia. During an interview with 20th Century Fox, Poulter — who was 17 at the time of the movie's premiere — revealed that he was grateful to have a role in such a popular franchise, which was adapted from children fantasy novels written by Irish author C.S. Lewis.
"It's one of those books that's been a part of so many people's childhoods, you know, and so many people have read and loved the 'Chronicles of Narnia' books and stuff. So to be asked to be any kind of part of that is just the biggest honor and such a special thing. And you feel so, so lucky," said the actor.
Will Poulter went from foe to friend in the Maze Runner movies
Will Poulter portrayed Gally in the 2014 sci-fi movie, "The Maze Runner." In the film, the character is stuck in a mysterious labyrinth and is constantly at odds with the movie's protagonist, Thomas, played by Dylan O'Brien. The actor reprised the role in the film's second sequel, titled "Maze Runner: The Death Cure," which premiered in 2018. In this movie, Gally becomes a much-needed ally to Thomas. While speaking to The Upcoming at the film's premiere, the actor discussed how he felt about the franchise ending.
"I'm glad the fans are going to get the kind of finale that I feel like they deserve, you know, and a certain amount of closure," said the actor. "But yeah, you know, it is sad any time a film comes to an end, particularly a trilogy and one that spans over so many years. You know, we all grew up through the series experience together so it's bittersweet."
He displayed innocence in The Revenant
Will Poulter shared the screen with Leonardo DiCaprio in the 2015 Academy Award Nominated Film, "The Revenant." His character, Jim Bridger, accompanies a mortally wounded Hugh Glass (DiCaprio) until he is tricked into deserting him. In a behind-the-scenes interview, Poulter revealed that the film's director Alejandro González Iñárritu requested that he focus on the character's "innocence." The actor explained that Bridger's displayed "naivete" and that his "immaturity would manifest itself as weakness at times." He went on to say that in these moments, the character "really had to step up and become a man."
"I guess what Alejado wanted was to try and see this conflict within Bridger, the boy and the man trying to stifle his emotions and his fears and try to do the right thing as a man. You know, try to really grow up in an instant to survive," said the actor. During the interview, Poulter revealed he had some difficulty with how the film was shot, as he had not previously "perform[ed] so intimately with the camera before."
"I've never had to introduce the camera's presence in my consciousness so much and tailor what I did and tailor the choices that I make as an actor to how the camera moves," explained the London native.
He played a Marine in War Machine
Will Poulter portrayed Sergeant Ricky Ortega in the Netflix film "War Machine." The movie, which takes a look at the United States Army in 2009, stars Brad Pitt. A year before the film was released, Poulter spoke to Digital Spy about having the Academy Award-winning actor as a castmate. He told the publication that "Brad Pitt is phenomenal in" the film and suggested that he was grateful that he "got the opportunity to do several scenes with him."
He then described playing a U.S. Marine as "one of the greatest honors." He also described taking on the role as being one of the "most life-changing experiences [he] ever had." The 28-year-old explained that his "respect for servicemen" has increased since filming the movie. Poulter told the publication: "It makes you realize that as an actor, although your job might be celebrated publicly, it pales in comparison. And certainly in significance to what people who fight for the rights of our country do for a living."
He played a bad cop in Detroit
The 2017 film "Detroit," tells the horrific, true story of police officers abusing their power in response to the 12th Street Riot, which occurred in 1967. Will Poulter starred as Philip Krauss, a despicable cop who violently harasses a group of people because of a misunderstanding involving a starter pistol. While speaking to BackstageOL in 2017, the actor revealed that he "was really excited" to play such a cruel character. He explained that he was grateful "to expose a racist individual in the context of a film that has so much potential for impacting social change."
"The fact that the film makes such a relevant comment about society, about fractious relationships between different race groups, and specifically the African American community and the police, I felt very lucky to be a part of that story. And I just wanted to do justice to that character, which was to just try and play him as honestly as possible and to depict him what he is which is a racist," explained Poulter.
He was a battle-scarred soldier in The Little Stranger
Will Poulter played another serviceman by the name of Roderick Ayres in the 2018 horror movie, "The Little Stranger." The character has facial disfigurements because of injuries sustained during World War II. Due to this, the actor had to wear prosthetics for the film, which he discussed during a 2018 interview with Collider. He revealed that he found the special effects makeup to be unpleasant. He told the publication: "I've got to be honest, that was a major part of the challenge, for me. I have quite high claustrophobia. Having done sketch comedy, very, very early on in my career, I developed a phobia of spirit gum."
Poulter clarified that he "felt incredibly lucky" to work with prosthetics makeup designer Barrie Gower, known for his work on "Game of Thrones" and "Chernobyl." He stated that "Barrie and his team were just phenomenal" and "they made every day a real joy for [him]."
Things got dark in Black Mirror: Bandersnatch
In 2018, Netflix released the incredibly meta movie "Black Mirror: Bandersnatch," which revolved around the life of Stefan Butler (Fionn Whitehead), a computer programmer suffering from severe mental health issues. Poulter portrayed the character's co-worker Colin Ritman. Unfortunately, after the movie debuted on the popular streaming service, some viewers took to social media to negatively discuss Poulter's physical characteristics. According to The Guardian, the actor revealed in a Twitter post, uploaded on January 2, 2019, that he would be "tak[ing] a step back, of sorts, from Twitter."
"As we all know, there is a balance to be struck in our engagements with social media. There are positives to enjoy and inevitable negatives that are best avoided. It's a balance that I have struggled with for a while now and in the interest of my mental health I feel the time has come to change my relationship with social media," read a portion of the post.
Poulter played the fool in Midsommar
The 2019 horror movie, "Midsommar" may have deterred some college students from going on a Spring Break trip to Sweden, especially if they are having relationship issues with their girlfriend. In the film, Will Poulter plays Mark, who makes a fatal mistake involving urination and a cult's sacred tree. To make a long story short, the character ends up getting skinned and is made into what can be best described as the most terrifying scarecrow imaginable. While speaking to SyFy in July 2019, the actor revealed that his character's gruesome death was not just for shock value.
"I asked [the film's director Ari Aster] about what the significance of Mark being skinned and worn like that is, and it's founded in large part in actual Norse mythology — it was a real-life practice at one time," said the actor. Poulter later added that the imagery was supposed to invoke the "concept of 'skinning the fool' is a game that is played by some of the younger [cult members] early on in the story." He further explained that Mark "present[ed] himself as a fool from pretty early on."
"So there is this idea that although that is obviously a very violent fate, you could make the argument that Mark kind of deserves that to an extent," said the actor.