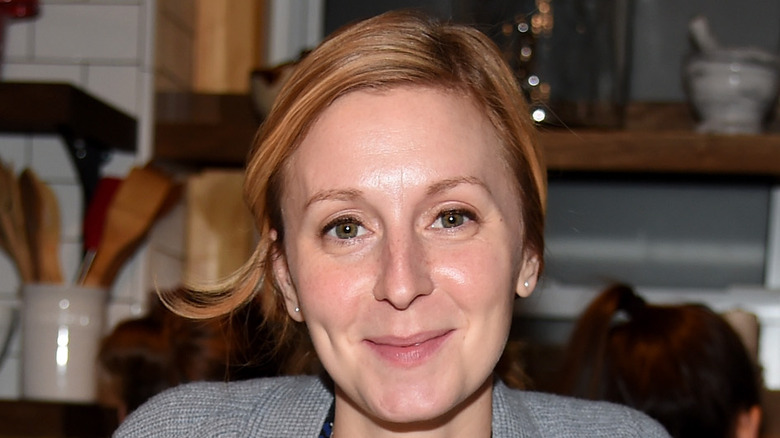 Christina Tosi may just be the most famous baker in the country. If you don't know her name or couldn't recognize her walking down the street, you certainly know her iconic desserts. You've either seen the images of them strewn across the internet and social media or have been lucky enough to get a first-hand look before devouring them yourself at places like Tosi's Milk Bar bakery and dessert chain.
While Tosi has always enjoyed baking — and enjoyed consuming sugary treats even more — becoming a pastry chef, let alone a James Beard Award-winning pastry chef, never seemed to be in the cards. That is, until it was. As if that wasn't enough, she's been equally successful as a businesswoman as she is a culinary powerhouse, building a confectionary empire spanning multiple bakeries, television shows, books, and more.
It's been quite a transformation for Tosi from a Midwestern girl interested in math and science to a world-famous pastry chef renowned for her imaginative takes on cookies, pies, and birthday cakes. Let's retrace her steps to see how she got to where she is.
Christina Tosi was a studious child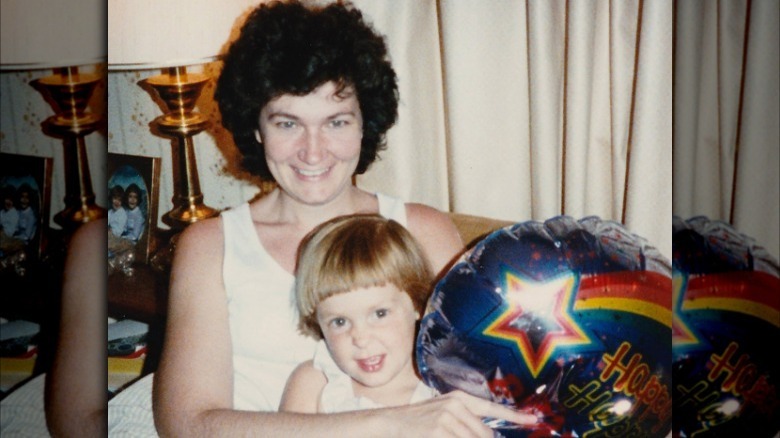 Christina Tosi was born in 1981 in Ohio but grew up primarily in Virginia, The Guardian reports. Tosi's parents were the first in their families to graduate college (via Total Food Service). Her mom was an accountant and her dad worked as an agricultural economist for the United States Department of Agriculture. "They were the most passionate accountant and agricultural economist you could ever meet," Tosi told Inc.
Ensuring that their children followed in their footsteps was important to the Tosi parents. So, while young Christina and the fellow women in her family enjoyed baking as a hobby, Tosi was encouraged to become extremely studious. She followed a similar, academic road as that taken by her mom and dad when she was making her way through school, one that included getting straight As in all her classes. Tosi was focused primarily on objective subjects like math and science, not giving much thought to those that encouraged her creativity. She even told The Guardian that, at the time, she considered art to be a "wasted class" that wouldn't be of any service to her.
She loved baking as a child
Although academics were often at the forefront of Christina Tosi's young life, baking always played an important role. She was fortunate enough to be surrounded by a host of enthusiastic amateur baking relatives while she was growing up. Just about all the women in her family — including her mom, both grandmothers, and aunts — baked on a nearly daily basis (via Spoon Mob). And, after Tosi was denied an Easy Bake Oven by her mother due to the fact that her house already had a functioning oven, the future culinary star instead got in on the real fun and often joined her family members in the kitchen.
The irony of Tosi's attraction to making food was that she was an incredibly picky eater, with a diet consisting mostly of processed foods like hot dogs, pizza, and Kraft Macaroni & Cheese. This meant that vegetables were often off the table, literally.
But Tosi wasn't afraid to experiment with anything in the pantry. According to The Guardian, she would often grab random items from the cupboard and mix them into whatever she was eating. These culinary experiments quickly turned her into a cereal-loving, junk food enthusiast and, unbeknownst to anyone at the time, would be the inspiration for many of Tosi's famous dessert creations later in life.
Christina Tosi's early diet was loaded with sugar and candy
It comes as no surprise to learn that Christina Tosi has a serious sweet tooth. It's essentially a prerequisite for her profession. But even for a pastry chef, Tosi's diet for most of her life has been excessively sugary. "I just turned 30 and my diet was crazy for the first 27 years of my life," she told The Guardian in 2012. "I was eating a slice of candy bar pie for breakfast, and sometimes for dinner. That's what I loved and craved. Maybe I'd have a piece of cheese in between."
Since then, she's been careful to limit her sugar intake, at least as much as her job will entail. "My whole day involves trying new things, and I don't want to be tied down to restrictions or 'diets,'" Tosi explained to Well + Good. "I just want to enjoy the food, eat what tastes good, and listen to my body so I'm balancing everything out."
Tosi credits achieving this balance, in part, by working at Milk Bar, which she told Elle is, "like a membership to the best gym possible. We're walking, lifting, shaking, spinning, pushing, pulling, and scooping in our 11,000 sq ft kitchen every day." She is also an avid runner, getting in five- to 10-mile runs nearly every day (via The Wall Street Journal).
Christina Tosi studied mechanical engineering and applied mathematics
By her own account, Christina Tosi says that "I could have been a baller mathematician," and for a while, it looked like she would do just that. Her focus on math and science continued well after she graduated high school and into her college career.
Per The Guardian, she studied mechanical engineering in college before switching to applied mathematics. Almost immediately, however, she knew that these were not the fields she wanted to remain in for the rest of her life. "I realized after my first year that college was not for me, so I took as many classes as I could and graduated in three years," she told Inc. "Then I had to ask myself, what is that one thing I could do that's going to make me excited about waking up in the morning and that I'll never get sick of? Making cookies."
So it was off to culinary school. After graduating college, Tosi moved to New York City where she enrolled in the French Culinary Institute's pastry arts program. And, just like that, her culinary career was off and running.
She nearly lost her passion for baking by working at fine-dining restaurants
It was not a straight shot from culinary school student to bakery empire owner for Christina Tosi. In fact, her first few restaurant jobs took a serious bite out of her passion for cooking, to the point where she wasn't sure if she should continue in her new career path.
Tosi just couldn't relate to the upscale desserts she would create working at fine-dining restaurants. After all, her love of baking began by making simple desserts as a kid. "Every time I baked cookies for people as a kid, it made me so happy," Tosi recalled speaking to Inc. "But when I was in culinary school and working in fine-dining restaurants, that was not a thing. I put myself on this path to become this in-house pastry chef. […] I didn't relate deep down with these fancy desserts. I loved the art of them, I loved the craft of them, but they just weren't me."
A turning point occurred when Tosi went to work for renowned chef Wylie Dufresne at New York's wd-50 (via The Guardian). Dufresne is widely regarded as one of the top molecular gastronomy chefs in the country. This type of adventurous cooking gave Tosi the creative freedom to experiment in the kitchen and develop the unique confectionary desserts that would eventually make her famous across the world.
Christina Tosi was not hired as a chef at Momofuku
The most notable jump in Christina Tosi's career occurred when she went to work for chef David Chang at his famed New York City restaurant group Momofuku. Chang would prove to be both an invaluable influence and business partner. "[Chang] was doing something that at least resonated with me: He was making food for the people," Tosi told Inc.
But, surprisingly to her fans today, Tosi was not initially hired as a chef at Momofuku. Instead, The Guardian reports, she helped run the restaurant group's operations, including writing a food safety plan — necessary work, to be sure, but not exactly the stuff of culinary genius. After work, Tosi would go home and bake all night, then bring her creations into work the following day. Suffice to say, her treats impressed her co-workers and, critically, her boss.
"Dave just got so sick of me bringing in baked goods and not working in the kitchen that one day he said, 'I'm not even going to talk to you, just go in the kitchen and bake something, I don't care what you make,'" Tosi recalled via First We Feast. So, she went into the kitchen whipped up a strawberry shortcake. From that point on, she was in charge of making desserts for several of Chang's restaurants.
Tosi opened the first Milk Bar with the help of David Chang
At one point during Christina Tosi's time at Momofuku, retail space next to Chang's Ssam Bar restaurant became available. Tosi suggested to David Chang that they open a bakery, according to T Magazine. Chang agreed, telling Tosi, "This is your love. I'll help you get the space. Just go and do it" (via Inc.). So, in 2008, Momofuku Milk Bar officially opened to the public. Not only did Chang go along with Tosi's idea, but he gave her free rein in the kitchen. "There are very few people who have the freedom to do what they want in the company," Chang told The Guardian. "She does. I trust her completely."
That trust has paid off handsomely – for everyone. Initially, the bakery kept the name Momofuku. After all, the brand was known around the world. But by 2012, Milk Bar had already established such a name for itself that it dropped the Momofuku title.
As for the relationship that created the powerhouse that is Milk Bar, Tosi and Chang are quick to give each other the credit. As she told Inc., "Dave was my brother through and through, and he very much is the secret to my being pushed out into the world," Tosi said. Chang, meanwhile, admits to The Guardian that he's, "like [Tosi's] older brother and she's the more successful sister."
Milk Bar has become a dessert powerhouse
To say Christina Tosi's Milk Bar has exploded in popularity would be a massive understatement. What started as a single bakery has grown into a confectionary empire. In addition to its flagship Manhattan location, Milk Bar has nine other stores in New York City alone. It has also extended across the country with spots in Boston, Los Angeles, Las Vegas, and Washington, D.C., and even internationally with an outpost in Toronto. If you don't live in one of those cities, you can get a Milk Bar dessert (or several) delivered straight to your door.
But the brick-and-mortar bakeries are just the start of it. Milk Bar has its own product line with four different ice cream flavors, six types of cookies, and five varieties of crumb cakes available at select grocery stores. Feel like trying your hand at making these treats yourself? No problem. Tosi has written three Milk Bar cookbooks, and also offers many recipes online. You can even learn directly from the master herself through her digital baking course.
Don't be surprised if you continue to see Milk Bar popping up everywhere you look. Over the years, the brand has partnered with some big-name companies, including General Mills, JetBlue, and Madewell (via Bake). Who knows where it will be next?
Christina Tosi has created several iconic dessert dishes
So how exactly did Christina Tosi build Milk Bar into the powerhouse it is today? Well, it all starts with the food, of course. Tosi has developed a number of desserts that are downright famous by name, sight, and taste. The first of these iconic treats was devised while Tosi was working at wd-50. Wanting to serve pie for staff dinner but having few ingredients at hand, the chef concocted a gooey dessert inspired by southern Chess Pie. It was a hit and led one co-worker to declare, "It's like crack. You just made crack pie" (via First We Feast). To this day, the so-called "Crack Pie" remains one of Milk Bar's most popular items.
At her next place of employment, Momofuku, Tosi developed a panna cotta, but not just any panna cotta. Inspired by her sweet-tooth diet as a kid, it was flavored to taste like the milk left behind after a bowl of cereal. At Milk Bar, it now comes in the form of soft serve ice cream and is so well known that the name "Cereal Milk" is a registered trademark.
Maybe Tosi's most famous and Instagram-worthy creation is her birthday cake. Not wanting to hide all the goodness inside the cake, Tosi decided not to frost the outside of her cakes, thus helping to popularize the "naked" cake trend. These cakes have, like many of their brethren, since gone on to become a Milk Bar bestseller.
She's also a television star
The makers of the popular Netflix documentary series "Chef's Table" decided to do something different for season four. For the first time, the show chronicled the lives and careers not of head chefs, but of pastry chefs. And of all the confectionary masterminds in the world, who was chosen as the subject of the premiere episode? None other than Christina Tosi, of course.
But this was far from Tosi's only foray in front of the camera. In 2014, she first appeared as a guest judge on the competition show "Chopped." It was a gig she clearly enjoyed, because the following year, when she was asked to become a permanent judge on "MasterChef," she jumped at the opportunity. "I, of course, freaked out. I was like, 'No way!'" she told Entertainment Weekly. Tosi appeared on the show, as well as "MasterChef Junior", through 2019.
You'll also often see Tosi on morning shows like "Today" and "Good Morning America," late-night spots on the "Tonight Show with Jimmy Fallon" and "Late Night with Seth Myers," and everything in between, be it "Shark Tank" or "Nailed It!"
Tosi's husband has some culinary accolades himself
Food service is a family affair at the Tosi household. At least it has been since 2016, when Christina Tosi married restaurateur Will Guidara, who has a culinary resume almost as impressive as his wife's (via Martha Stewart).
Guidara is best known as the business partner and front-of-house counterpart of acclaimed chef Daniel Humm. Together, the pair owned one of the most renowned restaurant and bar empires on the globe. It most notably included New York City's Eleven Madison Park, a Michelin-starred restaurant once named the best in the world (via Eater). With Humm, Guidara also co-owned multiple locations of NoMad restaurant, NoMad bar, and the fast-casual restaurant Made Nice.
In 2019, Humm bought Guidara out of the business and the two went separate ways. But Tosi's husband isn't getting out of the hospitality business. In March 2021, Eater reported that he was in contract to purchase Migdale Castle in upstate New York with plans of turning it into a luxury hotel featuring not one, but two restaurants (via Eater). And on the more personal side, People reports that Tosi and Guidara welcomed their first child in April 2021, a daughter named Francis "Frankie" Ray.
Christina Tosi has earned serious acclaim
We know Christina Tosi's work has been greatly admired by the hungry public, but it's also been recognized by the culinary elite. Tosi has received some of the highest awards and honors in her field, most notably from the James Beard Foundation. In 2012, the organization named Tosi the Rising Chef of the Year. The award is given to a chef "30 or younger who displays an impressive talent and who is likely to have a significant impact on the industry in years to come." That prediction was proven true when, in 2015, she won the James Beard Award for Outstanding Pastry Chef. That same year, Food & Wine Magazine called Tosi one of the "Most Innovative Women in Food and Drink."
But, in a true sign of her massive influence, it's not just the food world appreciating Tosi. Her skills and entrepreneurial spirit have been recognized by the likes of The New York Times' T Magazine, which included her as one of its "Nifty 50" up-and-coming talents. In 2016, Crain's New York also named her one of its "40 Under 40." Two years later, Fortune magazine did the same. "She's building her own culinary kingdom with her 14-location Milk Bar chain," the outlet wrote. "With two James Beard awards, a third cookbook on the way, and a judging spot on various seasons of MasterChef, she's well on her way to building her own lifestyle brand."