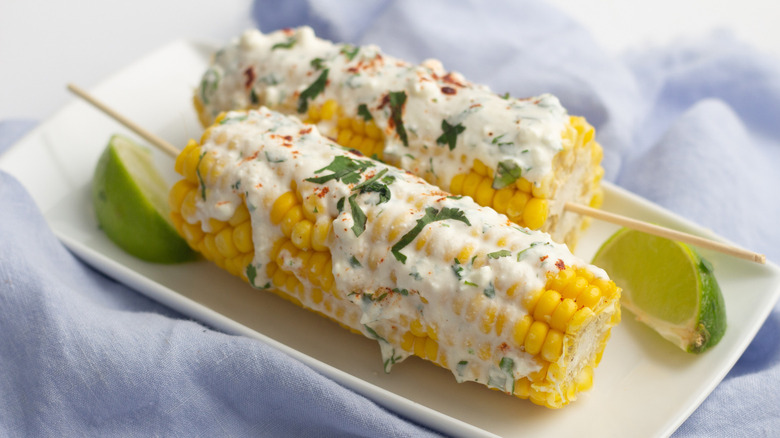 It's not difficult to make the argument that Mexican street corn is one of the most popular Mexican dishes in recent memory. While it's come back as something of a trend, it has actually been around for quite some time. It turns out that street corn, also known as elote, goes way back.
According to Forbes, corn as a crop has been in rotation in Latin America for thousands of years. Since then, it's become a staple in many modern Mexican dishes, and street corn is one of the most popular ways to serve it. Whether you like it on the cob or off, it's pretty much always delicious when topped with plenty of goodies like cheese and chili powder, which take this classic street food to the next level.
Recipe developer Susan Olayinka of The Flexible Fridge shares that the thing she loves most about her take on the dish is the toppings. "This corn recipe is so creative and always fascinates me," she says. "It's so messy to eat but definitely worth it! I love sweetcorn, in general, [and] I love corn on the cob, and the fact that I can have all these toppings just excites me it's like having a pizza with all the toppings."
So, if you want to know how to impress your guests or family with this Mexican-style dish, keep scrolling for more deets.
Gather the ingredients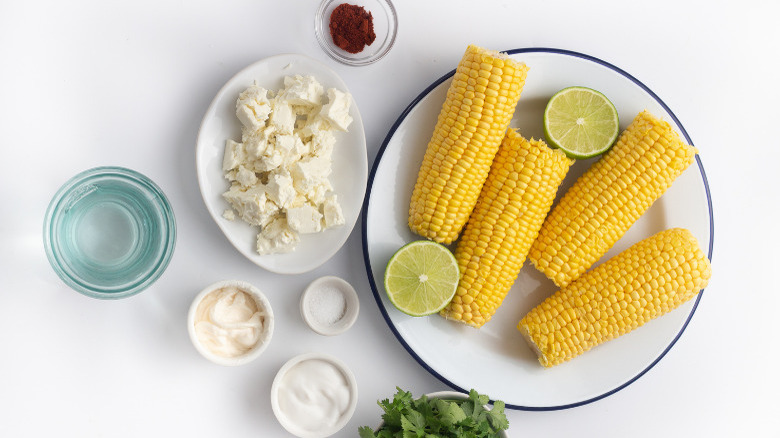 If the flavors weren't enough to entice you, then surely you'll be pleased to learn that you will only need a few items for this recipe. Simply go to the store and get corn, mayo, and sour cream to start. In addition, you will need topping to go on the ear of corn. Here, that includes cilantro, feta cheese, chili powder, lime, and salt. If you so choose, you can swap out the feta for Mexican-style cotija cheese or queso fresco, too.
Given that quite a few of these are pantry and fridge staples, chances are good that you have some of these items at home already. Once you have everything out on the counter (including your Instant Pot, of course) and your mise en place is set, you can start to cook.
Prep the Instant Pot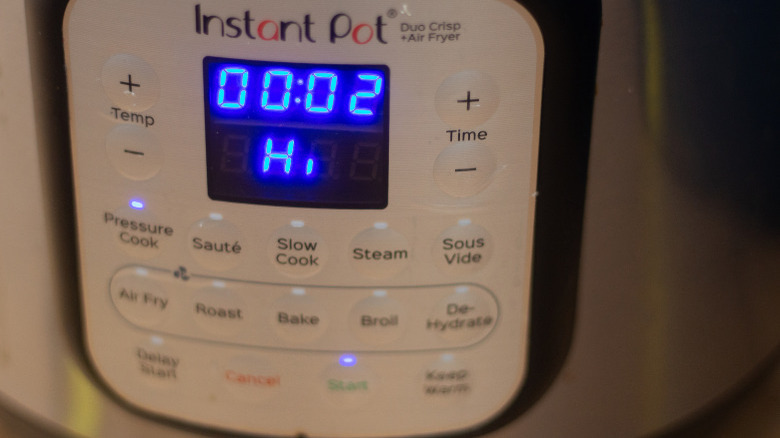 To begin the recipe, take out one of the best kitchen helpers we know. That would be, naturally enough, your Instant Pot. "There are huge benefits for having it in an Instant Pot," Olayinka shares, "[like] the fact that after rising to pressure, the Instant Pot only takes two minutes for it to cook. That to me is amazing so you get to set and forget it!"
You will begin by pouring 2 cups of water into the pot itself. After you have done that, put the trivet into the Instant Pot. Next, place the four ears of corn into the Instant Pot, set the temperature dial to high, and cook for just 2 minutes. After 2 minutes, quick-release the pressure immediately.
Make the cheese sauce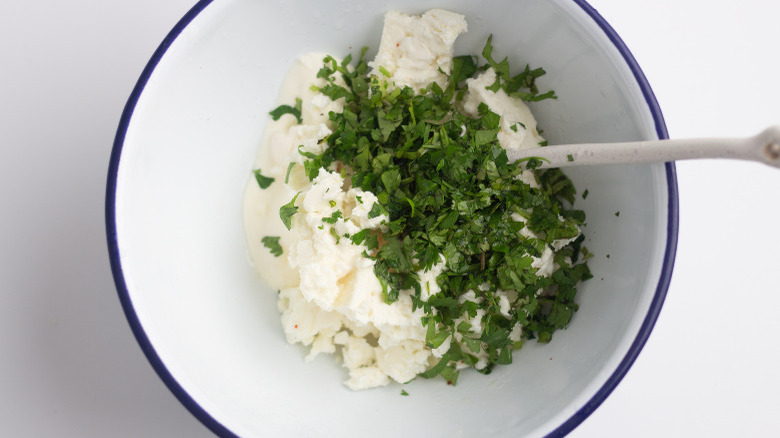 While your corn is cooking in the Instant Pot, you may be able to squeeze in a bit of time to make the cheese sauce. Of course, you can easily make this ahead of time and have the sauce ready to go as your recipe progresses.
All you need to do in order to assemble the cheese sauce is to first get a mixing bowl. Then, add in the mayonnaise, sour cream, ¼ cup of cilantro, and the crumbled feta. Mix until everything is well incorporated, thereby ensuring that there will be a ton of flavor in each bite. Set the finished sauce to the side and move on to the next step.
Take the corn out of the Instant Pot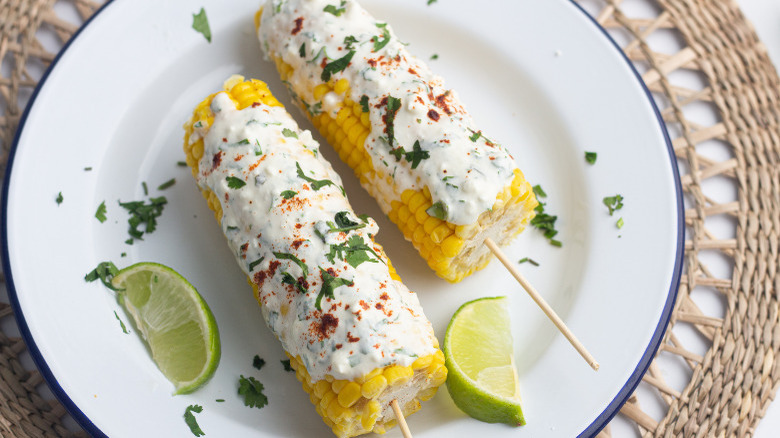 Now that the corn is fully cooked, it's time to take it out of the Instant Pot and move the cobs to a plate. Then, thread skewers into the center of each ear of corn. People generally serve traditional Mexican street corn on skewers for easy on-the-go eating, a pretty common and useful tactic for all sorts of street food, from corn dogs to pretty much everything at a state fair in the US.
Next, sprinkle each piece of corn with salt. Now, here comes the best part — the cheese topping. Pour approximately two tablespoons of cheese mixture onto the corn. If you are a cheese lover, you can of course always make a little extra sauce to put on. Let's be honest with ourselves, though. Most of us surely agree that you can never have too much cheese, at least not on occasion.
Top your Mexican street corn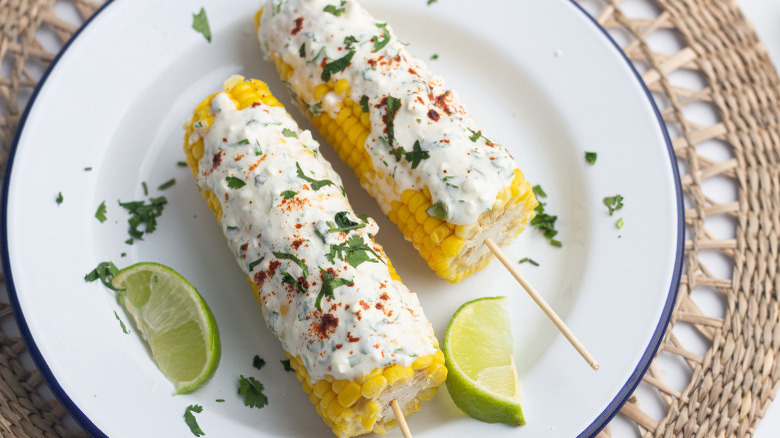 For the last layer of your corn masterpiece, sprinkle each cob with chili powder and chopped cilantro. Serve with lime wedges. Now, you and your crew can enjoy this fantastic side dish and feel like you're in the streets of Mexico City. This side pairs well with any main course, including tacos, burritos, and even salads.
If you have leftovers, they will be good for a few days. "I would say if home cooks wanted to have leftovers, they should separate the corn and the cheese topping and not put it together [until time to serve.] The topping will last in an airtight container [in the fridge] for about 2 to 3 days," Olayinka notes.