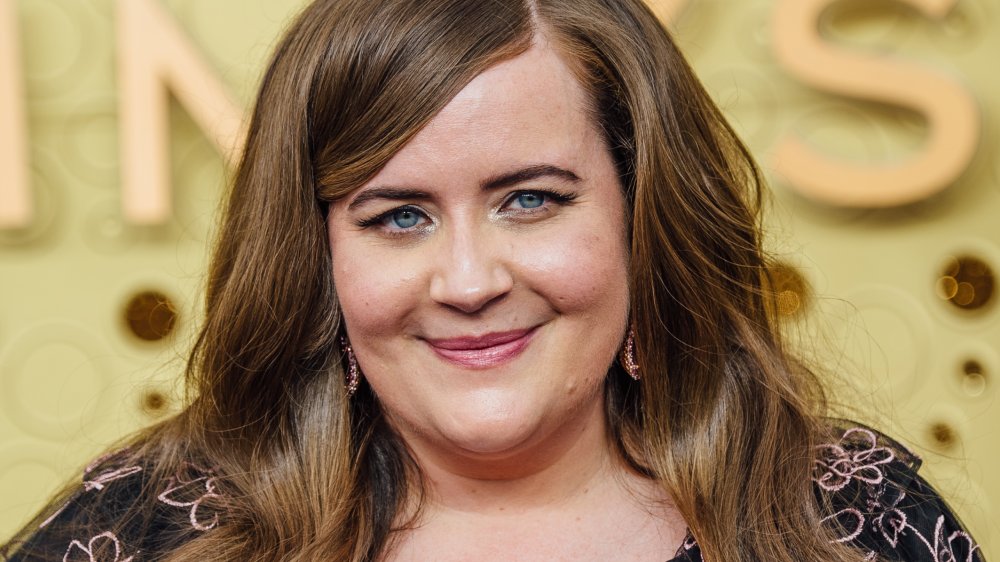 Aidy Bryant — like many of the women who have starred on Saturday Night Life before her, including Gilda Radner, Maya Rudolph, and Tina Fey, for example — is not only hilarious, but she's also a trailblazer. The comedian and Shrill actress is one of the youngest cast members ever to appear on the show, and she's a woman of size, a first in casting for the comedy juggernaut. Plus Bryant is 100 percent comfortable in her own skin, giving female viewers representation that truly matters.
But Bryant didn't set out to conquer the world of comedy with a body positivity soapbox in tow. Rather, she was simply chasing her own ambitions, which brought her from the Second City stage to the studios of 30 Rock. Ever since then, Bryant has enjoyed continued success, and she doesn't appear to be slowing down anytime soon.
But what else is there to know about this talented comedian? And just how did she get to the top of the comedy food chain? Read on to discover the untold truth of Aidy Bryant.
Aidy Bryant was a prom queen in high school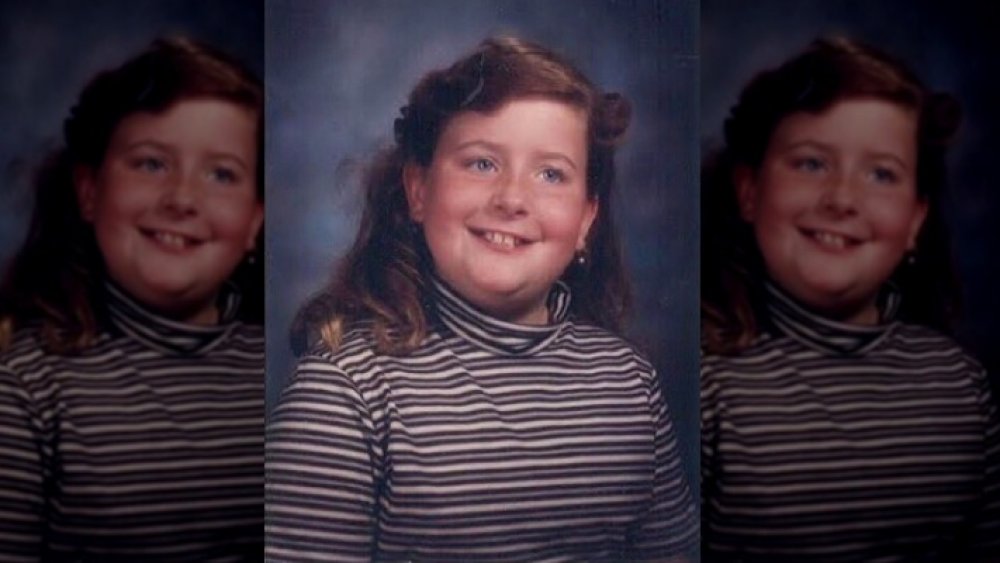 While high school can be difficult for many people, including overweight people, Aidy Bryant learned early on that being really nice to people was a solid coping strategy. "I think I thought surviving was being every single person's friend and trying to be liked," she recalled in an interview with NPR. "And I think in a lot of ways I've spent a lot of time unlearning that, if that makes sense."
But even though she was not just liked but also celebrated her lack of true self-confidence got in the way of enjoying the adoration of others. "Like, here I am going to prom, I'm named prom queen, but I hated myself," she confessed. "So it's not like I look back on that as like, 'Oh, my beautiful prom night!' I just remember that I wore a strapless dress and the whole night I was like, 'My arms are so fat,' and that is my main memory of that time." That sounds like a really exhausting experience.
Aidy Bryant's life changed when she stopped dieting
Like many people who are dubbed overweight by societal standards, Aidy Bryant spent a significant part of her early years dieting. But because dieting doesn't work for everyone, soon Bryant found herself running into a frustrating wall. "I was spending so much energy on something that really, no matter what I did, wasn't changing," she revealed to The Cut. "And I truly got to a breaking point."
So instead of continuing to make weight loss a priority in her life, Bryant decided to do something else entirely. "I finally was like, What if I put all of that energy into just trying to like myself and focus on the things I actually want to do as opposed to this thing that's like a made-up concept?" she wondered. After she made that decision, Bryant said her life changed for the better. So much so, in fact, that within two years she landed a gig at the Second City, and, two years after that, she was hired to be on Saturday Night Live.
When Aidy Bryant was hired by Lorne Michaels, she didn't realize it
After quite the lengthy audition process, including four trips to New York from Chicago, two meetings, and two formal auditions, Aidy Bryant was selected to star on Saturday Night Live. However, she didn't quite realize it right away, as her meeting with executive producer Lorne Michaels wasn't exactly direct. "I was kind of confused," she confessed in an interview with the Daily Beast. "He was like, 'You're very young. You have to learn. But I think you'll do very well here.' I was like, 'Does that… does that mean…' And then he stood up and shook my hand."
That encounter left Bryant unsure as to whether or not she was cast, or whether she'd be cast in the future. "So I kind of left like, 'What. Happened. To. Me?'" she continued. "And then one of the producers called and was like, 'You know you were hired, right?' And I was like, 'I did not. Thank you very much.'" Hilarious!
The first time Aidy Bryant said "Live from New York, it's Saturday night," she had superstar support
One big rite of passage for Saturday Night Live cast members is announcing to the audience that, "Live from New York, it's Saturday night!" So when it came time for Aidy Bryant to make the declaration in 2012, she was thrilled, and she recalled it as the best thing ever. "When I finished, Tom Hanks and Bill Hader came on either side of me and ran me down this hallway," she told the Daily Beast. "Everyone lined the hallway and was clapping for me." How exciting!
But Bryant didn't have too much time to savor the moment, as she was in the very next scene, which meant she had to keep moving. "I was changing my clothes in this little booth," she continued. "And Fred [Armisen] stuck in the card for me that said, 'Live from New York…' and gave me a hug. I had no pants on, but I was like, 'Yay! You're the best!'"
This is what Aidy Bryant likes to collect
Are you an unabashed collector of shoes, but never get a chance to wear them all? Or perhaps you find yourself hoarding handbags, even though you know you don't really need more than one? If so, Aidy Bryant isn't going to judge you, as she has a proclivity for collecting shiny things herself. "I don't know anything about crystals," she admitted to The Cut. "I just go and buy these rocks." And these rocks aren't exactly cheap, either, as they can cost thousands of dollars.
It's not like Bryant has a specific purpose for them, or needs them for a utilitarian reason — she simply thinks that they're pretty to look at. "I have the most millennial crystal collection ever," she continued. "I don't know what any of them mean and I never charge them." Hey, there's nothing wrong with having some aesthetically pleasing items like healing crystals in the home.
Aidy Bryant and her husband are relationship goals
In April 2018, Aidy Bryant married her boyfriend, fellow comedian Conner O'Malley, according to a post on her Instagram page. But the pair had been together for a long time before that, as they met ten years prior while living in Chicago. "We were both performers, and so we were in a show together, and he was like, hello," she revealed on Live with Kelly and Ryan. "The next day we saw each other again, and he asked for my number, and so the rest is history."
As Bryant tells it, they knew right away that this would be a forever gig, much to Bryant's delight. "I had only had experiences with horrible mind games with men," she explained to Bust magazine. "But it was kind of perfect because I finally was like, that's what I don't want. I don't want games or manipulation or trying to make each other jealous. I want full, comfortable honesty." She added that it was like that with O'Malley from day one.
When Aidy Bryant's husband proposed to her, she thought it was a joke
On the night that Aidy Bryant got engaged to her now-husband, she was just getting home from a pitch session for Saturday Night Live. "I walked in the door, and our dog had a bow tie on," she shared on an episode of Late Night with Seth Meyers. "And I was like, 'My dog doesn't wear a bow tie!'" That's when Bryant knew that something was going on — and she was right, as Conner O'Malley was about to ask her to marry him.
It didn't take long for O'Malley to spring into action with the proposal, either. "The second I shut the door, a man who I discovered was Conner, frantically came around the corner and was just like, 'Will you marry me?'" she continued. She noted, "I truly couldn't comprehend what was happening, and I just kept saying, 'Is this a joke? Are you doing a joke?'" But it wasn't, and Bryant happily said yes. The proposal was exactly how she wanted it to play out, too. Aw!
Aidy Bryant is tight with fellow comedian Kate McKinnon
One of Aidy Bryant's best friends on the set of Saturday Night Live is the hilarious Kate McKinnon, the first out lesbian in the show's cast ever. And as Bryant tells it, the girlmance between the duo blossomed early on. "Pretty quickly, Kate and I were like, Oh, you're for me and I'm for you. We're for each other," she explained in an interview with Bust. "Very quickly we were both comfortable being our best and worst selves in front of each other."
Bryant and McKinnon write together, perform in sketches together, and, in general, love being bold together. "SNL's so intense and the hours are so long that you get to know people really well," she added. "But I would say even beyond that, we just know each other like sisters. Really." If you're a regular watcher of the show, the chemistry between the pair is palpable, so it's not surprising that they're super tight.
What's the coolest thing that's ever happened to Aidy Bryant?
Arguably one of Aidy Bryant's particularly brilliant comedic moments on Saturday Night Live is when she appeared on "Weekend Update" as NASA astronaut Anne McClain, after the first all-female spacewalk was canceled. Her impression was so on point, in fact, that McClain herself tweeted about it from space. "It's easily the coolest thing that's ever happened to me," Bryant gushed on Late Night with Seth Meyers. "It means that she watched the sketch in space. My face has been to space!" Honestly, that does sound like a really fun bragging point.
McClain even gave an interview from space about the experience of seeing herself impersonated on Saturday Night Live. "She's floating in the air. and they're like, 'Did you like it?' And she was like, 'It was the laugh we needed this week,'" Bryant continued. "And I was like, 'Are you telling me I'm helping the astronauts?'" It sure sounds like it, Aidy!
Aidy Bryant wants to change the fashion industry
Aidy Bryant has been open on multiple occasions about the difficulties she's had as a plus-size women in the entertainment business. There have been times when she's only offered one or two costume options, while her straight-sized colleagues are given a wide variety of expensive outfits to choose from — which she says lit a fire in her. "I feel like there's almost two zones of plus-sized clothing," she shared in an interview with The Cut. "It's either full sweatpants and huge T-shirts and elastic waist jeans, or it's hypertrendy with a shoulder, a bow, a button, a print, a zipper."
To that end, Bryant launched her own clothing line, Pauline, in order to offer women of size the clothing that she knows they want. "I'm just trying to get the things that I have access to out there for the masses," she continued. "Like when I wanted something cool to wear to a meeting or an audition or whatever and not just be wearing a black sack." We are so here for this!
Aidy Bryant went to high school with this celebrity
Believe it or not, but Aidy Bryant has something big in common with The View co-host Meghan McCain. "We're both Arizona women, that is true," she explained on the Late Show with Seth Meyers. "Weirdly, we also went to the same high school." And that high school was Xavier College Preparatory, a private, all-girls catholic high school in Phoenix.
However, just because they went to the same high school doesn't mean the experience was exactly the same for the both of them — quite the opposite, in fact. "I watched [McCain] on your show, and in it she's like, 'Yeah, you know, Aidy and I went to the same high school,' and she shouts out our high school, and is like 'whoop, whoop!" Bryant continued. "I definitely was like, 'Oh man, we had different experiences of high school.'" Bryant added that it was quite a darker time for her than it was for McCain.
When she's not working, Aidy Bryant strives for self-care
It's no secret that the preparation and rehearsal schedule for Saturday Night Live is beyond hectic, to the point that it eats up nearly all of your time. But somehow Aidy Bryant manages to make it work — and that's not all, either. "It's crazy," she admitted in an interview with Shondaland. "I do have two complicated jobs that happen at the same time, Shrill and SNL." Can you imagine how hectic that must get, especially since she's the star of the former?
Because Bryant has so much going on, she makes sure to prioritize self-care when she's away from the cameras on her days off. "I try to get away from my phone, away from the screen," she explained. "I usually go to the park, go for a walk, take my dog out or go for a walk with my husband. I find that getting away from the screen helps me a lot."
This is the worst role Aidy Bryant has ever been offered
While Aidy Bryant may have a leading role in a successful comedy on top of being in the cast of Saturday Night Live, she hasn't always been offered the best parts. In fact, some of them have been downright offensive, to the point that she was understandably insulted. "There was one where — and I don't think it has ever seen the light of day — a man was in prison and the other guys in prison were like, 'You've got to get an ugly girl to be your prison wife and she'll come and bring you food and have sex with you," she recalled in an interview with AdWeek. "And then they were like, 'And that would be you.'" Um, yikes.
Because of the amount of terrible roles out there for women of size, Bryant decided to take matters into her own hands. "Those were some of the moments where I was like, 'Is this what it is in Hollywood?'" she wondered. "'I think I might have to write for myself.'" And that she eventually did.
In Shrill, Aidy Bryant has a mission
In 2019, Season 1 of Shrill dropped on Hulu, with Aidy Bryant starring in the leading role of Annie Easton. But Bryant is more than just the show's star, as she's also a co-creator and lead writer for Shrill, which definitely has a mission. "I think something that we made a huge effort to do was to create a fat person's story with integrity," she revealed in an interview with Nylon. "Annie's whole story isn't her eating diet food or trying to lose weight or thinking about how she's fat all day long. The bulk of this series is her at her job, her in relationships, her with her parents, her with her friends."
That doesn't mean the show avoids any discussions of Easton's body, however, but it's not front and center. "There's this sliver of it that's about her body," Bryant continued. "My hope is that if we do a second season — or a third or a fourth — is that the further you get into that, the further you get from body stuff, because she starts to be free of it; you get to see a character living their life."