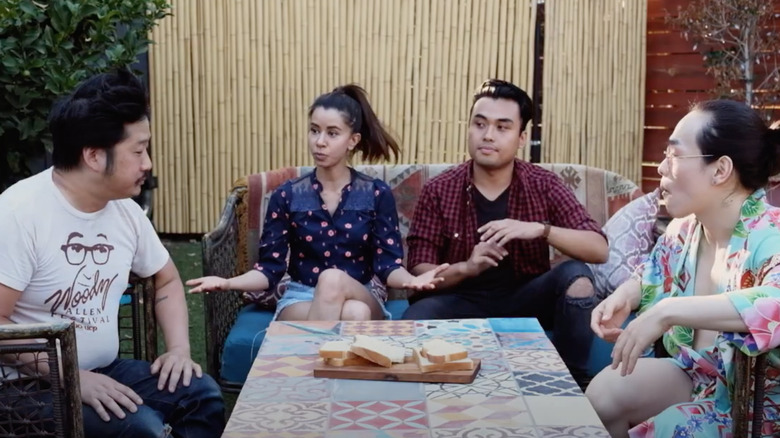 When you sit down to the table, do you share your plate of food with others? The series "Family Style," with two seasons available to be streamed on HBO Max, serves little plates of the vast world of Asian food. In these little "snackable" episodes, about 10 to 15 minutes each, the topics build on each other to make the ultimate binge-worthy food experience. From far-flung foods and locales to influences on food trends, each episode sees a group of friends and celebrity guest stars tackle everything about Asian food. The show is led by the "Foodie Fam," which consists of editor Stacy Fan, actor Gilbert Galon, actor and writer Anthony Ma, actress Lana McKissack, and actor Amanda Suk (via Globe Newswire). Viewers can anticipate guest stars like actor Danny Pudi, "Top Chef" competitor Dale Talde, and "Riverdale" actor Ross Butler.
Produced by Stage 13, "Family Style" builds each episode around a particular theme. With the Foodie Fam as guides, each episode gives a taste of certain Asian foods, cultures, and experiences. Although each episode stands alone, common threads tie them all together. From the shareable experiences to the ingredients used, the table is set for a culinary adventure. Whether it is a lazy susan that spins the food bounty or a generous buffet of treats, no one will leave the experience hungry.
What does "Family Style" mean?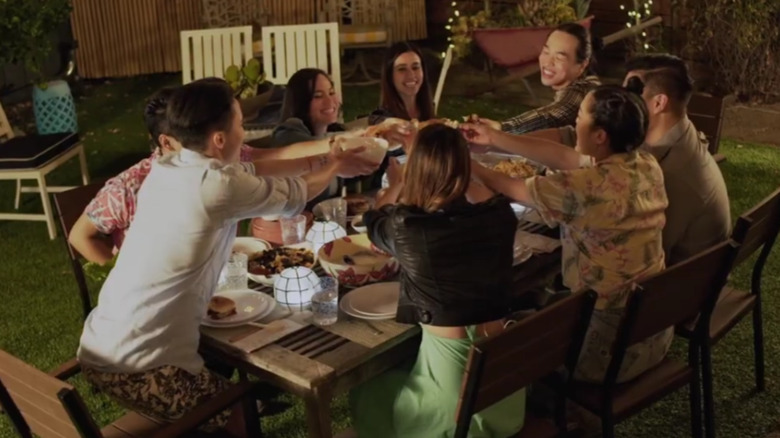 A family style restaurant can have many variations, but the basic concept is "large format dining experience." (via CaptialOne.com). Essentially, each diner shares portions of the larger plates on the table. Call it grazing, sampler plate, or a table buffet, the concept is about enjoying many dishes by sharing the food with everyone at the table.
During Season 1 Episode 7 of "Family Style," "Feasts," actor Parvesh Cheena commented that when his friends and family eat together it is always about sharing food at the table. As he shared, "everyone's got to eat" and "celebrations are centered around food." Taking a bite from another's plate is expected. While this concept might be common to some Asian cultures, it is not as typical everywhere else. For Cheena, ordering numerous dishes to enjoy as a group is part of the communal experience and is part of that "friendship" at the table. The sharing of a large meal, with multiple dishes, is a way to enjoy the bounty of the meal experience. It isn't about the individual; it is about the group coming together to enjoy time together over delicious food.
As seen on every episode of the show "Family Style," there are multiple dishes on the table. While the guests go from plate to plate, the food is only one aspect of the family dinner. The food sparks a conversation about the hows, whys, and influences on themselves and their culture.
Street food is the people's food
In various episodes of "Family Style," street food is often highlighted. During Season 1, Episode 9, "Discovery," the team discusses how street food is considered the people's food. Although Beijing's Chinese street food has been taken off the street and into a restaurant setting, there is the sentiment that many of these dishes — like lu zhu huo shao and bao du — are using the food that is available, easy to eat, and filling. Even if there are hundreds of versions of Beijing street food, as "Family Style" notes, the style of being "unusual" or "creative" is part of the food experience. While there is a sense of comfort to these dishes, the people who enjoy them come from all walks of life.
Throughout many Asian countries, street food and street markets offer a bounty of options. While these markets, such as Newton Centre in Singapore, have been captured in movies like "Crazy Rich Asians," the reality is that the food reflects what is fresh and available (via Afar). Whether those options are non-traditional American proteins or eating nose-to-tail, the dish is really about enjoying a delicious bite. Even as Anthony Ma and his mother eat a giant fried squid in Season 1 Episode 11 "Social Networking," it isn't just about that big shock factor moment. Street food brings people together to enjoy the experience and shows them appreciating the opportunity to explore food.
In "Family Style," food is a representation of cultural identity
Throughout the episodes of "Family Style" on HBO Max, the stories around food vary, but a similar thread seems to tie them all together. Although this food television show is not about recipes and how to prepare dishes, the stories behind the stories showcase the true flavor of the food. Whether it is recalling a dish that a grandparent would make or learning to cook that traditional family dish, the story is the boldest flavor on the plate.
"Fresh Off the Boat" actor Hudson Yang recalls various cooking incidents he experienced, as he learned to cook from his grandparents in Season 1 Episode 1 "Family." Those burn marks are a badge of honor. For writer D'Lo, his connection to Sri Lankan food brings a taste of home wherever he goes. Although just the sound of certain foods being made in the streets of Sri Lanka can make him hungry, those dishes are part of his way of identifying his culture. As D'Lo shared in Episode 9, one bite of that food "makes you remember who you are." In some ways, "Family Style" celebrates people coming back to their culture and identity one meal at a time.
"Family Style" tackles whether fusion is cultural appropriation
Food fusion is a common term across many cuisines and restaurants. While the blending of flavors, techniques, and ingredients has created new food categories, some people worry that this fusion adjective is a type of cultural appropriation. In "Family Style" Season 1 Episode 8, the group discusses the evolution of Asian foods and flavors from the traditional kitchen into a more widely available offering. Although food trends have brought foods like kimchi, boba, and gochujang into the mainstream, those ingredients are not "new." As blogger Phil Yu shared in the episode, many of the hot, trending foods have been made and eaten in Asian kitchens for ages. In some ways, the "trending" label is about the discovery of those items by a larger audience.
Some people find the inclusion of certain food and flavors more authentic when presented by a chef within that particular culture. As CNN contributor Jeff Yang said in the beginning of the episode, he would prefer for it to be a "hybridization" versus an "appropriation." Even though a wider acceptance can make certain ingredients and flavors more approachable, it appears that some people do not want that experience to be watered down. As the panel discusses and Yang makes clear, "context does matter within appropriation." There is a difference between someone who has been part of the culture making alterations versus another chef who borrows for the sake of a food trend. While exploring food can be inviting, the path from which it came should not be forgotten.
Why "Family Style" is so important today
The "Family Style" Season 1 episode "Sharing" starts with the premise: "bring a dish, you're invited." That phrase is more than just an invitation to a potluck dinner. As each of the guests share the dish, its explanation, and its significance, the communal experience grows. Although the various episodes highlight street food, unusual flavors, and the always present sharing of dishes, the reality is that food is the universal language that brings all these people together.
The sentiment of the show took on a special significance in 2020, as executive producer Philip W. Chung said in a press release. "As restaurants struggle for survival and coronavirus-inspired anti-Asian sentiment is at a high, the second season of the show took on a different meaning. 'Family Style' has never just been about food, but about sharing and community, and those themes resonated on a deeper level for everyone who worked on the series, and I hope it will for our audience too."
While Season 1 and 2 are available to stream on HBO Max, the takeaways from "Family Style" are not necessarily about trying giant fried squid or seeking out the hottest ramen on the menu. The series proves that sharing a meal with others presents an opportunity to spark a conversation, find commonalities, and celebrate cultural heritage. Just like director John M. Chu recalls his grade school classmates changing their minds from being uncertain about the odorous, unfamiliar food in his lunch to devouring every last morsel, being willing to sit at the table, take a bite, and spark a conversation opens a world of opportunity.