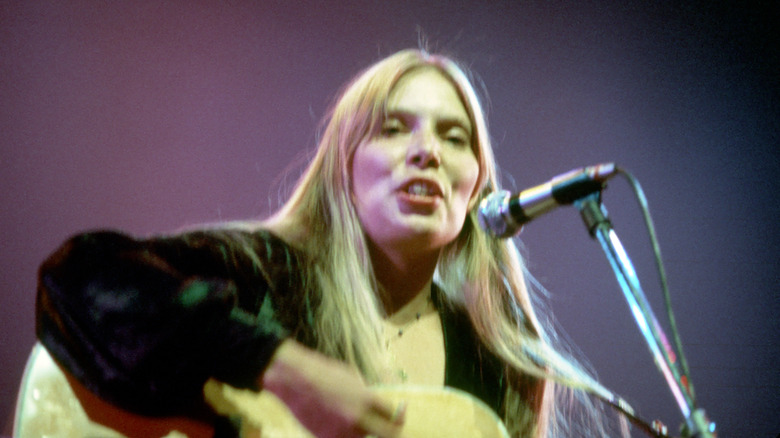 "Joni Mitchell is a bigger icon than she is a star. Bob Dylan and Keith Richards became so famous that they're stars and icons … The impact she had wasn't flashy. But she influenced people who became stars."
Singer/songwriter Jewel wrote these words about one of her biggest influences, Joni Mitchell, for Rolling Stone's 100 Greatest Artists. Despite only ranking at No. 62 in the list, Mitchell's impact on female singers/songwriters is second to none. Emerging at the height of the Laurel Canyon singer/songwriter scene in the late 1960s and early '70s, she more than held her own in the male-dominated music industry of the era. Jewel writes, "It takes a lot of courage to be that honest, especially as a woman… Joni had an edginess that not many women expressed then. Joni Mitchell never made a big deal out of being a woman."
Later, Joni Mitchell evolved from her folk singer/songwriter roots to a sound that included jazz, classical, and rock, much like her contemporary Bob Dylan. However, Mitchell has never been as celebrated nor recognized in the music world as Dylan. Here is the untold truth of Joni Mitchell.
She had health issues as a child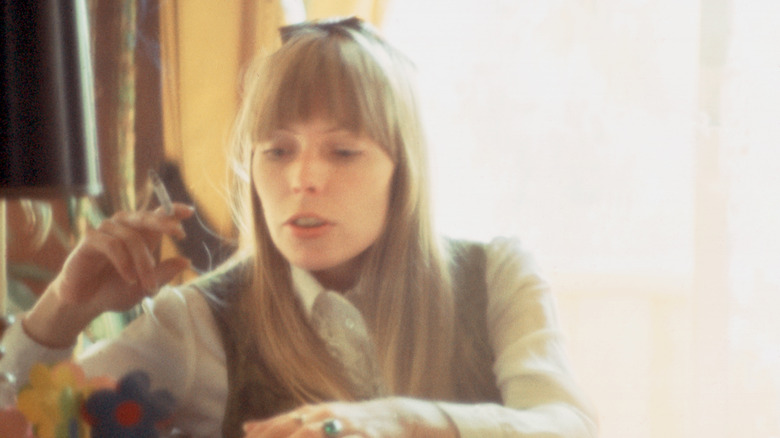 According to her official website, Joni Mitchell was born Roberta Joan Anderson on November 7, 1943, in Alberta, Canada. Her parents, Bill and Myrtle, worked as a grocer and schoolteacher. After World War II, the family moved to North Battleford, Saskatchewan before settling in Saskatoon, Saskatchewan, when Joni was 9 years old.
According to Biography, the young girl was then hospitalized with a serious case of polio. While recovering, she started to sing and perform for other patients — her first concerts. Before her illness, Joni had expressed an interest in music but reportedly stopped piano lessons after her teacher criticized her for wanting to play her own songs.
After she got out of the hospital, she attended church and prayed for her legs to recover. She then went on to join the church choir, which is where she has said she was introduced to cigarettes.
Joni Mitchell gave up her only child for adoption
Joni Mitchell's magnum opus, her 1971 album, "Blue," includes the track "Little Green." According to the Canadian Encyclopedia, the song is about a child Mitchell gave up for adoption when she was only 21.
At the time, she was working as a folk artist and the pregnancy was a result of her relationship with a Calgary artist named Brad MacMath. In the song, Mitchell says that he soon abandoned her and their unborn child "to California/hearing everything was warmer there." She went on to marry a fellow folk singer named Chuck Mitchell, but the marriage soon fell apart.
According to Cheat Sheet, Mitchell's daughter was renamed Kilauren Gibb. Mitchell hit her big break soon after the adoption, leaving her feeling guilty for giving up a daughter she could now support, an experience that inspired "Blue." Mother and daughter would eventually meet in 1997, but according to Mitchell, it took a while for the two to reconcile. She told the Toronto Star that Kilauren "was pretty rough on me and conscripted my granddaughter, but we've worked through all of that."
She is a painter
In 2000, Mitchell told the Globe and Mail that she sees herself as a painter first, saying "I have always thought of myself as a painter derailed by circumstance… I sing my sorrow and I paint my joy." Mitchell pushes back on the idea she is a Sunday painter, saying, "I probably spend more of my time painting than most of my friends who are full-time painters." She explains that she takes a painting approach to her music, saying that instead of focusing on chord structure, she tries to find what she calls "internal twisting," which comes as a result of mixing different tones at once.
Mitchell sold her visual art when she was still in high school and many of her album covers feature her artwork. In addition to exhibiting her paintings, she has released a book of drawings and watercolors paired with poetry and lyrics. Originally titled "The Christmas Book," she gave 100 copies out to friends in 1971. In 2019, it was re-released as "Morning Glory on the Vine" in celebration of Mitchell's 75th birthday.
Woodstock
By 1969, Joni Mitchell was an accomplished singer/songwriter. She had scored a hit when Judy Collins covered her song "Both Sides Now" in 1967, and was a fixture in the Laurel Canyon scene. Many of her peers gave celebrated performances at Woodstock, the 1969 three-day festival that is seen as the apex of the counterculture movement. However, according to Legends Revealed, Mitchell was scheduled to appear on "The Dick Cavett Show" and could not attend.
As she prepared for the show, her partner, Graham Nash of the band Crosby, Stills, Nash, & Young, came in to her hotel room still high from his performance and the atmosphere of the festival. On "The Dick Cavett Show," Mitchell was joined by Grace Slick from Jefferson Airplane, Stephen Stills, and David Crosby, who talked about the festival.
Mitchell took what she heard and wrote the song "Woodstock." The lyrics tell a story of people gathering at the festival to form a utopia free from the pains of war: "And I dreamed I saw the bombers/Riding shotgun in the sky/Turning into butterflies/Above our nation." Mitchell wasn't able to attend Woodstock, but "Woodstock" would become one of her most popular songs.
1970 Isle of Wight performance
A year after the Woodstock festival, Mitchell and many of her musical peers traveled to England to perform at the 1970 Isle of Wight Festival. The lineup included Jimi Hendrix and The Who. However, the peace and love of Woodstock didn't come to England, and Mitchell felt the brunt of it. According to the Guardian, the festival was a terrible experience for her.
Joni Mitchell was asked to move her performance from the evening to the mid-afternoon. By this time, the crowd of 600,000 people (more than double what was expected) had grown agitated by the strong security presence, the expensive ticket prices, and even at performers arriving in expensive clothing and cars. During her performance, Mitchell stopped to ask the crowd to calm down, which only increased hostility. While musicians who used electric instruments could overpower the rowdy audience with sound, Mitchell was armed with just an acoustic guitar, a dulcimer, and a piano. At one point, a man named Yogi Joe, who had been sitting by Mitchell's piano, grabbed the mic and attempted to speak, only to be led away by security. This agitated the crowd even further. Mitchell said of the festival's organizers, "they fed me to the beast."
She is an influential guitarist
During the late 1960s, most music fans would probably define an influential guitarist as someone who could perform ten-minute solos full of different pedals and effects. Guitarists such as Eric Clapton, Neil Young, and Jimi Hendrix helped reimagine what a guitar could sound like. But at the same time, Joni Mitchell was just as influential with her handling of an acoustic guitar.
Describing Mitchell for Rolling Stone's list of the 100 Greatest Guitarists, where she ranked No. 75, David Crosby said, "She was a folkie who had learned to play what they call an indicated arrangement, where you are like a band in the way you approach a chord and string the melody along… She had mastered the idea that she could tune the guitar any way she wanted, to get other inversions of the chords."
A master of open tuning, Mitchell has gone on the record saying that she used no fewer than 57 different tunings throughout her career. Acoustic Guitar says that as her career progressed, Mitchell became more experimental with her tunings. According to Sweetwater, this was born from necessity. After battling polio as a child, her left hand was left weakened and the open tunings allowed her to form chord shapes she would not have been able to do conventionally.
Blue
Joni Mitchell has released a number of critically and commercially acclaimed albums throughout her decades in music, but one album stands out above the rest: 1971's "Blue." Rolling Stone ranks it No. 30 on its list of the 500 Greatest Albums of All-Time. No other solo female performer is ranked higher.
Biography reports that Mitchell described the album as "probably the purest emotional record that I will ever make in my life." In 1979, she told Rolling Stone, "There's hardly a dishonest note in the vocals. At that period of my life, I had no personal defenses… I felt like I had absolutely no secrets from the world and I couldn't pretend in my life to be strong. Or to be happy."
The album became Mitchell's first to sell over a million copies, and it has been listed as a favorite for artists such as Prince, Taylor Swift, and Bob Dylan. While she would go on to make many more commercially and critically acclaimed albums, "Blue" remains the singer's greatest artwork.
Famous partners
In the era of free love, Mitchell connected with many of her musical partners romantically. The New York Post reports that she forged romantic links with two of the three members of the supergroup Crosby, Stills, and Nash: David Crosby and Graham Nash. In 1967, Mitchell began to work on her debut album, "Song to a Seagull," with David Crosby as the producer. The two began a romantic relationship, but it soon soured. Music journalist David Browne described Crosby as reveling in presenting her to his friends, "treating her like a prized, talented possession."
That same year, Mitchell met poet and songwriter Leonard Cohen at the Newport Folk Festival. According to Far Out Magazine, the pair became friends and had a short romantic relationship, remaining close until Cohen's death in 2016. The relationship inspired Mitchell to write the song "Rainy Night House."
In 1968, Mitchell began a two-year relationship with Graham Nash. The Crosby, Stills, and Nash song "Our House," written by Nash, was inspired by their home life. Eventually, that relationship faded and Mitchell broke up with Nash by letter.
Medium writes that in 1971, Mitchell began a relationship with songwriter James Taylor. Both musicians would be inspired to write songs about the relationship, but as their musical paths separated so did their romantic relationship.
Neil Young and Joni Mitchell Wrote Songs to Each Other
Aside from Graham Nash and David Crosby, Joni Mitchell has a personal connection with another member of Crosby, Stills and Nash. Like Mitchell, Neil Young was born and raised in Canada before moving to the United States and taking part in the 1960s counterculture as a successful musician. According to Far Out Magazine, the pair met in Canada in 1964 at the Fourth Dimension folk club at the University of Manitoba. Both Young and Mitchell have experimented with different genres and have gone down as two of the greatest songwriters and guitarists of all-time. The pair remained very close during their careers, playing on each other's albums, as well as writing songs to each other.
At only 19, Young wrote the song, "Sugar Mountain," as a lament of growing up and becoming an adult. Mitchell in response penned the song, "The Circle Game." The song appeared on her 1970 "Ladies of the Canyon" album, and unlike "Sugar Mountain" it was not a lament on growing old but instead took a more positive look at growing up and developing new dreams. The song features the character of a "boy," and the last verse saw the boy grow to 20, outside of his teenage years. In 1973, Young wrote a tribute to Mitchell with the song, "Sweet Joni." In 1976, the two performed together in The Band's farewell concert, which was filmed in the Martin Scorsese documentary, "The Last Waltz."
Jazz influences
Joni Mitchell has never been afraid of changing her musical genre and incorporating different styles and elements into her songs. Bob Dylan told Rolling Stone, "Joni's got a strange sense of rhythm that's all her own."
In 1975, the singer/songwriter left the Laurel Canyon sound and released the album "The Hissing of Summer Lawns." Featuring jazz overtones, it leaned away from the acoustic sound of her early work. Despite the poor reaction from fans and critics, Mitchell continued this trend throughout the decade, as described by The Uncool. In a 1979 interview with Cameron Crowe for Rolling Stone, Mitchell detailed her evolution to experimental jazz. "You have two options. You can stay the same and protect the formula that gave you your initial success. They're going to crucify you for staying the same. If you change, they're going to crucify you for changing. But staying the same is boring. And change is interesting… I'd rather be crucified for changing."
According to her official website, Mitchell worked with jazz stars such as Herbie Hancock (above) and Wayne Shorter on her album "Mingus." The record was named in tribute to her friend and collaborator on the album, legendary jazz bassist Charles Mingus, who died five months before the album's release.
Songwriting impact
Mitchell has said that she uses the language of paintings and poetry when writing her songs, according to her official website. She describes looking for poetry that had a strong emotion and has said that she was floored by Bob Dylan's "Positively Fourth Street." "When I heard that 'You've got a lot of nerve to say you are my friend' I thought, now that's poetry; now we're talking. That direct, confronting speech, commingled with imagery, was what was lacking for me," she said.
Rolling Stone ranked her at No. 9 on its list of the 100 Greatest Songwriters of All-Time, the highest rank for a solo female artist. It describes her as unfurling "starkly personal lyrics that pushed beyond 'confessional' songwriting towards an almost confrontational intimacy and rawness."
According to Songfacts, Mitchell's well-known song "California" was inspired by the style of Miles Davis, demonstrating that although she places much importance on songwriting, musicianship has equal importance.
She has Morgellons disease
Unfortunately, while contemporaries such as Paul McCartney and Neil Young have been able to continue to work as musicians and release albums in recent years, Mitchell has been forced into early retirement. According to Billboard, Mitchell suffers from Morgellons disease, which has limited her mobility. Mitchell describes the condition as "Fibers in a variety of colors protrude out of my skin like mushrooms after a rainstorm: they cannot be forensically identified as animal, vegetable or mineral."
In 2013, she told the Toronto Star that she had not been able to do much of anything, though non-Western medicine has helped her deal with the disease. In her autobiography, released two years later, she said the condition prevented her from even wearing clothes. "I couldn't wear clothing. I couldn't leave my house for several years. Sometimes it got so I'd have to crawl across the floor. My legs would cramp up, just like a polio spasm. It hit all of the places where I had polio."
According to AOL, Mitchell also suffered a brain aneurysm in 2015. She was found unconscious in her LA home and has made few public appearances since.
Legacy
Jewel isn't the only musician to recognize Joni Mitchell's importance. According to Rolling Stone, artists from a number of genres have been influenced by Mitchell's work, including Prince, Chaka Khan and Tool frontman Maynard James Keenan.
In 2011, Eurythmics frontwoman Annie Lennox said of Mitchell, "She was writing these extraordinary songs with this extraordinary sort of commentary, poetic, special way, and this voice and this incredible playing. As soon as you heard the first chord and her voice… I thought 'I want to do that.'" On the release of her 2012 album "Red," Taylor Swift said that Mitchell's "Blue" was its immediate influence, and in 2015, Bjork told Pitchfork, "I really love Joni Mitchell." Two years later, Lorde told the Guardian, "I want to be Joni Mitchell."
It is clear that even decades after the release of her first album, musicians continue to be inspired by Joni Mitchell, particularly a new generation of female singers/songwriters.