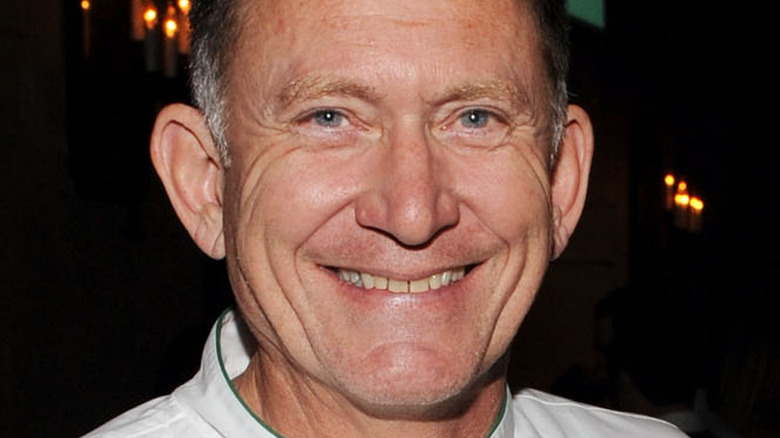 The culinary world is reeling after the news of the death of award-winning restauranteur and chef Mark Peel (via Los Angeles Times). Peel died on June 20 at the age of 66. The lifelong resident of Los Angeles, two-time "Top Chef Masters" competitor, and "Top Chef" guest judge is survived by his wife and Food Network personality Daphne Brogdon, along with their two children Vivien and Rex Peel. Peel and Brogdon have been separated since 2017 and were in the midst of a divorce at the time of Peel's death, according to the New York Times.
He is also survived by his former wife and business partner chef Nancy Silverton, and their three children Vanessa Silverton-Peel, Benjamin Silverton-Peel, and Oliver Silverton-Peel. Prior to Peel's marriage to Silverton, Peel was married briefly in 1979 to Reine Guttman (now Reine River). Peel died at Kaiser Permanente Los Angeles Medical Center after having been diagnosed with an aggressive form of cancer just nine days earlier, his daughter Vanessa told the L.A. Times.
Peel is credited with changing the food scene of Los Angeles with his fresh-forward approach to California cuisine, beginning with his work for Wolfgang Puck all the way to opening his James Beard award-winning restaurant Campanile.
Mark Peel and Nancy Silverton were considered the "first couple" of California cuisine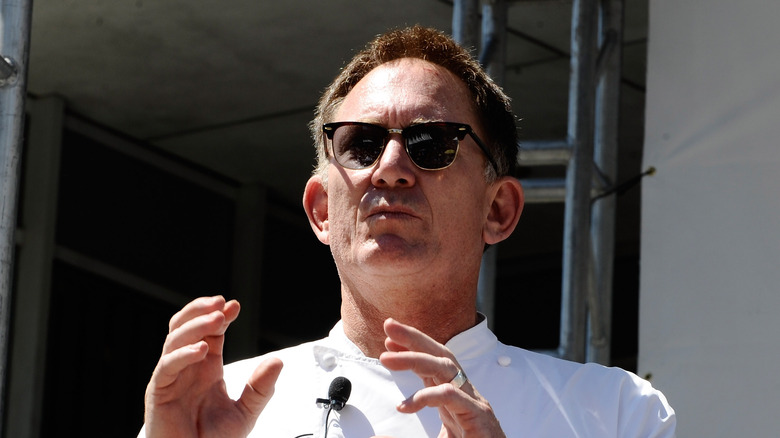 Mark Peel was one of those increasingly rare celebrity chefs whose rise to fame long predated the birth of mainstream foodie television programming such as what we see on Food Network. Peel, who began working as a dishwasher in a restaurant at the age of 17, considered his first teacher to be 80′ restaurant rock-star, Wolfgang Puck, for whom he worked at L.A.'s Ma Maison, according to StarChefs. Under Puck's tutelage, Peel went on to train at two French three-star restaurants, La Tour d'Argents and Moulinde Mougins before returning to become sous chef at Santa Monica's Michael's restaurant.
It was at Michael's that Peel met his then-future wife, pastry chef Nancy Silverton, according to the L.A. Times. Although Peel spent the next several years continuing to build his knowledge and skill base, Peel, together with Silverton, opened up the renowned, James Beard-winning restaurant, Campanile, at 624 South La Brea in 1989. It remained a foodie destination, as well as an L.A. institution, until 2012. And until 2005, when Peel and Silverton split up, the two were known by some as "the first couple of the nation's emergent California-Mediterranean restaurant ethos," according to the L.A. Times.
The end of Campanile dealt a personal blow to Peel
"For nearly a quarter of a century, Campanile on South La Brea Avenue has stood as proof that Los Angeles has a native-born food culture on par with anyone's," LA Weekly wrote on October 24, 2012, in the midst of Peel's restaurant Campanile getting ready to serve its last grill-blackened swordfish with fava puree before shutting its doors forever (via L.A. Times). But shuttering Campanile was by no means merely a professional loss for Peel. The tragedy of this particular episode in Peel's life is that the final blow — a refusal by the restaurant's landlord to renew the lease — was dealt by Nancy Silverton's father, who was that very landlord.
Although Campanile had continued to prosper for seven years after Peel and Silverton split, the end of Peel's lease ended up being the end of the line for what had always been perceived as a restaurant that's magic was partly due to it being such a "family" endeavor.
Mark Peel was deeply affected by the death of Anthony Bourdain
One of Mark Peel's first appearances on the Food Network was in 2002, on Anthony Bourdain's "A Cook's Tour." It was on the episode entitled, "Los Angeles, My Own Heart of Darkness," in which Bourdain "descends into the culinary underbelly of his metropolitan nemesis, Los Angeles, where he experiences the trials of celebrity fame and the joys of West Coast cuisine" (via IMDb). During the episode, the burgeoning food tourist Bourdain was shown on a visit to Peel and Nancy Silverton's La Brea-located restaurants, Campanile and La Brea Bakery, according to Citizine. While news coverage of Peel's continuing friendship with Bourdain is scant, it appears that Peel was left distraught over Bourdain's death.
"Today is Anthony Bourdain's birthday," Peel wrote on Facebook on June 25, 2019. "I, like many others, enjoyed 'traveling' with him to parts unknown. It is also close to the anniversary of his death. Tony's suicide makes me remember and think. He was an endearing and incisive person and subject to terrible depression. We need to open our doors to others when we feel the walls closing in and let ourselves be helpless with others. #BourdainDay."
Life as a chef changed Peel's body
Although the immediate cause of Mark Peel's death was apparently cancer, Peel had been coping with health issues throughout the final decade of his life. Many may be attributable to Peel's extraordinary work ethic, as the New York Times reported. As much as Peel's long career — which began when he took a job as a dishwasher at the age of 17 — brought fame and good fortune, it also appears to have brought with it a number of health issues. Some of them stood to interfere, or actually interfered, with his ability to perform optimally in his career as a chef.
After four decades as a chef, some of these issues included: "carpal tunnel syndrome in both wrists and thoracic outlet syndrome in his shoulders," all resulting from the "repetitive stirring, fine knife movements, and heavy lifting" that characterizes a hands-on chef's work, per the New York Times. Other health issues that may have been caused or worsened by his career as a chef include a bone spur and a cyst between his toes — caused by constant standing. Peel also underwent three hernia operations and dealt with chronic back pain. Yet even in 2013, Peel was busy opening an LAX outpost of his famed Campanile restaurant. In the last decade, Peel had taken to physical therapy and nightly stretches to counterbalance the demanding work of life on the line.
Peel's death was very sudden
Chef Mark Peel's death came just nine days after he reportedly received a diagnosis of an aggressive form of cancer, his daughter Vanessa Silverton-Peel told the L.A. Times. According to the New York Times, Silverton-Peel characterized the cancer as "germ cell," which refers to a tumor that most often begins in the reproductive organs (via Mayo Clinic).
His wife Daphne Brogdon, from whom he was separated, explained the sudden nature of Peel's death: "I don't know where to put my sadness. The added cruelty was how swiftly he was taken. He called me 9 days ago with news that he had just been diagnosed with stage 4 liver cancer. He was calm and brave and didn't want to interrupt the end of school party we were having. Our young children were foremost in his mind. He was surrounded by loved ones every day and night," (via Instagram).
Although there seems to be some confusion as to the precise diagnosis that Peel had been facing in his final days, what is clear is that he was admitted to a hospital nine days before his death for "unusual back pain" (per the New York Times) and was then diagnosed with end-stage cancer.