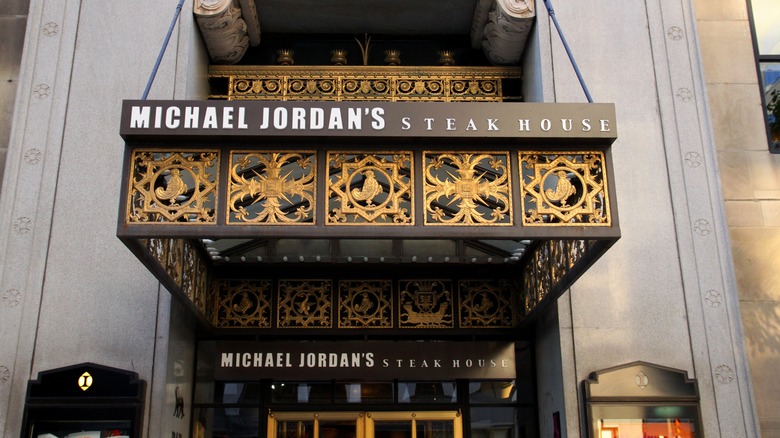 Plenty of celebrities throw their names or branding onto steakhouses and other restaurants. You've got Toby Keith's I Love This Bar and Grill, Mark Wahlberg's Wahlburgers, and Jimmy Buffet's Margaritaville, to name a few. A lot of the time, these restaurants are average, and there's nothing amazing to talk about. Sure, the food is good, but it's clear that a lot of folks stop by simply due to the celebrity connection.
But when you're consistently called the literal greatest of all time, you don't want to put your name or face on any just-okay restaurant, even if the culinary world isn't your arena. And so, when Michael Jordan graced a chain of several steakhouses with his name, he went above and beyond to ensure his steakhouse was actually a restaurant worth talking about — celebrity connection or not. But creating that brand wasn't always easy.
Here's the untold truth of Michael Jordan's Steakhouse, plus a few fun facts to share with your friends the next time someone brings up the GOAT — or one of his well-reviewed steaks.
The first Michael Jordan's Steakhouse opened in New York City in 1997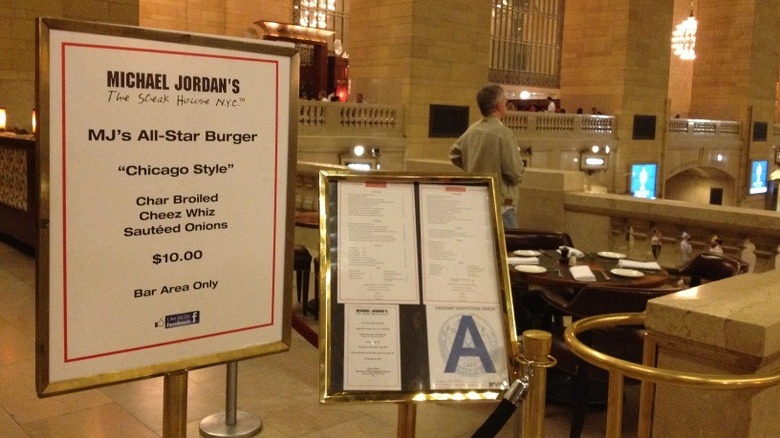 While Michael Jordan might be most connected with the city of Chicago (if you were going to tie the athlete to a city), it wasn't actually Chicago that was first home to his steakhouse (though you can find a Michael Jordan's Steakhouse in Chicago currently, tucked inside the InterContinental Chicago hotel). Instead, Jordan's first steakhouse opened in New York City in 1997, a project of the Glazier Group, as Thrillist reports.
The branding of that '90s steakhouse was much the same as what you see in the brand's locations today. There wasn't a heavy sports theme; instead, the restaurant focused on what the brand called "Michael Jordan the businessman," or in other words, creating a space where even the most accomplished businessman could enjoy an elevated dinner, no sports paraphernalia required. The brand also, and still does, focus heavily on what it calls "steakmanship," a theory described as "a belief in the steak, not the sizzle."
Michael Jordan's Steakhouse wasn't the athlete's first foray into the restaurant world
While the 1997 NYC restaurant was Michael Jordan's first steakhouse location, it wasn't the very first restaurant that he opened. Jordan's very first restaurant was called, simply, Michael Jordan's Restaurant and it was situated in Chicago, opening three years earlier in 1994.
Unfortunately, despite Chicago's affinity for Jordan, the restaurant wasn't exactly a hit. It was met with pretty poor reviews, and called "a tourist trap that feeds off the incredible popularity of its namesake" by a reviewer in the Chicago Tribune. And it's easy to see why — the restaurant did indeed play on Jordan's fame versus focusing on the food, which the reviewer called "mediocre" (while still noting it was possible to have a decent steak at the restaurant). The eatery was complete with a gift shop and, in order to make diners feel even closer to Jordan's celeb appeal. It also featured a warning at the bottom of each menu, cautioning guests to leave any sighted dining celebrities alone, rather than flock them for autographs.
Michael Jordan's Steakhouse was a far cry from the lackluster Michael Jordan's Restaurant
Luckily for Michael Jordan, his attempt at a steakhouse proved much more successful than his attempt at a sports-themed restaurant. The focus on "Michael Jordan the businessman" rather than Michael Jordan the basketball superstar seemed to strike the right chord with regular diners and high-brow foodies alike.
As it turns out, ditching the kitschy, sports-focused vibe was a game-changer, so much so that the New York Grand Central location received high praise from The New York Times food critic and author Ruth Riechl. She claimed that Jordan, along with the Glazier Group, had managed to create "a new kind of celebrity restaurant" with a menu that was "a straightforward document offering serious food that is a far cry from what you find at the All-Star Cafe or Mickey Mantle's." Unfortunately, if you have high hopes of dining at the first of Jordan's steakhouse locations for yourself, you're out of luck — the NYC restaurant is now permanently closed.
MJ's experiments within the restaurant industry didn't stop with Michael Jordan's Steakhouse
You might assume that once Michael Jordan had found a winner with Michael Jordan's Steakhouse (because while that New York City location ended up closing, you can still find open outposts of the restaurant in Chicago, Portland, Connecticut, and other locales), that he might simply stick with what's working.
Instead, however, Jordan went back to that sports theme that treated him so badly with the short-lived Michael Jordan's Restaurant, opening a sports bar and grill at a Mohegan Sun casino in Connecticut (which also boasts one of the handful of Michael Jordan's Steakhouses). MJ23 Sports Bar & Grill, though, manages to still get a lot right while embracing the basketball theme, with casual food, beer, and a vibe befitting a casino. And, yes, you will find sports-themed eats on the menu, such as the 3 Pointer appetizer spread (barbecue chicken spring rolls, an onion ring tower, and a pound of wings) and the Home Court Sangria.
The Chicago Michael Jordan's Steakhouse reserves a special booth for Michael Jordan
It's fitting that the Michael Jordan's Steakhouse Chicago location has really leaned into its identity, but the restaurant has still managed to not go overboard and keep things classy — like you'd expect at any steakhouse in a large city. One of the ways it does so is via Table 23, aka Michael Jordan's booth. This corner booth, tucked away and large enough to seat six or more diners, is usually reserved for the GOAT himself. However, as Eater points out, under certain circumstances you can slide on in and enjoy yourself (so long as he's not there).
The restaurant offers the table along with a prix fixe menu, but it doesn't come cheap. The prix fixe menu starts at $300 for two diners or $600 for four diners, and you can expect to chow down on delicious items like dry-aged Delmonico steak or roasted bone marrow.
If you're in MJ's booth when he arrives, you'll be asked to leave
The downside to booking one of those pricey prix fixe dinner experiences at the Michael Jordan's Steakhouse in Chicago? If you do book one and are enjoying your dinner at Table 23, and Michael Jordan does happen to come in on that night, you'll be asked to leave — not the restaurant, just the booth. According to Eater, the staff will relocate you to another table to finish your meal.
The good news, though? Your meal will be free. So, maybe you might actually hope that Jordan interrupts your dinner, as it could mean a $600 meal for four on the house. And did we mention the prix fixe menu also comes with wine and beer included? The experience's full menu also includes tantalizing options like double smoked bacon with a maple black pepper glaze, baked and stuffed half lobsters, and a 23-layer chocolate cake to share with your dining companions.
Michael Jordan actually eats at his own restaurants quite a lot
You wouldn't be blamed for wondering if celebrities actually do use their own products or eat at their own restaurants. Is Rachael Ray using all her own cookware at home? How often does The Pioneer Woman break out her Walmart line? But, as if to show that he actually really does love what he's selling, Michael Jordan does in fact eat at his restaurants quite a lot, as much as 30 times in a year and a half. The general manager at the time of the Chicago outpost's opening, Myron Markewycz, told Eater, "Since we opened a year-and-half ago, [Jordan]'s probably been in here 25–30 times. He'll come with the guys, with guests, with his fiancee and they'll do everything from sit at the bar to the dining room."
And Jordan isn't the only famous athlete you'll spot in the dining room. Markewycz also says, "Scottie [Pippen's] been in here, Ron Harper's been in here, and some of the guys he used to play against like Charles Oakley and Patrick Ewing. A lot of the guys from local teams Blackhawks, Bears, Cubs, have been in too."
The Michael Jordan's Steakhouse once offered a Space Jam combo
For many '90s kids, even if they didn't grow up watching basketball, they probably know Michael Jordan from "Space Jam." To that end, in 2019, Michael Jordan's Steakhouse gave fans a Space Jam combo. However, there's only so far that the upscale restaurant could go in terms of letting down its hair and letting loose — and so it only offered this whimsical combo at the bar. No matter, as it was still a fun culinary homage and one that deserves a revisit.
The combo was available only during Chicago Bulls home games during the 2019-2020 season; it included, as Eater reports, a "burger with barbecue braised pork belly, pickled onions, dill pickle, stout mustard, butterkase, and aged cheddar." For those not in the know, butterkase is a German-originated butter cheese. The burger was accompanied by a serving of fries and a salted caramel milkshake that was lovingly referred to as "Mike's Secret Stuff" in a fun nod to the movie.
Michael Jordan sued this brand for using his likeness
If you were ever thinking, "Oh, Michael Jordan is great. Steak is great. Jordan owns a steakhouse. I sell steak, so I should use Jordan's likeness on a coupon for my steak" — just don't. You could end up in a multi-million dollar lawsuit. That's what happened to grocery chain Dominick's (owned by Safeway), according to Eater, when the chain used Jordan's name and number 23 on a coupon for $2 off Rancher's Reserve steak purchases, along with the words "You are a cut above." The coupon's appearance coincided with Jordan's Hall of Fame induction, which means it was probably some well-meaning designer or marketer's attempt at cleverness.
Nevertheless, it ended up with a court ordering Safeway to pay Jordan a hefty $8.9 million. After the lawsuit concluded, a reporter asked Jordan if he'd ever even eaten a Rancher's Reserve steak, to which he responded, "No, I got a Michael Jordan Steakhouse over here!"
You can make the Michael Jordan's Steakhouse steak sauce at home
Visited a Michael Jordan's Steakhouse in the past and loved it? Well, you're in luck. You can get a taste of the restaurant at home, thanks to an Esquire article that published the Michael Jordan's Steakhouse steak sauce recipe. However, the sauce is more of a glaze and a jus (aka, a sauce made from meat juice, as defined by the Michelin Guide) than what you might think of as a traditional steak sauce, really. And it's a far cry from A1.
The sauce(s) is served alongside the restaurant's 45-day dry-aged Delmonico steak and it all comes together in fewer than 15 minutes. The brown butter beef fat glaze combines rendered beef fat with dairy, corn syrup, and Worcestershire sauce, while the balsamic ginger jus is a little more complex, requiring cooked mirepoix, veal demi-glace, and some freshly peeled and chopped ginger and garlic, among a few other ingredients. Hey — we never said accomplishing steak sauce greatness was easy.
The Michael Jordan's Steakhouse menu features several 23-themed items
We said that Michael Jordan's Steakhouse is far from kitschy and that's true. However, that doesn't mean that the restaurant doesn't also have a little fun on occasion, blending in the Michael Jordan theme in places where it might be a little more appropriate — without damaging the eatery's upscale appeal, as we saw with the Space Jam combo that was available in 2019 and 2020.
On the regular menu, you can find these little touches via the rotating 23-themed items. While not currently on the menu, one of the long-standing favorites has been the chopped salad with 23 ingredients. According to past diners, those ingredients include everything from shrimp to fennel, chickpeas to green beans.
The ever-present 23-themed menu item that's a must-try, though, is the 23-layer chocolate cake. The cake requires two days to make, as Oregon Live reported after visiting the restaurant's Portland location for a slice, and is made from 23 layers of alternating cake and ganache with a final ganache layer on top. One entire day is spent just creating all the different layers, while a second day is spent putting them together and then blowtorching the exterior frosting for a shiny glow. The end result is about six inches tall.
Michael Jordan's Steakhouse offers a few secret menu items — but only at the bar
Like every good restaurant, Michael Jordan's Steakhouse offers a few secret menu items that you'll want to try if you get a chance. And, according to Eater, the secret menu items at the Chicago branch of Michael Jordan's Steakhouse are some of the best secret menu items you can find in the Windy City.
At the bar only, you can order the Killer B Burger, along with a bourbon milkshake. The milkshake is as it sounds — boozy and bourbon-y — while the burger is topped with bacon and bleu cheese. The burger rests on a makeshift bun of garlic bread and the whole thing gets drizzled with bleu cheese fondue. But beyond going to the bar to order this off-menu option, you'll have to work a little harder than that; according to Thrillist, you also can only order the burger-milkshake duo on weeknights and only after 10 p.m. For some, the extra work is well worth it.
One Michael Jordan's Steakhouse chef boasts a secret for getting the perfect steak char
If your steaks could use a little extra help when you're cooking at home, you may want to take a cue from a Michael Jordan's Steakhouse chef. When the steakhouse's New York City location was in its heyday, its executive chef, David Walzog, spoke to New York magazine, and reported his secret for getting the perfect steakhouse char on every steak that made it through his kitchen doors. As the magazine notes, Walzog's secret is "dipping the steak in a combination of butter and oil, coating it with a generous layer of kosher salt and cracked black pepper, and searing it over the hottest possible fire." So, the next time you dine at Michael Jordan's Steakhouse, take a look at the char and then try to replicate it at home using this same method.
Of course, it can't hurt that Walzog also said he only ever cooked the best prime-grade, dry-aged beef he could get at the time. That's bound to make any steak taste a little bit better, regardless of the char.
One of Michael Jordan's Steakhouse's secret ingredients hails from Croatia
If you were to head into the Michael Jordan's Steakhouse kitchen, you might spot an unfamiliar ingredient, but one that's incredibly popular in Croatia — and, according to the brand, the best-selling seasoning in all of Europe. Vegeta is an "all purpose seasoning" that originated in Croatia in the '50s. It's essentially a salt plus spices ingredient that can be used to add a little kick of seasoning to your favorite dishes or, when you add water, can be used to make broth.
In a Dubrovnik Times article, the Michael Jordan's Steakhouse chef Cenobio Canalizo said, "We use Vegeta because it brings a richer flavor to our Mediterranean cuisine dishes and steak. The richness of flavors of various types of vegetables in a combination that does not burden fish or meat, but enhances their freshness and completes the culinary story, motivates me to prepare even better dishes, so Vegeta has become [an] unavoidable food supplement in our kitchen."
Here are some of Michael Jordan's favorite menu items
Of course, just like any restaurant diner, Michael Jordan has his particular favorites off the menu, even at his own restaurant. A few years ago, the executive chef put together an "Eat Like Mike" special that included all of what he said were Jordan's favorites. But make sure you come hungry if you plan on replicating the meal.
According to the chef's interview with Forbes, the meal starts out with three appetizers: maple-glazed, double smoked bacon; a crab cake with lemon aioli; and garlic bread with blue cheese fondue. Then, it's on to the Caesar salad, which the chef said Jordan orders every time he comes into the restaurant. From there, it's a 16-ounce, bone-in filet, with that ginger balsamic vinegar jus that you can make yourself at home. As for sides, the chef recommends mashed potatoes, macaroni and cheese, and sautéed spinach. Lastly, you'll go with the 23-layer chocolate cake for dessert. The chef notes, though, that he never sees Jordan eat the cake — but if he's dining with someone, he orders it anyway, for his guest.