As an award-winning vocalist, songwriter, dancer, and actor, Lady Gaga is known for being an expert of many things. She has built an enormous fanbase, known as her "Little Monsters," on her talent, kindness, and authenticity (via Billboard). Because Gaga has always been true to who she is throughout her career, it comes as no surprise that she has been so honest about her journey with fibromyalgia.
In 2017, Lady Gaga announced on Twitter that she has the chronic condition. Defined by the Centers for Disease Control and Prevention as "a condition that causes pain all over the body," fibromyalgia affects approximately 4 million adults in the United States each year. Because it can cause high levels of sensitivity, chronic pain, fatigue, and mental stress, fibromyalgia can be a life-altering condition (via Mayo Clinic).
Lady Gaga is still learning how to live with her condition and has been upfront and candid with her fans about how it affects her everyday life. She even opened up in a 2017 Instagram post about how her chronic pain sometimes keeps her from performing and touring the country. Here's a closer look at the star's experience with fibromyalgia.
What is fibromyalgia?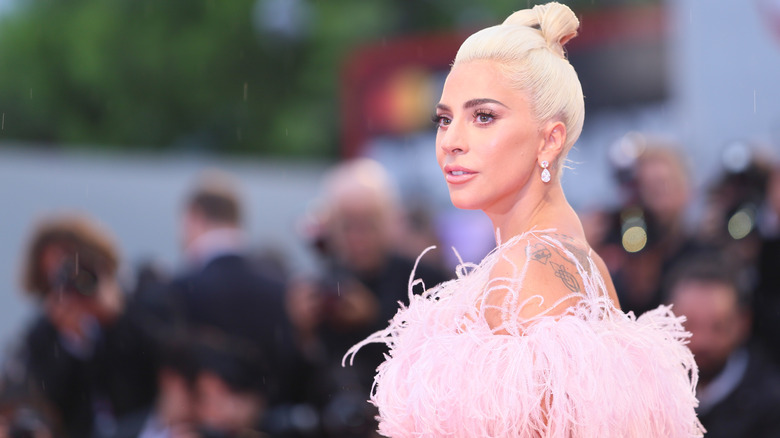 If you first learned of fibromyalgia when Lady Gaga revealed her diagnosis, the condition may have seemed like a bit of a mystery. To be honest, it remains that way even among the medical community. However, experts are making headway on diagnosing and treating this chronic condition despite there being many unknowns. Fibromyalgia Syndrome (FMS), of fibromyalgia, can be defined as "a chronic condition causing pain, stiffness, and tenderness of the muscles, tendons, and joints," according to an article published in the Oman Medical Journal. The most common denominator between people who live with fibromyalgia is chronic, widespread pain across the entire body.
Fibromyalgia is also known to affect people's mental health and cognitive abilities as well, with characteristics such as insomnia, impaired memory, anxiety, and depression. Diagnosing fibromyalgia is difficult because the common symptoms are still vague and hard to distinguish from other potential causes. According to the Hindawi Journal of Pain Research and Treatment, the three most common symptoms of fibromyalgia are "pain, fatigue, and sleep disturbance."
Fibromyalgia may be difficult to diagnose, but it can be even more challenging to treat. The common goal for fibromyalgia treatment is to alleviate pain, resolve sleeping issues, and reduce symptoms in order to help patients resume their daily activities and hobbies.
Lady Gaga was first diagnosed with PTSD
In 2016, Lady Gaga revealed on NBC's "Today" that she'd been diagnosed with post-traumatic stress disorder (PTSD) after being sexual assaulted (via Vogue). In a later interview with Vogue, Gaga explained that it's very possible her condition was brought on by the sexual assault and worsened by performing, touring, and, as Vogue put it, "the weight of her fame."
According to MedPage Today, it's also possible that an incident in 2013 in which Lady Gaga broke her hip could have also contributed to her having fibromyalgia. In early 2018, Gaga had to end her European tour early, cutting 10 shows due to the physical and mental pain. She described her experience with fibromyalgia to Vogue as a "cyclone of anxiety, depression, PTSD, trauma, and panic disorder, all of which sends the nervous system into overdrive, and then you have nerve pain as a result."
However, she told the publication that "it's getting better every day," thanks to "fantastic doctors who take care of [her]." She still needs to work to manage her symptoms on a daily basis, though. And in her 2020 interview with Oprah, she mentioned that she was "in head-to-toe pain" as she sat in front of the audience. But Lady Gaga is determined to help others with their chronic pain and illness by bringing light to her own.
If you or anyone you know has been a victim of sexual assault, help is available. Visit the Rape, Abuse & Incest National Network website or contact RAINN's National Helpline at 1-800-656-HOPE (4673).
Lady Gaga hopes to help others in similar situations
Lady Gaga has been vulnerable and open about her chronic pain on social media, especially on Instagram. In one 2017 post, in particular, she described "suffer[ing]" from fibromyalgia and PTSD. She continued, writing, "I use the word suffer not only because trauma and chronic pain have changed my life, but because they are keeping me from living a normal life." This post came as an announcement of her cancelling the European leg of her Joanne World Tour, a decision she very clearly had a difficult time making.
Because she lives through traumatic physical and mental pain, Lady Gaga wants to bring more awareness to her conditions so that people who feel similarly can get the help they need. In her post, she also said she plans to "expand research for others who suffer as I do, so I can help make a difference." In an interview with Oprah in January of 2020, Lady Gaga also made a promise to gather as many experts as she can in the next decade to "solve this mental health crisis" moving forward.
A look at Lady Gaga's symptoms: 'paranoia, fear, body pain, anxiety'
In her interview with Oprah in 2020, Lady Gaga described fibromyalgia as "a chronic pain condition that makes your body hurt, through your brain." And in her documentary, "Gaga: Five Foot Two," she described some of her pain as a "full-body spasm" (via Glamour).
Gaga told Oprah that for years she never dealt with the trauma of her sexual abuse, and instead continued touring and traveling without seeking professional help like therapy. "Then all of the sudden, I started to feel this incredible, intense pain throughout my entire body," Gaga explained. She also told Oprah that the full-body pain actually mirrored the illness she had after being repeatedly assaulted.
In the trailer for her documentary, Gaga listed off some of her symptoms: "paranoia, fear, body pain, anxiety." She's been very honest with her fans that her journey with fibromyalgia is not just about managing pain, but improving her mental health as well. And this is true for many people dealing with fibromyalgia and other forms of chronic pain. According to a study in the Journal of Psychology Research and Behavior Management, fibromyalgia can cause full-body fatigue, musculoskeletal pain, cognitive impairment, depression, and anxiety. It's also important to note that the lack of answers and concrete research around fibromyalgia can cause loneliness, frustration, and despair.
If you or anyone you know has been a victim of sexual assault, help is available. Visit the Rape, Abuse & Incest National Network website or contact RAINN's National Helpline at 1-800-656-HOPE (4673).
Lady Gaga sticks with heat for treating fibromyalgia
As with other chronic conditions, fibromyalgia is a life-long journey of figuring out what works and what doesn't. This is true for Lady Gaga. After her 2017 tweet in which she revealed her diagnosis to her fans, she followed up with a second tweet about trying to find relief for the pain. She tweeted, "Thought ice helped [fibromyalgia]. I was wrong & making it worse. Warm/heat is better. Electric heated blanket, infrared sauna, epsom baths."
For people living with fibromyalgia, full-body pain is a common factor felt usually on a daily basis. According to a study published in the Clinical Journal of Pain, 67% of the participants living with fibromyalgia reported zero or almost no "pain-free" periods over the course of two days. Almost all of the participants in the study reported that their daily lives and activities have had to change to manage the condition, which is something they have in common with the pop star and actress. After learning more about this chronic condition, one may be able to understand how performing and going on tour could be a challenge for someone with fibromyalgia.
Lady Gaga says fibromyalgia is 'no joke'
When Lady Gaga discusses her experience with fibromyalgia and chronic pain, she makes it very clear to her fans that this really is a life-altering condition. Gaga told Vogue, "Chronic pain is no joke. And it's every day waking up not knowing how you're going to feel." Many other people living with fibromyalgia experience this same intensity in pain.
A participant in a study published in BMC Musculoskeletal Disorders detailed their life with fibromyalgia, saying, "For me [it] just feels like an all over body… like a disease, I don't know, I can't really describe it. All I know is that it just, well it takes its toll, it doesn't just affect one part, and it affects your whole body." All of the participants in this same study agreed that fibromyalgia not only causes full-body pain, but mental distress such as anxiety, depression, or both.
Why Lady Gaga wants people to know about her fibromyalgia diagnosis
Lady Gaga knows that fibromyalgia is no light matter and that's exactly why she wants to help others who experience this type of chronic pain. When speaking with Vogue, Gaga mentioned her frustrations with people invalidating her pain. "I get so irritated with people who don't believe fibromyalgia is real," she opined.
According to the National Fibromyalgia Association, the disorder is often met with a lot of criticism in the medical world, as well. "Fibromyalgia tends to be treated rather dismissively, sometimes with cynical overtones," wrote Robert M. Bennett, professor of medicine at Oregon Health Sciences University. Nevertheless, Gaga's decision to speak out could just help.
Healthline praised the singer's choice to go public, writing, "It's empowering because now others are thinking more about invisible illnesses. It's encouraging because the conversation is opening up for people to support each other. And it inspires people to pay more attention to their health and get the treatment they need, sooner rather than later." And in telling her story, Gaga hopes to bring comfort and more funding for research. As she told Oprah, "Many people don't know what [fibromyalgia] is, and we need to all get together and figure this out."