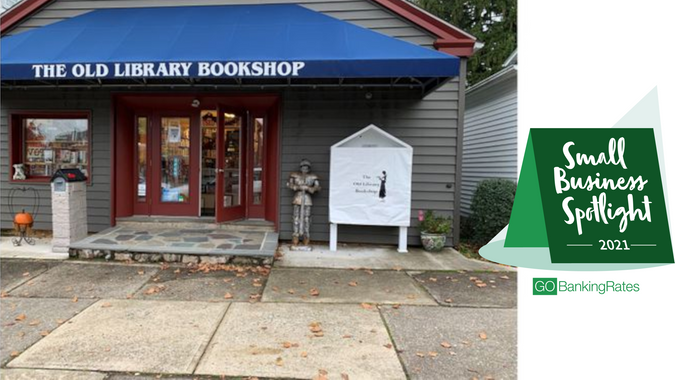 Throughout our Small Business Spotlight series, we've been featuring businesses nominated by our readers — but we also wanted to give a special shoutout to the businesses loved by our ConsumerTrack staff. Our employees live and work across the U.S., and we wanted to acknowledge the businesses from coast to coast that enrich our communities.
2021 Small Business Spotlight: Check Out Our Small Business Stories, Plus the Nominated Businesses Near You
Related: Sister-Owned Visual Studio Captures the Art of Authentic Storytelling
Here's a look at the restaurants, coffee shops, boutiques, bookstores and more that get the ConsumerTrack staff stamp of approval.
California
The Arthur J
Manhattan Beach, California
"Excellent restaurant that always impresses with incredible steaks that are cooked perfectly, an amazing wine list, outstanding cocktails and service. I look forward to going there every month."
Brett Rossmann, Chief Executive Officer
Casa Playa
Redondo Beach, California
"I love everything I've ever eaten at this local Mexican restaurant. Not only is the food consistently good (with lots of vegetarian options), but they were so quick to adjust during the pandemic in order to give food to customers while making them feel safe. The owners are so friendly and nice — it's overall just a great little place."
Molly Sullivan, Senior Editor
The Conservatory for Coffee, Tea & Cocoa
Culver City, California
"I could gush about this coffee shop all day long! It's owned by one of the kindest families on the planet, their coffee and treats are amazing, and the staff and regular customers are a true community."
Christine Kayayan, PR & Marketing Manager
Ellie and Sass
Mar Vista, California
"This hidden salon is my absolute favorite place in Mar Vista to get my nails done. And they were even featured in Goop!"
Natalie Swanson, Paid Social Media Manager
Ethos Santa Cruz
Santa Cruz, California
"Ethos handpicks low-waste items and their store has introduced me to brands that also value sustainability! Their team is amazing and so sweet."
Ashley Ko, Strategic Partnerships Manager
More Small Businesses: A Zero-Waste Store Grows in Brooklyn
Lodge Bread
Los Angeles
"This is my favorite go-to neighborhood spot for sandwiches, pizzas and bread."
Natalie Swanson, Paid Social Media Manager
OWL Venice
Venice, California
"OWL Venice creates organic bone broths and cleanses to help support gut health. As someone who has suffered from leaky gut syndrome for the majority of her adult life, this company has been a lifesaver in helping me regulate my gut microbiome."
Natalie Swanson, Paid Social Media Manager
Pine and Crane
Los Angeles
"Located in Los Feliz area of L.A., I freaking love Pine and Crane. Their food is delicious and their hospitality is everything! It's a great spot to meet up with friends for lunch and dinner and get some Asian fusion food."
Amen Oyiboke-Osifo, Junior Writer/Editor
Read More: Music Industry Vet Opens a Record Store in Cleveland
The Plus Bus
Los Angeles
"I love The Plus Bus in L.A. They're a vintage and consignment store for plus-size people and carry really amazing fashionable stuff and have a wonderful message. It's really an amazing, inclusive labor of love and I buy all of my clothes here."
Mark Shrayber, Editor
Radiance Wellness Spa
Santa Monica, California
"Run by a mother-daughter team, this spa gives incredibly relaxing facials that are specifically formulated for you and your needs. The staff is extremely caring and attentive — they will answer any questions you have and help you find the best skin care regimen for you. They have truly transformed my skin!"
Gabrielle Olya, Lead Writer
Shop Ashiya
Los Angeles
"Shop Ashiya has the cutest patterns that are super unique. All the items at the boutique feel hand-picked with love, and no one will have the same top/dress/skirt/etc. as you. And it's the only place I know that sells a smiley face avocado dress."
Ashley Ko, Strategic Partnerships Manager
Check Out: Atlanta Children's Theater Trains the Stars of Tomorrow
Suay Sew Shop
Los Angeles
"Suay is my favorite home brand. They have the best cloth napkins — my favorite are a neutral gray deadstock linen with a shock of neon yellow stitching. Not only are [their items] super cute, their mission is in sustainability and prioritizing people over profit. Suay was donating masks to essential workers at the very start of the pandemic, and continues to imagine a better fashion industry."
Ashley Ko, Strategic Partnerships Manager
Ristorante Mascarpone's
Orange, California
"Mascarpone's has been a family favorite for special occasions for as long as I can remember. The pasta dishes and seafood are top-notch (and well priced) — and they have so many delicious options. Plus, they will make anything off the menu as long as they have the ingredients! From Penne Arrabiata con Pollo to lasagna to the fish of the day, I never had a dish I wouldn't eat over and over again. The cheesecake is the best I've ever had and the owners Pepe and Ronnea are so welcoming and friendly."
Connie Lundegard, Director of Strategic Media Publishers
Hawaii
The Coffee Store in Napili
Lahaina, Hawaii
"The Coffee Store is a hidden gem on the island of Maui. The staff are exceptionally welcoming, helpful and attentive, going the extra mile for out-of-town guests. The coffee is outstanding, rich and full of flavor. There is a large variety of breakfast and snack options, making it a perfect stop for any visitor, whether someone wants to sit to enjoy some morning coffee or just grab a drink on the way to the beach. The Coffee Store is a favorite for my whole family, and somewhere we always look forward to visiting."
Carly Brashears, Lead Editor
Iowa
Portobello Road
Ames, Iowa
"My sister missed this store in Ames when she moved, so my family bought a gift from the owner on Instagram. The owner went above and beyond to help us pick out gifts for our sister. She even took extra photos of the items to help us pick. So sweet!"
Ashley Ko, Strategic Partnerships Manager
Massachusetts
Mei Mei
Boston
"The best meal of my life was at Mei Mei. They use the best ingredients and make such delicious food. Mei Mei has always had a single mission and changed their business model so they don't have to compromise on that. Highly recommend checking them out, online or in the Boston area."
Ashley Ko, Strategic Partnerships Manager
New Jersey
Americana Diner
Shrewsbury, New Jersey
"A classic New Jersey diner as I remember as a kid. The staff and many of the patrons know each other by name, mostly because the clientele is so loyal to this establishment. The staff is always friendly and fast, and the food is always excellent and reasonably priced. The pandemic hit this business hard, but New Jersey has eased back many restrictions and the customers are returning. You may have to wait a bit for a table on Sunday morning, but the pancakes, fresh orange juice and coffee are worth it."
Don Sena, Vice President of Content
New York
Denino's Pizzeria & Tavern
Staten Island, New York
"This is the place to get authentic New York pizza. The crust is always perfectly crispy, and the cheese-to-tomato sauce ratio is perfectly balanced. Whenever I visit New York, I literally go here straight from the airport."
Gabrielle Olya, Lead Writer
Olympia Pita
Brooklyn, New York
"Olympia Pita serves excellent authentic-tasting Mediterranean food in the heart of New York. The food and staff are amazing as well."
Evan Harris, Content Partnerships Specialist
Simple Loaf Bakehouse
Brooklyn, New York
"This local bakery opened during the pandemic, and brought the most delicious fresh-baked bread, pastries and treats to the neighborhood during a time when all we wanted was something comforting and delicious to soothe our stressed-out souls! They were incredible about COVID-19 precautions, and getting a couple of croissants or a savory tart and a coffee became a weekly visit for me. The staff and owners were always friendly and helpful. They also have the best customer service. I ordered their stuffing kit for Thanksgiving, but when I got home, it was a tray of Parker House rolls. I called and they let me keep the delicious rolls, got me the right (and amazing) stuffing kit and offered to refund my money, which I absolutely wouldn't let them do!"
Toby Bochan, Lead Editor
Tend Coffee
Shirley, New York
"This little coffee shop roasts and brews a variety of organic coffee beans. Their approach to selling coffee comes through on a personal level as the owners are typically in the store chatting with customers. For non-coffee drinkers, they also sell a variety of organic teas and homemade treats, including scones, brownies and coffee cake. If you choose to grab a bag of beans, they also have all the accessories for sale to help you brew the perfect cup of joe at home."
Angela Corry, News Editor
Pennsylvania
The Old Library Shop
Bethlehem, Pennsylvania
"This is a small shop founded by two women (full disclosure, my wife and her mother) operating since 1996. They have over 26,000 volumes to browse through either in person or online. Running a small bookstore in the 'Amazon age' is challenging, but it is a labor of love."
Michael Taylor, Principal Data Architect
Keep Reading: Meet the Ohio Grandmother Who Launched a One-of-a-Kind Candle Company During the Pandemic
Texas
316 Collection
Addison, Texas
"Jaylen Grande started this brand in Addison, Texas, and I first heard about it after I finished grad school. I really love his faith-based apparel and always make sure to send his stuff as gifts to family and friends. His apparel really speaks to my faith and that's why I love it."
Amen Oyiboke-Osifo, Junior Writer/Editor
Purveyors of Fragrance
Dallas
"Courtney, the founder, is a personal friend who, a few years ago, had an idea about merging her love of travel and creating a way to preserve those memories. Her 'wick me away' idea evolved from a small collection of candles that evoke memories of her favorite trips to multiple collections that reflect her and her family's journey, stories and life experiences throughout the years. She started the business from a small studio in her San Diego home by herself and she's since moved operations to a warehouse in Texas, yet each scent and candle is still handmade and still has the personal touch that it's always had from day 0."
Lulette Reyes, Vice President of Finance and Enterprise Planning
Thai Hut Bistro
San Antonio
"The pandemic hit lots of local eateries and businesses very hard with many closings, but Thai Hut Bistro's generous portions, fresh food and great service kept them in business. The staff are friendly and attentive, and make sure your food is prepared to your liking."
Victor Sanchez, Senior Director, Product
Why Not Toys
Spring, Texas
"I love Why Not Toys in Spring, Texas. Once you are in the building, you are transported back in time. They have a lot of wooden toys, puppets, puzzles and memories that remind me of the best part of childhood: simple fun and imagination. It is a magical place. You won't find a video game, doll or any of the commercial favorites. You will find one-of-a-kind toys with small-town charm. That is the beauty of Old Town Spring, the small business district here."
Emeri Montgomery, Newsletter Editor
Washington
Johnson Candy
Tacoma, Washington
"The classic Johnson Candy has been in business since 1925. The sea salt caramels and hand-dipped ice cream bars can't be missed."
Julia Gordon, Editor, Advertorial and Sponsored Content
More Stories: A Texas Photographer Captures All of Life's Meaningful Moments
Mr. Naturalz
Renton, Washington
"I love this hair salon because Rueben, the head stylist and owner, does such a great job of making you feel at home and aids in making you feel confident with your transition of hairstyles."
Amen Oyiboke-Osifo, Junior Writer/Editor
Pho King
Tacoma, Washington
"Head to the cheekily-named Pho King for tasty Vietnamese staples like banh mi and pho."
Julia Gordon, Editor, Advertorial and Sponsored Content
Red Elm Cafe
Tacoma, Washington
"Red Elm Cafe is a cozy, community-minded spot owned by three sisters with awesome waffles and breakfast sandwiches."
Julia Gordon, Editor, Advertorial and Sponsored Content
Zodiac Supper Club
Tacoma, Washington
"Grill your own burger, steak or skewer at the quirky and moody Zodiac Supper Club, making sure to imbibe a local libation or classic tiki cocktail alongside."
Julia Gordon, Editor, Advertorial and Sponsored Content
More From GOBankingRates