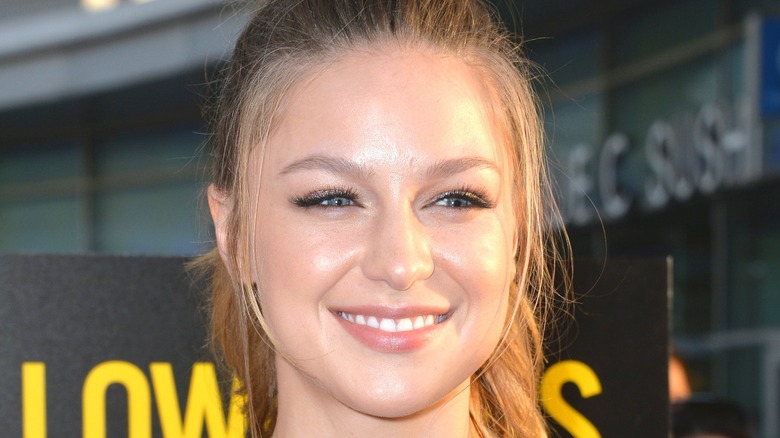 Many people will recognize Melissa Benoist at first sight as Supergirl, also known as Kara Danvers, from The CW's superhero series "Supergirl." With her role as the iconic DC hero, Benoist became the first woman to lead a superhero TV series since Lynda Carter in "Wonder Woman," which ran from 1976 to 1979. It was certainly a long time coming. Now that "Supergirl" is finishing off its sixth and final season, Benoist is likely looking for her next major role or focus in life. She recently started her own production company and has a children's book coming out called "Haven's Secret," which she co-wrote with her sister, Jessica Benoist, and Mariko Tamaki, but there are plenty of different directions she could go.
So how did Benoist get here? Born in 1988, Benoist's parents got divorced when she was very young, and she spent most of her childhood and adolescence in the small town of Littleton, Colorado. In case her last name doesn't make it clear, she has french heritage in her family, although her family doesn't pronounce Benoist in the traditional french way ("The Late Late Show with James Corden"). From an early age, Benoist had an interest in singing and the stage, and clearly, it paid off.
Here's the transformation of Benoist from childhood to "Supergirl," and beyond.
Melissa Benoist started dancing and acting at the age of three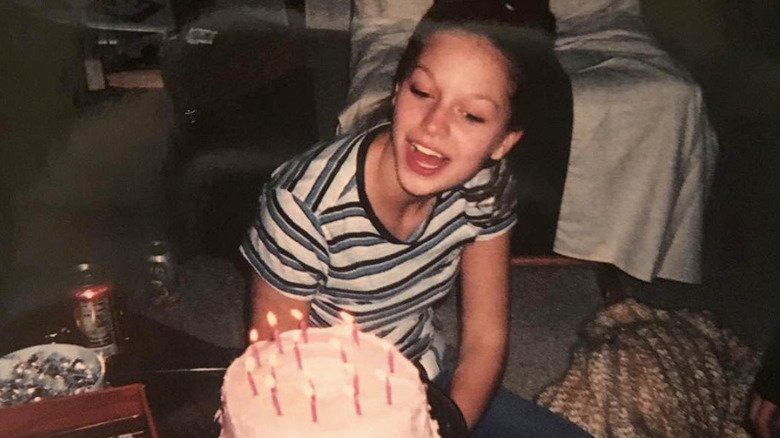 From the age of three, Benoist was involved in acting and the arts. Speaking with Entertainment Weekly about what made her realize she wanted to be an actress, Benoist shared, "The moment I probably knew this is what I wanted for a career path at 3 years old was we had to sing a song at the end of a ballet recital … I was singing louder than anyone else. I wanted to be center stage. I think that was the moment that I realized, 'I like this.'" Her early dance classes focused on a variety of styles, including jazz, tap, and ballet. Benoist credits her grandmother for a lot of her interest, stating in an interview with Vanity Fair that even at the age of two, her grandmother would put on "Singin' in the Rain" for them to watch. Once Benoist hit four years old, her grandmother took it a step further by casting the young girl in the play she was directing at her church. The passion only grew from there.
Throughout her childhood and schooling, Benoist participated in community and dinner theater. According to an article for the Denver Post that featured Benoist as a part of the "Can't Miss Kids," Benoist was extremely busy at the age of 17, playing Kim MacAfee in "Bye Bye Birdie," followed shortly by the lead role as Cinderella in a production of "Cinderella." After graduating high school, Benoist moved to NYC to attend Marymount Manhattan College as a theater major. During her college education, Benoist wasted no time finding her first real work in the acting industry. She got early guest roles in shows like "Blue Bloods" and "Law & Order: Special Victims Unit," before graduating in 2011.
Benoist's breakout role in Glee and her rise to fame
Shortly after finishing her degree, Benoist nabbed her breakout role in 2012 as Marley Rose in the musical comedy series "Glee." In her interview with Vanity Fair, Benoist commented on her experience on the popular show, saying that "It definitely felt a bit like school … I learned the process of this kind of acting, how things run, how chaotic it can be, and what kind of different muscles you have to flex." Marley is a new student at William McKinley High School who joins the glee club, New Directions, while trying to hide her family's financial status from her classmates. She is introduced to "Glee" in Season 4 as a recurring character, and is a main cast member for Season 5.
In an interview with Teen Vogue, Benoist described the audition process for Marley as a series of five or so auditions during which she had to sing different songs each time. Benoist then went through two screen tests with Ryan Murphy and the "Glee" team in California, before being offered the job and put right to work. The role of Marley definitely opened a lot of doors for Benoist. It's likely what got her the job on "Supergirl" or at least helped her get an audition, as Benoist certainly had the acting skills to convince the casting team for "Supergirl" that she was the right woman for the job all on her own. Unfortunately, Marley does not appear in the sixth and final season of "Glee," not even the series finale, as her commitments to "Supergirl" made her unavailable.
Supergirl let Benoist rise to new heights
After "Glee" came "Supergirl," which is probably Benoist's best role to date. In 2021, Benoist is finally finishing up her run as the superwoman, but when she first got the job back in 2015, it was very daunting for her. Speaking to Entertainment Weekly about the pressure put on her as one of the few female superheroes on screen at the time, Benoist shared, "I want to do right by women. I want to portray someone they can relate to and look up to that's not a trite or a shallow depiction. I want her to be complicated and flawed. I guess I just want all women to feel like they could be Kara and Superwoman as well." Benoist definitely delivers with her performance each and every episode, and both audiences and critics alike love the series, with the average rating for all the seasons being a 90% on Rotten Tomatoes. In Season 5 of "Supergirl," Benoist also took on the role of director with the episode "Deus Lex Machina," the 17th episode of the season, signifying Benoist's desire to branch out into other aspects of production as well.
Thanks to well-deserved appreciation from fans and the industry, Benoist was able to spread her wings a bit and take on new and different roles. In 2016, Benoist was cast as Katherine Russell in "Patriot's Day," the wife of Tamerlan Tsarnaev (played by Themo Melikidze), one of the brothers who planned and executed the Boston Marathon bombing in 2013. The drama film stars Mark Wahlberg as the fictional Boston Police Department Sergeant Tommy Saunders working on that fateful day. A couple years later, Benoist starred in another docudrama, "Waco," as Rachel Koresh, the legal wife of cult leader David Koresh, played by Taylor Kitsch in the Paramount Network series.
Benoist finally made her Broadway debut
From the time she first started dreaming of being an actress, Benoist wanted to be on Broadway. Considering how many plays and musicals she took part in during her teenage years, it's honestly a surprise that she moved so swiftly into screen acting. Thankfully, Benoist finally achieved her dream in 2018, when she joined the long-running musical "Beautiful: The Carole King Musical" at the Stephen Sondheim Theatre, playing the title role for a limited run from June 7 to August 4 of that year (Playbill). Speaking to Deadline about her Broadway debut, Benoist stated that she is "essentially living out my childhood dream," and that Broadway work is very different from on-screen acting, in that "living out a story eight times a week is difficult and draining emotionally but very fulfilling. I will absolutely always be looking for more."
While this has been her only appearance on Broadway so far, Benoist featured at another theater event that same year, taking on the role of Emma Greenway-Horton in a one-night-only reading of "Terms of Endearment" at the Geffen Playhouse in Los Angeles, California. The event was held for charity, reportedly raising more than $100,000 to benefit Stand Up To Cancer and Geffen Playhouse's New Play Development Program (Geffen Playhouse). Along with Benoist, the cast included Kate Burton, Calista Flockhart, Willie Garson, Alfred Molina, Kumail Nanjiani, Italia Ricci, Chris Wood (Benoist's current husband), and Connstance Wu.
Benoist is speaking out about mental health and her personal life is thriving
Speaking of Wood, the actor happens to be Benoist's husband, and the two bond over their shared passion for both the arts and speaking out about topical issues, including gun violence, voting rights, and mental health awareness. Mental health in particular holds a deep meaning for the couple, and Benoist helped and supported Wood in his endeavors when he created the mental health awareness campaign and brand called I Don't Mind, which "has raised over $350,000 for mental health organizations across the US," as reported on the official website. In interviews about the campaign, Wood cites his father's undiagnosed mood disorder, which contributed to his early death, as one reason for starting the organization, while Benoist has shared her own past struggles with anxiety as well (TV Insider).
In late 2019, Benoist also opened up about her past marriage to actor Blake Jenner, her co-star on "Glee," revealing that she is "a survivor of domestic violence." Benoist went into detail about her experience in an emotional video on Instagram, and although she didn't name anyone, Jenner admitted to his physical abuse a year after the video on his own Instagram. Benoist was able to get out of the relationship and move on, though it clearly still affects her. Luckily, Benoist soon found love a second time with Wood, and the two have since married and had a son together.