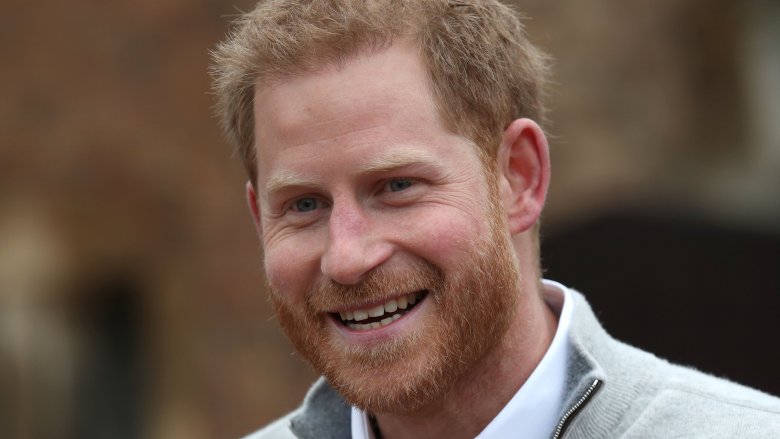 Prince Harry has grown into his role over the years, becoming one of the most prominent and popular members of the British royal family. As a result, the ginger prince and wife Meghan Markle are regularly plastered across the front pages of newspapers and magazines the world over — but the coverage isn't always positive. Since tying the knot at Windsor Castle in May 2018, the Duke and Duchess of Sussex have campaigned hard for various environmental and humanitarian causes, while seemingly going out of their way to create a new look for the royal family. But not everyone is buying it, as the press has branded them hypocrites on several occasions.
While the British media has been accused of having a chip on its shoulder about former Suits actress Markle, this kind of attention is nothing new for Prince Harry. He's seen by most as a charming prince today, but once had a reputation for being the unruly black sheep of the royal family … a reputation that the tabloids helped enforce. The prince's news-making extracurricular exploits have included alleged drug use, fighting, nakedness, and more over the years. Of course, none of these are words you'd expect to come after the name of a royal in a headline. So, did this duke really deserve all that bad press? This is the untold truth of Prince Harry.
Conspiracy theorists claim Prince Charles isn't Prince Harry's real father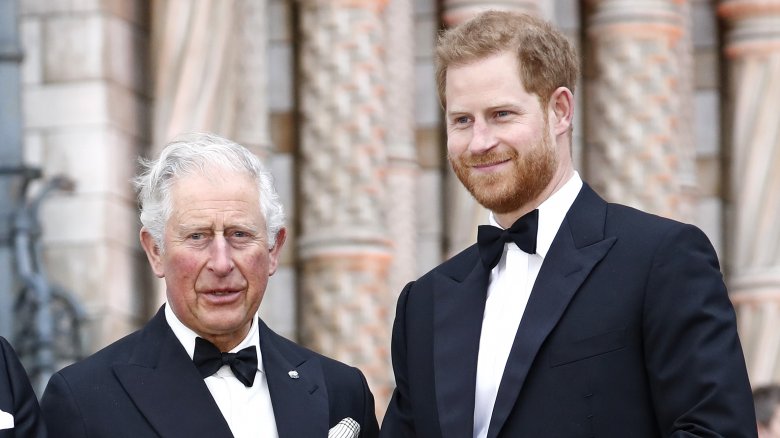 Despite Prince Harry's strong resemblance to Prince Charles, rumors endure that Charles isn't Harry's real father. In fact, some conspiracy theorists believe that Princess Diana's former lover, James Hewitt, is actually the real baby daddy. The so-called smoking gun? The prince in question happens to have red hair just like Hewitt.
According to the Daily Mail, however, Princess Diana's bodyguard, Ken Wharfe, claimed in a memoir that it's impossible for James Hewitt to be Prince Harry's father. Case in point: all anyone apparently needs to disprove the hearsay is to know a bit of math. Prince Henry of Wales was born on September 15, 1984; however, Princess Diana didn't begin her infamous fling with James Hewitt until "the summer of 1986," according to the report.
"The red hair that gossips so love to cite as 'proof' is, of course, a Spencer trait, as anyone who has ever seen a photograph of Diana's sister, Jane, for example, as a young woman will be able to testify," the report added.
The Duke of Sussex and Pippa Middleton were never a thing
Prince William finally married his longtime girlfriend, Kate Middleton, now known as Catherine, Duchess of Cambridge, on April 29, 2011. When Prince Harry and Middleton's sister, Pippa, interacted at the wedding, some royal watchers wondered if a few sparks flew. For months and even years after the nuptials, there were claims that Prince Harry was secretly dating Pippa and that the younger Middleton sister was preparing to snatch a royal for herself.
If you had previously hoped that the Harry and Pippa rumors would've turn into a fairytale romance, you must have been sorely disappointed. According to The Telegraph, Prince Harry himself filed a formal complaint against the Daily Star to the Independent Press Standards Organisation (IPSO) in 2015. This action eventually forced the paper to file a retraction to their "significantly misleading" story about the alleged romance. Incidentally, Prince Harry's formal complaint to the IPSO was considered "highly unusual." As The Telegraph reported, "The Royal Household's traditional stance has been to ignore inaccurate reports rather than draw attention to them by complaining." Guess that one really got under his skin.
Prince Harry's former flames
Pippa Middleton is not the only woman to whom Prince Harry was linked before meeting Meghan Markle — the redheaded royal has a long list of rumored former flames. He's said to have dated pop stars, TV presenters, actresses, and models in his time, though few of these supposed relationships have been officially confirmed. In fact, Prince Harry appears to have had just two serious girlfriends before Markle.
From 2012 to 2014, Prince Harry dated Cressida Bonas, who was allegedly introduced to him by Princess Eugenie. However, the actress reportedly couldn't stand the constant attention from the press, so it didn't work out. The duke's thing with Bonas started not long after his long relationship with businesswoman Chelsy Davy ended. He'd met Davy during his gap year in South Africa, and she became his on-and-off girlfriend from 2004 to 2011. The Zimbabwean beauty was Prince Harry's date to brother Prince William's wedding, and even attended the Duke of Sussex's nuptials to Meghan Markle in 2018 (Davy's tense facial expressions caused a torrent of "should have been me" memes).
Interestingly, Markle isn't the first American that Prince Harry has tangoed with, if reports are to be believed. In 2016, a source told The Sun that Harry had hit it off with a "blonde, cool, and well-connected" young woman named Juliette Labelle. The aspiring actress allegedly "hooked up" with the royal when he spent time in Los Angeles over the New Year.
What happened in Vegas … didn't stay there
The press has probably exaggerated the facts at times, but Prince Harry's reputation as a hard-partying prince is definitely a well-earned one. In 2011, video footage of the apparently drunk royal losing his balance and falling into a pool made headlines. "This was little more than a man in his 20s letting off steam," a royal source told Sky News. The Palace was able to brush the whole thing under the ornate rug, but that tactic wasn't possible when Prince Harry visited Las Vegas the following year — and was pictured partying naked.
TMZ broke the story, releasing two images of a seemingly completely nude Prince Harry. He was allegedly seen clinging to an equally naked young woman after losing a game of "strip pool" in his VIP suite. The swanky room was full of "hot chicks" that the duke and his friends met at the hotel bar, the gossip rag claimed. The Palace was forced to respond, and (unsurprisingly) sided with Prince Harry. "We remain of the opinion that a hotel room is a private space where its occupants would have a reasonable expectation of privacy," a spokesman told CNN.
The British press was asked not to publish the embarrassing pictures, and for the most part it complied (The Sun ignored the request and sent the images to print anyway). "I probably let myself down, I let my family down, I let other people down," the remorseful prince told BBC News in 2013.
Prince Harry's dad (sort of) sent him to rehab
Parents react in different ways when they discover their kids have dabbled with pot. Sources close to the Palace claimed that Prince Charles once found out that Prince Harry had been smoking marijuana regularly in 2002, and apparently decided that a day trip to a detox center for heroin addicts was in order. According to The Guardian, Harry (16 at the time) was confronted by his father after an aide smelled cannabis in the halls of Highgrove and tattled.
Using Prince William as a go-between, Prince Charles reportedly asked his youngest son to spend the day at Featherstone Lodge so he could get a real insight into the dangers of drug use. The young royal wasn't going for treatment; he was sent to the clinic for a good shock. "There is no point in hiding the truth," Prince Charles reportedly told his aides, according to a News of the World insider (via the Independent). "These are the facts, let people make their own judgement."
While Prince Harry allegedly copped to "experimenting" with marijuana, royal sources claimed he was careful about where he smoked it. "Although his friends smoked at parties at Highgrove, Harry was mindful only to smoke in private with close friends in the local area," an aide told News of the World. The Palace refused to make any further comment, stating, "This is a serious matter which was resolved within the family and is now closed."
That time Prince Harry wore a swastika armband to a costume party
It's easy to take Prince Harry's side when he gets shaded for having a few too many drinks, because it's nice to see a royal acting so normal. What isn't normal, however, is wearing a swastika armband to a costume party, especially when you're a member of the British royal family. But that's what Prince Harry inexplicably did in 2005. Needless to say, many people were displeased. "Prince Harry has [apologized] for any offence or embarrassment he has caused," Clarence House released in a statement after The Sun splashed the shocking image across its front page (via BBC News). "He [realizes] it was a poor choice of costume."
For many, a simple statement informing the public that Prince Harry had apologized for his severe lack in judgement wasn't good enough. "Anybody who tries to pass it off as bad taste must be made aware that this can encourage others to think that perhaps that period was not as bad as we teach the young generation in the free world," Israeli foreign minister Silvan Shalom said (via The Telegraph). To make matters worse, this all took place in the run-up to Holocaust Memorial Day.
What on Earth was the ginger prince thinking?
The Duke of Sussex was deployed to Afghanistan
Prince Harry began training for a career in the British Army in 2005 and would go on to take two tours of Afghanistan before retiring ten years later. In 2008, the Ministry of Defence revealed that the royal had spent time in the notorious Helmand Province. According to sources cited by The Sun, the so-called "Captain Wales" helped repel an attack from Taliban insurgents while stationed there. "Prince Harry is very proud to serve his country on operations alongside his fellow soldiers and to do the job he has been trained for," Clarence House released in a statement.
The Ministry of Defence was smart enough to hold back its Helmand reveal until the prince had moved on — something the press unfortunately didn't think to do. In 2019, royal expert Duncan Larcombe revealed that Prince Harry was "absolutely furious" when he was forced to fly home from Afghanistan because the media had discovered details about his secret deployment, putting him and his regiment at risk. It was one of the "real lows in Harry's life," according to Larcombe, who discussed the incident while a guest on the Yahoo video series, The Royal Box (via Express). "Where did he go? Straight to Botswana with Chelsy Davy … Almost like, it's where he goes when there's steam coming out of his ears to calm down."
Prince Harry is said to have spent time in Botswana following his mother, Princess Diana's, death.
Did Prince Harry cheat to get through school?
Prince Harry rose to the rank of Captain during his time in the British Army, but according to one of his former teachers, he was a "weak student" when he attended the prestigious Eton College. Ex-Eton staffer Sarah Forsyth made the shocking claim in 2005 during an employment tribunal, alleging that she'd been asked to help the prince cheat on his art A-levels (via The Guardian). According to Forsyth, Eton's head of art instructed her to prepare text to accompany some of Harry's art work, annotations that he should have been writing himself.
"I was concerned that this was unethical and probably constituted cheating," Forsyth, who had been let go and was claiming unfair dismissal by Eton, said during her tribunal. "I assumed I had been asked to do this because Prince Harry was a weak student." Despite being "profoundly shocked" by the task she'd allegedly been given, Forsyth claimed that she followed orders and wrote about the prince's art for him. She told the hearing that the pieces she worked on were even "featured in newspapers" and that she'd also secretly recorded Prince Harry admitting to writing "about a sentence" in total.
The tribunal found that Forsyth had been bullied by Eton's head of art, but it dubbed her "unprofessional" for recording the royal without his knowledge and rejected her claims that she'd helped him cheat, according to the Independent.
Prince Harry has inherited Princess Diana's compassion
The red hair is a Spencer trait, but Prince Harry's seemingly inherited more than that from his late mother. Princess Diana's legacy is one of compassion, and that's never been lost on her sons. The ginger prince has been doing his mother proud in recent years, dedicating his time to the causes that she herself championed, like ending the stigma that comes with HIV/AIDS. The People's Princess, as she was affectionately known, would reportedly sneak out of the palace and make visits to HIV hospices at a time when those with the disease were largely shunned, famously shaking hands with a patient. "She did things that no one else would ever do," Mercy Ngulube, a peer counsellor with the Children's HIV Association, told CBC. "She touched a person living with HIV."
Prince Harry has been to the same HIV treatment facilities that Princess Diana frequented, and has also been to Angola. Just months before her death, the Princess of Wales walked through an active minefield in the war-torn African country, another iconic Diana image. Her youngest son made that same walk in 2013, and has remained passionate about landmine removal to this day. "I was told just the other day of the positive transformation in Huambo since my mother walked that minefield all those years ago," Prince Harry said in 2019 speech (via CNN). "Angola is an important example of a country leading the way in clearing the remnants of war."
Was the Duke of Sussex barred from his local pub for fighting?
According to one royal source, Prince Harry was allegedly barred from his local drinking establishment when he was just a teen. "Since Princess Diana died, there has been a family rule that when Prince Harry is home from school, his father is at home at Highgrove," an insider claimed to the News of the World in 2002 (via The Guardian). "But last summer was different. Prince Harry was getting older, Prince Charles was often away on business in London and Prince William was on his gap year."
The source went on to claim that the young prince was encouraged to invite friends over to keep him company while his father and brother were away. During the summer of 2001, however, Prince Harry reportedly "fell in with a bad lot" after he started drinking at a place called the Rattlebone Inn. "There are so many fights at the Rattlebone Inn," the insider alleged. "In fact, earlier last year Prince Harry was involved in an incident after a fight broke out over out-of-hours drinking and was barred from the inn for a while."
Prince Harry appears to have calmed down significantly since then, but still apparently likes to get a little rowdy on occasion — according to the Daily Mail, he was reportedly out partying until 3 a.m. the night before his brother's wedding in 2011.
The time Prince Harry drank champagne from a prosthetic leg
Prince Harry once drank champagne from a prosthetic leg, but it wasn't in the middle of some booze-fuelled party. In 2014, the redheaded royal teamed up with British charity Walking With The Wounded, joining a fundraiser trek to the South Pole. Prince Harry was part of the Commonwealth team, as was The Wire star, Dominic West. The actor got to know the British royal pretty well during the three-week journey, describing the prince as a "fantastically nice chap" and a "really cool guy" at a welcome home event (via the Daily Mail). That wasn't all he had to say, however.
According to the media outlet, West went on to spill the beans on the wild celebrations that took place when the team finally hit the South Pole — and he didn't dance around the fact that Prince Harry was apparently involved in them. "Two of the Aussie guys stripped naked and ran round the pole but most of us, Harry included, just went on a two-day bender with the Icelandic truck drivers who had brought some lethal home brew with them," West said. "There was a lot of liqueur drunk. We all drank champagne out of Duncan's [Slater, a double amputee injured in Afghanistan] favourite prosthetic legs." Prince Harry reportedly told some "eye-wateringly rude" jokes that evening, the actor added.
Prince Harry's complicated relationship with the paparazzi
Prince Harry's relationship with the paparazzi is often described as complicated. In truth, that's something of an understatement. The prince, whose mother was killed fleeing the paparazzi in Paris, has made his opinion on them known. "I think one of the hardest things to come to terms with," he said in a BBC documentary (via Fox News), "is the fact that the people that chased her through into the tunnel were the same people that were taking photographs of her, while she was still dying on the back seat of the car."
In 2004, a 20-year-old Prince Harry was involved in an alleged altercation with the paparazzi outside a London night club, which left one of the paps with a bloody lip. A Clarence House spokesman said that the prince was "hit in the face by a camera" as he tried to get into a car (via The Guardian). "In pushing the camera away, it's understood that a photographer's lip was cut." According to the owner of that lip, that's not how it went down.
Chris Uncle claimed that Prince Harry was already safely in his car when he suddenly lost his temper. "He burst out the car and lunged towards me as I was still taking pictures," the snapper alleged. "He lashed out and then deliberately pushed my camera into my face." According to Uncle, the royal said: "Why are you doing this? Why don't you just leave me alone?"