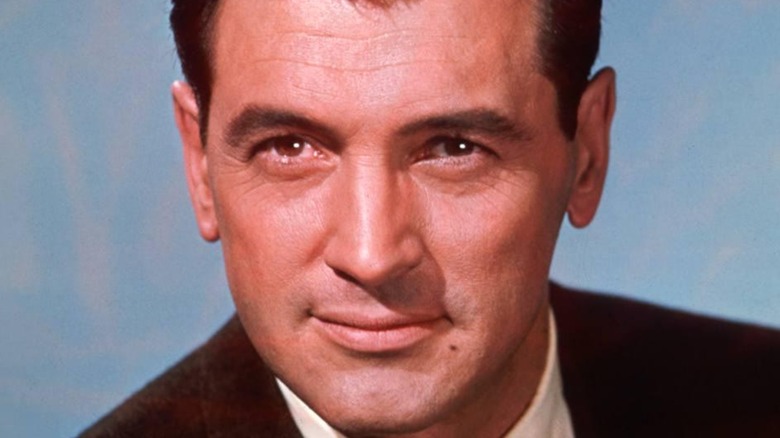 Rock Hudson was charming, handsome, and a huge presence both on screen and off. He was a matinee idol during the '50s and '60s and appeared in various romantic comedies, several of which included the personable Doris Day as his co-star. Hudson was extremely popular and had an impressive career that included both film and TV roles, according to TCM. He received an Oscar nomination for "Giant" and had many friends in Hollywood.
But while it appeared he had an idyllic life, he struggled to keep his sexuality a secret and was unable to live freely as a gay man during a time in which homosexuality was taboo. In 1985, Hudson's AIDS diagnosis became public, and he died of the virus that year. He was the first big Hollywood star whom the public saw be affected by AIDS, and his death brought attention to the issue and turned lifelong friend Elizabeth Taylor into an activist who raised millions of dollars to help fight the disease.
Hudson was a beloved celebrity who was forced to stay in the closet and never publicly admitted that he was gay. Still, he made dozens of movies, had some great, supportive friends, and even co-created a cocktail that many people continue to enjoy today. Here are some facts about Hudson and his early life, his career, and what he would have done had acting not gone his way.
His birth name was Roy Scherer Jr.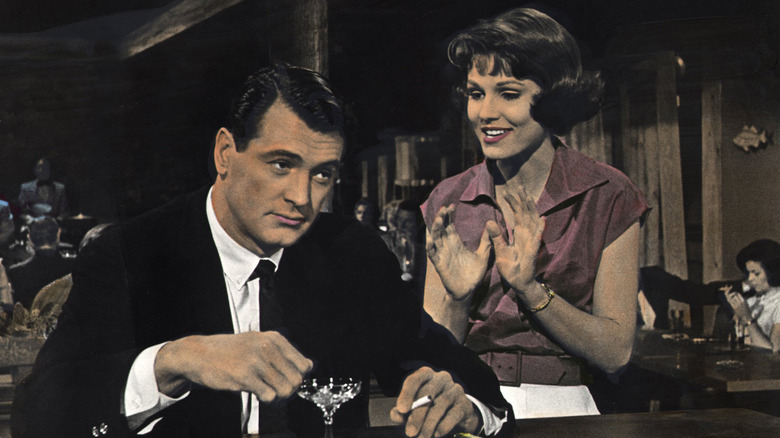 Rock Hudson's original name was Roy Scherer Jr., and he was born on November 17, 1925, in an apartment in Winnetka, Illinois, according to the Chicago Tribune. His auto mechanic father didn't stick around, and his mother eventually married a man named Wallace Fitzgerald. Roy then took Fitzgerald's last name, graduated from New Trier High School, and joined the Navy during World War II, during which he worked as an aircraft mechanic. After he left the military, Roy traveled to California, where he made a living driving trucks.
Then he set his eyes on Hollywood, investing $55 in a new suit and trying to make his presence known to Hollywood executives by spending time around studio lots. Eventually, an agent named Henry Willson came upon his headshot and was impressed by Fitzgerald's look: At 6'4", he was tall, dark, and handsome — all the right ingredients for a celebrity. Unfortunately, Roy's name lacked that star quality that so many actors possessed. Plus, Willson had successfully turned a man named Arthur Gelien into Tab Hunter, so he knew a thing or two about the importance of a good name. Legend has it that Wilson came up with the name "Rock Hudson" by borrowing from the Rock of Gibraltar and the Hudson River. Hudson reportedly disliked the moniker, but he eventually came around and even called his production company Gibraltar.
Rock Hudon's stepfather abused him
According to Mark Griffin, author of the Rock Hudson biography "All That Heaven Allows," young Roy Fitzgerald's stepfather physically abused him. One thing he disapproved of was his stepson expressing interest in being an actor. "From an early age, he learned that you could talk about pretty much anything — except what you truly felt and what you really wanted. Like a father," Griffin wrote (via USA Today). Roy's stepfather was a former Marine and an alcoholic, as Griffin revealed in an interview with NPR. He reportedly took toys away from Roy that he believed were effeminate and tried to squash Roy's dreams of acting.
When he got older, Roy-turned-Rock was a closeted gay man during an era in which it was taboo for a matinee idol to identify as homosexual. He had to make his relationships with onscreen stars such as Elizabeth Taylor, Lauren Bacall, and Doris Day believable, so he hid who he truly was on the inside. According to Griffin, this behavior stemmed from his childhood: "Long before he landed in Hollywood, he understood that if he wanted to be accepted, the very essence of who he was would have to be edited out of the frame."
However, most of Rock's co-stars, directors, and others knew he was gay. And since he was such a likable guy, they kept his secret. "So it is sort of a conspiracy of silence," Griffin told NPR. "But it's interesting that they're doing this because they really love this person that they're working with and feel protective of him."
He needed 27 takes to say one line in his first screen test
When Rock Hudson began his Hollywood career, it didn't go very smoothly. In fact, during his first screen test, it took him 27 takes to properly say one line. Hudson was one of the subjects in the 2020 Netflix series "Hollywood," and producer Ryan Murphy explained that the aspiring actor struggled with insecurity. Plus, Hudson was nervous and inexperienced. Murphy told the New York Post, "When he started out, he was filled with self-hatred as many gay people are and were. All of that takes a while to get rid of."
Studio executives apparently had faith in the burgeoning actor despite his embarrassing screen test, and Hudson had time to cultivate some self-confidence because Hollywood made so many films. He made a total of 62, according to the Chicago Tribune, including his best work, "Giant," in 1956. He did movies with Doris Day, such as 1959's "Pillow Talk" and 1961's "Lover Come Back." Other well-known films include "Magnificent Obsession" (1954), "Never Say Goodbye" (1956), and "A Farewell to Arms" (1957).
Rock Hudson turned down some pretty significant films
While Rock Hudson's filmography is fairly impressive, he did end up turning down some significant parts. Because he chose to make 1957's "A Farewell to Arms," he was unable to take the role offered to Marlon Brando in "Sayonara" and Charlton Heston's famous role in "Ben-Hur," according to Classic Movie Hub. These two films were massively successful both critically and commercially. "Sayonara" won four Academy Awards, and Brando was nominated for Best Actor. Meanwhile, "Ben-Hur" won 11 Academy Awards.
Unfortunately, "A Farewell to Arms" was a giant flop. The film centered on the love affair between an English nurse and an American soldier in Italy during World War I. Hudson later confessed that making the movie was the biggest mistake of his career. The film was received so badly that David O. Selznick stopped producing movies after its release. Ironically, despite its failure, Hudson was the number-one box office attraction in 1957.
He and James Dean detested one another
In the book "Giant: Elizabeth Taylor, Rock Hudson, James Dean, Edna Ferber, and the Making of a Legendary American Film" by Don Graham, the author reveals some juicy details about the 1956 film that centered on a Texas cattle rancher. The film starred Hudson and James Dean, who butted heads on set. "Rock Hudson absolutely hated James Dean and vice versa," Graham explained during an interview with Fox News. The pair clashed the entire time, and co-star Elizabeth Taylor tried to get the two to make peace between one another. In the process, Taylor and Hudson became very close. She was also friends with Dean. "In a way, the two of them were competing for her affections, just as in the film," Graham pointed out.
The biggest point of contention was that people on set didn't like Dean's different acting style and antics. He didn't hit the right marks, he mumbled his words, and his way of embodying the character was contrary to Hudson's and Taylor's way of acting. "James just blew that all off. And that made them really mad," Graham explained. In addition, Hudson enjoyed spending time drinking and hanging out with Taylor into the early morning, and Dean tried to cut in and disturb their friendship. Hudson was afraid Dean was monopolizing both his friend and the film.
Rock Hudson and Elizabeth Taylor reportedly invented the chocolate martini
Author Don Graham wrote in his book "Giant" that Hudson and Elizabeth Taylor enjoyed spending their nights eating chocolate and drinking vodka (via Fox News). Even though they needed to be on set by 6 a.m., they would often enjoy each other's company until 3 a.m. The pair also reportedly came up with a signature drink during these visits: the chocolate martini.
According to the book "Rock Hudson: His Story," (via Clutch MOV), the close friends concocted the cocktail in Marfa, Texas, during their downtime. Since they loved martinis as well as chocolate, it made sense to combine chocolate liqueur, chocolate syrup, and vodka to make a martini. They loved the taste but also had to deal with a little indigestion as a result. Hudson said in the book, "We were really just kids, we could eat and drink anything and we never needed sleep."
If you'd like to make your own version, simply combine one shot of Kalua, one shot of Smirnoff Vanilla Vodka, one shot of Creme de Cocoa, and one shot of Bailey's Irish Cream with four or five ice cubes and shake in a cocktail shaker for approximately 30 seconds. Then pour the drink into a chilled glass.
His wife secretly recorded a conversation where he confessed he was gay
Unfortunately, Rock Hudson's relationships with women were complicated. While he was close with friends such as Liz Taylor, he struggled in his marriage to Phyllis Gates. His agent Henry Willson reportedly wanted to counteract rumors about the actor's sexuality, so he came up with a plan for Hudson to marry his secretary, Phyllis, according to Vanity Fair. The marriage only lasted three years.
In 1958, Phyllis confronted her husband and demanded to know if he was gay. The conversation was recorded by private eye Fred Otash, a detective that Phyllis had hired to spy on Hudson, according to The Hollywood Reporter. At one point, Phyllis said to Rock: "Everyone knows that you were picking up boys off the street shortly after we were married and have continued to do so, thinking that being married would cover up for you." The actor responded by denying picking up boys in the street.
Phyllis also accused Rock, who was 32 at the time, of lasting longer in the bedroom with men than he did with her, to which he said, "Well, it's a physical conjunction [sic]. Boys don't fit. So, this is why it lasts longer." The actor was 59 when he died of AIDS in 1985, but he never publicly admitted that he was gay.
Rock Hudson may have had children no one knew about
In the Rock Hudson biography "All That Heaven Allows" by Mark Griffin, the author indicates that the actor may have had a daughter, or two, that no on knew about, according to USA Today. In 2014, a woman named Susan Dent claimed that she was Hudson's biological daughter and sued the actor's estate. She allegedly didn't want any financial compensation but wanted to be recognized as his offspring.
Hudson's adoptive sister was reportedly in possession of a letter about the situation written by Rock, and the author claimed that more than one person he interviewed for his book said that Hudson had two daughters by two different women. However, Griffin did not find or receive any evidence to support this.
Meanwhile, Dent allegedly convinced some of Hudson's relatives to submit to a DNA test so she could prove she was biologically Hudson's daughter, according to The Blast. She spent years in court trying to establish paternity, but it was never conclusively proven that she was his child. After Hudson's death in 1985, his estate was purportedly transferred to The Motion Picture & Television Country House and Hospital.
He was close to Doris Day, whom he nicknamed Eunice
In addition to Elizabeth Taylor, Rock Hudson was also close with his frequent co-star Doris Day. They pair starred in 1959's "Pillow Talk" and had a friendship that endured until his death, according to People. In 2011, the actress revealed that she didn't know anything about her handsome co-star before they met. She thought his name was odd, but once she got to know him, she enjoyed his company because he was funny and had a good sense of humor. He would jokingly call her "Eunice" and other names. "We had a marvelous time," she recalled.
Their film "Pillow Talk" was a huge success and earned Day her only Best Actress Academy Award nomination. They also starred in the 1961 film "Lover Come Back" and 1964's "Send Me No Flowers." Even after Hudson received his AIDS diagnosis (before he went public with the news), he chose to appear on Day's variety show in July 1985. Day was shocked by his emaciated appearance but embraced her friend when they got together. During their last visit, the actor was very sick and weak, and Day even offered to feed him.
She explained, "I think the reason people liked our movies is because they could tell how much we liked each other. It came across that way on screen. He was a good friend."
He would have liked to be a gardener and greatly admired Katharine Hepburn
Journalist Randa Handler interviewed Rock Hudson in 1985, just a couple days before he revealed to the world that he had AIDS and was admitted to the hospital for a liver infection. She visited him at his Southern California estate near Coldwater Canyon. When Handler waited for Hudson to change out of his swimsuit, she checked out his library, where she observed hundreds of classic novels. During their conversation, the actor talked about his love for antiquing and his desire to see the film "Cocoon" by director Ron Howard.
When Handler asked him about famous women in Hollywood, including Elizabeth Taylor, Doris Day, Jane Wyman, Linda Evans, and Claudia Cardinale, he said that the one who impacted him the most was Katharine Hepburn. Hudson had a tremendous admiration for Hepburn and dubbed her "a legend." He loved how she was able to express her emotions and bring the characters she played on screen to life.
As for whether he would change anything about his life, Hudson said he wouldn't. However, he did say that if he wasn't an actor, he would have become a gardener because he loved "to watch things grow and bloom." From 1962 to 1985, Hudson lived in "The Castle" in Beverly Hills. He spent two decades restoring the Spanish-style home, which sat on 3.5 acres and contained a greenhouse with orchids, according to Queerest Places.
Nancy Reagan refused to do Rock Hudson a favor when he needed it most
In July 1985, Hudson collapsed at the Ritz hotel in Paris, and he was admitted to the American Hospital of Paris to cope with complications from AIDS, according to BuzzFeed. The actor was in France to meet French Army doctor Dominique Dormant, who'd secretly treated Hudson several months earlier. Hudson's publicist, Dale Olson, sent a telegram to the Reagan White House in an attempt to get the actor transferred to the military hospital, where he could receive necessary medical treatment. The commanding officer would not admit Hudson, but Olson thought a request from the White House would help.
First Lady Nancy Reagan denied the request. White House staff member Mark Weinberg explained, "The Reagans were very conscious of not making exceptions for people just because they were friends of theirs or celebrities or things of that kind," according to The Guardian. But there is strong speculation that the nature of the virus kept Reagan from intervening and helping the actor. At the time, the Reagan administration was dealing with a lot of criticism related to its response to AIDS. Eventually, Hudson was admitted to the military hospital with some help from French defense minister Charles Hernu. Unfortunately, he died on October 2, 1985.