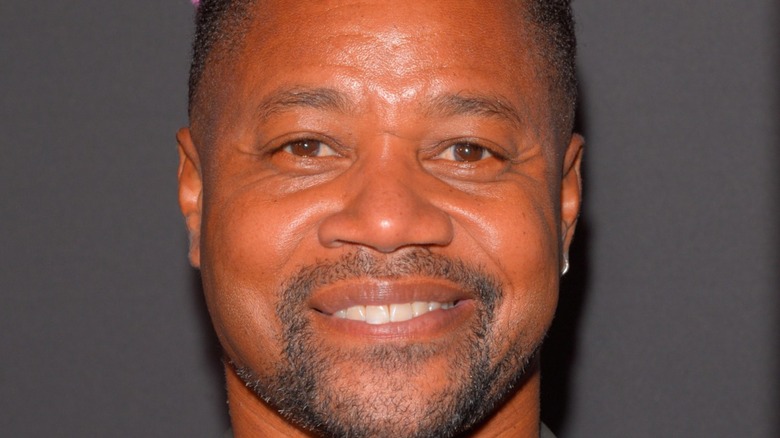 Between the late 1990s and early 2000s, Cuba Gooding Jr. was one of the biggest names in Hollywood. The son of singers Shirley Sullivan and Cuba Gooding Sr., Gooding was born to be an entertainer. He began as a breakdancer before pivoting to acting in the early 1980s. He made a splash with various television appearances on hit shows like "Hill Street Blues" and "MacGyver" before landing his first major film role playing Tre Styles in John Singleton's debut feature and pioneering classic "Boyz n the Hood."
His career trajectory only went up after that, appearing in several other critically acclaimed features such as the Rob Reiner adaptation of Aaron Sorkin's "A Few Good Men" and the pandemic thriller film "Outbreak." But the defining role of his career came when he played Rod Tidwell in Cameron Crowe's "Jerry Maguire." The film was a box office success, and Gooding's performance was lauded by critics, landing him an Academy Award for Best Supporting Actor. His character's "Show me the money!" catchphrase became a pop-culture staple, and his overzealous Oscar acceptance speech was a meme before memes were memes. It even helped get him memorialized on the Hollywood Walk of Fame in 2002.
But despite multiple early triumphs, an array of personal and professional setbacks have caused the once-revered actor to step out of the spotlight. Nowadays, Gooding makes headlines not for any recent films he's made, but rather for the string of controversies he's been surrounded by.
Here's why Hollywood won't cast Cuba Gooding Jr. anymore.
Misconduct allegations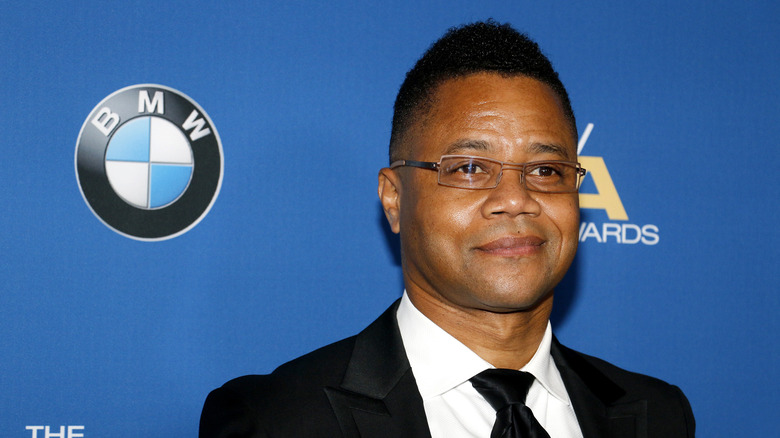 To get the elephant out of the room: The most obvious reason Cuba Gooding Jr. isn't being sought out for roles anymore is that numerous women have accused him of sexual misconduct.
It started in June of 2019, when USA Today reported that Gooding was being investigated for allegedly groping a woman while drunk at a bar in New York City. Gooding was later arrested after turning himself in to the NYPD, as USA Today later confirmed. Gooding was eventually released pending a further trial.
In October of that same year, The New York Times reported that Gooding was indicted on a separate sexual abuse charge. Though details about the new allegations weren't released, they were serious enough that they delayed the trial for the June incident. The same New York Times report also noted that Gooding denied all allegations against him, and that his lawyers had tried unsuccessfully to get the original charges dismissed.
Some believe the trouble began earlier than 2019. Page Six reported that ever since Gooding's divorce from his high school sweetheart, Sara Kapfer, in 2014, the actor has spent his free time clubbing, partying, and drinking heavily, while displaying some of the questionable behavior detailed in the assault allegations.
Those first two allegations were only the beginning.
Growing numbers
Not long after the second woman made charges against Gooding, Page Six reported that three more women had come forward to accuse the actor of misconduct. The report stated that these new allegations dated back as far as 2008, and included instances of Gooding groping two of the women in similar ways on separate occasions.
By the end of 2019, NBC News reported that the number of women accusing Gooding of misconduct had grown to 22, which included an additional seven women coming forward with detailed stories that involved instances of forced kissing and Gooding giving graphic depictions of sexual acts, among other inappropriate behaviors.
The coming year proved to be even worse for Gooding, as CNN reported that the number of accusers had grown to a staggering 30 women by August 2020. Gooding also officially got charged with three counts of forcible touching and three counts of sexual abuse. Gooding still denies all wrongdoing. As of the time of the CNN report, his defense was working to undermine the credibility of the accusers by using their past statements against them and to question the procedural propriety of the police investigation.