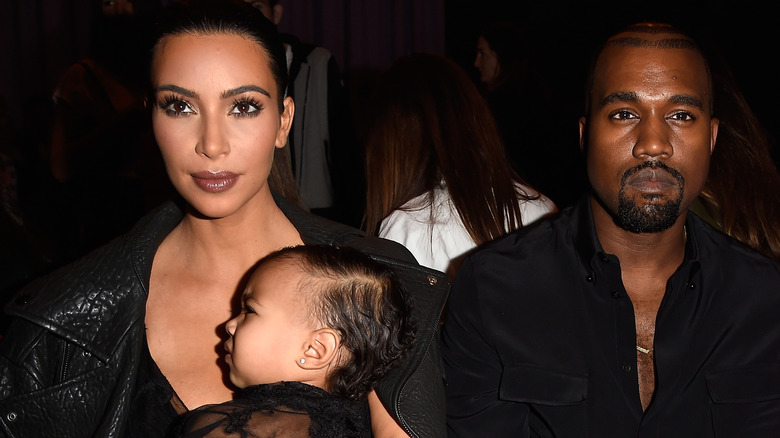 If you've ever wondered if celebrities regret giving their babies highly unusual names, the answer is yes — well, maybe… sometimes. At least that's what statistics show. According to a Mumsnet poll (via Elle), one in five moms surveyed admitted to feeling "namer's remorse." Some mothers even said they regretted the names they chose before giving birth. Eek, that's never a good sign. Most moms who wished they'd picked a different name for their little ones came to the realization while still on maternity leave — a whopping 32 percent in the first six weeks after having the baby. Another 23 percent started having regrets once the child started school.
While Frank Zappa admitted he had no qualms about giving his kids odd monikers like Moon Unit and Dweezil, it seems likely that other celebrities will end up feeling remorse after picking unusual names. Here are some of the wildest celebrity baby names that we think parents will end up regretting in ten years. We hope you're sitting down.
Buddy Bear Maurice: Petal Blossom Rainbow's little brother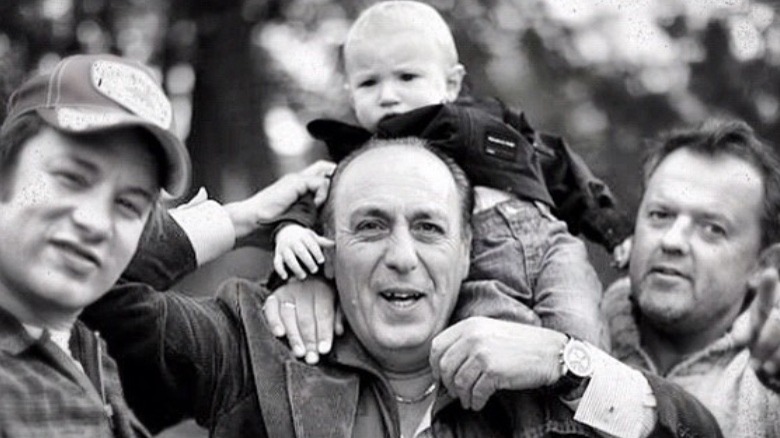 In 2010, British celebrity chef Jamie Oliver and his wife, former model Juliette Norton, welcomed their first son after having three girls. Now, given that they'd named their daughters unusual names — we're talking Petal Blossom Rainbow, Daisy Boo Pamela, and Poppy Honey Rosie — you pretty much knew they weren't going to choose something plain or common. And they didn't disappoint. The couple went with Buddy Bear Maurice, which was voted the worst celebrity baby name of 2010 in a BabyCenter poll of some 2,000 moms.
"With Buddy it was quite fun choosing a boy's name, as I hadn't done it before," Norton explained of the unusual moniker to The Telegraph. "And I hate people's opinions on names. Whatever you call your baby is your decision." True enough, but we can't help but wonder if this celeb couple will change their minds in the future, especially once Mr. Buddy Bear starts applying for jobs or, later, when he applies for college.
Moroccan: A name or an adjective?
Mariah Carey and Nick Cannon welcomed twins — a boy and girl — in April 2011. Ahead of his children's birth, Cannon revealed some details about their names to People: "They won't be crazy names like Carburetor or something. But they're definitely unique." Turns out there's a fine line between "crazy" and "unique" when it comes to baby names.
It was later announced that they named their little girl Monroe. Cute! Their son, however, was given the name Moroccan. No, not Morocco, Moroccan. Cannon did admit that his kids' names do sound funny when you first hear them because "you don't know which one's the boy and which one's the girl." Is that why?
Cannon further revealed that they chose Moroccan after the "Moroccan Room" in their house and because it's "a strong name." The star said it's also "kind of like [Cannon's] name and Mariah's name phonetically together." Uh, okay. Still, it was tied with Alicia Silverstone and Christopher Jarecki's son, Bear Blu, for BabyNames.com's worst celebrity baby name of 2011.
Bastian: No, not Sebastian
The name Sebastian was starting to become more and more popular by 2012. It ranked comfortably in the top 100 names for boys at number 64. By 2018, it moved up to the thirteenth spot for the most popular male name, according to BabyCenter. This name is well-liked — and it's definitely cute. But, what happens if you take off the "Se-" prefix? Well, as it happens, it's apparently not cute — at least according to other parents.
While the Latin moniker means "venerable," it was anything but venerated when actor Jeremy Sisto and his wife Addie Lane decided on the name Bastian for their son. In a survey of 4,000 parents conducted by BabyCenter in 2012, the winner for worst baby name of the year was clear: Bastian. It may be hard for little Bastian to convince people that that is indeed his real name, but it could be worse. At least his name isn't Buddy Bear, right?
North West: A name with a sense of direction
Remember the days when North West merely signified a direction? Yeah, neither do we. In 2013, Kanye West and Kim Kardashian had their first child — a girl — and subsequently named her North. Although Kimye weren't yet married, they chose West, as opposed to Kardashian, for their baby's last name. Not everyone was on board with the "North West" combo. A BabyCenter survey (via Today) of more than 5,000 mothers revealed that North West was disliked the most, and was thus dubbed the worst celeb baby name of the year.
On The View (via The Hollywood Reporter), Kris Jenner revealed her daughter's thought process behind the name, saying, "The way she explained it to me was North means 'highest power,' and she says that North is [Kim and Kanye's] highest point together. And I thought that was really sweet." Sweet, yes, but you have to wonder if North's famous parents will soon regret the doubly geographical moniker.
Royal Reign: A royal failure?
Maybe it was because of all the news reports about the terrible drought in California at the time, but rain-based names were the thing in 2014. Beverly Hills-based Christina Aguilera decided to name her little one Summer Rain, which, as She Knows reported, is reminiscent of "a certain feminine product." Kourtney Kardashian and Scott Disick named their newborn son Reign Aston. Still, it wasn't the name the publication picked as the worst female moniker that year. Lil' Kim's daughter Royal Reign took the cake.
Hm, well, royals do indeed reign, but you can't help wonder if that's a name Lil' Kim has since gone on to regret, or at least will regret once her little one is in school. Even if you disregard the fact that the name is a double entendre, it's still a lot to take in. As Vanity Fair explained, it was "quite a lot to rest on the shoulders of someone who currently weighs six pounds, five ounces."
Saint: A "really religious" name
When Kim Kardashian announced that she and Kanye were expecting another child on Keeping Up With the Kardashians, the speculation on what she would name her second baby began. Another directional name, perhaps? In the end, the power couple decided on Saint. When E! News caught up with Kris Jenner in 2015 to ask about her new grand baby's name, she replied, "It's such a beautiful name. I'm sorry I didn't think of it actually." Grandma Jenner may love it, but she was one of few.
When BabyCenter polled moms about the best and worst celebrity baby names of 2015, the results came back with Saint West at the top. That is, at the top of the worst names category. Though Kardashian hasn't commented on why she and West chose the pious name, she did reveal when speaking to Vogue that they are "really religious" bible-reading family. However, if Saint doesn't take to her mom's Catholic faith, one can only wonder if Kardashian will feel contrition over the moniker.
Boomer: Baby Boomer Robert Phelps
In 2016, Olympic swimmer Michael Phelps announced the birth of his first son with his wife, model Nicole Johnson, on Instagram. "Welcome Boomer Robert Phelps into the world!" Phelps captioned, in part, a sweet photo of the family of three. Unfortunately, he lost us at "Boomer."
In spite of the super adorbs photo, BabyCenter kept it real and revealed that the moniker Phelps and Johnson chose was the worst celebrity baby name of the year. Sorry, Boomer, but we get it. It's just hard to read the name "Boomer" without relating it to the Baby Boomer generation. And, it especially didn't help that while Boomer was an infant, he was literally Baby Boomer. Aw, no. Poor kid. Sports Illustrated reported that Phelps explained the meaning of the unusual name in a Facebook Live chat with fans. He's quoted as saying he wanted "something different and something cool." Well, one out of two ain't bad.
Sir and Rumi: a formal kid and …mucus?
When Beyoncé and Jay-Z named their first child Blue Ivy back in 2012, you could say it was a little preview of the weird names to come. In 2017, the duo welcomed girl-boy twins, Rumi and Sir.
Jay-Z explained to Rap Radar (via ABC News), that the 13th century poet Jalal ad-Din Muhammad Rumi is his and Beyoncé's "favorite poet." Sir's name, on the other hand, wasn't decided until after he was born. "Sir was like, man, come out the gate. He carries himself like that. He just came out, like, Sir," the artist explained.
There's no doubt that these names are unique, but they definitely have the potential to be regretted. Business Insider pointed out that Rumi "sounds so much like 'rheum,' meaning 'phlegm,' like the beginning of rheumatism or rheumatic fever." You can imagine what kids will do with that. And, unfortunately for Sir, there's no getting around the formality of his name — no, siree.
Chicago: Almost as good as Jo or Grace, right?
By mid-2018, the year was already full of more than enough wacky celebrity baby names. From Kylie Jenner and Travis Scott's daughter Stormi to Cardi B. and Offset's little girl Kulture, it's been a weird year to be a baby. Still, there's one name that is arguably more regrettable than the rest — and it's none other than Kanye West and Kim Kardashian's third child, Chicago. What can we say? The couple just knows how to pick 'em.
It could be that Kardashian may very well have actually already started regretting the name she and West chose for their little one. In an interview with Ellen Degeneres on The Ellen Show, Kardashian revealed that she originally wanted a one-syllable name, like North and Saint, for her third child. "It kind of messes with me, I'm not gonna lie, I really like the one-syllable thing," she revealed.
Jo and Grace were the original frontrunners, but "then it was Chicago," Kardashian added with a laugh, "We ended up with Chicago." Uh-oh. Is that regret we sense?