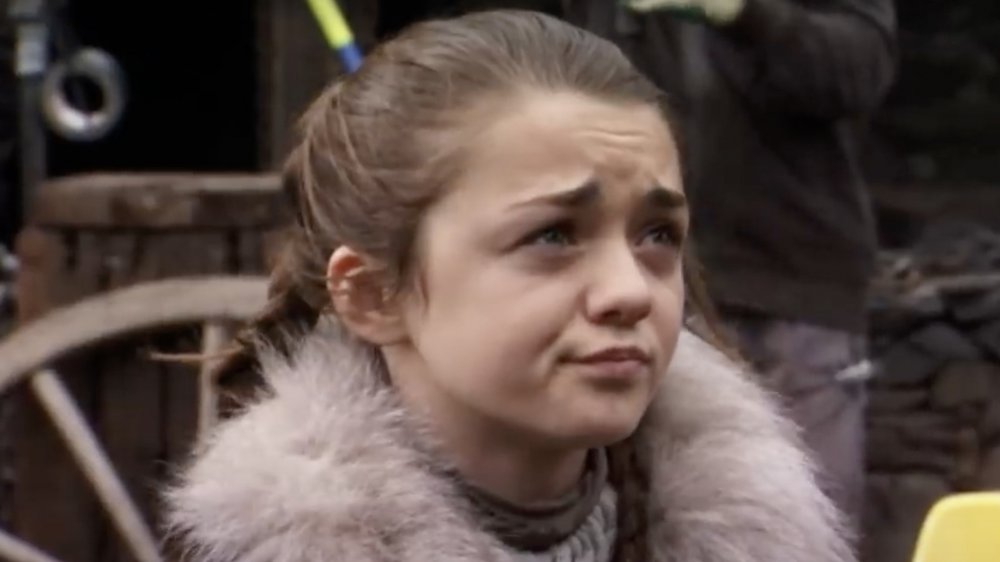 Actress Margaret Constance Williams, known to many as Maisie Williams, and to even more fans as Arya Stark, came a long way before gaining her place in the spotlight. Before she landed a role on Game of Thrones, Williams surprisingly had no acting experience. "When I came into this industry, I was just a regular girl," the starlet told The Guardian.
Game of Thrones gave Williams her big break, and it gave the world one of the biggest television shows of all time. Its popularity practically took off overnight, and with its broad fan base, memorabilia, and spin-off series, it also completely took over its casts' lives. As Williams told Esquire, after season three, "we went to the Chinese Theater in Los Angeles, and stepping out of the car, with hundreds of people screaming my name, is when I realized that this show completely changed my life. It was very, very daunting — I found it quite scary."
Williams never even aspired to be an actress growing up and still can't believe fame is something she has to deal with daily. "I still feel like Maisie," she told The Guardian. Though Arya Stark and Maisie Williams have become practically synonymous, the young actress has become her own person off-camera since ending the series. "Arya and I are similar in ways, but we're different people," she once mused to Vulture. From growing up with a much different dream to making millions on screen, Williams' stunning transformation is truly turning heads.
Growing up, Maisie Williams was just 'ordinary'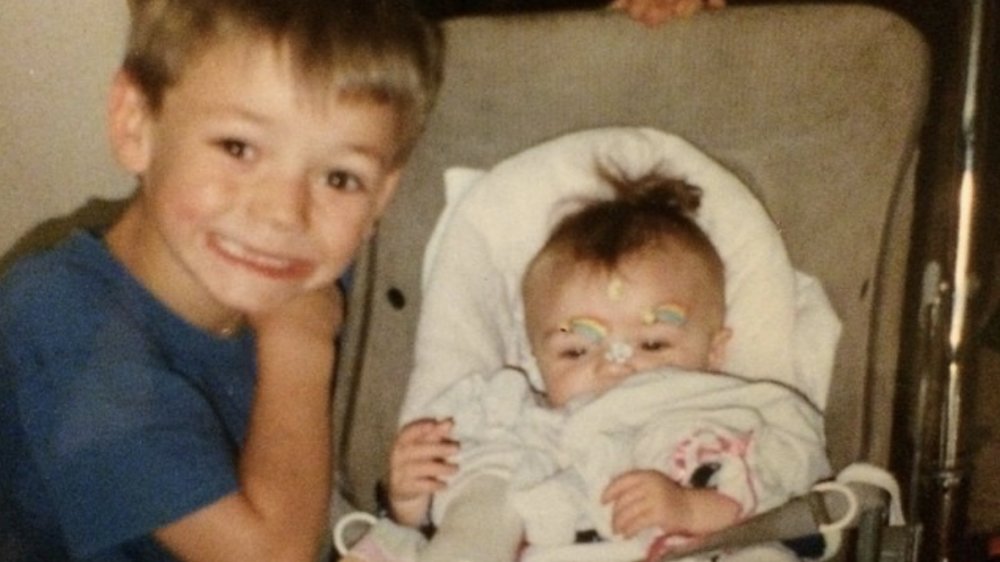 Maisie Williams grew up just like every other normal kid. "I went to an ordinary school. I got very ordinary grades," she explained at a TED Talk in 2019. Everything about her was nothing out of the ordinary — "Except for how I felt on the inside," she added. "I had big dreams."
Williams was the youngest of four fairly creative kids, growing up in a small town in England called Clutton, and, as it would seem, she was destined to do something in the arts. Her sister is a singer, her oldest brother creates body art, and her other brother is a breakdancing instructor (via The Irish Times), so Williams always knew she was meant to do more than simply sit at a desk. "I love to make people laugh," she explained to Rob Moore. "I wanted to make people happy." She began to realize that her role as a class clown was a starting point. Williams jumped into school plays and started to enroll in recitals — which is where she found herself falling in love with dancing.
Maisie Williams dreamed of becoming a dancer
When Maisie Williams was ten years old, she was willing to do whatever it took to become a professional dancer. "I informed my mother that I didn't want to go to school anymore," she explained at a TED Talk. "I wanted to be like Billy Elliot and go to stage school," so she auditioned for a spot — and got in. Unfortunately, her mother didn't have the money for tuition. "It broke my heart," Williams said. "I was good enough. I made the cut, but I wasn't going anywhere."
Hearing the horrible news, her dance teacher encouraged Williams to join a talent show where she would not only dance, but also sing, act, and model — and where agents would be watching. One in particular thought Williams stood out and signed her on the spot, but encouraged her to act instead. "I have always been in school plays and enjoyed drama but always really thought of myself as a dancer," she told FanSided, but went with the opportunity after deciding that "all auditions are good experience."
After failing her first audition for Nanny McPhee 2, her agent sent her on a second audition for a television show called Game of Thrones. Williams remembers the moment the casting director started filming her monologue. "As soon as she pressed record, it all drifted away, much like when I was dancing in my mother's living room," the actress mused. She would soon become a Stark.
Maisie Williams landed an iconic role
Maisie Williams was 12 years old when she officially entered the world of acting and became Arya Stark. While she had absolutely no prior acting experience, there was a surprising familiarity in the role. Filming the sword fights "was just like choreographing a dance," the actress told FanSided. Throughout Williams' nearly decade-long time working on Game of Thrones, she hadn't imagined how dramatically the popularity of the television series would grow — along with her paycheck. "The thing I was really obsessed about was whether I would earn enough money to buy myself a laptop," she told The Guardian. "My stepdad, Gary, just looked at me and said: 'I think there'll be enough for a couple of laptops, Maisie.'"
Game of Thrones was nominated for 160 Emmys during its eight-season run and set records, averaging 44.2 million viewers for each of its highly anticipated final episodes (via Deadline). In 2016 and 2019, Williams even received Emmy nominations herself for outstanding supporting actress in a drama series.
Though the show completely changed her life, Williams still can't help but think back to what could have been. "If I could have had a career in dancing, I would have left acting in a second," she once admitted to The Guardian.
Maisie Williams later launched a production company
In 2016, Maisie Williams became one of the youngest people ever to receive an Emmy nomination (via Gold Derby). Realizing that chances like this don't come often for young actors, she took control of this opportunity in the industry and created her very own creative outlet — a production company. "I hope to give other creatives the opportunities that I was lucky enough to receive at the beginning of my career," Williams told Screen Daily of her newest endeavor.
The idea first came to her while working on the movie iBoy after having an interesting conversation with a young camera assistant named Dom Santry. "Dom told me how difficult it was for young creatives to access opportunities that can progress their careers," she told Vice. "He vouched that this something we would change together," so they partnered up to create Daisy Chain Productions. The company produces short films, full-length features, and television dramas that specifically focus on helping to build up aspiring talent, starting with young creators like herself. "This industry can be both wonderful and challenging for people trying to break in; and we'd love to help bridge that gap in whatever way we can," her now producing partner, Santry, told Screen Daily.
In 2017, they released their first short film called Stealing Silver, and ever since, Williams has been stealing the spotlight.
Even as a celebrity, she had to deal with cyberbullies
Even becoming an actress doesn't stop bullies. The plot of Maisie Williams' television movie Cyberbully became all too real for this young actress only a year after she began working on Game of Thrones. "It's still problems you face no matter whether you're in school or in a TV show," she told The Guardian, adding, "The comments still hurt just as much, whether it's one person, whether it's everyone in your school, whether it's everyone in the London area."
Williams worked closely with the writers to make sure the movie was as realistic as it could be. The final outcome became harder to act out than even the bloodiest scene she had to shoot on Game of Thrones. "It is the most intense shoot I have ever been a part of – it was eight days, it felt like about a year," she told RadioTimes.com, because it was an even more personal role for Williams to play. "When I waited, say, for a reply from the cyberbully it had the tension of a big explosion or a horse chase or a sword fight. And there was none of that in this."
The young actress has a close relationship with her mother to thank for getting her through tough times online. Williams has since deleted some of her social media accounts, sharing with The Guardian, "Why do I need to hear what other people think of me? I'm happy."
Maisie Williams also entered the tech space
While social media may have left a sour taste in Maisie Williams' mouth, she saw something magical in it. "People are connecting with people all around the world because of the beauty of social media," Williams once told Rob Moore. Her producing partner, Dom Santry, saw the problem with it and told Williams they needed to change it. "Social media can be a very lonely place, and somewhere that doesn't necessarily inspire collaboration or foster meaningful connections," he explained to TechCrunch.
In 2018, the young actress worked with him once again — this time to create a mobile app called Daisie, a networking platform for creative people. At first, it was for fellow filmmakers, but quickly turned into something much bigger. Because Williams entered the entertainment industry as a dancer, "you realize how blurred the lines are between these industries," she explained. "So we launched in film, fashion, music, photography, art, and literature, because they all inspire one another."
The duo raised $2.5 million to create it, and after only 11 days of it being released, Daisie already had 100,000 users (via TechCrunch). It seemed to be the ideal time in history to debut such an influential app — and the perfect time in Williams' life as well. "It's a nine to five job, which is the routine I need," she told The Guardian after wrapping up on Game on Thrones. "I can't live this crazy, sporadic life."
Maisie Williams will fight for animal rights
There's a lot of ocean between Hollywood and Maisie Williams' hometown in England, and a lot of dolphins swimming around in those oceans too. Since viewing the Oscar-winning documentary The Cove, Williams has become an advocate for these aquatic creatures and has publicly urged people everywhere to stop visiting them in captivity. "These animals travel the ocean. That's what they explore daily," she told The Hollywood Reporter. "No tank will be big enough. No tank will ever be deep enough, ever be exciting enough."
The Cove sheds light on the many people who stalk and slaughter these creatures all along coastlines for meat and then sell others to aquariums around the world. Throughout filming for Game of Thrones, the young actress took multiple trips to Japan, the location where the documentary takes place, in order to protest against the dolphin hunts that are going down there every day.
When it comes to fighting for the fish, Williams will always be there. "I'm a firm believer that, if there is something that you really want to stand up and fight for, then you should," she said. "And with everyone doing their own little bit for what they believe in, hopefully together we can make the world a better place."
Her self-esteem was low in the spotlight
Growing up for all the world to see isn't exactly the easiest — just ask Maisie Williams. She spent her entire childhood on camera. "It's very hard growing up in public," the actress told The Irish Times. "You're going through all these bodily changes." To make matters worse, following season two of Game of Thrones, she was required to wear a strap across her chest in order to keep her character looking more childlike. "I felt kind of a bit ashamed for a while," Williams admitted to Vogue.
When the cast finally wrapped up filming the series finale in 2018, the starlet took advantage of this time to experiment with her own style — something she was never able to do before while regularly having to wear medieval get-up for Game of Thrones. The first thing she did was drastic. She dyed her hair her very favorite color — pink. "I guess, subconsciously, I dyed it because I didn't want to work," Williams confessed to Rolling Stone. "It's a pretty good way of stopping that. And it just feels so good, so me. I've battled my whole adolescence with trying to put a stamp on my appearance, but also be a blank canvas as an actor." The young actress was now in need of some serious time off.
Maisie Williams finally fell in love with herself
After wrapping up on Game of Thrones, Arya Stark was no more, and Maisie Williams was left having to figure out her own style outside of the spotlight. In 2019, following her last Emmy nomination for the show, it seemed she finally was able to do that. "I've always wanted the perfect custom red carpet dress — something that I feel really confident and comfortable in," she told Elle, so she got help from the person that seems to know her best — her boyfriend. "I asked Reuben if he would design something with me in mind; my height, my shape, my likes and insecurities." He partnered with fashion designer JW Anderson to make it happen.
Ever since he's been posted all across her Instagram account in outfits that completely compliment his lady. "We like to wear matching outfits like a 70-year-old couple," Williams laughed as she told Vogue.
Even after the massive amount of success that working on Game of Thrones has given Williams, it was the year that it ended that she felt her best. Not only had she fallen in love with a boy, but, as she wrote on Instagram, "I fell in love with myself."
She gave a very 'talented' TED talk
You know that you've really made it big when you're invited to give a TED Talk. When Maisie Williams was asked to present one in 2019, she was just 22 years old and wasn't even sure where to begin. "What could I possibly say that could have any impact?" She said during her talk, later admitting, "The very fact that I'm here giving a TED Talk right now is so far from anything I thought that I was capable of."
All Williams ever wanted to do was dance, so she decided to start there, describing her childhood and the heartbreak that came when she found out she couldn't attend her dream dance school because she couldn't afford it. However, she had come to the realization that this was all just a blessing in disguise. "In a decade, everything in my life has changed. I am an Emmy nominated actress, an entrepreneur, and an activist," she declared proudly. To get there, she had simply followed her dancing dream and let fate take over.
In a society taken over by social media, and people everywhere wanting to live a life of fame and fortune like Williams, the starlet says, "I hope to inspire people to be talented instead," adding, "Talent will carry you so much further than your 15 minutes of fame."
Now Maisie Williams wants a normal life
Growing up in the spotlight does have its perks. There are the adoring fans, VIP service, and red carpet events. However, "I also gave up being a normal teenager," Maisie Williams told The Guardian. "I gave up a huge part of my adolescent life." Because of the major fame thrown at her throughout the successful series Game of Thrones, Williams admits that she sometimes misses being able to do the day to day things that average people around the world take for granted.
While working on the hit series, Williams always looked up to co-star Lena Headey, who plays Cersei Lannister. "She's a fantastic actress but she doesn't live in the limelight," Williams dished to The Guardian. "I never see headlines about her." Much like her GoT collaborator, Williams gets to live her dream of acting — fame and all — and still live a normal life behind-the-scenes. It's one of the reasons the actress enjoys going back to her hometown in England.
Now that she has a less-demanding schedule, Williams chooses to spend time with family. "I'm just Maisie again and not the girl off the telly," she explained to BBC. Though her fans will be happy to know that they'll be seeing the young actress back on the "telly" very soon, the British starlet only craves one thing. "I want a normal life," Williams told the Happy Place podcast (via MTV News). It's something that's hard to come by in Hollywood.