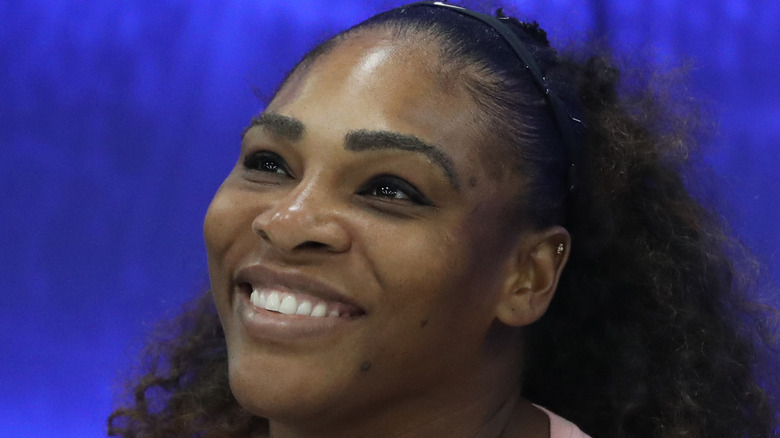 Serena Williams is an award-winning tennis champion, born September 26, 1981, in Saginaw, Michigan, the youngest of five sisters. According to Britannica, her father taught her how to play tennis on public tennis courts while growing up in Los Angeles.
Serena went professional in 1995, a year after her sister Venus did. Both Venus and Serena attracted a lot of attention due to their exceptional skills on the tennis courts and in competitions. Serena won the 1999 U.S. Open, where the sisters won the doubles event. They've won 14 Grand Slam doubles together since then. Serena has won a total of 23 Grand Slam singles matches.
According to ESPN, Serena currently ranks as No. 8 in the Women's Tennis Association (WTA). She has won four Olympic gold medals, among many other awards.
In addition to tennis, Serena has pursued other passions as well, including opening a school in Kenya in 2008, studying fashion, and opening her own clothing line in 2018 called S by Serena. A year later, she started her own jewelry line (via SerenaWilliams.com). Family always comes first for Serena and the birth of her daughter Alexis Olympia cemented that priority. However, labor and childbirth were not easy for Serena.
Serena Williams' labor and childbirth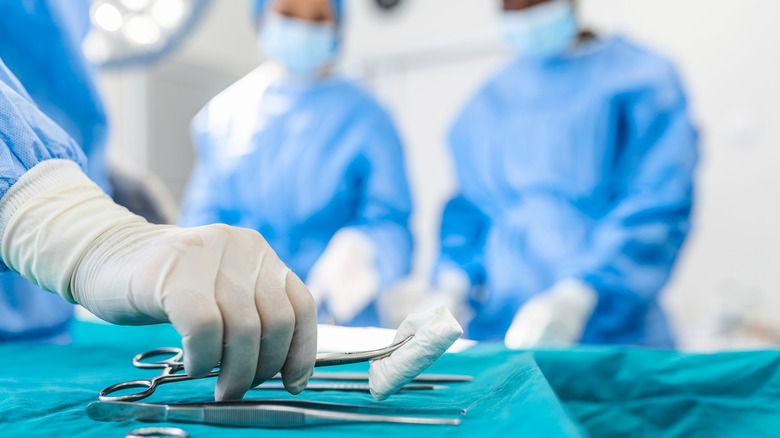 Serena has a history of blood clots and nearly died after giving birth to her daughter via C-section when she developed a pulmonary embolism, according to The Washington Post. A severe cough from the pulmonary embolism — blood clots in the lungs — ended up tearing open her C-section wound. She was rushed to the emergency room, where surgeons discovered a "swelling of clotted blood," also known as a hematoma. As a result, Serena spent the first six weeks after childbirth recovering.
Serena took to Instagram discussing how she felt she was not doing enough as a mother, despite spending time with her baby every day. Speaking about her postpartum feelings with her mother, sisters, and friends helped her realize that her feelings were completely normal. At the end of her social media post, she encouraged other mothers, saying, "I'm here to say: if you are having a rough day or week–it's ok–I am, too!!! There's always tomm!"
While Serena was able to receive emergency medical care, some are not as fortunate, and she knows it.
Pregnancy and childbirth can be dangerous
There are health risks associated with pregnancy and childbirth, but there's also a racial bias that Serena wanted to publicly talk about. According to Vogue, Serena started experiencing trouble breathing after her C-section, so she told a nurse what was happening. Serena knew precisely what she needed — a blood thinner and a CT scan, but the nurse instantly thought she could be confused from her pain medication. Serena insisted and found herself with a doctor doing an ultrasound on her legs. She knew that's not what she needed and repeated what she had told the nurse. When the ultrasound on her legs came up with nothing, she was finally sent in for a CT scan where they found blood clots in her lungs.
After she went home, that is when Serena started coughing so intensely that her C-section wound was torn open — the hematoma in her abdomen occurring as a result of the blood thinners. To avoid more blood clots making their way to her lungs, a filter was placed into a major vein.
According to the CDC, about 700 women die every year from pregnancy or childbirth complications, with about 50,000 women experiencing dangerous childbirth-related complications annually, much like Serena.
What is a pulmonary embolism?
A pulmonary embolism, also called a lung embolism, occurs when blood clots form a blockage in the lungs (via the Mayo Clinic). These blood clots usually travel from your legs to your lungs, though sometimes they can come from veins in other parts of the body, a process known as deep vein thrombosis. Pulmonary embolisms are extremely dangerous because the clots can obstruct blood flow to the lungs.
According to experts at the Cleveland Clinic, pulmonary embolism symptoms include difficulty breathing, a quickened heartbeat, anxiety, lightheadedness, fainting, extreme sweating, pale skin or skin with a bluish tint, chest pain that can extend to your jaw, neck, arm, or shoulder, coughing, and wheezing. Healthline adds that you might also experience rapid breathing, feelings of restlessness, clammy skin, an irregular heartbeat, a weak pulse, or coughing up blood.
Be sure to call 911 if you have any of these symptoms in order to get diagnosed and treated immediately. Pulmonary embolisms can be fatal without immediate emergency treatment.
Racial bias in medical care
Vox points out that black women are "more likely than white women to die from pregnancy-related complications." According to ProPublica, many deaths could be prevented if these women had access to better healthcare and medical teams to help stop treatable conditions from becoming fatal. The problem has become so widespread that experts have created a name for the increase in deaths from pregnancy and childbirth complications — "severe maternal morbidity."
From 2014 to 2017, for every 100,000 live births, 41.7 black women died from health complications compared to 13.4 white women, 13.8 Asian or Pacific Islander women, 28.3 American Indian or Alaska Native women, and 11.6 Hispanic or Latina women, according to the CDC. The CDC points out that there are many factors related to these deaths regarding race and ethnicity, which include "access to care, quality of care, prevalence of chronic diseases, structural racism, and implicit biases."
As a matter of life and death, it is crucial that these barriers standing in the way of accessible healthcare for mothers be addressed.
The need for healthcare to improve for expecting mothers
A 2016 study published in the American Journal of Obstetrics and Gynecology shows severe maternal morbidity is rising in the United States. The researchers studied 16,323 deliveries and found 150 cases of severe maternal morbidity. The top two causes of severe maternal morbidity in this study were preeclampsia/eclampsia and hemorrhaging. Researchers found an opportunity for improvement of healthcare in 44% of these cases.
Severe complications in pregnancy and childbirth have more than doubled from 1993 to 2014, according to ProPublica. Dr. Elliott Main, the medical director at the California Maternal Quality Care, said, "These numbers are really high, and far too many of them are preventable." Dr. Main is working toward reducing these instances of complications and deaths.
As in Serena Williams' case, she knew exactly what was happening after giving birth as soon as she had difficulty breathing. Women continue to go through these same experiences and the outcome can potentially be fatal as well as physically, mentally, and financially damaging.