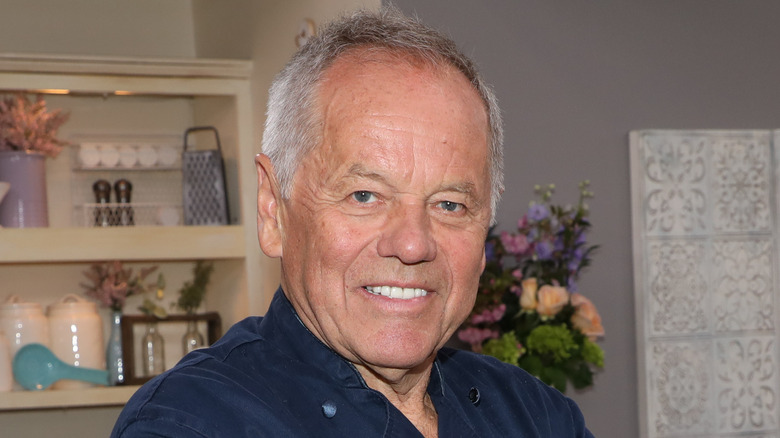 He's been called "the world's most recognizable chef" by Forbes and "one of the first true celebrity chefs" by Variety. If you haven't already guessed, we're talking about Wolfgang Puck. Today Puck's food empire is truly a thing to behold. As he told CNBC in 2018, he brings in roughly $600 million every year. He began his empire in 1982 with the now-famous restaurant Spago in Hollywood. Since then, he has become a chef for the Hollywood elite and a staple of award show dining. He has dozens of critically acclaimed restaurants, lounges, and bars all over the world and he offers a line of cookware, cookbooks, and frozen foods. Chances are, you know about Wolfgang Puck.
Puck's journey to food stardom was undeniably an unusual one. He grew up in Austria near the border of Italy. He began working in a nearby town when he was just 14 years-old. A few years later, he went to France then the States to learn more. Eventually becoming part-owner of Ma Malson. By the '80s, he had his own restaurant and a regular procession of celebrity clientele. But what's the real story of Puck's rise to the top? Here is the untold truth of Wolfgang Puck.
This is what Wolfgang Puck ate as a kid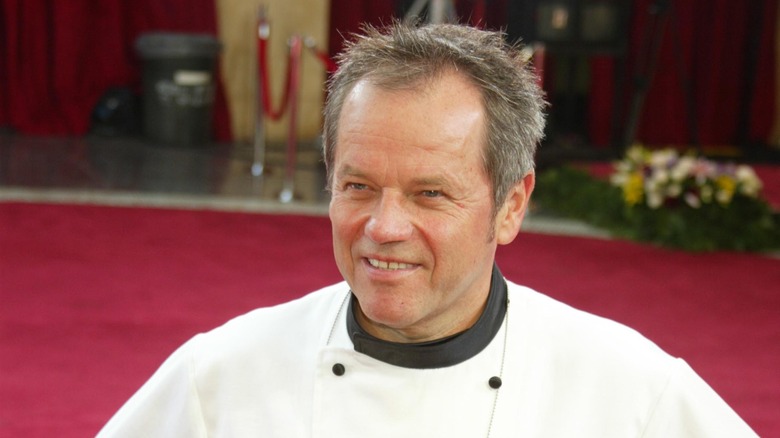 Wolfgang Puck grew up in a small town in Austria. His food education began early. His mother was a cook, but the family had little extra money, so they ate simple, homegrown food. As he told Life & Thyme, "When [my mother] cooked at home we didn't have a lot of money, so we had meat once a week and ate a lot of noodles." The family had chickens, which meant they had plenty of eggs. They picked wild berries in the local forest. "We bought a small pig and fed it all the leftover food we had," Puck went on. As he put it, it was a real "farm-to-table" lifestyle.
In an interview for Luxury London, Puck recalled, "My first real food memory is my mother's hot chocolate. It was quite an ordeal; milking the cow, skimming the milk, tempering the chocolate — it could take hours." It's clear that much of what Puck at as a child was made from scratch, even if the ingredients were limited. It's no wonder he developed such a unique understanding of food as an adult.
Wolfgang Puck worked his way up in the food industry
Most celebrity chefs have some help getting to the top — few well-known chefs come from nowhere. Wolfgang Puck is the exception. Puck's career began when he was 14. He left home to escape his stepfather and began as an apprentice at a nearby hotel. As he told Forbes, the role involved the "grunt work." By a stroke of bad luck, Puck was fired. However, the indomitable Puck returned to work the next day. When the manager finally realized Puck was still working in the kitchen, he flew into a rage. The hotel manager was impressed by Puck and sent him to a sister hotel.
At the end of his apprenticeship, he left for France where he worked at the famous Maxim's where continued to work his way up through the ranks of the kitchen. By the time he was 25, he had moved to California. After transforming Ma Maison from a little-known eatery into a hotspot, Puck started his own restaurant — Spago. Soon, Spago was welcoming Hollywood's biggest stars and the rest is history.
From the lowest of the low in an Austrian hotel kitchen to chef of the upper echelons of Hollywood, Puck has a real rags-to-riches story.
Wolfgang Puck's biggest fault may be his secret to success
It's hard to imagine Wolfgang Puck having any bad features — he managed to build a food empire from scratch, all while remaining friendly, endlessly creative, and positive. However, as Puck told Luxury London in 2018, even he has his faults.
"I can be quite disorganized because I'm always thinking of new projects, new adventures," he said. As he put it, "Actually, that's probably my worst feature." In other words, Puck is too proactive and too creative for his own good. By the sounds of things, Puck's biggest fault is also the secret to his success. He never stops looking for the next big thing and is constantly trying to innovate. "If you love what you do, keep doing it," he said wisely.
By the sounds of things, Puck's empire will continue to grow and grow, simply because he has no intention of slowing down. And retirement is certainly not in the cards any time soon.
Wolfgang Puck created the concept of the open kitchen
When Wolfgang Puck opened Spago, his first restaurant, it wasn't just the food that made it a hit — it was the innovation. One of his most daring moves was to use an open kitchen plan, something which had never been attempted in the United States. "I mean, maybe it existed in some obscure part of the world, I don't know," Puck told Food & Wine, "But not in a white tablecloth restaurant where the King of Sweden and the President of the United States eat."
The kitchen was designed by Barbara Lazaroff. As she explained in the book "Restaurants That Work, the design was intended to create a "very homey, friendly welcoming atmosphere." She went on, "Entering Spago, customers are drawn to the lush, exotic floral displays, the bustle of activity and divine aromas emanating from the open kitchen, and the sounds of laughter and lively conversation in the dining room — the animate rhythm of the restaurant" (via Barbara Lazaroff's official website). The open kitchen design was a hit, and soon, it became a trend. In fact, in 2012, Time noted that the trend was still growing.
How Wolfgang Puck came up with the idea for frozen pizzas
These days, Wolfgang Puck's frozen pizzas are a staple of American grocery stores — and we can hardly complain! It turns out, these popular pizzas may never have come to be if it weren't for one customer.
As Puck told The Guardian, it all started at his Las Vegas branch of Spago in the '90s. "Johnny Carson [the late talk show host] would take home 10 or 12 of my pizzas at a time," Puck recalled. When he asked him why, Carson explained that he would freeze them and have his chefs recook them later. "When I knew this I started half cooking them for him," Puck went on. Soon enough, Puck realized he could sell these frozen pizzas in supermarkets around the world. According to Puck, his frozen pizzas are the best on the market — and maybe that's because they started as items on the menu of his famous restaurant.
Wolfgang Puck isn't afraid to call out the critics
Wolfgang Puck has enjoyed plenty of critical success throughout his career. However, not every food critic who visits his restaurants is a fan. In 2017, Puck spoke to Eater about bad reviews.
First of all, he said that a recent Eater review by Ryan Sutton was hypocritical. "I know good food better than Ryan will ever learn to cook or to taste or anything," Puck said bluntly. "He's an amateur so he doesn't really know. He also criticized a New York Times review by Pete Wells, saying that he had placed too much emphasis on the restaurant's interior design in his review. "[A critic] can say, 'It's not my preference. I don't like this art,' maybe, but to say the art is not good — if you're a food critic, write about the food," he said.
While Puck isn't afraid to call out food critics, he isn't too worried about the impact of bad reviews. "[A critic] is not going to make us busy or not busy," he said. "He, to us, is totally unimportant." Well, Puck certainly doesn't mind saying it like it is!
Wolfgang Puck created an outdoor fine dining experience during the pandemic
The COVID-19 pandemic dealt a blow to the restaurant industry. Across the world, restaurateurs were forced to close their doors for weeks and months at a time, while diners began to prefer outdoor dining. For Wolfgang Puck, this meant making a radical pivot in his approach. As he told Vogue, "We've had to learn how to operate in a completely different way."
In the end, Puck created massive terraces at several of his restaurants to maximize the potential for outdoor dining. In Beverly Hills, he built Spago L'exterieur, which consisted of a giant transparent tent that could accommodate semi-private fine dining and up to 109 people. As Puck told Robb Report, "It's very expensive—all in all, we spent over $350,000." He added, "Maybe because of this pandemic and maybe because we had to build something new, we get new ideas of how to build a restaurant better."
These are some of Wolfgang Puck's favourite restaurants around the world
While Wolfgang Puck has dozens of his own restaurants dotted around the world, he also enjoys visiting other people's restaurants, too. As he told GQ, there are several international restaurants that make the top of his list.
In Hong Kong, Puck happened to eat at the InterContinental restaurant where he was staying when all the other restaurants were closed for Chinese New Year. "After I went there, I thought, 'I don't have to go out anymore. I could eat here every night and finish all the dishes on the menu,'" he gushed. Apparently, it was the best Chinese food he'd ever tried.
In Vienna, Puck always visits Urbanek. "The owner has this little bar, and different farmers bring him cheese and ham or someone's housewife makes a great roasted pork," he explained. In Japan, Puck loves Kitcho. "Every table has its own private room. It was total silence," he recalled, adding, "You don't want to be there with a person you have nothing to say to." Puck also has favorite restaurants in France, England, Spain, and Italy — it's clear that he's well-traveled, especially when it comes to food.
Wolfgang Puck refuses to use email
It's hard to imagine someone with a successful business empire refusing to use something as basic as email. But, it turns out, Wolfgang Puck is one such anomaly. In 2009, the chef told Heavy Table, "I don't use a computer, and I don't do email. If I have to Google something, I tell Maggie, my assistant." Wow, even in 2009, having a business and no computer was incredibly rare. It's a miracle that Puck managed to get anything done!
As Puck went on to explain, he found technology to be distracting. "My wife, she emails, she wakes up at 2 or 3 in the morning, and she sees the BlackBerry is flashing, all of a sudden, she's looking at it and fiddling around with it," he said, explaining his distaste.
It's unclear whether Puck still steers clear of email 10 years later, but we are guessing he's had to succumb at least somewhat to the modern need for technology. Still, we're impressed he held off for so long — maybe this helped him stay clear-sighted and productive as he built up his restaurant empire.
This is what Wolfgang Puck would do if he weren't a chef
The more you learn about Wolfgang Puck, the more obvious it becomes that he was always destined to make food. But, of course, in another life, he may have done something different. As he told Vogue, "I would love to be an artist." It turns out, Puck is passionate about contemporary art. "You'll see pieces by John Baldessari, Damien Hirst, and Ed Rushca in our restaurants," he went on. Apparently, he was even friends with Andy Warhol, who once asked to paint his portrait. "When he died, I thought, 'S***! For $30,000, I could have had an original Warhol,'" Puck said.
In an article for Du Jour, Puck said, "I've had artists in my life since the early 1980s at Spago …We always have good art in our places—it's a big part of the experience for me." Based on the artistry Puck puts into his dishes and his restaurant interiors, we can definitely see how he might have been an artist in another life.
This is what Wolfgang Puck cooks at home
Wolfgang Puck became famous for his innovative food and restaurants — but what does a world-famous chef make for dinner for his own family at the end of a long day?
For breakfast, he told Esquire, "I have a double-espresso cappuccino, but no food." As for dinner, Puck usually cooks for his family, which includes his wife and his two sons. "I will cook the food, and we'll eat together," he explained. He likes to use fresh vegetables from local farmer's markets. "We steam them with a little olive oil, and a little truffle salt on the top, and if it's beans, broccoli, or asparagus, we'll cook them." Typical dishes at the Puck household include pasta, fish, or risotto. Oh, and in the Puck house, an omelet is a perfect snack at any time of day. As Puck said, "It's perfect for every occasion."
Wow, it certainly sounds like Puck's family eats well — we have to say, we're a little jealous!
Wolfgang Puck stays fit with a personalized exercise regime
Wolfgang Puck eats well, which comes as no surprise to anyone. However, it turns out that he's also pretty regimented when it comes to staying in physical shape. As he explained to Esquire in 2012, his fitness regime began a few years earlier when he realized skiing was making him exhausted. So, he started to exercise. "Now I ski better than I did twenty years ago," he said proudly.
Puck's exercise routine consists of weight lifting, boxing drills, push-ups, and squats, all led by a personal trainer who comes to Puck's house. "Doing cardio with the weights strengthens your whole body," Puck said. The chef's fitness journey inspired him to rethink his approach to healthy eating. In fact, he even released a cookbook about it. "With smaller portions, and more exercise, you live a better life," Puck said, explaining the ethos of his book and lifestyle.
Wolfgang Puck makes this dish for the Oscars every year
One of Wolfgang Puck's greatest claims to fame is his association with the Academy Awards. As Fine Dining Lovers reported in 2020, Puck started cooking for the stars who attended the Governers Ball back in 1995, and he's been doing it ever since. In fact, he's become a staple of the awards ceremony.
Apparently, there's one dish that never fails to appear on the menu at the yearly event. As Puck told Gentleman's Journal, it all started with an encounter with Barbara Streisand. "I remember when Barbara Streisand came up to me at the Bel Air Hotel and said, "Wolfgang, are you doing the Oscars again?" When he said he was, she said, "Just be sure to make me my chicken pot pie." Puck explained that ever since then, the dish had become a tradition. In fact, they now make "hundreds of them" each year.
Another tradition? Macaroni and cheese with truffle, which is John Travolta's favorite. As Puck joked, "Comfort food — that's what stars really want."
Wolfgang Puck is an avid traveler
Wolfgang Puck traveled from Austria to France to the States before settling down and building his own line of restaurants — but the chef still loves to see the world. In 2017, he told SilverKris about his favorite holidays — and he's had a lot of them.
Apparently, Sardinia is one of his favorite destinations. "The water is this emerald green-blue color. It's so beautiful," he reminisced. Capri is another spot that he remembers fondly. "My wife and I got married in Capri," he explained, "So we go back every two or three years. It's romantic," he said.
Like everyone, Puck has his particular travel habits. For instance, wherever he goes, he always tries to visit the local markets. Another habit is that he always procrastinates when it comes to packing. "I always forget something," he confessed. It sounds like Puck is an expert, seasoned traveler — even if his packing skills could use a little work.
Wolfgang Puck made a new documentary in 2021 which promises to reveal more about his journey
In 2021, a documentary called "Wolfgang" about Wolfgang Puck's life directed by David Gelb of "Chef's Table" fame is set to premiere on Disney+. As Gelb told us, "We considered Wolfgang for a "Chef's Table" episode, but realized that his story and influence is just too big." He added that the documentary would showcase the difficult journey that brought Puck to where he is today. "People think that he was just born at Spago and was instantly a success," he said. "It takes a lot of hard work and perseverance, refusing to give up, even when the obstacles seem insurmountable. And that's really one of the key lessons that we wanted the film to convey."
For Puck, the documentary gave him a chance to inspire a new generation. As he told us, "Hopefully when young kids turn on Disney+ and see the movie, see the biography, that they're going to say, 'You know what? If Wolf can do it, I can do it.'" Puck is undeniably inspirational, and it's safe to say, this documentary will show this to the world.