If there is one thing fans know about the "Fast and Furious" franchise, it is that family is the core thread that bonds every movie together, not unlike the fuse on an insanely powerful magnet car. You might be so deeply enamoured with how Toretto and the rest of the crew come together over a family barbecue and a bucket of ice cold brewskis that you eventually start to wonder about who the cast of "F9" is dating/married to/in love with in their actual lives. You may also wonder if family is just as important to the actors behind the scenes as it is to the seemingly invincible rogues they depict in the movie.
Spoiler alert: Family sure does seem like a very big deal to the "F9" characters' real-life counterparts. Ready to delve into the personal lives of the wildly successful ensemble cast? You better buckle your seatbelt, take a hearty bite of a crustless tuna sandwich, and raise a toast to love, life, and of course, family. Yes, we are about to get into the ins and outs of the "F9" cast's relationships.
Michelle Rodriguez is a 'lone wolf'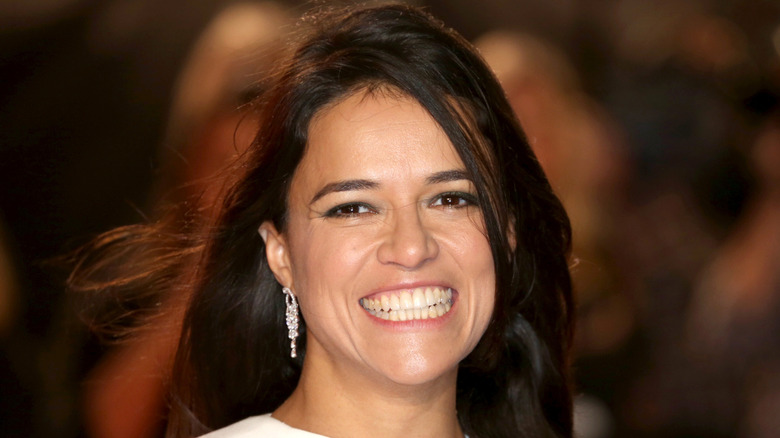 "F9" star Michelle Rodriguez has been relatively open about her personal life. The action icon came out as bisexual during an interview with Entertainment Weekly in 2013 where she casually said, "I've gone both ways. I do as I please … Men are intriguing. So are chicks." As ET noted, Rodriguez has been romantically linked to Zac Efron and Cara Delevingne, and as ABC News reported, was even rumoured to have dated "Fast and Furious" co-star Vin Diesel back in 2001. According to USA Today, Diesel said they did date "at one time."
However, since 2014 Rodriguez has maintained a low profile when it comes to her love life. A decision which appears to suit her lifestyle just fine. Whilst in conversation with actor and musician Milla Jovovich for Interview Magazine in 2015, Rodriguez described herself as a "lone wolf" who has "absolutely nothing consistent" in her life. She said, "I've got lots of really great friends, but the thought of being in a long-lasting relationship? Psh, I couldn't last more than six months with somebody." Despite Rodriguez's cautious approach to long-term relationships, from the sounds of it she hasn't ruled out the potential to find a partner with which to have kids — she's just in no great hurry to make that happen. "One day I'm going to have to sacrifice that to bring life into the world," she said. "But the more I can hold off on that, the happier I'll be."
Vin Diesel is raising a family with Paloma Jiménez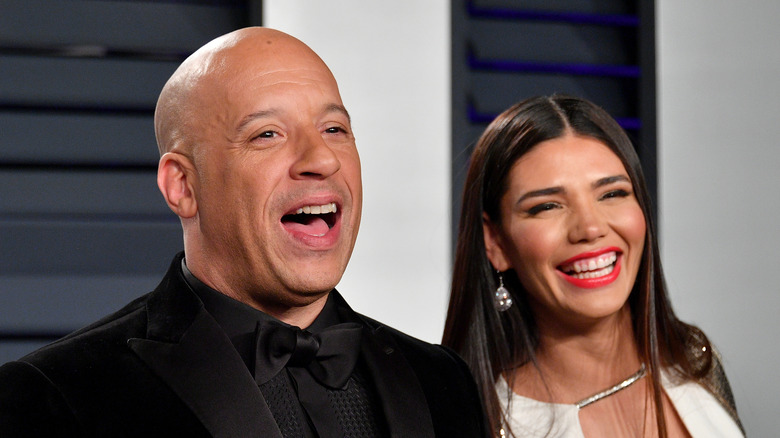 In the "Fast and Furious" franchise, Dominic Toretto's entire world arguably revolves around family even more than cars. And the same appears to be true for the man behind the character, Vin Diesel — albeit in the most private manner imaginable. Diesel has been the long-term partner of Mexican model Paloma Jiménez for an unconfirmed time, with Gossip Cop reporting that the two apparently first connected in 2007. However, aside from the occasional red carpet appearance, their relationship has played out behind closed doors.
Speaking to Details in 2006 (via Towleroad), Diesel said he takes an old school Hollywood approach to his personal life. "I come from the Harrison Ford, Marlon Brando, Robert De Niro, Al Pacino code of silence," he shared. However, Diesel has broken this code of silence a handful of times to share some tidbits of sweetness about his life with Jiménez via his Instagram feed. The two have three children together and Diesel isn't shy about showing his love for them, and how much he adores being a dad alongside his partner.
In 2014, he even posted a rare photo of Jiménez with their son Vincent on his Instagram, along with an adorable caption: "There is no greater gift to a man than a loving mother to his children. The Mayan Queen." And we can 1000% imagine him saying this in a "Fast and Furious"-esque family barbecue.
Jordana Brewster has found love with Mason Morfit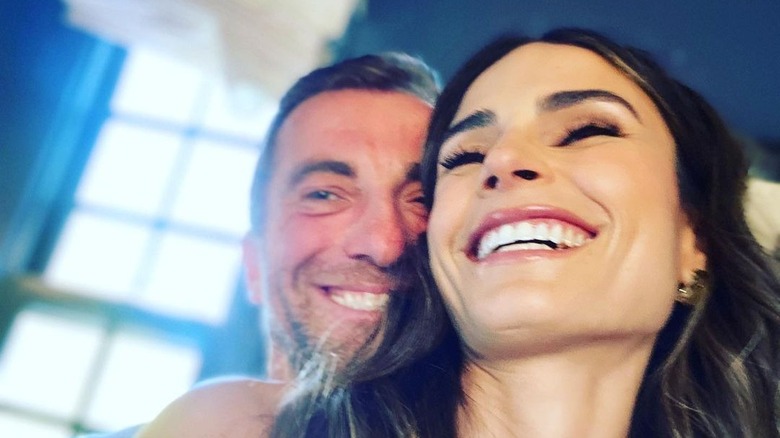 She's known for depicting Dom's protective sister and Brian's loyal partner Mia Toretto in the "Fast and Furious" films, and in real life? Jordana Brewster is equally as family oriented. As the Daily Mail reported, Brewster was first spotted canoodling with financial executive Mason Morfit on a Malibu beach in July 2020 and the couple have remained together ever since. Described by the Financial Times as being "a Star Wars fan" who "plays guitar in a band called Birdseed," Morfit is also kind of a big deal in money circles. As well as being the CEO of the San Francisco based ValueAct Capital — a firm he's been a part of since 2001 — Morfit was also on the Microsoft board of directors from 2014 to 2017, according to The Seattle Times.
Prior to dating Morfit, Brewster was married to movie producer Andrew Form for 13 years, with People reporting the two "quietly separated" early in 2020 as part of an "amicable" break up before officially filing for divorce in July of that year. The former couple share two sons together with a source telling the publication, "they remain committed to lovingly co-parent their two children as a team."
Charlize Theron is single and satisfied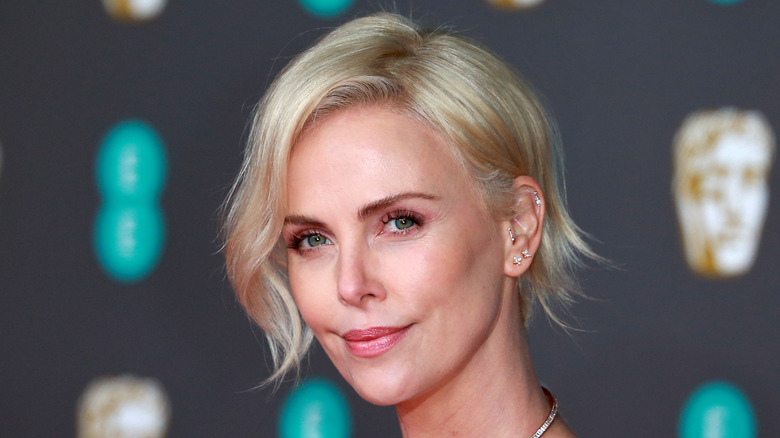 Oscar winner Charlize Theron is arguably the highest profile member of the "Fast and Furious" cast, and like Michelle Rodriguez, she also seems quite content with being unattached. When she appeared on "The Drew Barrymore Show" in 2020, Theron confessed that she's not "dated anybody for over five years," due to her maintaining some understandably high standards. "I feel like I'm in a place in my life where you gotta come with a lot of game," she said. "The kind of game that's like, 'My life is really good, so you better be able to bring that and maybe better,' because I just won't accept anything less." Theron instead stays focused on raising her two children Jackson and August, telling Drew Barrymore that she doesn't "long for that much" as a result of how satisfied she feels with her life.
Prior to this romance recess, Theron was dating actor Sean Penn from 2013 to 2015 and even called him "the love of my life" in an interview with Elle UK. However, Theron addressed speculation that the two were ever engaged while on "The Howard Stern Show." Dismissing the rumour entirely, she said, "I've never wanted to get married. That's never been something that's important to me."
Nathalie Emmanuel and Alex Lanipekun sure seem cozy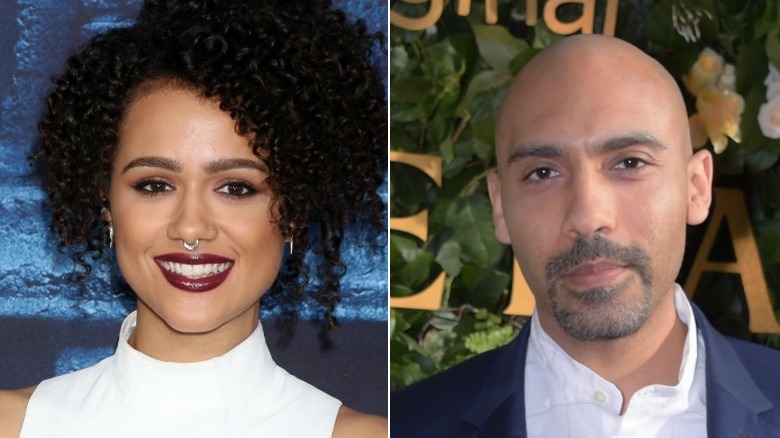 Another "Fast and Furious" star who seems to be an advocate of Vin Diesel's old school "code of silence" is Nathalie Emmanuel, who likes to keep her relationship with actor Alex Lanipekun — known for his performances in "Homeland," "Spooks," and "Riviera" — as under the radar as possible. The British couple were spotted "[putting] on a cosy display" together while enjoying the 2018 Wimbledon Championships, according to the Daily Mail. The two had previously worked together on the sci-fi short film "Run," which was written and directed by Lanipekun and starred the two actors. It premiered at the Cannes Film Festival earlier that year.
On a 2017 episode of "Jimmy Kimmel Live," Emmanuel opened up about the specific set of romance-related struggles that come with being a famous person. "It's difficult to find people when you're always moving round, or who aren't intimidated by your achievements," she said. "It's tough to find people who are super-secure and encourage you to fly." By all accounts, it seems as though Lanipekun may just be that person for her.
Tyrese Gibson is dating Zelie Timothy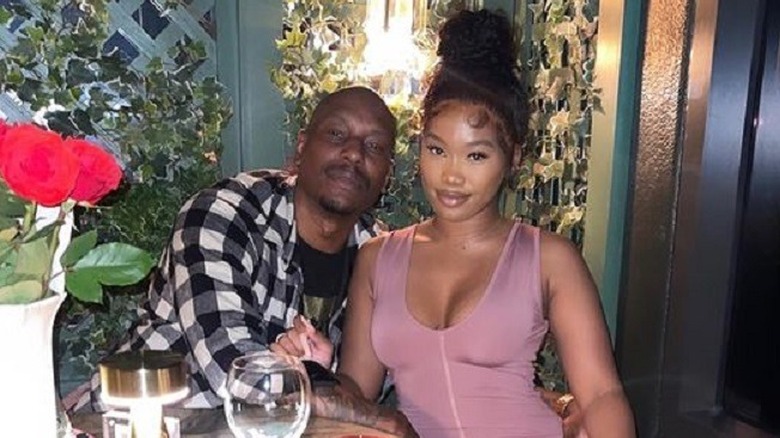 Since joining the "Fast and Furious" franchise in 2003, Tyrese Gibson's love life has been up and down, to say the least. As ET noted, after he and first wife Norma Mitchell divorced in 2009, they wound up in "a tumultuous and very public battle" over custody of their daughter. Gibson went on to marry Samantha Lee, but they split in December 2020. In a joint statement that went up on Instagram, Gibson and Lee called their decision to divorce "a painful and significant development."
According to Ace Showbiz, Gibson moved on quickly and made his next relationship with social media influencer Zelie Timothy official in March 2021. In a video that went up on Instagram, they are seen enjoying a smoky night out together. Just a month later, and the two were already causing a stir online when Timothy shared an Instagram Story of Gibson shaving her pubic hair. As reported by Page Six, the influencer captioned the video with an eye roll emoji and wrote, "I will never let go of my King. But does your man shave you though?" (If you answered with a weirded out "No?" in your own head to that, you're not alone).
Both Timothy and Gibson's respective Instagram feeds feature mushy visual tributes to one another and their various date nights. In an Instagram post from April 2021, Timothy shared a photo set from an extra-special looking evening out which she captioned, "I've honestly never been this happy."
Ludacris met Eudoxie Mbouguiengue at his charity event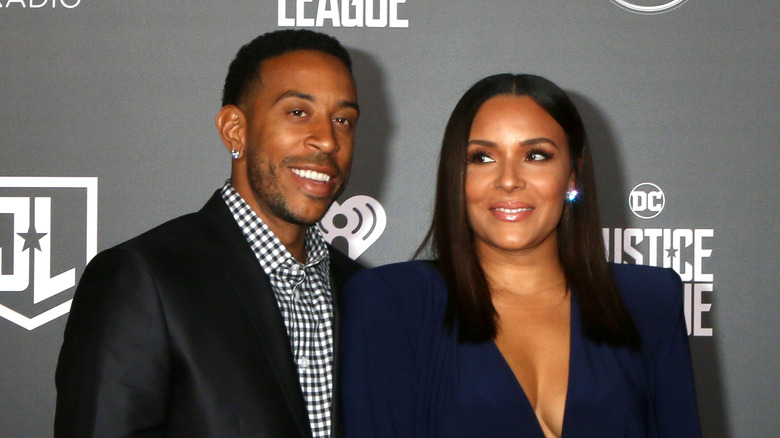 The couple that does good together is good together. As philanthropist Eudoxie Mbouguiengue shared on Instagram in 2018, she met Chris "Ludacris" Bridges at LudaDay Weekend in 2008. Per the LudaDay website, the annual event "brings together the Atlanta community and Luda's celebrity colleagues" to raise money for various causes. The two have been married since 2014 and have two children together. In the aforementioned IG post, Mbouguiengue celebrated a decade with Luda with a sweet photo of the two kissing. "I'm glad we made it work for us because there's no one I'd rather go through this life with," she wrote. "10 years later and we are better friends, lovers, parents, and partners."
While the marriage may look idyllic on social media, it hasn't been without its difficulties. In 2014, TMZ reported that Bridges fathered a baby with another woman in 2013. Per People, Bridges eventually won sole custody. Speaking as a guest on the first episode of the Essence x Coca-Cola series "If Not For My Girls," Mbouguiengue addressed her decision to stand by her man — and even marry him — after a commenter asked why nobody had told her "to leave after Luda had the side baby." She responded, "Many people did tell me that but I listened to my heart and it's the best decision I've ever made."
John Cena is married to Shay Shariatzadeh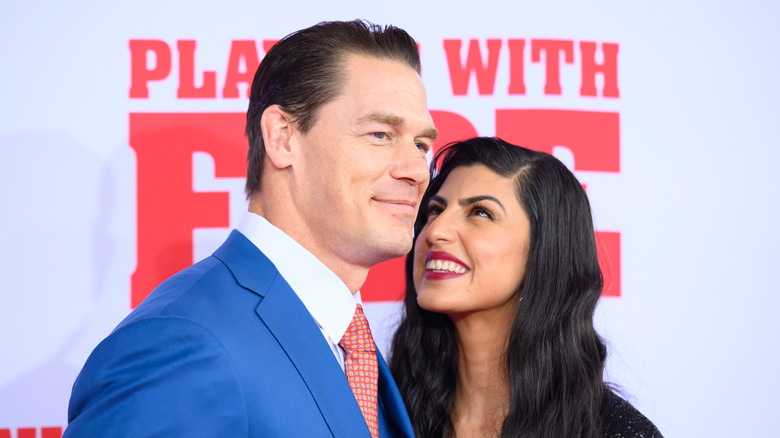 He might be new to the "Fast and Furious" crew, but we can probably all agree that it feels like John Cena has become an integral part of the Toretto clan. Behind the scenes, former WWE superstar Cena has started to lay down the roots for his own clan by marrying girlfriend Shay Shariatzadeh. Cena exchanged nuptials with his Canadian partner at the end of 2020 after 18 months of dating, with E! News reporting that the two met while filming the movie "Playing With Fire." Chatting with ET about the flick at the premiere, Cena gushed, "[T]his one will always have a special meaning because I got to … meet someone special."
Though they reportedly connected on a film set, Shariatzadeh isn't your average Hollywood type. Rather, she's a product manager for tech company Avigilon with a bachelor's degree in engineering who fell in love with the profession at a young age. "My brother studied engineering in school," she said in a feature for the Avigilon website, "and I remember one day he came home with a project and it was an autonomous car — and that was it!"
Cena was previously engaged to fellow WWE superstar Nikki Bella, but the two officially rang the bell on their love story in 2018. Bella confirmed the decision in a statement to People where she described her time with him as being "a beautiful and loving 6-year relationship with a wonderful man."
Helen Mirren has made it last with Taylor Hackford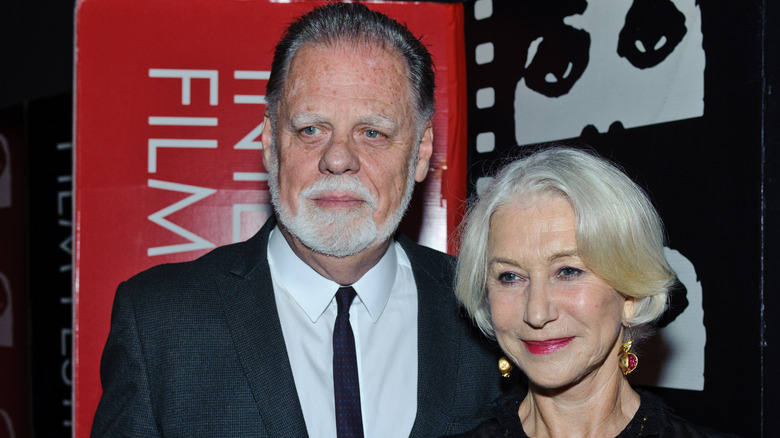 She's the great Dame of the "Fast and Furious" franchise with a long and illustrious career behind her, so it's only fitting that Helen Mirren has enjoyed a grand and happy marriage to American filmmaker Taylor Hackford since 1997.
Long before they tied the knot, they crossed paths in a way that Hackford described as "not exactly what you would call positive" to The Guardian. Hackford had called Mirren in for a casting opportunity, but he was out "getting a sandwich" when she arrived. "When we got back, she was piping mad," he explained, and added that his future wife "got the part" but joked that "she certainly wasn't courteous" about it. Naturally, he was smitten. "The fact that Helen is a great actress was an important part of my attraction to her," he added, " That she's a very sexy woman wasn't lost on me either."
Mirren has likewise described Hackford as "the greatest love of her life" according to AARP, and as being someone who changed her long-held views that marriage wasn't "to [her] taste." She told the publication, "I was 38 when I met Taylor, pretty late in life … We got married in the end because we realized that we were going to be together forever." And they have been.
Kurt Russell and Goldie Hawn are still the cutest couple in Hollywood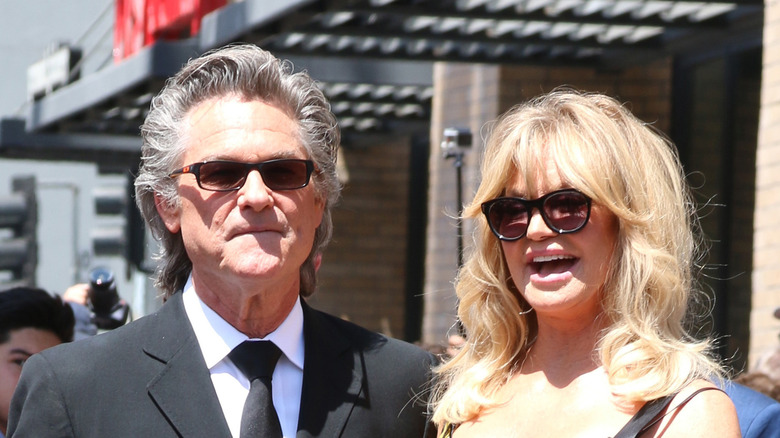 Another incredible Hollywood partnership that has lasted longer than the average industry relationship is the legendary one enjoyed between Kurt Russell and Goldie Hawn. As Russell recounted to Conan O'Brien, he and his love met in 1966 on the set of the movie "The One and Only, Genuine, Original Family Band" but didn't start dating until they worked together on 1983's "Swing Shift." Hawn recalled to BBC Radio 4 that the first time she met Russell, who is five years her junior, she thought he was "adorable" but "much too young."
Meanwhile, Russell revealed on "CBS Sunday Morning" that on their second encounter he made a decision to put his "worst foot forward when it came to any kind of relationship" and as a result he was "horribly hungover" when he met her. "If you can handle that," he mused, "then maybe there's a chance of some reality there of us being together." Luckily, it transpired that Hawn could handle it and then some as the couple have been together ever since and appear to be having an absolute blast. In a sweet Instagram post shared on Father's Day 2020, Hawn shared a picture of the two goofing off together along with the caption, "Nobody laughs like him and nobody loves like him." If these two lovebirds could bottle that energy they'd make an absolute killing — we'll have what they're having, thanks.
Lucas Black is married to lawyer Maggie O'Brien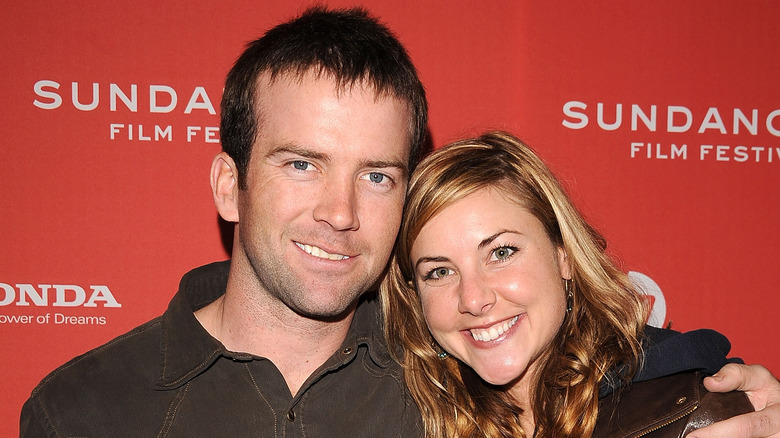 He might depict "Tokyo Drift" troublemaker Sean Boswell in the "Fast and Furious" franchise, but by all accounts Lucas Black sounds a lot more settled than his on-screen counterpart when it comes to his personal life. Black has been married to lawyer Maggie O'Brien since 2010 and they have three children together — though in traditional "Fast and Furious" style, their romance didn't exactly start smoothly. When they appeared on "The Marriage Adventure" podcast in 2020, they discussed their initial meet-cute. While the actor was filming the musical indie film "Killer Diller" in Missouri, he ended up at the restaurant where O'Brien worked. He called the interaction "a disaster."
Not only did O'Brien think the Alabama-born actor's accent was fake, but she was not impressed with the American flag durag — a piece of his character's costume — that he was wearing. The two nonetheless found love when the actor finally ripped off the "stupid durag" and "built up the courage" to speak to her. The romance was apparently finalised when Black had "the gall" to wolf down a giant slice of cake that O'Brien was saving for an after work treat. "Lucas? He eats really healthy," she said on the podcast. "And he ate that whole piece of cake." We can't say that we'd be quite as charmed if somebody swiped our sacred post-shift slice, but love is a crazy thing.
Cardi B has an on-and-off relationship with Offset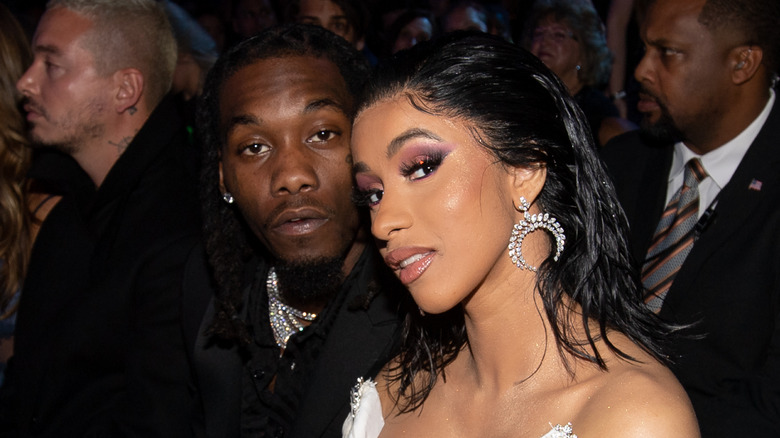 And finally we have the ballad of Cardi B and Offset. A relationship with more on-and-off moments than "Fast and Furious" has dead characters who mysteriously reappear years later. Per Harper's Bazaar's timeline of their love story, the two met in 2016, started dating and were married in 2017, and had their first baby together in 2018 — and suffice it to say, it's hardly been a smooth ride for the couple.
The relationship has been plagued by so many rumours of Migos rapper Offset's infidelity, and Cardi B has felt the need to speak out in defence of her decision to stand by her man throughout their romance. In an interview with Vogue, the "F9" actor discussed how "a lot of women felt disappointed" in her for taking back Offset after "he cheated," but that her decision to say is also a "real-life" part of marriage. "Everybody has issues," she said. "I believe in forgiveness."
Regardless of her loyalty, the two separated briefly in 2018 before quickly reuniting. In 2020, Cardi B even filed for divorce from Offset — a decision which was apparently overturned just a month later. In explaining her decision to once again return to her partner, she said on Instagram Stories (via Entertainment Tonight), "[We're just] two young motherf***ers that got married early. We're no different than y'alls dysfunctional a** relationships." Zing. Leave it to Cardi to drive her point home.