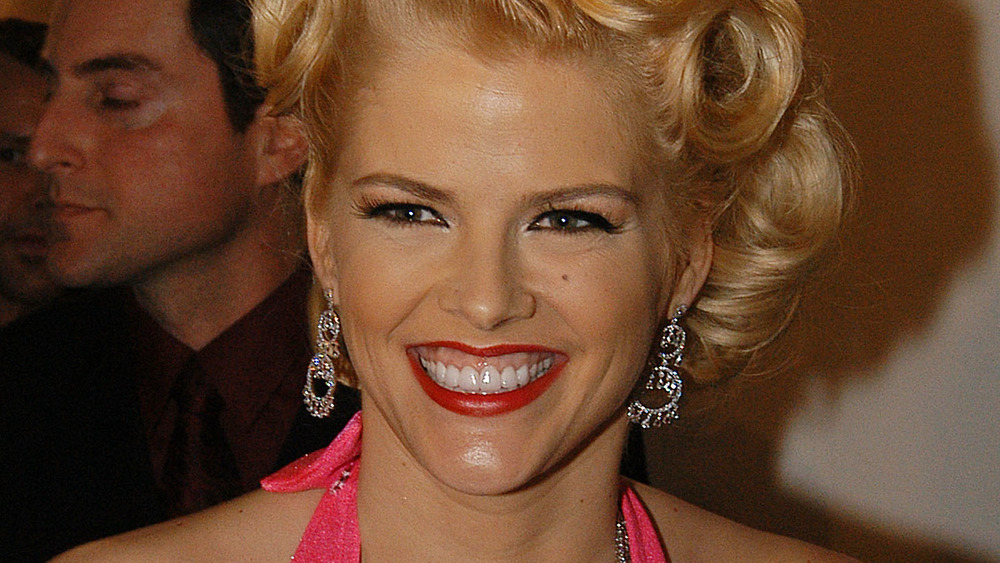 From the pages of Playboy to sharing the screen with comedy legend Leslie Nielsen, Anna Nicole Smith rose to fame in the '90s thanks to her bombshell looks and scandalous marriage to an 80-year-old oil tycoon, which led to a decades-long court battle over his vast fortune. Smith also cemented her pop culture status with The Anna Nicole Show, a reality TV program that showcased the model/actress' unique persona.
But behind the curves and laughs, Smith lived a troubled life. From her early days as a fast food cook in small town Texas to her seedy days stripping in Houston after abandoning her son, Smith battled demons on her quest for fame and fortune. And while she achieved both, it was only on the most tenuous of terms, and her small victories were often marked by tragedy–including her own.
She dropped out of high school to marry a fast food cook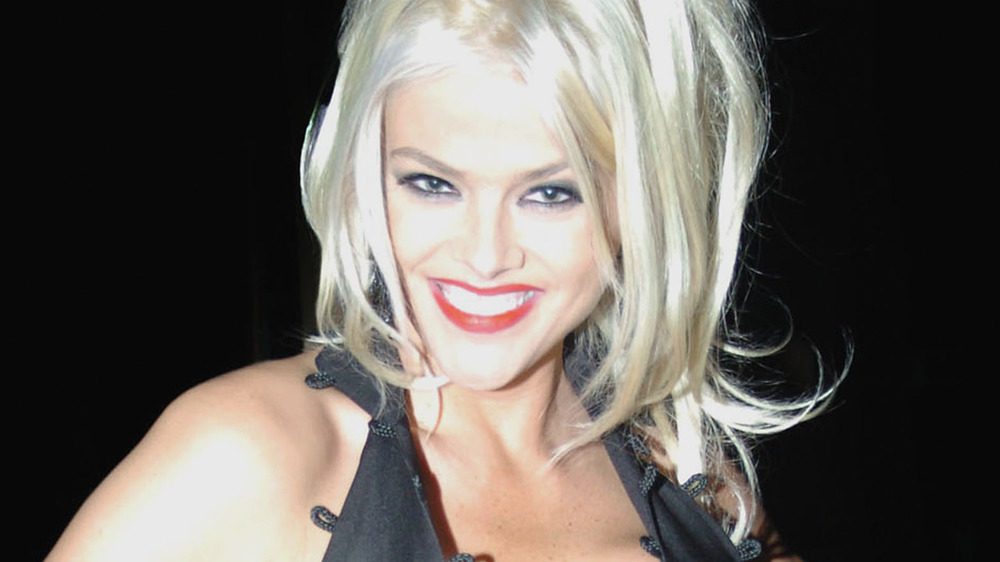 Before her famous curves took her all the way to Hollywood, Anna Nicole Smith dropped out of high school to work as a fried chicken cook in the small town of Mexia, Texas. Back then, she went by her real name, Vickie Lynn Hogan, but she'd soon acquire her famous last name after she aggressively pursued fellow cook Billy Wayne Smith. According to the Daily Mail, the teen couple tied the knot in his mother's living room after Anna Nicole became pregnant with their son Danny.
Six months after giving birth, Anna Nicole quit a waitressing job at Red Lobster to become a stripper in Houston. That decision did not sit well with her mother, who was a police officer at the time and yanked Anna Nicole out of the club.
"Momma, I know you don't understand this but I work at Red Lobster all night long and my back and my feet are killing me," Anna Nicole told her mother. "I can go work at the Executive Suite one night and make $1,000 dollars."
But the former police officer wasn't budging. So the next morning, Anna Nicole packed her bags and left town, essentially abandoning both her husband and infant son to pursue a career in stripping.
She met her second husband while working as a stripper
In 1991, after five years working as a stripper in Houston, Smith met her second husband, J. Howard Marshall–and let's just say the relationship raised a few eyebrows. For starters, Marshall was almost 90-years-old, while Smith was only 26. However, he was a billionaire oil tycoon, which put the unusual relationship in perspective.
The relationship with Marshall also reunited Anna Nicole with her son, Danny, who had been raised by Smith's mother until he was six. Danny moved in with his mom and new stepdad, and according to the Daily Mail, Marshall promised Smith's mother that he'd take care of them for their "whole lives." Granted, their eventual marriage in 1994 caused Smith to be labeled a gold-digger in the media, but she wasn't ashamed to admit in interviews that she truly loved Marshall for the financial security he provided. Unfortunately, their nuptials wouldn't last for long.
After 13 months of wedded bliss (that was allegedly never consummated), Marshall died in 1995 from natural causes, and the nasty legal battle over his estate began. According to the Daily Mail, Marshall's family was not a fan of Smith, and they were even less thrilled with her claims that Marshall made an oral agreement to leave her half of his fortune. The two sides duked it out in court for almost two decades, and the fight over the oil tycoon's sizable wealth outlived both Smith and Marshall.
Her film career never took off
Not long after moving in with Marshall, Smith successfully parlayed her stripping career into the pages of Playboy, where her iconic buxom looks made her the 1993 Playmate of the Year. Smith also achieved mainstream recognition by appearing in New York Magazine, Harper's Bazaar, and Vanity Fair. She'd also try her hand at a film career, but with less-than-stellar results.
While Smith is probably best known for her role in Naked Gun 33⅓: The Final Insult, her acting career didn't exactly take off. She starred in just a handful of movies, most of which went straight-to-video, and the few television roles she landed were "largely maligned by critics," according to New York Daily News. Hollywood just wasn't willing to take Smith seriously as an actress.
Her nanny successfully sued her for sexual harassment
In the middle of trying to get her acting career off of the ground and battling her late husband's family in court, Smith was sued for sexual harassment by her son's nanny, Maria Cerrato. According to a New York Magazine report, Cerrato alleged that Smith coerced her into sexual intercourse by plying her with drugs, alcohol, and threats of deportation. Yikes.
To make matters worse, Smith also reportedly had several medical issues, which resulted in her doctor prescribing large amounts of painkillers. "Approximately three times the normal level." By that point, prescription drug abuse was already a problem for Smith. And in the case of the lawsuit, she repeatedly blew off depositions, causing an angry judge to rule against Smith by awarding the nanny over $700,000. Keep in mind, Smith was only in the early stages of her court battle with Marshall's family and had no guarantee to her half of his fortune. To put it more bluntly, Smith was broke, and the sexual harassment lawsuit forced the former Playmate into bankruptcy.
Her reality TV career only lasted two seasons
Despite setbacks with her film career and finances, Smith's fame found a second wind in the early 2000s reality television boom. Premiering on E! in 2002, The Anna Nicole Show became a guilty pleasure watch thanks to Smith's ditzy, and presumably heavily medicated persona. Unfortunately, the show only lasted two seasons, but not before cementing Smith's pop culture legacy. Granted, part of that legacy includes Smith's increasingly erratic behavior that ultimately led to her demise. Because even while achieving fame for the second time, Smith still had trouble catching a break. And it was all downhill for the blonde bombshell after her reality show was cancelled.
She made a disastrous appearance at the American Music Awards
While appearing at the 2004 American Music Awards, a noticeably impaired Anna Nicole slurred her way through presenting an award to Kanye West. At one point, Smith weirdly asked "Do you like my body?" and it became an awkward moment that defined her pop culture career.
However, ten years after her death, Smith's onetime paramour Larry Birkhead appeared on the Wendy Williams show and claimed that the troubled model had suffered two seizures the day before the AMAs, and she was placed on medication by a physician. But while Stern's intent was to defend Smith from accusations that her unusual behavior was caused by "street drugs," he also admitted that she probably didn't take the proper dosage of her prescription medication–which was not an uncommon occurrence for Anna Nicole.
The birth of her daughter sparked a major paternity battle
In September 2006, Smith gave birth to daughter Dannielynn while living in the Bahamas with her lawyer-turned-boyfriend Howard K. Stern, who believed himself to be the father. There was just one small problem: Several other men claimed to be Anna Nicole's baby daddy. According to the Daily Mail, they ranged from old boyfriends to Zsa Zsa Gabor's husband Frederic Prinz von Anhalt, who boasted of a decade-long affair with Smith.
Eventually, a DNA test proved that photographer Larry Birkhead–who had a "difficult," on and off relationship with Smith since 2004 — was the father of Dannielynn. Unbeknownst to Stern, Smith had allegedly texted Birkhead that he was the father and planned to include him in the birth. Instead, Smith fled to the Bahamas and Birkhead had to learn of his daughter's birth from Anna Nicole's website. But those circumstances were nowhere close to the biggest tragedy surrounding Dannielynn's arrival.
Her son died at the hospital while visiting his new sister
The days following Dannielynn's birth should've been joyous occasion. Not only was Smith the proud mother of a newborn daughter, but her son Daniel arrived in the Bahamas to visit his new baby sister–except Daniel's visit was tragically cut short.
Shortly after settling into his mother's hospital room, the worst possible scenario happened: Daniel was found dead. According to ABC News, autopsy reports revealed that he died in his sleep from a combination of methadone, Lexapro, and Zoloft. Medical experts said Daniel should not have been prescribed all three drugs at once due to their dangerous interactions, and questions arose about why he was on both Lexapro and Zoloft. The situation highlighted the dangers of improper prescription drug use, which would rear its head one more tragic time at the end of Smith's life.
She had a mock-wedding two weeks after her son's death
Considering she welcomed a daughter and lost a son within days of each other, it was understandable to be concerned about Anna Nicole's mental health, and those concerns only grew after she made headlines again. People reports that barely two weeks after the tragic incident in the Bahamas, Smith and Stern held a surprise wedding ceremony on a private yacht in the Bahamas. However, the couple never applied for a marriage license, so the wedding wasn't legally binding.
In fairness, guests noted that Smith needed the ceremony as a "little adrenaline boost" after everything the events of the past month.
"It was fun and Anna was smiling," said Dynasty actor John James. "Howard and Anna were both crying and kissing and holding hands. It was kind of sad and happy at the same time."
Much like her relationship with Marshall, Smith's faux-marriage to Stern was short-lived. Only this time, Anna Nicole wouldn't be the one left behind.
She died from accidental prescription drug overdose
On February 8, 2007, just six short months after the death of her son Daniel, Anna Nicole Smith was found dead in her hotel room at the Seminole Hard Rock Hotel & Casino in Florida. The official cause of death was "combined drug intoxication," and according to E! News, when detectives arrived at the scene, it wasn't pretty: the former bombshell was surrounded by prescription medications of questionable origins.
After his name was found on several of the prescription bottles, Stern immediately became a suspect in Smith's demise, and he spent years battling accusations in court that he was responsible for Anna Nicole's death. While he was ultimately convicted of two felony charges in 2010 for using fake names and obtaining prescription drugs under false pretense, any attempts to charge Stern with Smith's death have been dismissed, according to E! News.
Smith had battled substance abuse problems since her early days as a Red Lobster waitress in Texas. When a bout of the flu struck after she arrived at the Hard Rock in Florida, Anna Nicole did what she always did: took way too many pills and waited for her body to sort things out. Only this time, her weakened immune system couldn't handle the potent cocktail of sleeping pills and muscle relaxers, and at age 39, Anna Nicole became another Hollywood starlet who was gone way too soon.