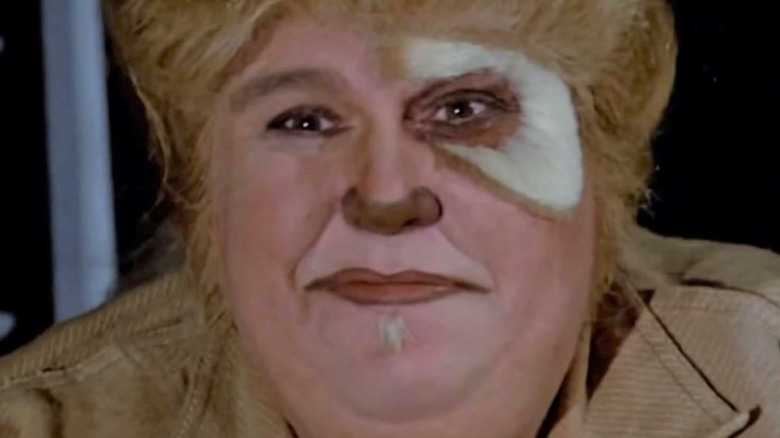 Though it's sometimes disregarded by critics as one of Mel Brooks' lesser films, as far as we're concerned, it doesn't get much funnier than "Spaceballs." A loving spoof of the "Star Wars" film series, this delightfully silly romp is endlessly rewatchable. Not only does a decent chunk of the humor hold up to modern sensibilities, but so do the visuals, most likely because the company that did the post-production effects for the film — Industrial Light and Magic — is the same group of folks who worked on the actual "Star Wars" movies. Seriously, do yourself a favor and check this thing out on Blu-Ray. For a film from the 1980s, these sets and costumes are, at times, confusingly good-looking.
But sadly, since this film came out in 1987 — well over 30 years ago at this point — a fairly large portion of the cast is no longer with us. And there's a fair chance that with some of these actors, you didn't hear much about it when they passed away. That's because much of the "Spaceballs" cast is made up of lesser-known characters actors who aren't especially famous nowadays. There are a few notable stars in the cast whose deaths you definitely would've heard about, but most of the others, their passing probably wasn't a huge news story. That's why today, we're running down all the "Spaceballs" cast members who are sadly no longer with us and paying a brief tribute to each of them. May the Schwartz be with them all.
Joan Rivers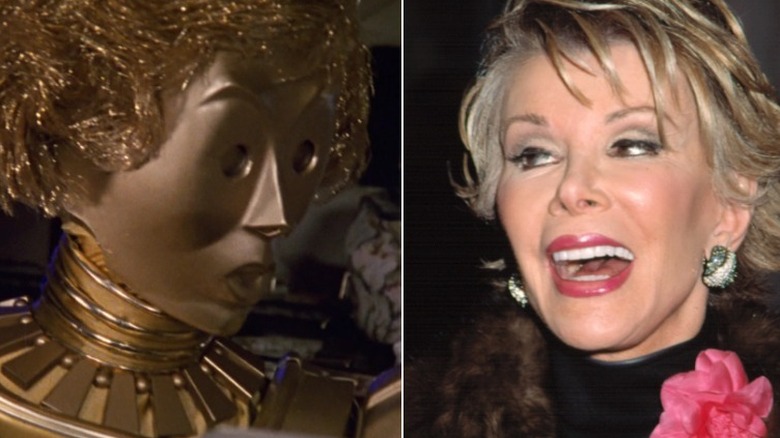 Look, if you're doing a "Star Wars" spoof, you're gonna need a robot sidekick. In "Spaceballs," this takes the form of Dot Matrix, Princess Vespa's "Droid of Honor." Though she looks like a fem C-3PO, Dot's personality couldn't be more different. In fact, this sassy and defiant droid probably sounds a lot more like how we imagine R2-D2 would sound if he could talk. And who was chosen to voice this wisecracking character? Who else but Joan Rivers.
Fearless and controversial, comedian Joan Rivers was famous for humor that was largely based around insulting people, both herself and others. In addition to a long and successful career in standup comedy, Rivers was the host of many television programs over the years, including "The Late Show," "The Joan Rivers Show," and "Fashion Police." Later in life, she was also the focus of the critically acclaimed documentary "Joan Rivers: A Piece of Work."
On August 28, 2014, Joan Rivers went in for what was supposed to be a minor procedure at Yorkville Endoscopy in New York City. However, unexpected complications arose, and she was transferred to Mount Sinai Hospital, where she died a week later. It was believed by some that mistakes made by the clinic may have been a contributing factor in Rivers' death, so the Rivers' family ended up filing a medical malpractice lawsuit against the clinic. In 2016, the two sides finally settled out of court.
Dick Van Patten
Younger film fans might not be able to identify the actor who played King Roland, Princess Vespa's well-meaning yet ineffectual father, but Americans who came of age in the '70s and '80s will almost certainly recognize him as Dick Van Patten, an actor who's best known for his role as Tom Bradford, the father in "Eight Is Enough."
Van Patten's appearance in "Spaceballs" wasn't his only collaboration with Mel Brooks. He also played the abbot in "Robin Hood: Men in Tights," and he was Dr. Philip Wentworth in "High Anxiety." Van Patten also had a long career in Hollywood outside the world of comedy, appearing in numerous iconic films like "Westworld," "Soylent Green," and "Charly," the film adaptation of the short story "Flowers for Algernon." A true workhorse of an actor, Dick Van Patten continued to receive steady acting gigs right up until his last few years of life, appearing in comedy TV shows such as "Arrested Development," "That '70s Show," and "The Sarah Silverman Program."
Van Patten was also, famously, a big animal lover. He co-founded the pet food brand "Natural Balance" in 1989, a brand that markets itself as essentially health food for pets. He also famously donated the money he made from the sales of his autobiography to an organization that trains guide dogs. Sadly, Dick Van Patten died on June 23, 2015, at 86 years old, due to complications from type 2 diabetes.
Ronny Graham
One of the many funny minor roles in "Spaceballs" is the character of the short-tempered minister who tries repeatedly to marry Princess Vespa and Prince Valium but continually gets interrupted. You probably recall his most memorable moment at the end of the film, when he finally marries Vespa and Lone Starr in perhaps the shortest wedding ceremony of all time, saying "Do you? … Do you? … Good, you're married. Kiss her."
What you might not know, however, is that the actor portraying the minister, Ronny Graham, is also one of three screenwriters of "Spaceballs," along with Mel Brooks and playwright Thomas Meehan. He also co-wrote "To Be or Not to Be" and had small roles in several other Mel Brooks films, including "History of the World, Part 1," "To Be or Not to Be," and "Robin Hood: Men in Tights." Outside his work with Brooks, Graham also wrote multiple episodes of "M*A*S*H" and "The Brady Bunch Variety Hour," and he wrote the lyrics for the musical "Bravo Giovanni," which was nominated for three Tony Awards.
And believe it or not, "Spaceballs" wasn't Graham's only well-known appearance as a character who gets increasingly frustrated by being forced to repeat a simple task. He portrays the beleaguered crew member who repeatedly drops the clapperboard in the famous 1969 "spicy meatball" ad for Alka Seltzer.
Ronny Graham died of liver disease at age 79 on July 4, 1999.
Dom DeLuise
A fairly minor antagonists in "Spaceballs" — who is nonetheless totally unforgettable — is the alien crime boss Pizza the Hutt. We don't get many details about Pizza's backstory. All we know is that our hero Lone Starr owes him some serious dough. The voice actor who brought this greasy gangster to life was the legendary Dom DeLuise, a regular fixture of Mel Brooks films, including "The Twelve Chairs," "Blazing Saddles," "Silent Movie," "History of the World, Part I," and "Robin Hood: Men in Tights."
But Brooks wasn't the only famous celeb that Dom Deluise regularly collaborated with. Deluise frequently acted alongside his real-life friend, Burt Reynolds, in films like "The Cannonball Run," "Smokey and the Bandit II," "The Best Little Whorehouse in Texas," and the controversial dark comedy "The End." He also lent his voice to many of the films of Don Bluth, such as "The Secret of NIMH," "An American Tale," and "A Troll in Central Park." Once, DeLuise even collaborated with both Reynolds and Bluth in the same film. Reynolds and Deluise voiced a pair of dogs who were best friends, Charlie B. Barkin and Itchy Itchiford, in Don Bluth's "All Dogs Go To Heaven."
On, May 4, 2009, after battling cancer for a year, Dom Deluise passed away due to kidney failure. After his passing, Mel Brooks was quoted as saying, "[Deluise] created so much joy and laughter on the set that you couldn't get your work done. So every time I made a movie with Dom, I would plan another two days on the schedule just for laughter." It makes sense why Brooks would want to cast a man like that as Pizza the Hut. Based on his description, it sounds like it was in DeLuise's nature to be cheesy.
Rick Ducommun
Perhaps the most subtly delightful thing about "Spaceballs" is the fact that even the smallest supporting roles are played by notable actors and comedians, though it might be somewhat tough to recognize them when they're wearing giant plastic balls on their heads. Among the familiar faces that have been conscripted into Dark Helmet's ranks are character actor Stephen Tobolowsky, voice actor Rob Paulsen, and actor Tim Russ, who played Tuvok on "Star Trek: Voyager."
One notable Spaceball who's sadly no longer with us is Rick Ducommun (pictured right). In addition to a long career in standup comedy, Ducommun also played countless small bit parts in a wide variety of classic films from the '80s and '90s, such as "Die Hard," "Groundhog Day," "The Hunt for Red October," "Gremlins 2: The New Batch," "The Last Boy Scout," and "Encino Man." His most notable role was most likely in the 1989 dark comedy "The Burbs," where he played Tom Hanks' eccentric motormouth neighbor, Art Weingartner. Ducommun also had a sizable part in the 1994 family comedy "Blank Check," in which he played Henry, the child hero's faithful chauffeur and wacky sidekick.
Rick Ducommun died on June 12, 2015 at just 62 years old. According to his wife, Leslie, the cause was "serious complications from diabetes."
Jack Riley
Among the many memorable bit parts that occur throughout "Spaceballs" is the minor role of the newscaster who announces the death of Pizza the Hutt, played by actor Jack Riley. It's a relatively short scene, and one of the funny things about it is the fact that the newscaster has to drastically change his tone on a dime, first making lighthearted jokes, then talking about death, and then returning once again to jokes. It causes a sort of tonal whiplash that's somewhat unavoidable whenever you discuss death and comedy in close proximity.
Jack Riley got his start on the radio, on "The Baxter & Riley Show" in Cleveland, Ohio. After moving into to TV acting, Riley scored one of the more notable roles in his career on the "The Bob Newhart Show," where he played the neurotic and misanthropic Elliot Carlin. After that, Riley continued to appear in countless shows across many decades of television, including "M*A*S*H," "Hogan's Heroes," "The Mary Tyler Moore Show," "Diff'rent Strokes," "Night Court," "Seinfeld," "Friends," and "That '70s Show." His other appearances in Mel Brooks films include parts in "High Anxiety," "History of the World, Part I," and "To Be or Not to Be." And for all you '90s kids out there, Riley also notably voiced the character of Stu Pickles in the cartoon "Rugrats."
In 2016, at 80 years old, Jack Riley died of pneumonia.
Bryan O'Byrne
During Princess Vespa's first attempt at marrying Prince Valium, the man playing the pipe organ in the background might strike you as having somewhat of a familiar face. However, you'll probably find him somewhat difficult to place. This is partially because he's wearing robes, instead of his usual suit and tie, and partially because we don't get a chance in this film to hear his trademark high-pitched voice.
This actor is a man named Bryan O'Byrne, a veteran character actor who has played the part of various high-strung white-collar pencil pushers in pretty much every hit tv show from the '60s and '70s, including "The Munsters," "Get Smart," "Batman," "Murder, She Wrote," "Happy Days," "The Bill Cosby Show," "The Partridge Family," "Sanford and Son," and "Gunsmoke." He also made countless appearances in commercials. For a while there, if you needed a remarkably unremarkable bald man, Bryan O'Byrne was the man for the job. Outside of his acting career, Bryan O'Byrne was also an acting coach, who helped launch the careers of many famous actors, including the likes of Nick Nolte and Christopher McDonald.
Bryan O'Byrne died on December 4, 2009, at 78 years old. The cause of his death was not made public.
Felix Silla
Midway through "Spaceballs," Lone Starr's Space Winnebago runs out of fuel and is forced to crash land on a desolate planet. After wandering the desert for a while and passing out due to heat and dehydration, our heroes are rescued by the Dinks, a friendly group of little aliens in sparkly robes. One notable Dink is played by a man named Felix Silla (pictured in the center). Though you might not know his face, you certainly know his work, as Silla has played the parts of many inhuman creatures in science fiction and fantasy movies and TV shows over the years, typically buried under many layers of costuming and visual effects
Silla was born in Italy in 1937 and got his start as a circus performer. He later found his way into Hollywood, where he found consistent work as an actor and stunt performer. Notably, he played Cousin Itt in the "Addams Family" television series, the robot Twiki in "Buck Rogers in the 25th Century," and a penguin in "Batman Returns. He also played an Ewok in "Return of the Jedi," making him perhaps the only actor who has appeared in both "Star Wars" and "Spaceballs." In one of his few notable appearances outside a monster costume, Silla gives a surprisingly commanding performance as the villainous Litvak in "The Black Bird," an otherwise unimpressive comedy sequel to "The Maltese Falcon."
Felix Silla passed away on April 16, 2021, at age 84, due to pancreatic cancer.
Lorene Yarnell
Sometimes in sci-fi films, it takes two or more actors to bring a character to life. When suits or heavy makeup are involved, you'll often have one actor who supplies the voice and another who provides the physical performance. In the case of Dot Matrix, Joan Rivers may have voiced the character, but the person wearing the suit was actress, dancer, and mime Lorene Yarnell.
Yarnell is best known as one half of "Shields and Yarnell," a mime duo that consisted of her and her husband, Robert Shields. The pair were quite famous in the '70s and '80s for their appearances on programs such as "The Muppet Show," "The Tonight Show," and "Wonder Woman." And if you've ever seen Yarnell in her prime, then you know why she was the clear choice for the role of Dot. In her work, Yarnell consistently displayed a truly astounding degree of control over their body. In fact, if Mel Brooks had decided to not give Yarnell a costume at all for the role of Dot, we're pretty sure her performance as an automaton would've been just as convincing.
Later in life, after her marriage with Robert Shields ended, Lorene Yarnell moved to Norway. It was there that she eventually died, at age 66, due to a brain aneurysm. Reflecting on the life of his former partner, Robert Shields said, "I'm devastated by her death. Lorene was an incredibly gifted and magical person."
John Hurt
Just when you think "Spaceballs" has shown you everything it has to offer, in the last few minutes of the film, we're unexpectedly treated to one of the most mind-blowing cameos in movie history. As Lone Starr and Barf are grabbing a quick bite at a diner, suddenly, another patron seems to be having some digestive trouble. You might not believe your eyes at first, but yes, that is indeed beloved English actor Sir John Hurt, apparently reprising his role as the character of Kane from the movie "Alien." And then, the same thing happens to him in "Spaceballs" as it does in Ridley Scott's horror classic. His body seizes up, he falls onto his back, and an alien bursts forth out of his stomach. Before he slips away into unconsciousness, Hurt mutters, "Oh, no. Not again."
In addition to his part in "Alien," John Hurt is also famous for starring in moody epics like "1984" and "The Elephant Man," the latter of which was also produced by Mel Brooks. From there, Hurt went on to play many memorable roles in science fiction and fantasy films. He voiced the villainous Horned King in the Disney film "The Black Cauldron," played the wand salesman Ollivander in the "Harry Potter" films, and played Hellboy's adoptive father in Guillermo del Toro's "Hellboy" films. Later in life, Hurt also delivered some truly heartbreaking dramatic performances in various dark and artsy dramas like "Tinker, Tailor, Soldier, Spy" and "Only Lovers Left Alive."
On January 25, 2017, at age 77, John Hurt passed away, two years after he was diagnosed with pancreatic cancer.
John Candy
The first cast member of "Spaceballs" to tragically pass away was the wonderful comedic actor John Candy. In the film, Candy plays Lone Starr's co-pilot — Barf the "Mawg," a half-man, half-dog. He's clearly an homage to the character of Chewbacca, but in this film, our hero's canine co-star actually gets to talk. Why else would you cast John Candy? And also, since he isn't wearing a mask, we get to see his beautiful face!
John Candy rose to prominence on the sketch comedy show "Second City Television," better known as just "SCTV." He then moved into film, appearing in supporting roles in films such as "The Blues Brothers" and "Heavy Metal." After delivering a hilarious breakout comedy performance in the movie "Splash," Candy went on to have prominent parts in many notable films of the '80s and early '90s, such as "JFK," "Cool Runnings," "Uncle Buck," and "Planes, Trains and Automobiles."
By 1994, Candy was still very much a man who was in the prime of his life at the top of his game. But then, on March 4, his life was cut tragically short. During production of the film "Wagons East," John Candy suffered a heart attack and died at just 43 years old. In addition to having a history of heart disease in his family, Candy had multiple unhealthy habits that may have contributed to his death, including frequenting binge eating, smoking a pack of cigarettes a day, and a history of cocaine use.