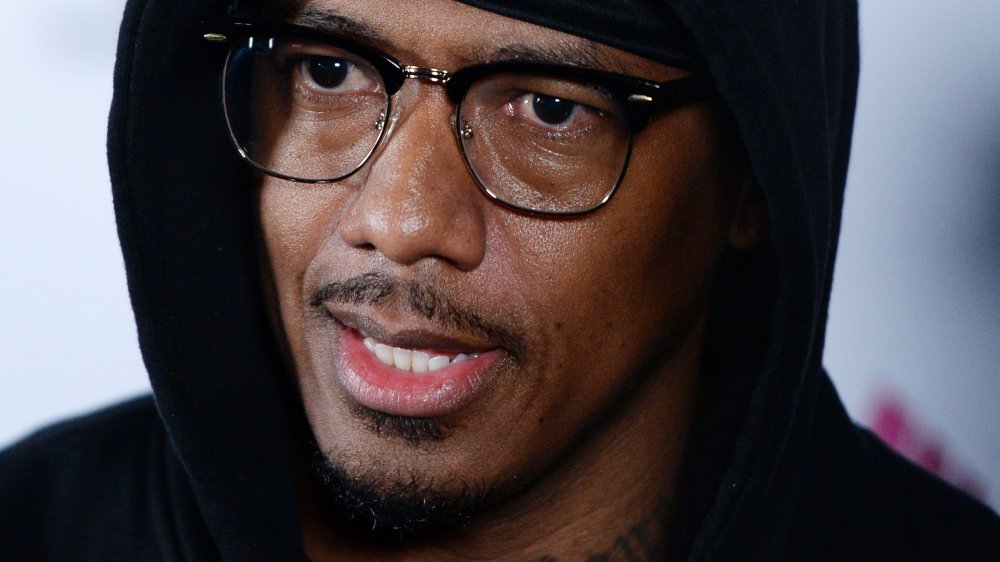 Nick Cannon may not be your traditional A-list star, but he has been working in the entertainment biz full-time since the mid-'90s. Getting his start as a stand-up comic, Cannon landed his breakout role at just 18 when he was cast on Nickelodeon's comedy sketch show, All That (which also starred Amanda Bynes), in 1998. That gig soon paved the way for his own Nickelodeon spin-off series, The Nick Cannon Show, which premiered in 2002.
Over the years, while pursuing his career in Hollywood, Cannon also tried his hand at making music and acting on the big screen, but TV has always been his real money maker. From 2005 till 2020 he was at the helm of MTV's Wild 'N Out, hosting and executive producing, and he's also hosted two wildly popular shows: NBC's America's Got Talent and FOX's The Masked Singer. Cannon's high-profile marriage to Mariah Carey also helped place him in the spotlight and, when all is said and done, his estimated net worth as of July 2020 was a cool $30 million.
For all of his successes, however, Cannon has spent more time in the news for the wrong reasons than for his wins. It's time to unmask the shady side of Nick Cannon.
Nick Cannon donned 'white face' and defended it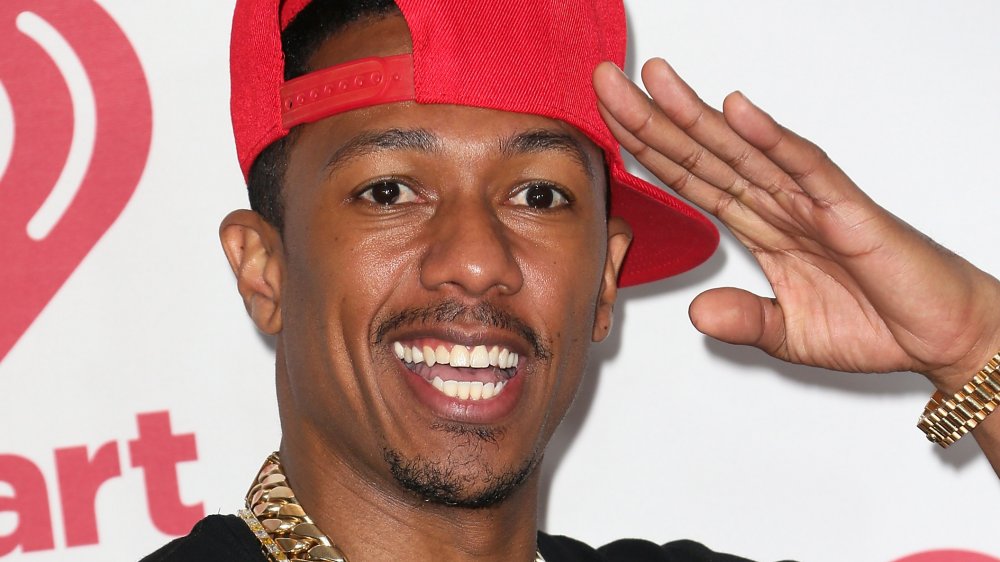 Back in March 2014, Nick Cannon announced that he'd be dropping a new album on April Fool's Day which, as The Guardian noted, was "controversial by design." Not only did the record's name — White People Party Music — raise eyebrows, but Cannon pushed the envelope further when he dressed up as a White character called "Connor Smallnut" to promote its release. In a since-deleted Instagram photo, Cannon showed off white skin and red hair and wrote, "It's official… I'm White!!!" He went on to add a bunch of racial stereotypes masked as hashtags, including "#FarmersMarkets #FistPumping #CreamCheeseEating."
While some fans found it funny, others were quick to call him out for his racist humor. As Good Morning America noted, the persona "sent the internet into overdrive" as Cannon was accused of donning whiteface. Rather than apologizing, the reality TV host defended his humor on Twitter, writing, "Hold up… What the f*** is "White Face"??? Did I just create a new term??? Nice!!! LOL," he joked. "It's funny how people take themselves so seriously," he continued in a follow up tweet. He kept going, showing zero remorse by adding, "I didn't know it was going to be this hard being White! I'm exhausted with all this 'privilege' LOL."
Cannon later justified the Instagram post, as well as the album itself, on GMA, saying, "I was doing a character impression. Blackface is about oppression." He added, "There's a big difference between humor and hatred."
Behind Nick Cannon's scandalous AGT exit
In 2017, Nick Cannon left his America's Got Talent hosting gig after 231 episodes between 2009 and 2016. It wasn't a career move, however. According to a lengthy Facebook post, Cannon claims he was "threatened with termination by Executives because of a comedy special that was only intended to bring communities closer together."
Said special was Showtime's Stand Up, Don't Shoot in which, according to The Hollywood Reporter, Cannon went after NBC, saying, "Once I started doing America's Got Talent, they took my real n***** card." He also proclaimed that NBC stands for "N****** better come on, 'cuz n****** be cussin', so n****** be careful" and told the audience, "Sometimes I wish I could say the stuff that I want to say […] but I can't say that. I can't talk like that 'cuz that would mess up the White money."
When Howard Stern asked Cannon if he was worried about losing his job over the comments, he laughed, "If they fire me from AGT [because of] the things I've said, then I can sue them and I can create a whole controversy — 'NBC hates black people!'" Unfortunately, those threats fell on deaf ears. Venting his feelings on Facebook, Cannon refused to acknowledge that he may have offended NBC, saying he didn't care about the network's money and that his "soul won't allow [him] to be in business with corporations that attempt to frown on freedom of speech, censor artists, and question cultural choices."
Cheating is NBD to Nick Cannon
After Christina Milian and Nick Cannon co-starred in 2003's Love Don't Cost a Thing, they dated for a few years until Milian discovered some incriminating dirt on her man. Taking a walk down memory lane in 2019, the songstress revealed on E! News' Just The Sip how she broke into her then-boyfriend's phone because "the password somehow worked on the first check. Then next thing you know, for like a month I was reading messages," she recalled. Calling him her "first love," Milian admitted it was a difficult truth to swallow. "It was unreal that it was happening. He was living at my house … and it was just like, 'Wait, under my own roof this is happening?' It kind of blew me away," she concluded.
Cannon decided to address Milian's confession, but rather than offering an apology, he got fired up, telling Power 106, "I don't think I did anything wrong. I wasn't cheating, you got to be in a relationship to cheat," he slammed, before placing the blame on his ex, saying, "If you go looking for something, you gonna find something." Cannon's comments only got more cringeworthy from there. "If I am careless enough to allow myself to get caught, then that means I wanted to get caught," he added. "The word is careless. You know what careless means? I could care less." Asked what his easily hackable phone password was, he quipped, "0-0-0-0. I didn't give a damn!"
Nick Cannon's feud with Eminem got real petty, real fast
While Nick Cannon and Mariah Carey were married, Cannon got dragged into his wife's feud with Eminem when the latter released "Bagpipes From Baghdad" in 2009. On the track, Marshall Mathers asked, "Mariah, what ever happened to us?" and rapped, "Nick, you had your fun, I've come to kick you in your sack of junk." Not one to remain silent, the TV personality responded with a since-deleted Tumblr post. He wrote (via Billboard), "I don't know why no one has stood up to your b**** a** yet. But I guess it's going to take a corny, wack rapping, boy toy from Nickelodeon to set you straight."
Things sure got corny when Em poured oil on the fire with 2019's "Lord Above" and Cannon fired off some seriously weak comebacks, including his own widely panned diss track, which we'll get to in a moment. Cannon also said on Power 106 (via E! News), "We should change his name from Eminem to Percocet. What's the pill old people use? We are going to call him Cialis. Bring your walker, get out your wheelchair Eminem and pop whatever you want to pop," he quipped. Cannon also challenged "Grandpa Marshall" via Instagram to "battle like a real legend" on MTV's Wild 'n Out.
Despite the fact that his jabs have never quite hit the mark, Cannon confidently told Billboard in 2020 that he had won the feud. "I think he knows better now," he proclaimed. "If he keeps talking about me, I'm gonna keep talking back."
Is Nick Cannon homophobic?
Nick Cannon's feud with Eminem reached new lows when Cannon released "The Invitation" in which he went after Em's daughter, Hailie, then rapped, "I heard your chauffeur got a video of you suckin' a c***. You paid him off, then laid him off, now who really the opp?" While Em took the lyric as a joke, tweeting back, "I never even had a chauffeur, you bougie f***," others accused Cannon of being homophobic.
When DJ Vlad asked Cannon about that line, he told fans that while he had "no substantial evidence" to back up his rhyme, he was inspired by the fact that "there is that rumor out there that he's very promiscuous with his sexuality" and, in the end, decided to record the diss because he thought "the rhyme scheme" was "dope." He then assured listeners that he wasn't homophobic because "I'm not scared of him sucking d***. There's nothing scary about it, if that's what you like."
In addition to that interesting logic, he admitted to dragging out his feud with Eminem because he liked the attention. "I have a brand new morning radio show that's doing very well. I have a great hip-hop battle rap television show that's doing very well. Ooh, let's use this," he explained. "He got them fans. He got them stans. Let's go get this attention." Adding that he "got a whole new group of followers now because of this process," he concluded that his scheme "worked tremendously."
Nick Cannon aired out his dirty laundry in a song
Nick Cannon and Mariah Carey split in 2014 and finalized their divorce in 2016 and, along the way, they vowed to keep a healthy relationship for the sake of their twins, Moroccan and Monroe. Cannon even tweeted, "I will never say anything negative about [Mariah Carey] We are forever a family rooted in love." And yet, he appeared to do just that with his 2016 freestyle, "Divorce Papers."
"When the world hate you because of what she sing about, I should've listened to y'all tips — bring 'em out," Cannon raps, clearly talking about his ex. He then asks, "What happened to the rings? Did she fling 'em out?" before addressing his custody agreement, making it clear he's unhappy with it. "My daughter said 'Daddy why yo' eyes in tears?'" he starts. "Because the last time I dropped you and your brother off I didn't get a call next day and it felt like years." He then spits "it's f***** up that the time that you spend with your own kids is called 'visitation.'"
Not surprisingly, most listeners thought Cannon was dissing his ex-wife, but he assured entertainment blogger Karen Civil that the "purpose for creating this 'Divorce Papers' freestyle was not to feed the tabloid chatter, or even to diffuse it." He further argued, "This was strictly a creative way for me to express my frustrations with the media, the naysayers, myself and ultimately with the voices in my head."
He got his ex pregnant while 'on a break' from his girlfriend
In February 2017, Today confirmed that Nick Cannon and his ex-girlfriend, Brittany Bell (above middle), had welcomed their first child together, a son named Golden "Sagon" Cannon. Jump to July 2020 and Bell revealed on Instagram that she was expecting again and that yes, the baby daddy was none other than her ex, Nick Cannon. "Cannon ball," she captioned the snap showing off her bump.
Just a month before, Cannon's other ex, model Jessica White (with whom he was first linked in 2015), shared a photo of her and the Masked Singer host, captioned, "Always been the love of my life always will be. REAL love can never be broken. You are me and I am you for eternity. @nickcannon you are a king always remember that s***." If that timeline seems confusing, don't worry, you're not alone.
White eventually set the record straight, explaining on Instagram (via Madame Noire), "Nick and I have been together off and on for years. Their new child was conceived when we had temporarily broken up." Adding that "any child is a blessing," she assured that she wasn't a "home wrecker at all," and that "Nick was a free man at that time and can be with whoever he so chooses and for years that person has always been me." She concluded that she supports him "through thick and thin." Meanwhile, Cannon has been completely silent about the matter, allowing his partners to do all of the talking.
Nick Cannon keeps throwing shade at celebs for no reason
While taking over hosting duties on The Wendy Williams Show in February 2019, Nick Cannon used his guest-hosting gig as an opportunity to slam a whole slew of celebs for no apparent reason. First, he went after Ariana Grande, saying he had just hung out with her ex, his "little brother, Pete Davidson," and that they were "having cougar conversations." Proudly revealing that he was "the one that told him, 'Get you an older woman, man,'" Cannon shaded Grande, saying, "Them little pop stars, they don't know! They getting Japanese menus tattooed on their backs … I'm joking, but that is Ariana Grande's hand," he justified, showing the pop star's infamous misspelled Kanji tattoo. "That's some young girl stuff," he slammed.
Later in the same show, he dissed Mariah Carey's former nemesis, Jennifer Lopez, by using Carey's classic line — "I don't know her" — and even went after Kylie Jenner, saying (via Hollywood Life) that he'd rather his daughter grow up to be like Danielle Bregoli aka Bhad Bhabie than Jenner. "This girl [Danielle] might have a bad mouth, she needs some guidance, she needs a whoopin,'" he reasoned. "But, at the same age, Kylie Jenner was getting plastic surgery." To be fair, Jenner has never actually confirmed getting any cosmetic procedures done other than lip fillers.
The subtle way Nick Cannon shaded Terry Crews
After Gabrielle Union was dismissed from her judging duties on America's Got Talent after just one season, she revealed that she had allegedly been let go because she complained about a "toxic" work environment, which included being told her hairstyles were "too black" and overhearing racist jokes that went unpunished. Cannon, who was ousted from the same show, spoke out in support of Union, telling VLADTV, "Gabby's my girl […] I've been standing firmly with her."
Meanwhile, Terry Crews, who had taken over hosting duties, told Today that his experience on AGT was nothing but positive. "I can't speak for sexism because I'm not a woman, but I can speak on behalf of any racism comments," he began, saying, "That was never my experience on America's Got Talent. In fact, it was the most diverse place I have ever been in my 20 years of entertainment."
Cannon was none too impressed with Crews' refusal to take Union's side, so he fired back, implying his successor's opinion was wrong. "I love Terry Crews, but it gets to that place, again, it's an institutional thing, so I'm not blaming him," he began, saying, "We get excited about the occupation. We get excited to work for the man and we gonna defend the man because he gave me a job." Cannon then suggested that Crews should have unconditionally backed up Union, as Cannon claims he did when Crews claimed he was sexually assaulted by Cannon's then-agent Adam Venit.
The bizarre rant that got Nick Cannon cancelled
In June 2020, Nick Cannon was interviewing Professor Griff (who, as Forbes notes, was thrown out of Public Enemy after making anti-Semitic comments in 1989) on a since-deleted episode of Cannon's Class when he went on a bizarre racist rant, calling Jewish and White people "savages," as per The National Post.
"The people that don't have [melanin] are a little less," Cannon proclaimed. "When they were sent to the mountains of Caucasus […] the sun then started to deteriorate them, so then they're acting out of fear," he continued, saying, "These people that didn't have what we have — and when I say we, I speak of the melanated people — they had to be savages." The comments only got worse, as Cannon added, "They're acting as animals so they're the ones that are actually closer to animals. They're the ones that are actually the true savages."
Cannon's rant also included anti-Semetic statements in which, as Forbes reported, he called Black people the "true Hebrews," proclaiming, "It's never hate speech, you can't be anti-Semitic when we are the Semitic people. When we are the same people who they want to be," he told listeners, claiming, "That's our birthright. We are the true Hebrews."
Nick Cannon apologized, then demanded his own apology
Shortly after Nick Cannon's racially-charged comments went viral, ViacomCBS fired him from hosting MTV's Wild 'n Out, telling Variety it "condemns bigotry of any kind," and saying they "were deeply troubled that Nick has failed to acknowledge or apologize for perpetuating anti-Semitism."
Cannon did eventually apologize, tweeting, "I extend my deepest and most sincere apologies to my Jewish sisters and brothers for the hurtful and divisive words that came out of my mouth." Noting that he has since deleted the interview, he added, "I want to express my gratitude to the Rabbis, community leaders and institutions who reached out to me to help enlighten me, instead of chastising me."
Cannon then turned to Facebook where he forgot all about his penance. Claiming that "the moment was stolen and hijacked to make an example of an outspoken Black man," Cannon wrote he was "disappointed that Viacom does not understand or respect the power of the Black community." Claiming he "created a billion-dollar brand," he went on to say his "ownership [of Wild 'N Out] was swindled away from me. For Viacom to be so deceptive is no surprise; they have been mistreating and robbing our community for years," he accused. Saying the network was "now on the wrong side of history," Cannon added he'd "pray" for them, demanded full ownership of the show, and concluded, "I demand that the hate and back door bullying cease and while we are at it, now that the truth is out, I demand the Apology!"