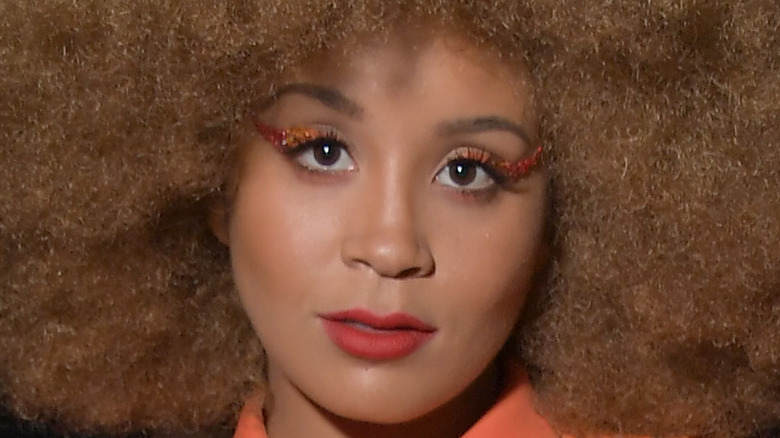 Celebrities are obviously endlessly fascinating — they're usually more talented and better looking than the general population, and they were able to capitalize on their advantages and privileges and make themselves wildly famous and rich, too. The rest of us want to know everything we can about these special individuals, particularly their personal, non-work lives. We're collectively particularly interested in their families, as well as if their children similarly won the genetic and skills lotteries.
Vanessa Williams has been a well-liked public figure for nearly 40 years. Arguably the most famous person to ever wear the Miss America crown, she's had success as a pop singer, actor, and professional attractive human (via her website). It stands to reason that the world would also maintain a passing interest in her children. Williams has a few kids, but the most famous and notable-in-entertainment of her offspring is daughter Jillian Hervey, born in 1987 when the singer/actress was married to record industry veteran Ramon Hervey (per The Telegraph). The younger Hervey has enjoyed an increasingly high stature, delving into movies, modeling, and particularly music. Here's everything there is to know about rising star, and grown kid of a celebrity, Jillian Hervey.
Jillian Hervey has a very famous mother (and some other notable relatives, too)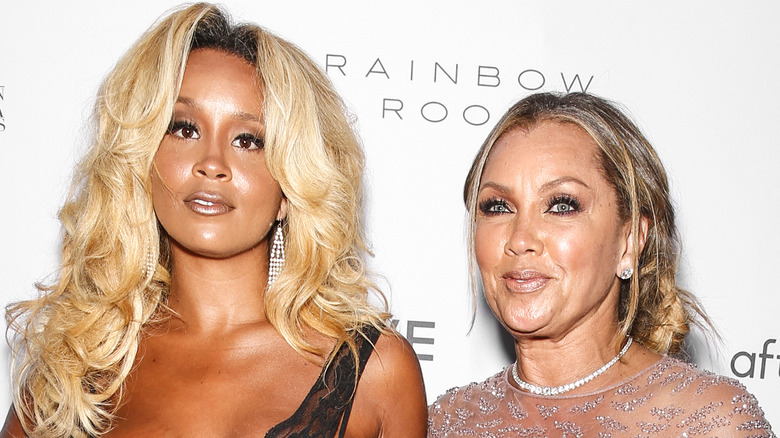 Jillian Hervey is a second-generation celebrity, although the average fan likely wouldn't know that from her non-famous-person last name. Her father is Ramon Hervey, a music industry veteran who worked variously as a music publisher editor, record label publicist, Motown Records writer, and music company executive. He also managed many major artists including former Miss America-turned-"Save the Best for Last" and "Colors of the Wind" hitmaker, Vanessa Williams, to whom he was married from 1987 to 1997. They had three kids together, including Jillian. (Hervey's lineage of important people goes back even farther than her parents — she's a descendant of William A. Fields, a formerly enslaved person who, after the Civil War, became one of the first elected Black people in the U.S., serving in the Tennessee state house.)
So Hervey has prominent parents, particularly her mother, but she doesn't use the "Williams" name professionally to garner any recognition via association. And that's a calculated move, part of Hervey's plan to find success on her own merits. "Some people do not know who my mom is, and that is the main thing. I just want to come out and show people who I am, and if they figure it out, it is a fun fact later," Hervey told Page Six in 2017. She added to gal-dem in 2019 that she doesn't think Williams' "career or journey needs to be part of" her professional arc.
Jillian Hervey could have been an actor
Long before forging a career as a singer and musician via the genre-bending duo Lion Babe, Jillian Hervey considered pursuing a career as an actor – one of two creative fields in which her mother, Vanessa Williams, had been successful. At the age of 11, Hervey took on what is, as of 2021, her only acting role. In the 2000 historical romantic drama "The Courage to Love," starring Vanessa Williams as a deeply religious 19th century woman reluctantly falling into a potentially scandalous relationship with "Ally McBeal" star Gil Bellows, Hervey briefly appeared as "French Student."
However, Hervey found that acting didn't suit her, but Hollywood wasn't about to lose her to the world of music. Half a decade later, according to The Telegraph, producers of the hot 2000s-era teen soap "Gossip Girl" offered Hervey a role, which she politely turned down. By that point, she'd realized she wanted to pursue a career more aligned with music, and that acting would be a distraction from that.
Jillian Hervey could have been a guitarist or a dancer
Jillian Hervey obviously figured out how she wanted to be a creative professional, as she's the singer for the musical duo Lion Babe. But well over a decade prior, Hervey explored some other musical and performance pathways. "I've been playing guitar since I was 11," she told Interview magazine. "In high school, we'd go to our friend's crib that had a drum set and amps and just play music. I always wanted to get into beats, but it was intimidating because the technology is a learning curve." Hervey also told The New York Times Magazine in 2014 that "it was inevitable for me to be in the arts," and that "the goal was always to be creative for a living."
Until the 2010s, when Hervey was in her twenties and figuring out what Lion Babe was going to be about, Hervey planned on pursuing a career as a professional dancer, having studied movement at The New School in New York City. Then her dancing prowess directly led to a boost in her singing career. According to Complex, super-producer and musician Pharrell Williams saw the 2012 video for Lion Babe's first single, the independently released "Treat Me Like Fire." In the video, Hervey stalks and dances through grasslands and a cave. Clearly impressed, Williams flew the duo to Miami where they recorded the single "Wonder Woman."
This is how Jillian Hervey formed Lion Babe
Around 2009, according to the BBC, Jillian Hervey met musician and producer Lucas Goodman at a college party at Northeastern University in Boston (per AllMusic). There she told him she liked his music, which at the time Goodman was recording under the name Astro Raw. They didn't stay in touch outside of MySpace, but then Hervey started attending college in New York City. "I had to do a piece for school with original music — and Lucas was the only producer I knew," she recalled.
The collaboration went well, and before long Hervey and Goodman were recording music in Hervey's apartment — her singing, and him improvising beats. Their first single in 2012 was also their "first attempt at making a real song," a track called "Treat Me Like Fire" credited to Lion Babe, an act the two musicians describe as "futuristic nostalgia," but which incorporates elements of soul, R&B, rock, dance, and electronic styles.
Lion Babe was off and running, releasing a slew of singles and albums in the 2010s. The duo has had its biggest commercial success in France, where "She's a Lady" (a cover of the Tom Jones classic) hit #65 in 2016; additionally, "Hourglass," a Disclosure song featuring the band, hit the lower rungs of the French pop chart as well.
Jillian Hervey's band experienced a lot of record label drama
The methods by which Jillian Hervey has released music with Lucas Goodman as the duo Lion Babe have been complicated, singular, and a little confusing. According to Euphoria, the band's debut single was the independently released "Treat Me Like Fire," which incorporated a '70s soul sample, showcased Hervey's formidable pipes, and boasted a viral music video. Major label Interscope Records signed Lion Babe, and released a string of singles in 2013 and 2015, but then didn't send out the duo's album, Begin, until early 2016. Just four months later, Lion Babe's full-length follow-up, "Sun Joint," was posted on Bandcamp – an independent release, because the act had split with Interscope.
Hervey understandably has a lot of mixed feelings about working within the mainstream music industry as opposed to creative and professional independence. "Obviously, the luxury of having a bigger company who's done this forever is they have an ingrained system of marketing and all these things, and obviously, I think those things work for people who have a focused team around them," she explained. "It all comes down to people, and if you don't have the right people — even if they have all the clout and connections — you just continue to battle different things and it detracts from the music, at least in our life."
How Jillian Hervey became a 'West End Girl' in a 'Western World'
In 2019, Jillian Hervey's musical project Lion Babe released the album Cosmic Wind, propelled by the pre-release single "Western World." The song featured a guest spot from Raekwon, a member of the legendary Wu-Tang Clan hip-hop collective, but wouldn't have been possible without a notable interpolation of a big hit from another major musical act of the 20th century. Hervey sings new lyrics to a recognizable vocal hook from the 1986 #1 hit "West End Girls" by synth-pop duo the Pet Shop Boys.
The inclusion of that melody was a relatively late, organic, and spur-of-the-moment addition to "Western World." Lion Babe's Lucas Goodman and producer Mike Bloom had crafted the skeleton of the song one day, "and then I went in to lay some ideas on it," Hervey told gal-dem. "Lucas was humming the 'West End Girls' melody along to the track and it just stuck. Once the idea was there it felt so good so we had to keep it." After that, Lion Babe had to clear the melody's usage with its originators. "Fortunately, the Pet Shop Boys are rad and they gave us their blessing to use it," Hervey said.
Why and how Jillian Hervey makes her hair look the way it does
In addition to the singular musical style of Lion Babe, the duo is notable for singer Jillian Hervey's stage presence and signature look — notably her large mane of curly, cascading, usually blond or red hair. More than just a beauty choice, the way Hervey chooses to wear her hair complements the self-expression she presents with her Lion Babe songs."My hair is an extension of my artistry and how I express my Blackness, my womanhood, and my imagination," Hervey told the podcast "Speakeasy with Denene" (via MadameNoire) in 2019. That one-of-a-kind look came after the music, too. "The birth of this whole thing really stemmed off of 'Treat Me Like Fire,'" Hervey revealed. "I had had some ideas about what I wanted the look to be." She added that her family had dubbed her "a wild child," and that she'd desired "big and crazy" hair from the start.
So how does Hervey maintain such an immaculate hairdo? "I don't think there's anything wrong with a little sweat," Hervey told Allure. "I'm always moving, so it's normal for me, and it actually makes my curly hair better because it gives it a bit more texture and volume."
What is Jillian Hervey's net worth?
While Lion Babe's record sales and chart history haven't been all that explosive, Jillian Hervey has carved out a unique musical identity and public persona, one that is alluring, captivating, and charismatic. It also doesn't hurt that, by most metrics, she's a very good-looking person, and all of this has made a lot of big and influential companies want to go into business with Hervey. Bestowed with and maintaining one of the most glorious heads of hair in the entertainment industry, Pantene — a manufacturer of shampoo, conditioner, and other such products — signed Hervey to be a brand spokesperson in 2016. "It's really exciting to be a voice for girls with curls," she told People.
Hervey has kept her private life and romantic relationships quiet, but in 2017 she signed up with the dating app Bumble — not to meet anyone but to be a brand ambassador for its Bumble Bizz networking spinoff. In 2019, Hervey once again found herself at the center of where business and attractiveness met when she made her modeling debut, walking the runway for The Blonds at New York Fashion Week, according to Pride Magazine.
All of her professional endeavors have made Hervey a wealthy individual. According to Networth & Salary, Hervey's got a fortune in the $2 million to $10 million range.