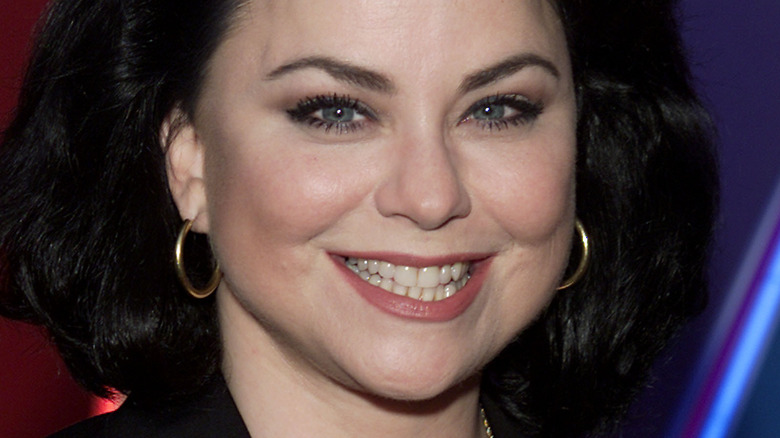 In the mid-1980s and early 1990s, there weren't a lot of TV stars more visible or popular than Delta Burke. CBS had a big hit on its hands with "Designing Women," a sitcom about four very different women working in an Atlanta interior design firm. Burke, a glamorous Southern women who looked like a former beauty queen (because that's exactly what she was in real life), played her character, Suzanne Sugarbaker to the hilt, presenting a nuanced and multi-faceted woman masking her insecurities about aging and her glory days slipping further into the past with outrageously and egregiously self-absorbed behavior.
Burke left "Designing Women" in 1991, toward the end of the show's highly-watched and critically-acclaimed seven-season run. Ever since, she's appeared on television shows and in movies only relatively occasionally. Where did such a dynamic, compelling, and captivating celebrity disappear to over the past 30 years? Here's how Delta Burke has occupied her time since she stopped playing TV's most famous Southern lady.
Delta Burke dramatically departed Designing Women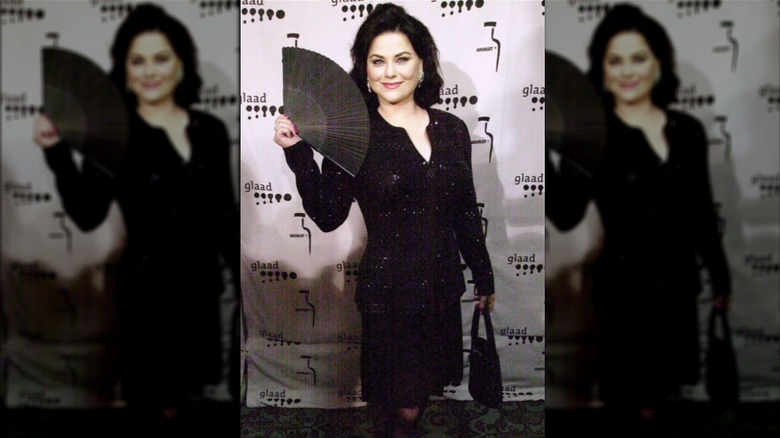 The slow descent of Delta Burke from award-winning star of an extremely popular sitcom to a page in the "whatever happened to?" file began in the summer of 1990. For four years to that point, Burke had entertainingly headlined CBS's hit comedy "Designing Women." Set in an Atlanta interior design company, Burke played Suzanne Sugarbaker, an extremely arrogant ex-beauty queen who still treated everyone she came in contact with like a servant or underling, and with utter disdain. While that fictional dynamic was played for laughs, behind the scenes, things supposedly weren't so happy.
According to the Deseret News, Burke publicly accused show producers Harry Thomason and Linda Bloodworth-Thomason of "psychologically abus[ing]" her. "It became unbearable into the second season for me. By the end of the fourth season, I just couldn't live like that anymore," Burke said, adding that she asked the show's production company and CBS to step in, and neither entity honored her request. The Thomasons argued that Burke was at fault, a tough and temperamental actor to work with. "We are all mentally exhausted from the daily trials and tribulations of Delta Burke," the Thomasons said in a statement (via Grantland). Things got worse over the 1990-91 season, and when it wrapped, Burke, who reportedly acted like she was the true and outright star of the ensemble comedy, found herself out of a job.
The sitcom bearing Delta Burke's name flopped hard
Despite her controversial and high-profile 1991 exit from "Designing Women," TV producers still very much wanted to work with Delta Burke. After all, for five seasons she'd anchored a hit sitcom that earned three Emmy nominations for Outstanding Comedy Series and ranked in the top 30 most-watched shows for at least the 1989-1990 season. In other words, Burke was a proven star who could potentially pull in an audience without the writing and acting ensemble of "Designing Women."
ABC was so confident in Burke in 1992, the network gave the green light for a sitcom called "Delta." Scarcely a year removed from "Designing Women," Burke played against type as Delta Bishop, an insecure wannabe country singer (with bleached blond hair that made her almost unrecognizable) whose career wasn't taking off, forcing her to take a job as a server. Failing to draw many "Designing Women" diehard fans, "Delta" lasted just one season of 15 episodes, and ranked a lowly 71st in the annual TV ratings.
Delta Burke's Designing Women spinoff tanked
While Delta Burke left her signature role on her most famous project under murky, even controversial circumstances, CBS and "Designing Women" creator Linda Bloodworth-Thomason were able to lure Delta Burke back into portraying Suzanne Sugarbaker one more time. On the 1995 spinoff "Women of the House," viewers learn that Suzanne had married a powerful member of Congress only for him to die and her to assume his seat in the House of Representatives. Most episodes focus less on politics and this fish-out-of-water premise and more on Suzanne clashing with her jaded and cynical staff, which included future "Everybody Loves Raymond" star Patricia Heaton.
With much fanfare, "Women of the House" hit CBS's schedule in January 1995, right in the middle of the TV season. The initial reviews didn't bode well, with Entertainment Weekly declaring the show to be full of "bland bipartisan political humor" with which the "quartet of performers struggles to make something original out of." The Los Angeles Times didn't hold back either, using a metaphor from the show to predict its demise: "Suzanne joyously turns Lincoln's bed into her personal trampoline. Like much else in 'Women of the House,' it collapses." Ouch.
"Women of the House" was cancelled just three months after it premiered (via the Los Angeles Times), although some episode aired as late as September 1995. The spike marked Burke's second straight flop, even though it was a spinoff of a hit, acclaimed sitcom.
DAG did not revive Delta Burke's sitcom career
Apparently there was way more humor to be mined out of the idea of a first lady and her rollercoaster of a relationship with her beleaguered Secret Service detail than the mildly popular 1994 film "Guarding Tess" could contain, because that concept was also the guiding force in the 2000 NBC sitcom "DAG."
Co-created by "Mad About You" veteran Eileen Conn and future "30 Rock" writer Jack Burditt, "DAG" starred comedian David Alan Grier as prickly Secret Service agent Jerome Daggett, demoted from his job protecting the president to an assignment defending First Lady Judith Whitman, who is equal parts pretentious and zany. Delta Burke was well cast as this character of prestige, power, and influence, and it marked her first regular role on a TV series since "Women of the House" flopped five years earlier.
Unfortunately, "DAG" wouldn't provide the career comeback or prove the star vehicle Burke and her team probably hoped it would. The Chicago Tribune slammed the show as "kind of a stink bomb," while Deseret News was kinder to both Burke and Grier, saying they "deserve better" than "the script's failings." Alas, NBC cancelled "DAG" in the spring of 2001, having aired just 16 episodes and finishing the season as the 64th-most-watched show on broadcast television.
An unfortunate injury crumbled Delta Burke's 2010s TV comeback
Well over a decade after the dismal performance of "DAG," television producers and Delta Burke herself took one more attempt at a comeback for the once prominent and dominant television superstar. According to Deadline, Sony Pictures TV sold a pilot to ABC called "Counter Culture," which was set to contend for a chance to be made into a full series and potentially land a spot on the network's 2012-2013 primetime schedule. Created by "MADtv" regular Stephanie Weir, "Counter Culture" was a traditional, studio-shot, live-before-a-studio-audience sitcom about three sisters who take over their family's Texas diner.
The pilot boasted a formidable cast, which included Margo Martindale ("Justified"), Kerri Kenney ("Reno 911"), and Burke as the sisters, with "Everybody Loves Raymond" star Doris Roberts playing their aunt. Unfortunately, an accident that Burke suffered on set while shooting the first episode of "Counter Culture" sealed the show's doom. Per Deadline, the actor endured a fall so severe that she was set to be laid up and unable to work for weeks. That pushed the timeline for the pilot back so far that ABC decided to just not consider the pilot for its fall season at all, cancelling Burke's return to TV before it could even begin.
Delta Burke is in-demand as a voice actor
As she demonstrated with her twice-Emmy-nominated performance as feisty former beauty queen Suzanne Sugarbaker on "Designing Women," Delta Burke excels at portraying a certain type of character: Southern belles who may or may not also be former beauty queens. It's an instance of an actor pulling from real life to inform their work, because Burke was born and raised in the American South and in 1974, competed in the Miss America pageant, representing her home state of Florida, per the Palm Beach Post.
Since her time on "Designing Women" ended in 1991, Burke has played many vivacious, charming, and self-assured Southern women, and often in a voice-only capacity. On the mid-1990s Family Channel sitcom "The Mighty Jungle," about a man who runs a backyard zoo populated with animals whom only he can hear, Burke voiced a toucan named Viola. A few years later, in the family movie "Good Boy!" (a box office hit about talking dogs from outer space) played a pretentious, pampered diva of a poodle named Barbara Ann.
A turn on Broadway gave Delta Burke some nice buzz
After numerous and successive attempts to get back into weekly comedic television fell through, Delta Burke decided to perform for larger in-person audiences where the lights were even brighter and the stakes that much higher: Broadway.
According to Broadway Buzz, Burke utilized the training she received at the London Academy of Music and Dramatic Art in the 1970s (which was paid for with her "talent scholarship" she received as Miss Florida 1974), to make her debut on the Great White Way in September 2003, taking over the role of Mrs. Meers — a washed-up actress pretending to be an elderly Asian woman in 1920s New York City — in the long-running, Best Musical Tony-winning production of "Thoroughly Modern Millie."
Having been bitten by the live theater bug, Burke returned to Broadway in April 2005 in a revival of "Steel Magnolias," the enduringly popular play about a group of Southern women. (Burke starred as Truvy, the small town beauty shop proprietor portrayed by Dolly Parton in the film adaptation.) In a bittersweet critique of the play, The New York Times gave a nice nod to Burke, saying she "exudes microwave warmth" in the role. However, in spite of Burke's performance, the critic likened the overall experience of sitting through the show to "watching nail polish dry."
Delta Burke stood up for same-sex marriage
On the other side of the country from Broadway, Delta Burke worked in the Los Angeles-area theater scene, co-starring in "Queer as Folk" and "Dharma and Greg" writer Del Shores' play "Sordid Lives," and then "Southern Baptist Sissies." Set in a Texas small town, it's about four young gay men recounting how they were awakened to their sexual orientation and the conflict that created within their religious and conservative community. Burke portrayed the mothers of three different characters in productions in Palm Springs and Los Angeles in 2006.
Appearing in a play about LGBT people and issues amounted to outreach and advocacy for Burke. The Human Rights Campaign bestowed its Equality Award to the actor for what The Advocate called "promoting the ideals of acceptance and understanding." In her acceptance speech — delivered years before same-sex marriage was legalized across the United States — Burke took a stand. "I took this play because I have hope too. Times are changing, folks," Burke said. "So, yes, I believe in gay marriage. I believe in equal rights. And I too dream of a perfect world. And in my perfect world there will no longer be the need to give Equality Awards, because equality will simply be."
Delta Burke sought help for depression and hoarding
While Delta Burke has come into and out of the spotlight afforded by television since the 1980s, she's spent a great deal of time and effort off-screen coping with and treating a series of mental health issues. In January 2008, according to ABC News, Burke admitted herself to a psychiatric facility for depression. That topped years of anxiety and panic attacks, which she often endured on the set of "Designing Women," during rehearsals. "My whole body would spasm. It would be very physical, very out of control, jerking," she said, recalling that "[co-star] Meshach Taylor would be holding me and carry me back to my room," while fellow cast member Dixie Carter "would get in the bed and lay beside me and pet me."
Burke also shared that her mental strain from depression and having "to play a character that thought she was so hot" led to suicidal ideation during the run of "Designing Women." After that moment, Burke sought help and was prescribed antidepressants, but she still suffered from depressive bouts before her medications stopped working entirely by early 2008, necessitating the hospital stay, during which time she also received help with hoarding. At the height of her problem, Burke admitted to having crammed 27 storage units so full, there were just "little pathways" through the "stacks" of possessions. "Hoarding's in my genes," Burke later told Psychology Today, adding, "My mother saved the diaper I came home from the hospital in!"
Gerald McRaney has been Delta Burke's rock through it all
Amid the tumult of a controversial TV career noted with a contentious exit from a hit show and a string of flops, Delta Burke has enjoyed one of the longest-lasting marriages in Hollywood, where conventional wisdom says relationships fizzle out quickly. In 1987, according to Closer Weekly, Burke, already a star on "Designing Women," appeared in a single episode of the CBS action show "Simon and Simon," which is where she met that series' star, Gerald McRaney, later known for his stints on "Major Dad" and "This Is Us." A few months later, the couple made it red carpet official when they attended the Emmy Awards together. By 1989, they were married, forming a dynamic 1980s TV power couple.
By Burke's account, their marriage has been rock solid, even and especially through individual challenges, like her weight gain and type 2 diabetes (per Eating Well), and his lung cancer surgery. "He loves me no matter what," Burke said (via OK!), while a source close to the couple reported that the two have spent most of their marriage living apart, with McRaney traveling for on-location shoots and Burke staying behind in one of their shared homes.
Delta Burke is basically retired
Apart from the occasional TV role, movie gig, theatrical engagement, and interview, Delta Burke has stayed out of the public eye in the 21st century. And there's a good reason for that — it's all intentional. "Delta disappeared from Hollywood because the industry and the people in it were becoming detrimental to her health," a source close to the actor told OK! in late 2020. "She's moving more slowly these days, but she still smiles at people who recognize her on the street."
A few years earlier, Burke told the Daily Mail that there was "no work on the horizon," a prospect just "fine" with her because she was "not very exciting right now." True to her word, she's backed away from acting almost entirely over the last few years. Burke's last appearance came in the 2019 Netflix movie "Dolly Parton's Heartstrings," which broke a 10-year absence following a one-episode stint on "Drop Dead Diva."