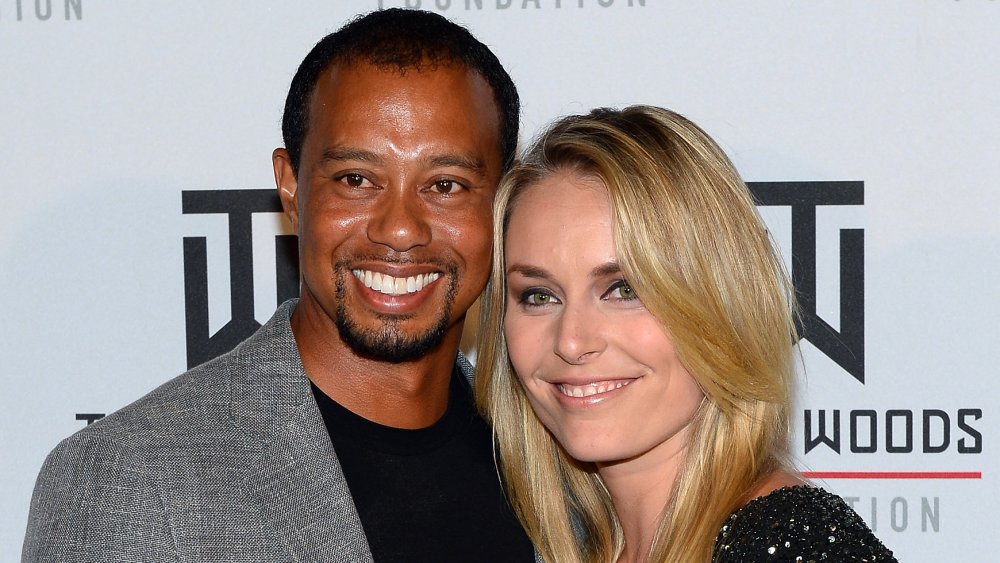 Golf great Tiger Woods and skiing sensation Lindsey Vonn were one of those celebrity couples you wanted to root for. Both were coming off of failed marriages. Both were winding down their iconic sporting careers. Plus, we all got to project the hypothetical super-babies of two superstar athletes. But suddenly Vonn declared their romance dead, via Facebook, citing the usual vagary that's so often found in celebrity split announcements. If they'd been married, their divorce filing would most likely have cited the ever-mysterious "irreconcilable differences."
Still, rumors swirled that something more fiendish was afoot. After all, five years earlier, Woods' marriage to Swedish model Elin Nordegren ended in one of the most infamous alleged cheating incidents in sports history. A $100 million divorce check soon went Nordegren's way, and Woods went his — licking his wounds in the arms of then 28-year-old downhill great, and fellow recent divorcee, Lindsey Vonn.
That now, too, is history. But why? The tragically doomed love story of Tiger Woods and Lindsey Vonn is worth revisiting.
Tiger Woods and Lindsey Vonn, a love story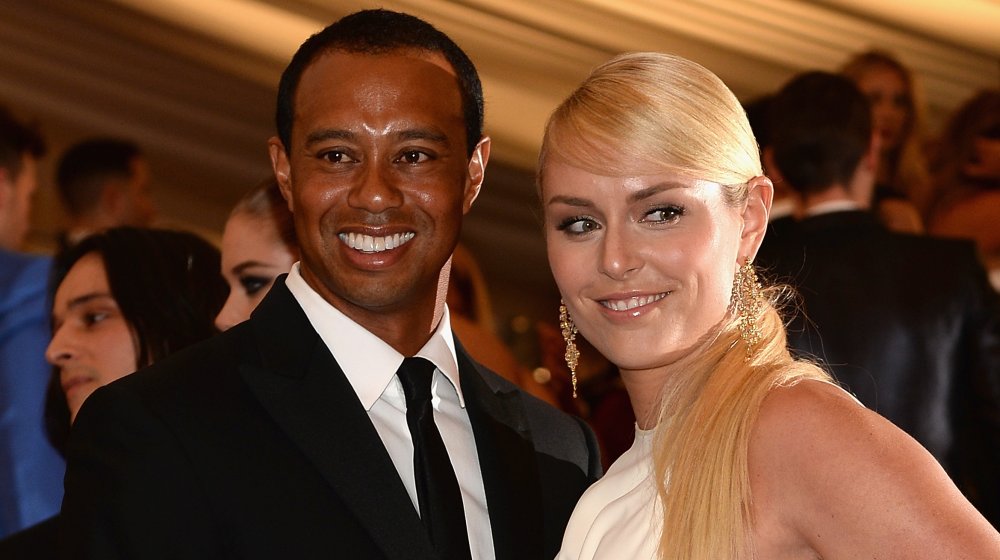 Tiger Woods and Lindsey Vonn met by chance at a charity event in Las Vegas in 2012, and according to Vonn, they immediately connected, "We're athletes, so I guess we have something in common there . . . we just kind of relate really well to one another," she told David Letterman in 2014. As their relationship deepened, they bonded by trying out each other's area of expertise. Vonn told the late night host that she nailed a hole-in-one during her "first round of 18 holes." She also confessed that Woods is a "good" skier, but "compared to [her] he's really not that good."
The divorcees ended up cementing their love as they healed together, quite literally. Woods was rehabbing his often injured back and Vonn was recovering from a knee surgery that kept her out of the 2014 Sochi Olympics, "Rehab is not a fun thing to do –- it's very monotonous and tedious," Vonn told the AP. "But if you're going through rehab, it's nice to have a partner to do this with."
Although their competitiveness was obviously a form of flirting for these super athletes, Vonn said they kept the impulse "at bay" during their joint physical therapy sessions. "It's about doing it right and taking the time it needs to really heal properly," she said.
What Lindsey Vonn wants you to think about her split from Tiger Woods
Lindsey Vonn broke the news of the split. That much is clear. But from her Facebook message, not much can be gleaned other than she is a well-handled celebrity who doesn't get out of pocket over some man. "Tiger and I have mutually decided to end our relationship. I will always cherish the memories that we've created together," her truly professional missive professed.
Vonn followed with the supposed source of the couple's tension, "Unfortunately, we both lead incredibly hectic lives that force us to spend a majority of our time apart." So sweet. So well managed. But are we actually to believe they were too busy to date? If this were facts, wouldn't that have always been the case? Two cheers to Vonn PR for telling us absolutely nothing, that's their job, but there is certainly more to this tale.
Tiger Woods tells his side — sort of
The reason top athletes are absolute masters of saying nothing to the media is that, for the most part, they don't have to. Corporate sponsors pay for winning — and looking great doing it. They never drop a superstar pro for "taking it one game at a time" and other various sports cliches.
Thus, shortly after Vonn broke the seal, Woods gave his own, nearly identical take on the split via his elegantly designed personal website in a missive entitled, ironically, "A personal message from Tiger Woods." He went on, impersonally, "Lindsey and I have mutually decided to stop dating. … I have great admiration, respect and love for Lindsey and I'll always cherish our time together. … Unfortunately, we lead very hectic lives and are both competing in demanding sports. It's difficult to spend time together."
What can be said here is Woods and Vonn are on the exact same page, which almost definitely indicates a coordinated PR effort. Even the phrase "hectic lives" is simply copy-pasted from Vonn's statement to Woods'. Just like their physical therapy stint together, teamwork makes the dream work. It's hard to hate.
Lindsey Vonn admits Tiger Woods made the classic guy mistake
Lindsey Vonn and Tiger Woods were happy. Very happy. Infatuation might not even be too strong a word. As she told Sports Illustrated, "I mean. . . I was in love. I loved him and we're still friends." However, relationships are also about compromise, and at a certain level of success, that can be difficult. Vonn went on to admit, "Sometimes, I wish he would have listened to me a little more but he's very stubborn and he likes to go his own way."
A stubborn man who won't listen. Truly shocking revelations here. But if Vonn was angry at all she absolutely refused to say so. She did, however, finish with a subtle nod to Woods' well-publicized competitive decline following their split, "I hope this latest comeback sticks. I hope he goes back to winning tournaments."
Woods would go on to win at least one more Masters tournament, golf's biggest prize. He would not, however, go on to reclaim his absolute reign of dominance or his world number one rankings. Woods was one kind of athlete before his two highest-profile relationships fizzled, and another after.
Was Tiger Woods too famous for Lindsey Vonn?
There's an unspoken and delicate physics to all celebrity relationships. When two stars agree to merge orbits, the combined gravity causes a media feedback loop that can spiral wildly out of control. See this article for details. But a sudden reorientation of mass can also be uncomfortable for the lesser star, who may want all planets revolving solely around them. "Wherever he's around, we're living in a fishbowl," Vonn told The New York Times in 2013, clearly using her own metaphors. She continued, "I didn't quite know what I was getting myself into. It's weird. But it's just something I have to deal with. He has his job, and I have mine. I just have to get used to it." Yikes. That … doesn't sound great. But wait, it gets worse.
"Some people seem to forget that I'm not just Tiger's girlfriend. I'm actually a successful athlete. I'm Lindsey. I have my own career and my own life," she told the outlet.
Clearly, the couple survived that dubious soundbite for a few more years. But after the dust had settled on their split, Vonn echoed a similar sentiment to E! News. "The breakup, being together, it was all really hard," she said, adding, "Everyone's looking at you and judging you and commenting on what they think is right or wrong." And as it turns out, a lot was wrong.
Did Tiger Woods cheat on Lindsey Vonn?
Tigers. Stripes. Some things are just the natural order. Allegedly. "He had a relapse in the sex department," an anonymous supposed friend of the former couple revealed to the Mail Online. "Lindsey found out about women again. Always while he's on the road. Just like when he was with Elin."
Women, plural? Again? Huh? So time apart was a reason. But it was what Woods was allegedly doing with that time. Interestingly, the tab goes on to claim that, this time, Woods had learned from the futility of lying when caught during his failed marriage and didn't try too hard this time around to hide his infidelity. This is what we could call personal growth.
"When Tiger realized he was seen, he became concerned and eventually he decided to confess to Lindsey. Something he didn't do with Elin," the anonymous source mused. "He came clean and I give him credit for that." Of course, this is pure speculation, but we wonder if Vonn was also handing out gold stars and head pats during this hypothetical confession.
Tiger Woods' history of infidelity — with receipts
Tiger Woods allegedly cheated in his previous marriage with a dizzying 121 different women according to anonymous sources who spoke to The National Enquirer. Whether or not this figure is exactly true, Woods' ex-wife Elin Nordegren saw a similar headline at a grocery store and was "shaken" to her core, according to the New York Post. The Enquirer story detailed Woods' alleged affair with New York socialite Rachel Uchitel, and included photos of them separately checking into the same hotel. Woods, however, allegedly got Uchitel to deny the whole thing to Nordgren.
Then, on Thanksgiving night of 2009, still suspicious, Nordegren snatched Woods' phone as he slept. She allegedly found a text from Woods to Uchitel that read "You are the only one I've ever loved." There were plenty of other missives and women's numbers and she called several, but it was her screaming match with Uchitel that awoke Tiger and began his living nightmare. Nordegren allegedly chased Woods from their home with a golf club. Moments later a near-fatal crash left Woods in serious condition and Nordegren was seen by neighbors smashing out the rear windows of his luxury SUV.
What followed was a slew of salacious revelations. There were porn stars, pole dancers, party girls and socialites, all claiming to have been players in Woods' extremely sketchy side life. Perhaps what's most shocking is that even after all this, Lindsey Vonn didn't care. She gave Woods a chance anyway.
Is Tiger Woods a sex addict?
It didn't take long for Tiger Woods' sponsors to abandoned him following his cheating scandal. Fans turned on him, too. And less than a month after the crash heard round the world, he entered sex rehab. Is sex addiction real though? Or, is it just another code-phrase like "celebrity exhaustion," papering over the misadventures of the rich and famous with clinical obscurantism?
According to Reuters, as of February 2010, experts were still divided on whether sex addiction was an actual "psychological disorder. But what's not in doubt is that Woods was treated that year at Pine Grove Behavioral Health and Addiction Services in Hattiesburg, Mississippi where 45 days of sex addiction therapy cost a whopping $37,000, according to Us Weekly.
Woods was allegedly photographed at the facility looking grim and haggard. Unconfirmed reports also claim Woods endured such therapies as "disclosure day" where treatment meant admitting the full breadth of his countless affairs to Nordegren — in person. She was purportedly not impressed with his therapeutic efforts, and their divorce followed quickly, in what many at the time chalked up more to image rehab than genuine contrition.
It's not cheating if Tiger Woods doesn't think it's cheating
Anyone who has ever played a round of golf has probably given their ball an extra love tap to slightly more favorable ground when no one was looking. Technically that's a stroke and needs to be counted at the clubhouse. But in reality, if you're not at the Masters, nobody really cares. Allegedly this is how Tiger Woods felt about cheating on Lindsey Vonn, et al. "Knowing Tiger, he doesn't even see it as cheating because there's no romance or feeling there. It's just a stress reliever, like a high-ball or two after a bad day," a friend of the golfer told the Mail Online.
"Yes, Tiger cheated again. But it wasn't with anyone special," added the sympathetic and anonymous friend allegedly familiar with Woods' personal history. "He really wanted Lindsey to be the one. But he blew it again. He can't help himself. He's got an addiction. He relapsed."
Was Tiger Woods just a rebound for Lindsey Vonn?
Let's note strongly that not everything revolves around Tiger Woods and his problems. Lindsey Vonn took Woods on this ride barely a year after her own divorce from trainer/husband Thomas Vonn, in 2011. The Vonns were married only four years, but had been an inseparable team since 2003. Together they achieved both Olympic success and multiple World Cup titles, per The New York Times.
So, in 2012, when Vonn met Woods at a gala, it was in fact on the rebound from the only other serious love affair of her entire life. "Jumping into a relationship right away after getting a divorce was probably not the smartest move on my part," Vonn told The New York Times in a separate report. "I don't regret anything. I loved Tiger, and I had an amazing three years with him," she continued, adding, "But it was a learning experience as well. With every relationship, you learn what you need and what you want in a partner."
Tiger Woods and Lindsey Vonn were never going to work
Clearly, Lindsey Vonn adored Tiger Woods, but she still saw the downside in real-time, "Tiger's fame is obviously in the extreme, the amount of scrutiny that he's constantly under," Vonn told Vogue in 2013, in the midst of their romance."But that's the thing: It all comes back to being happy. It doesn't really matter what anyone else thinks; do what you love to do and be happy and that's it."
Translation: Vonn knew this relationship was a circus. Her hindsight statements to The New York Times also proved that she knew she wasn't ready. And, being from planet Earth, she knew Woods' rep. She went headlong anyway. But can you judge her? This is a woman who plunges down the sheer side of icy mountains at speeds up to 95 miles-an-hour. She does it for glory. She does it for her country. But, also, if you've ever taken a chairlift up a steeply snowy incline, there's one slightly more obvious reason you put your body on the line: It's fun. . . And all downhill.