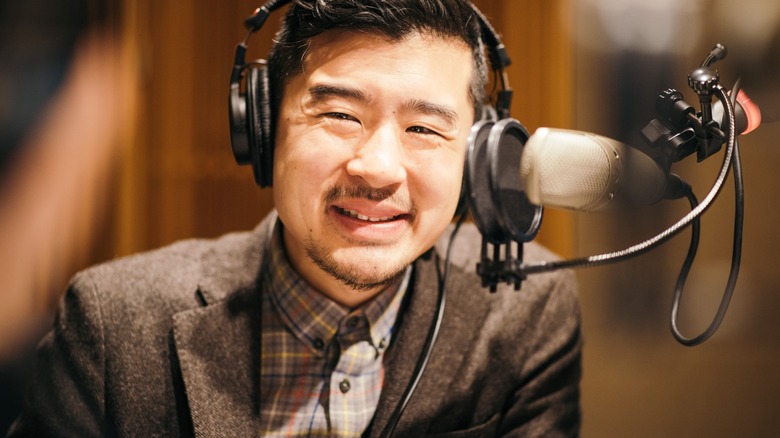 If you've ever listened to The Splendid Table audio series, you know that this once weekly public radio program and current podcast is a gem, chock full of cooking tips as well as stories on chefs, restaurants, and culinary projects across the country. It's currently hosted by Francis Lam, an award-winning food writer who has contributed to the New York Times among other outlets — but The Splendid Table had more humble beginnings.
It started as a live, Saturday morning call-in radio show hosted by Lynne Rossetto Kasper, a cooking teacher and author of the acclaimed cookbook of the same name. Along with radio producer Sally Swift, Rossetto Kasper adapted the ideas within her book for the radio format, and in 1995, the program took flight on Minnesota Public Radio. In 2020, it celebrated its 25th anniversary.
The Splendid Table is a must-listen for any foodie. Over the years, the series has covered such diverse topics as Appalachian cooking, whole hog barbecue, Mexican food in America, and many, many, more areas of coverage that make it an essential program that continues to enjoy a rise in popularity.
Who is Lynne Rossetto Kasper?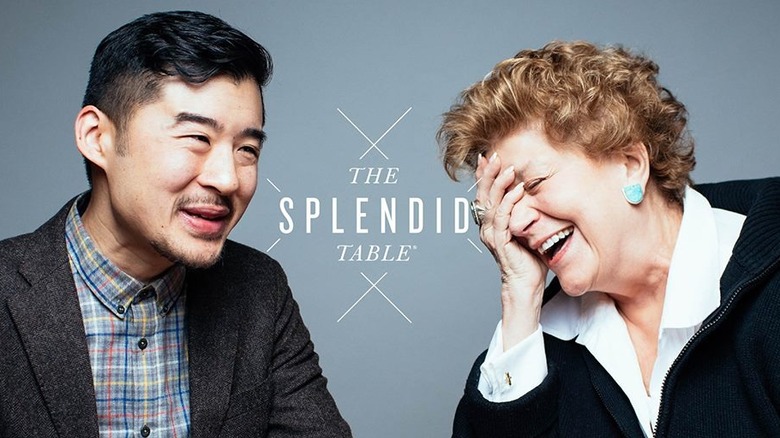 Any conversation about The Splendid Table podcast must begin with the show's founder and host for 22 years, Lynne Rossetto Kasper. Born in northern New Jersey, Rossetto Kasper landed in New York in the 1960s, according to the Pittsburgh Post-Gazette. There, she "studied with Chinatown's chefs and home cooks, master bakers at the City College in Brooklyn, neighborhood butchers, anyone who could teach [her] something new," she told Food & Wine.
Later, she created a program for A & S department store, doing lunchtime cooking demonstrations that attracted food world luminaries including Jacques Pépin, James Beard, and Julia Child, the latter of whom became Rossetto Kasper's good friend (via Food & Wine).
In 1978, after moving to Denver, Rossetto Kasper founded the area's largest cooking school, Lynne Kasper's Lid and Ladle, whose curriculum included a number of celebrity guest chefs. "When Julia and Paul Child came to town, we'd drive around in [a] white convertible, with red leather seats, top down," Rossetto Kasper recalled to Food & Wine.
She later moved to Brussels, Belgium, bringing her even closer to her family's origins in Italy's Emilia-Romagna region. In 1981, the host traveled all over the Italian mecca for an assignment for Cuisine Magazine, feasting on regional specialties such as aged balsamic, Parma ham, and handmade pasta. Deeply inspired by the area's food, in 1992 she penned the cookbook "The Splendid Table: Recipes from Emilia-Romagna, the Heartland of Northern Italian Food" and thus began an empire.
A book becomes a radio show
According to Food & Wine, Lynne Rossetto Kasper's cookbook attracted the attention of Sally Swift, a radio producer who had cooked her way through the book and recognized an opportunity to translate some of its ideas into a radio show format. Swift saw the potential for a show not just about cooking, but about something deeper: the connections and rituals behind food. The two women, together with Jen Russell and Jennifer Luebke, brought the show to Minnesota Public Radio in 1995, when early episodes covered such topics as the psychology behind taste preferences and the harvesting of edible and medicinal plants.
As Americans became more interested in food trends and cooking, the show's popularity grew. It attracted top-tier guests including Rossetto Kasper's friend Julia Child, former New York Times columnist Mark Bittman, and Michael Pollan, author of books such as "The Omnivore's Dilemma."
"I had a front seat at the food revolution," Rossetto Kasper told Food & Wine of the early days of the series.
The Splendid Table is all about storytelling
What has always set The Splendid Table apart from other food podcasts is its focus on storytelling. Guests get plenty of airtime, allowing them to hold their ground on topics as diverse as dining table etiquette to California wine country. Known for her smooth, radio-ready voice, former host Lynne Rossetto Kasper was a talented interviewer, drawing out funny, whimsical, and oftentimes poignant stories from her guests. Under Rossetto Kasper's lead, the show won several awards, including two James Beard Foundation accolades in 1998 and 2008 (via The Splendid Table).
In addition to connecting with her guests, Rossetto Kasper also loved conversing with her listeners. From the very beginning, the show included a call-in segment during which listeners could ask the host their most pressing cooking, dining, and hosting questions. Additionally, the show hosts an annual live call-in on Thanksgiving Day called Turkey Confidential, during which frantic cooks and hosts can query the host and special guests about everything from defrosting the turkey to cooking the giblets to caramelizing onions.
Lynne Rossetto Kasper retires
In January 2018, after hosting the show for 22 years, host Lynne Rossetto Kasper retired from The Splendid Table, handing over the reins to current host Francis Lam. Per the Star Tribune, Rossetto Kasper and her producer Sally Swift searched for a replacement host for the show for two years, eventually agreeing on former New York Times columnist Lam.
"Francis is exactly like Lynne in that he's extremely curious, and extremely generous, and a team player, and those are qualities that we need to carry the show forward," Swift told the paper. "And like Lynne, he's in tune to food beyond the recipe."
Lam has carried the torch of storytelling forward into the current iteration, hosting wide-ranging guests at the forefront of their fields, from iconic Indian cookbook author Madhur Jaffrey to Mexican dessert maven Fany Gerson to vegetarian cooking trailblazer Deborah Madison.
"My highest calling as a writer is to talk to people," Lam told The Washington Post before taking over hosting duties. "I feel like this is such a direct way to that."
The Splendid Table 2.0
While new host Francis Lam has maintained many of The Splendid Table's original attributes, the show has also taken a more modern turn. For one thing, it no longer airs live on radio; rather, it's a pre-recorded podcast, but it still comes out once a week. And while the original show was way ahead of its time in terms of covering a diverse array of subjects in the food world, Lam, the son of Chinese immigrants, has expanded the show's coverage of under-examined food cultures, from Chinese Hmong cuisine to Serbian pastries to the food of Somalia.
In an interview with Literary Hub, Lam explained his approach to food storytelling, recalling the time he ate shark fin soup in Macao with his grandfather.
"That was over 30 years ago, and I can still remember that soup," Lam said. "I remember the taste of it. I remember the exact color of those walls. I remember the look on my grandfather's face. He was beaming like he belonged in this place. When I think of the story as part of food stories, what I really think back to is the face that my grandfather was making when he brought us to have that soup. He looked so proud, he looked so happy, and it made me realize that people's food stories are deep stories, and the best ones are the ones that start with the food, not end with it."