Sitcoms are right up there with game shows as the longest-lasting and most dominant forms of entertainment on TV — and we've had hundreds of sitcom stars along the way. Many of them end up going on to long and fruitful careers as actors. Some started in standup comedy and then went back to it. Others still find ways to keep themselves in the public consciousness, either through good acts or bad behavior.
Then there's the others — the ones who seemingly vanish. The classic "where are they now?" candidates. People we collectively remember but don't see anymore. Some flame out. Others move behind the camera. Even more leave the industry entirely — acting is a hard way to make a lifelong living outside the big names. We'll always remember them for their roles, but they had to move on with their lives and start families, find new sources of income, or just leave the public eye.
Here are the real reasons you don't hear from these sitcom stars anymore.
Michael C. Maronna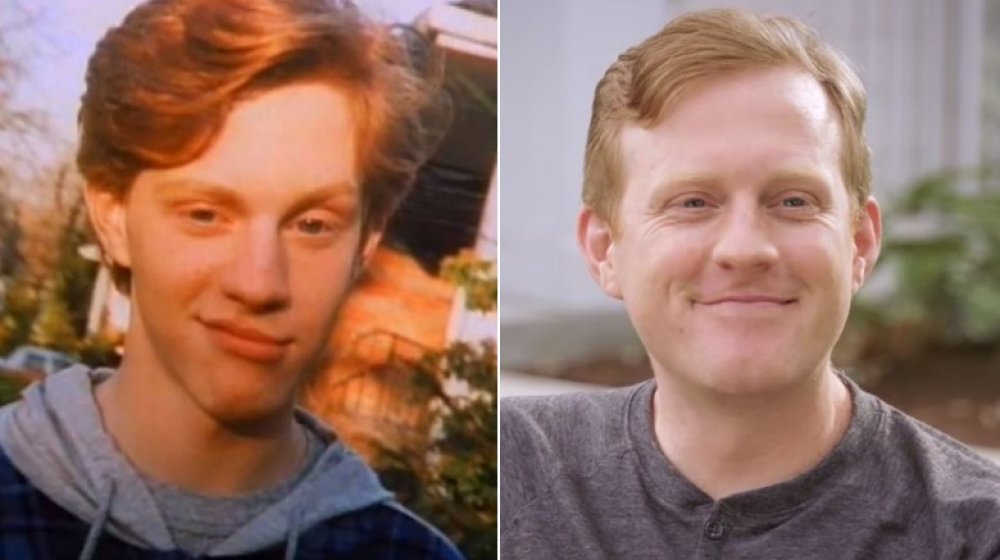 Michael C. Maronna is best known as Big Pete from "The Adventures of Pete & Pete," one of the most acclaimed and surreal kids' shows ever made. The narrator and the closest thing the show had to a "voice of reason," Big Pete is fondly remembered by a generation of Nick fans. Maronna himself went on to star in several Ameritrade commercials as Stuart, ads that anyone around then will tell you were inescapable.
Maronna has sparsely acted since 2004, and with good reason — he's now behind the camera as one of the most prominent on-set electricians in Hollywood. He attended Purchase College and studied filmmaking, where he realized his true passion was the electrical aspects of filmmaking. He's since worked on shows like "Elementary," "Jessica Jones," "Luke Cage," "Blue Bloods," and "The Deuce." If you watched a Marvel show on Netflix, you've seen Maronna's work.
Maronna also co-hosts a podcast called "The Adventures of Danny and Mike" with "Pete & Pete" co-Pete Danny Tamberelli, where they look back on their days and "wander out into the world in search of their next great adventure."
Kel Mitchell
Who loooooooved Kel Mitchell? We all loooooooved Kel Mitchell. Anyone raised on a steady diet of '90s Nickelodeon remembers his "All That" characters like Good Burger cashier Ed or snakebit Coach Kreeton. Even more remember his turn as the dimwitted Kel Kimble on "Kenan & Kel." But while Kenan Thompson soared to new heights and remains a television fixture almost three decades later, Kel faded away. The contrast was so stark that a rumor about him being dead circulated during the MySpace days. What happened? Turns out he's doing fine.
Kenan and Kel, as themselves, both tried out for "Saturday Night Live" at the same time. Only Kenan got the call. Kel then focused on making smaller movies, still did guest spots on TV — including various newer Nick shows like "Sam & Cat" — and started a family. He's since reunited with Kenan a few times, including doing a "Good Burger" reunion on "The Tonight Show" and as executive producers on the "All That" reboot. But his main focus has been his faith.
Kel is a deeply religious man. He worked with his church ministry for years before becoming a licensed pastor for Spirit Food Christian Center in December 2019. He's also had parts in several Christian movies, including "She Is Not My Sister." The movie, which he also wrote and directed, is about dealing with bullying through faith. He also had a part in the true rite of passage for faded actors — a spot on "Dancing with the Stars," where he finished second.
Kel never gets upset hearing about his past projects, though — they were an integral part of his life. In his own words: "Even though Will Smith has done 'I Am Legend' and all these other great films… you still love him for 'Fresh Prince of Bel-Air.'"
Karyn Parsons
Hilary Banks is best summed up by the phrase "Daddy, I need $300." The fashionable spoiled brat with no common sense, the role of Hilary made actress Karyn Parsons one of the most recognizable actresses of the '90s. The recognition carried Parsons until the new millennium, at which point the roles dried up and she disappeared from our screens. But readers with young children might know she never went away — she just changed direction.
With so few roles for African-American women in the '90s, Parsons found herself rejected or passed over often. Her career faltering and needing a change of scenery, Parsons moved to New York. She met filmmaker Alexandre Rockwell and married him in 2003. They had a daughter that same year and a son in 2007. These events changed her priorities. No longer having the time nor energy to pursue auditions and memorize lines while taking care of kids, she turned her focus to writing.
In 2005, she founded Sweet Blackberry, an organization dedicated to teaching children about little known parts of African-American history. It's since produced many animated short films with A-list voice talent. She also published a book, "How High the Moon," in 2019, based on stories about her mother's experiences in the Jim Crow-era south. Originally worried about what her daughter would learn in school, she's used her talents to shape the conversation and make sure children know their history.
Taran Noah Smith
Taran Noah Smith played Mark Taylor, the youngest son of Tim and Jill Taylor on "Home Improvement." The sensitive boy turned proto-goth turned sensitive boy again was a stark contrast to his more rambunctious brothers and made Smith as an actor stand out. Smith's life after child stardom isn't exactly dark and depressing, but it is fundamentally and singularly unusual.
Smith quit acting after "Home Improvement" ended, no longer interested in performing after it consumed his entire childhood. He then briefly became tabloid fodder, partly because he married a woman 16 years his senior while he was 17, and partly because he was suing his parents after claiming they mishandled his trust fund. Years later he chalked this up to a misunderstanding and reconciled with his parents.
These days, Smith has an eclectic assortment of jobs and hobbies. He's an installation artist around the country at festivals and museums, which includes a floating art gallery he built himself. He did disaster relief work in the Philippines for half a year in 2014. In December 2017, he temporarily moved to Corpus Christi, Texas, and helped with recovery from Hurricane Harvey. Most recently, he's been teaching people how to pilot submarines. No, really. He's a member of the Community Submersibles Project, an organization based out of Berkley, California, that gives members of the public hands-on training in submarines.
Amanda Bearse
Amanda Bearse is best known for her turn as Marcy Rhodes D'Arcy on "Married… with Children." The radical feminist neighbor of the Bundy clan, the best friend of Peg, and the nemesis of Al, Marcy was a mainstay of a popular show. Bearse herself made headlines in 1993 when she came out as gay in an era where that was a rarity for high profile celebrities. Since "Married… with Children" ended, though, Bearse has seldom been seen in front of a camera. Why? Because she stepped behind the camera.
Realizing that Marcy would always be a secondary character, Bearse decided to broaden her horizons by trying her hand at directing. She turned out to have a talent for it and directed upwards of 30 episodes of "Married." When the show ended, so did her acting career so she could focus on directing.
She went on to direct episodes of "Dharma & Greg," "Reba," and "MADtv." She also directed "The Big Gay Sketch Show" on Logo, which was the launchpad for Kate McKinnon's career. Bearse took a break from the industry to raise her daughter and came back to a changed business. She later directed web series "Skirtchasers" and made her New York theater debut in off-Broadway play "Party Face" in 2018. She now lives in Washington state.
Angus T. Jones
Angus T. Jones first came to public attention as Jake Harper, the "half" of the titular "Two and a Half Men." His later time on the show was marked by off-set controversy, most notably involvement in a controversial religious movement and calling the show he worked on "filth." He later apologized, left the show, and came back for the finale. After all that, he's mostly vanished. What's he been doing since then? Mostly trying his best to live a normal life.
Jones went to college at University of Colorado at Boulder and enjoyed his time away from the spotlight. He distanced himself from organized religion, noting that he got "pretty doomsday with my thinking" and was happy moving away from that. He slowly made his way back to acting on his own terms, including starring in Louis C.K.'s internet-based sitcom "Horace and Pete."
In 2016, Jones joined forces with Justin Combs — son of Sean "Puffy" "P. Diddy" "Diddy" Combs — to create Tonite, an entertainment and event company, which has a minimal web presence and seems to have gone out of business.
More than anything, though, he seems to enjoy living life on his own terms. He spends time with his younger brother Otto, doing his own projects at his own pace. He's yet to rule out a return to the screen, but it's fully understandable that after spending his entire childhood on a set he'd need some time to himself.
Lindsey McKeon
"Saved by the Bell: The New Class" never had the cache or fanbase of the original show, even though it ran longer. Lindsey McKeon was one of the stars of the show as swimmer and goody-two-shoes Katie Peterson, who transferred to Bayside in season 4 and stayed until the end. She later went on to star on "Guiding Light" as Marah Lewis and appeared in eight episodes of "One Tree Hill."
McKeon still acts, most notably in the recurring role of Tessa on "Supernatural," but also spends a lot of her time on other ventures. Specifically, she's spent the last few years off and on as a lifestyle blogger. Her now-defunct website, EVOLVE by Lindsey, presented itself as "somewhere to gather advice about health & wellness, diet, lifestyle, and relationships." Her Instagram tells a similar story.
She's also good friends with Chris Evans, with whom she starred in 2000 on the short-lived teen show "Opposite Sex." He gave a testimonial for her on her website and was interviewed by her on her YouTube channel.
Jon LaJoie
Jon LaJoie carved out a career as a comedy musician before landing on "The League" as Taco MacArthur. The perpetually stoned, scheming, and songwriting Taco was arguably the most popular character on the show. From the Birthday Song to the Mall Krampus to the EBDB, LaJoie as Taco was responsible for some of the most memorable moments on the show.
So why hasn't LaJoie been on our screens more since "The League" wrapped? Because he's gone back to making music.
LaJoie still released his own music while on "The League," and after the show ended in 2015 he made it his full-time gig. He started performing serious folk rock music in 2016 under the name Wolfie's Just Fine — yes, named after the line in "Terminator." He released two albums under this new moniker in 2018.
LaJoie isn't just making, in his own words, "terribly unfunny music" — he also wrote several of the songs on the soundtrack for "The Lego Movie 2." This includes "Catchy Song" — yes, that's the one that's "gonna get stuck in yo head." The song was the end result of listening to a lot of Katy Perry, K-pop, and Max Martin music, and it was almost nominated for an Oscar.
Kathy Kinney
Arguably more than the title character, though not necessarily the man himself, Mimi Bobeck was the most iconic character on "The Drew Carey Show." Drew's big, bossy, brash work nemesis was one of the most recognizable characters of the '90s and early 2000s. Kathy Kinney, the actress who played her, received much attention for the role, compounded by her occasional appearances on "Whose Line Is It Anyway?" in the rotating chair. Since "The Drew Carey Show" ended, though, Kinney has become scarce. Worry not, though — she's now using her powers for good.
She now plays the character of Mrs. P on the eponymous website. The character, in contrast to her most famous role, is friendly and helpful. She reads classic children's literature to kids watching online. Kinney is proud of the role and her part in promoting literacy, noting that "I think that everything I am, I owe to reading." Kinney has also written three books, including "Queen of Your Own Life: The Grown-Up Woman's Guide" to "Claiming Happiness and Getting the Life You Deserve."
Though she's mostly moved on from the role of Mimi, she donned the makeup again for a few appearances on "The Price Is Right." Mimi showed up as the new producer of the show, tormenting host Drew Carey — the real Drew Carey at that.
Lori Beth Denberg
Lori Beth Denberg is best remembered for her time dispensing vital information on "All That," but also had a recurring role on "The Steve Harvey Show" from 1998 to 2002. She played Lydia Gutman, the socially inept overachiever and the foil to main character Romeo and Bullethead. Outside a brief appearance in "Dodgeball," she hasn't done much acting since. That's because, in addition to touring the nostalgia circuit, she's picked up a few new sources of income.
These days, Denberg spends much of her time officiating weddings. What started as a joke between her and a friend turned into a lucrative business. She offers "personalized, quirky weddings, vow renewals, and commitment ceremonies for couples looking for something a little different, a little less sterile, and a little more fun." Between 2012 and 2018 alone she officiated 20 weddings.
She's also on tour with the "All That" edition of "Nostalgia Personified," a show that looks back on '90s Nick shows from the perspective of Denberg, Danny Tamerilli, and Michael C. Marona. The show has been touring since fall of 2019, and it's a good way to catch more than a few people you might not have seen on TV in a while.
Andrea Elson
Andrea Elson was on one-season-wonder "Whiz Kids" before landing her most icon role as Lynn Tanner on "ALF." One of the titular Alf's best friends and the only daughter of the Tanner clan, Lynn was a popular character on a popular series. Then Elson disappeared from the entertainment business. Where did she go? Melmac? Nope, much closer — you can find her teaching in a California yoga studio.
Elson was introduced to yoga in 1993 by her future sister-in-law and fell in love with it. She started taking training courses and soon left Hollywood behind to focus entirely on family and yoga instruction. She spent years training and opened Grass Valley Yoga in Grass Valley, California. She sold it circa 2014 when she moved to Pismo Beach and opened Pismo Beach Yoga, now going by Yoga Village at Arroyo Grande. Now doing business under the name Annie Hopper, she's clearly put Lynn behind her — beach yoga is probably a better gig than acting anyway.
DeLane Matthews
DeLane Matthews played Beth, the wife of the titular character on "Dave's World." Based on the writing of Miami Herald humor columnist Dave Barry. "Dave's World" was a minor ratings success, floating around the top 20 early on and lasting for four seasons. The show itself is mostly forgotten today, and save for Patrick Warburton — who joined the cast in the second season and used the series as a career launchpad — most of the cast stayed out of show business afterwards. This includes Matthews, who stuck around before having her career end due to health issues.
Matthews dealt with a series of TV show cancellations, one right after the other, before landing on "Dave's World." After "Dave's World" went off the air, she had regular guest spots on various TV shows, ranging from "The Shield," "Castle," and "Saving Grace." She also landed a recurring role on "General Hospital" from 2002 to 2003.
Matthews' career ended in 2015. She was diagnosed with scoliosis when she was 13 and dealt with it throughout her career. She had over eight surgeries to the point where her spine is encased in titanium. She also deals with Hashimoto Thyroid disease and PTSD.
All things considered, though, she seems to be doing okay. In her own words: "I loved being an actress and thought my career was my identity. It wasn't. It isn't. I've been disabled since July 1, 2015. That isn't who I am, either."
Zachery Ty Bryan
Zachary Ty Bryan played Brad Taylor, the oldest and most rambunctious son on "Home Improvement." Though Brad frequently got in trouble — once famously caught smoking weed — Bryan himself lived a normal life and did pretty well for himself. Years after the series ended and he left the public eye, he's still making a name for himself as a filmmaker and as an investor.
Bryan continued to act — including an appearance in "The Fast & Furious: Tokyo Drift" — before changing his focus in 2009. He founded his own production, and moved from in front of camera to behind it. He started by producing several horror movies, including "Rogue River" and "Prowl." He recently retooled his focus and released more popular and acclaimed movies, including 2018's "The Kindergarten Teacher" starring Maggie Gyllenhaal, which competed at Sundance and was sold to Netflix.
Bryan is also a cryptocurrency and blockchain enthusiast. He produced a movie about it called "BIT X BIT: In Bitcoin We Trust." He's a core investor in Decentric Media, a digital news network dedicated entirely to decentralized content. Additionally, he's the co-founder of Producer's Market, a company attempting to streamline food distribution between producers and buyers using blockchain technology.
Ross Bagley
Ross Bagley appeared in the final two seasons of "Fresh Prince of Bel-Air" as Nicky, the youngest son of the Banks family. Though he was the smallest member of the cast, he left a strong impact, be it mocking Uncle Phil's age or just goofing around with Will. He also spent time with Will Smith the actor outside of Bel-Air and on the set of "Independence Day" as his son. Since then, he's mostly stayed away from Hollywood. Is he another child star burnout? Nope, he's living a normal life in California doing normal things.
After leaving acting, he grew up — obviously — and attended college at California State University-Northridge. He's been working as a realtor in California for real estate company Keller Williams, selling homes in the Los Angeles area. He also DJs there under the name DJ Ro$$y B. In between all of this, he's raising a son who looks like a carbon copy of him from the "Fresh Prince" days. On top of all this, his LinkedIn shows him as the director of Pathways Consulting, a corporate finance and IT recruiting firm. Busy guy!
Bagley wasn't asked to reprise his role in "Independence Day: Resurgence." Neither was Mae Witman, who also played a child in the original but has remained an actor. Both ended up getting the last laugh, though — the movie had poor reviews and underwhelmed at the box office. Bagley responded by taking to Twitter and asking Whitman "wanna go see that new Finding Dory?"
Leanna Creel
Tori Scott was only in ten episodes of "Saved By The Bell," but left a stronger impact than most guest actors. The leather jacket-wearing biker girl who transitioned from Zack Morris' enemy to friend to girlfriend came out of nowhere and vanished into thin air later. Leanna Creel, the actress who played Tori, also vanished from screens — but that's because these days, she works behind the camera instead of in front of it.
Creel and her two sisters — identical triplets — got started in acting as teens. Creel was studying history at UCLA when she got the call to attend Bayside High for a ten-week shoot. She was a little older and her priorities were different, but got value out of her time on the show. After all, it's where she found her true calling: producing.
During her time on the show, she realized the person she most wanted to be wasn't Zack or Lisa or even Tori — it was Peter Engel, the show's producer, because he was always doing something during and between takes. The restless Creel mostly left acting behind when Tori outright vanished from Bayside. Tori was — per "Saved By The Bell" tradition — never mentioned again, but Creel went back to UCLA and got an MFA in film production.
In 1998, she co-founded Ignite Entertainment, the film production company behind "But I'm a Cheerleader" and other late '90s teen movies. The company was later sold to Lionsgate, and Creel has worked on various web series and smaller projects since. She now runs a full-service production company, Creel Studio, with her wife, Rinat Greenberg. On the company's About Us page, she notes that she "finally traded in the Harley for a Vespa."
Ian Lithgow
Ian Lithgow had a recurring role on "3rd Rock From The Sun" as Leon, one of the oblivious students in Dick Solomon's physics class. No, his last name is not a coincidence — he's the son of Dick Solomon himself, John Lithgow. Ian appeared in 48 episodes of the sitcom but was seldom seen on TV again. He's still acting, but away from screens and cameras — and balances another important job with it.
Ian graduated from Harvard like his father and acted for several years, including his turn on "3rd Rock." During this time, he acted in playhouses across the country, from Manhattan to Chicago to Pasadena. In 2005 he got his master's degree in clinical psychology from Antioch University Los Angeles. He worked as a therapist in New York City.
He moved to Philadelphia in 2011 after his wife Rachel, a notable name in Jewish scholarship and nonprofit management, got a job as the executive director of the Philadelphia Holocaust Remembrance Foundation. During this time, he took a break from his time as a therapist and resumed stage acting. One such production was a performance of "The Outgoing Tide" with Peter Strauss and Michael Learned.
He has since relocated back to New York and resumed his therapy practice. So if you're in the big city and want to see a big play and talk about your feelings after, there's a 50/50 chance you'll see him.
Eric Lutes
Eric Lutes played Del Cassidy, greeting card proprietor and on-again-off-again boyfriend of the titular "Caroline In The City." It remains the most high profile role of his career. After "Caroline" was canceled, he starred in the short lived Mary-Kate and Ashley TV series "So Little Time" (marking the second time he played the father of the twins) and has only worked sparingly since. That's in part because of a health scare that saw him readjust his life.
In 2013, Lutes contracted Lyme disease and malaria after a tick bite. The recovery lasted two years, during which he lost a lot of his strength and suffered immense joint pain. During this time, to aid with his recovery, he changed his exercise routine, his diet, and his priorities. He credits his recovery with making him a more compassionate person. His inability to do much besides sit also saw him dive into one of his true passions: painting. "I couldn't really go to the beach," he told Encourage TV in 2020, "because you have to stay out of the sun, so I would paint what I wanted to be in." He sent the paintings to a gallery and they sold well, and that became his main focus.
The move to painting isn't all that huge a jump. His father was an accomplished artist, and Eric himself has always found comfort in it. He told The Chariho Times in 2020 that "Deep down I've always been an artist. I trusted my ability in painting more than my ability in acting. I never doubted my ability to sell a painting." One of his paintings, of research vessel The Endeavor, can be found in the lobby of URI's Graduate School of Oceanography. Besides painting, he teaches acting part time at a local arts center and still does the odd film.
Danielle Brisebois
Fans of Danielle Brisebois fit by and large into two camps: those who know her best as a child star, and those who know her best as a musician. For those in the former camp, here's what happened to Stephanie Mills.
Brisebois played Molly, an orphan, in the original Broadway staging of "Annie." In 1978, one year after "Annie," she joined "All in the Family" as Stephanie, the niece of Archie and Edith. She warmed the cold heart of Archie Bunker, quickly becoming a surrogate daughter. She stuck around through sequel/spinoff series "Archie Bunker's Place," where the audience watched her grow from a cute kid to a teenager.
She acted for a few years after "Archie Bunker's Place" went off the air, but largely retired from acting to pursue her other passion. "I found out that after doing the TV show, I wanted to do music and more than anything to write music," she told the LA Times in 2015. Brisebois soon met musician Gregg Alexander, and the two formed a partnership that would last decades. She performed backup vocals on his 1992 album "Intoxifornication." In turn, Alexander produced and co-wrote Briesbois's solo debut album "Arrive All Over You." The alt-rock album was a minor hit in Europe and has a cult following in America.
Her career as a musician reached its peak when she and Alexander formed the New Radicals, the short lived rock band best known for hit single "You Get What You Give." Alexander ended the band not long after the single charted, but their creative partnership has continued — with Alexander producing her second album "Portable Life" and co-writing the music for the 2013 Keira Knightley/Mark Ruffalo film "Begin Again," which nabbed the two an Oscar nomination for Best Achievement in Music Written for Motion Pictures for the song "Lost Stars."
On her own, Brisebois has been a successful songwriter. The most notable examples are the hit singles "Unwritten" and "Pocketful of Sunshine" by Natasha Bedingfield. Brisebois and Alexander reunited on January 20th, 2021, to perform "You Get What You Give" at the inauguration of Joe Biden.
Rebeca Arthur
Rebecca Arthur played Mary Anne on "Perfect Strangers" from the second season to the series finale. Mary Anne — with her recognizable curly hair and high pitched voice — fell in love with Balki (Bronson Pinchot), married him, and had his child. Rebecca, however, didn't do much in the way of acting after the series concluded — entirely by choice, after marrying and becoming Rebecca Arthur Golden.
"After 'Perfect Strangers' ended," she told the Perfect Strangers Reviewed blog in 2020, "I still worked but I really had lost my love for it. I got married in 1996 and in 1997 had my first daughter. I did tons of voiceover work while pregnant and for a while after having Stella. Then I went out of town for work and had to leave her. She was a little over a year old and trying to assure her I would come home soon over the phone was devastating. With acting, it was all about me but with motherhood, it was all about them so I chose them." She explicitly states that she has no regrets about it.
When asked what she's done lately, she said that besides raising her two daughters, "I became a professional volunteer at their schools serving as president of the parent/faculty first at the elementary, then middle school and finished it all up at the high school. I have a clothing business which I really enjoy." That clothing business is Cabi, a multilevel marketing company selling seasonal and stylish clothes — something she regularly shows off on her Instagram.
Lauren Lane
Lauren Lane played C.C. Babcock, Maxwell's work associate and the frequent antagonist of Nanny Fine on "The Nanny." Lane told Vice earlier this year that her specialty was "evil vixen" roles, an apt summary of the C.C. character.
After "The Nanny" got canceled, Lane found her career stifled by two factors: casting directors only seeing her as C.C., and the fact that she was pushing 40 in an industry where that's not a friendly milestone for women. ""If you're Jessica Lange, you can work through your 40s and 50s," she noted to Vice, "But the only way you can is if you have an Academy Award. That's reality."
In the early 2000s, she auditioned for a trendy teen soap as a mother. She recalls nailing the audition but realizing the young white male writers didn't connect with her. This was a turning point. Realizing that it wasn't worth struggling for roles, she moved to Austin, Texas, and focused on raising her daughter.
While she's barely been on screen since "The Nanny" finale, she hasn't exactly left acting behind. She's a tenured theater professor at Texas State University, and often performs in plays across the country. Lane is also considering a return to screen acting: she'll be qualified to retire from academia around 2023, and the time feels right to her. When asked if she'd be interested in a "Nanny" reboot, her answer is a resounding "Hell yes, I would do it.""
Margaret "Maggie" Langrick
"Camp Wilder," a show about a young single mother becoming the legal guardian of her younger siblings after their parents die, only lasted one season from 1992-93 — but it produced one of the best young casts in TV history. Stars included Jerry O'Connell, Jay Mohr, and Hilary Swank, and there were early guest appearances by Jared Leto and Seth Green.
Also part of the cast was Margaret "Maggie" Langrick, who played Beth. Langrick was a rising child actor, best known for playing Sarah in "Harry and the Hendersons," but she stopped acting almost entirely after "Camp Wilder" got canceled. She instead shifted careers entirely, and went on to a distinguished career in journalism and publishing.
In a 2018 interview with writer Jeff Pearlman, Langrick said that "Acting was tons of fun, but the work was so erratic. I never felt in control of my own career progression. After my daughter was born I studied fine art for a while, then pivoted into editing, which is something I've always enjoyed and am naturally good at."
Langrick spent 15 years working as an editor for newspapers and magazines, including five years as the life and arts editor of the Vancouver Sun. She's now the CEO of Wonderwell, a hybrid publisher specializing in nonfiction books. She occasionally runs into people who recognize her acting work but "I never got famous enough for stalkers or harassers to become a problem."
Benjamin Salisbury
Benjamin Salisbury played Brighton Sheffield, the middle child of Maxwell Sheffield on "The Nanny." Fans watched him grow from a sensitive young boy to a Harvard student over the course of the series — and that's pretty much the last they saw of Salisbury. He has entirely stayed out of the public eye since "The Nanny" ended, save a couple minor movie roles and a guest spot on "Numb3rs." He has no online presence, and it's hard to find concrete info about his private life or family.
That said, one thing is known about his post-"Nanny" life concretely: he works at Universal Studios Hollywood. Pete Werner at DIS Unplugged passed by Salisbury at Universal in 2009, where the former Brighton was running VIP tours. InsideUniversal got video of him emceeing an event for Annual PassHolders at the WaterWorld show in 2014, now introduced as the Director of Entertainment. By 2017, Salisbury was listed as the theme park's Director of Operations.
Salisbury appeared on camera for the first time in years in April 2020, taking part in a virtual table read of the first "Nanny" episode with the rest of the cast.
Phil Buckman
Phil Buckman has had something of a multi-hyphenate career. It's hard to identify him with any one project, but he's been around for a few decades, doing various jobs across diverse realms in the entertainment industry. Some may remember him as Vic, the zealously loyal intern from "Bob Patterson" — Jason Alexander's short-lived first shot at a post-"Seinfeld" career. Others will remember him from the similarly short lived hospital drama "City of Angels."
Most, however, have likely heard Buckman's voice somewhere. He spent years doing voiceover work for Carl's Jr./Hardee's commercials, he's done promos for Fox shows like "The Orville," and is one of the voices for KNBC. He also does vocal work for TV shows and video games, including voicing Ghost in "Marvel Heroes."
Outside of voice acting and the occasional guest spot, Buckman is an accomplished rock bassist. He spent a spell playing bass for industrial rock band Filter, and is currently the touring bassist for Fuel — yes, "Hemorrhage (In My Hands)" Fuel. He's also a member of Petty Cash, a hard rocking cover band made up of touring musicians.
Holly Fulger
Holly Fulger had supporting roles in two notable sitcoms from the late '80s and early '90s. From 1989 until 1992, she played Robin on "Anything but Love" — the best friend of female lead Hannah (Jamie Lee Curtis). Then in 1994 she played Holly Jamison in the first season of "Ellen," another quirky best friend, before getting written out of the show the next year.
Fulger bounced around Hollywood for the next decade or so, with her most recognizable role probably being Aunt Judy in the "Zenon" trilogy, but hasn't appeared in a mainstream production since a 2006 guest spot on "Without a Trace." This is because she's shifted her focus from acting to tackling beauty standards.
In 2012, Fulger started a web series called "Speaking of Beauty." This spun off into a book titled "Speaking of Beauty's Inner Beauty Journal," which Fulger calls "a guide to help women recognize their individuality defined their beauty, not their hair, makeup, and body size." This in turn led to 2016 YouTube series "The Hollywood Beauty Detective," and finally to her current endeavor: True Beauty Discovery, a nonprofit that "celebrates the diverse beauty reflected in all of us."
Fulger explained what spurred this career development in an interview with cleveland.com earlier this year. "One of the things that I was always affected by when I was a kid," she said, "is I wanted to look like beautiful women in magazines and on TV. I didn't. I had buck teeth, braces and glasses that were so thick that my eyes looked gigantic. … It affected my career, because as I became an actress and I started working, it was still the question of what do you look like? I worked a lot and did wonderful projects, but yet there's always that 'not enough' feeling." This inspired her to dive into beauty when she got older and had a kid of her own.
Andrew Ducote
Andrew Ducote played Willie Barry, the youngest of Dave Barry's sons on "Dave's World." He played the role from 1993 to 1997, covering his childhood/pre-teen years. He did some spotty acting for a few years after the series ended before going to college. It was here that he became famous for playing a certain boy who wouldn't grow up, giving him a whole new set of fans who likely never knew "Dave's World" existed.
From 2006 through 2011, Ducotte played Peter Pan at Disneyland. Nicknamed "Spieling Peter," he developed a loyal following online. He's since become something of a Peter Pan expert, reprising the role in a video by Traci Hines and often giving his thoughts on the character across YouTube.
He proposed to his now-wife Hali, who fittingly played Wendy at the same park, in 2012, and the two won a "Perfect Wedding" contest run by radio station 104.3 MYfm. He now raises his two children, occasionally vlogs, and works as a video producer for Taco Bell.
Harley Jane Kozak
Harley Jane Kozak spent the '80s doing regular roles on soap operas. She reached the mainstream in "When Harry Met Sally" as Helen, the one-time wife of Harry, and as Molly Jennings in the horror comedy "Arachnophobia."
She got regular television work through the '90s, peaking as Gillian Apple in the short-lived ABC sitcom "You Wish." Lasting for one season in the TGIF block alongside similar magic sitcom "Sabrina, the Teenage Witch," the show was about single mom Gillian and her family living with a genie in their house. Kozak has rarely acted since then, instead focusing on her writing career.
In an interview with Retro LadyLand in 2014, Kozak explained her career change: "When I became pregnant with my first child, I was a series regular on an hour drama and they asked me to sit it out because they really didn't want my character pregnant. That was a gift for me, because it let me go home, be pregnant, finish my first novel — and get paid for it." She also has no regrets about becoming a full-time writer. "I was very happy in my acting career in my single days, but I'd never have been able to raise kids with the kind of schedule I had then."
Her debut novel was "Dating Dead Men," a mystery novel and the first of what would become the "Wollie Shelley Mystery Series." She has also contributed to many anthologies, and has also been narrating audiobooks since 2019.
Staci Keanan
Staci Keanan (real name Anastasia Sagorsky) spent her youth on three sitcoms. From 1987 to 1990, she starred on "My Two Dads" as Nicole, the child with the titular double dad situation. From 1990 to 1991, she starred on the long-forgotten TGIF sitcom "Going Places." She then got her biggest role yet: Dana Foster on "Step By Step." She played the wisecracking young woman for all seven seasons, from 1991 to 1998. She's acted sparsely since then, now practicing law under her original name.
Sagorsky got her J.D. at Southwestern Law School in 2013, spent the next three years as Deputy District Attorney for the Riverside DA, and joined the Los Angeles DA's Office in 2016. In 2021, she joined the faculty of Southwestern Law School as an adjunct professor. Her faculty bio lists her many legal accomplishments in detail, only adding this brief mention at the end: "Before beginning her law career, Professor Sagorsky had a career in the entertainment industry and worked as an actress on several primetime network television shows."
Aaron Michael Metchik
Aaron Michael Metchik played Steven Floyd Torkelson, the sports-minded brother of the titular family in "The Torklesons." Fans of the first season remember him clearly. Fans of the second season never saw him after his character was retconned out after the show was retooled. He popped up in various other shows as one of the seemingly endless child actors the '90s threw at us before largely vanishing from our screens after Y2K. He still makes his living in acting, though — but now, primarily as an acting coach.
Aaron's mother Robin Metchik was an influential drama teacher in the Arroyo Grande area, so it's only natural her son went on to become an actor. He got a degree from UCLA after his career concluded and opened the Aaron Metchik Acting Studio, since renamed Actor's Edge. His website boasts many success stories, but there's one that looms above all else. In the mid 2000s, Robin Metchik had a talented student in her drama class, one she realized had a ton of potential. She set him up with an agent, and Aaron became this burgeoning star's private acting coach. The star in question? Zac Efron.
Melinda Mullins
Melinda Mullins played Hilary Booth on "Remember WENN," the AMC show about the goings-on of a radio station in the 1930s and '40s. Hilary, an aloof former stage actress, played the female lead in many of the station's shows. The show has largely left the public imagination despite the involvement of Rupert "Escape (The Pina Colada Song)" Holmes and being an early original work of a now dominant TV channel. Mullins, also known for playing Andrea in "Dennis the Menace," hasn't been seen on screen since "Remember WENN" got cancelled in 1998. She also hasn't been seen in America since around 2007.
After the show's cancellation, Mullins was mulling retirement when she met fellow actor Joshua Bryant at a film festival. The two fell in love, retired together, and went to live in the New Mexico desert. They used renewable energy, raised horses, and largely kept to themselves. They then proceeded to leave this life behind as well.
What changed? In a 2018 interview with French newspaper Le Populaire du Centre, the two traced it back to early 2003. The United States was considering invading Iraq, and Mullins and Bryant agreed that they'd leave the country if the Bush administration invaded Iraq. When the Bush administration did just that, the two spent four years sorting out their affairs, moved to the Limousin region of France, and they've lived there ever since.
They largely keep to themselves and their horses, but still take part in local theater. In 2019, Bryant directed the play "Alienor et Fred," which starred Mullins as a statue of Eleanor of Aquitaine come to life.
Grizz Chapman
Grizz, played by and named after Grizz Chapman, was the most physically imposing of Tracy's entourage in "30 Rock" — and the most sensitive. "30 Rock" was Chapman's first time credited acting on screen, and remains his most prominent. He's appeared in a couple dozen shows and movies since, almost always in a bouncer/bodyguard-type role. Besides the possibility of typecasting and limited roles for anyone over seven feet tall, Chapman hasn't had too many roles lately because he has other business endeavors.
Chapman co-owns Bronx-based comic shop The Lair, and frequents comic cons as both a vendor and a fan. He also hosts the UndaDog podcast, where he interviews musicians, actors, and various other personalities. Guests include Jon Hamm, Adam Richman, and former "30 Rock" co-star Scott Adsit. Chapman also has a Cameo account — so if you miss seeing him on your screen, you can pay him $30 and he'll address you personally to get your fix.
John Lutz
John Lutz played J.D. Lutz, the biggest loser in the room of losers that was the TGS writing staff on "30 Rock." A huge dork despised by everyone around him, Lutz was often a victim of the Pranksmen and the source of Liz and Jack's frequent ire. The real Lutz is far more liked, but he does use "unpopular dweeb" as part of his comic persona. Outside "Mapleworth Murders," a show he co-wrote and starred in for Quibi, he hasn't been in much since — but fans of late night television have seen him fairly often post-"30 Rock."
Lutz was always more of a writer than an actor, and as such returned to that world after "30 Rock" wrapped. He almost immediately joined the inaugural writing staff of "Late Night with Seth Meyers" and remains there to this day. He also plays versions of himself, such as a YouTube video where he is sent a green screen for Zoom but instead uses a picture of his own living room. One of his most common recurring bits is the "Leave Him Alone Guy," an audience member who sticks up for the oft-despicable public figures Meyers mocks and offers himself as an alternative target.
Leila Kenzle
Leila Kenzle played Fran Devanow, the ('90s sitcom mandated) Neurotic Best Friend on "Mad About You." Proximity to Helen Hunt and Paul Reiser on a popular sitcom should have guaranteed something of a career after the series wrapped, but show business in that era wasn't suited for her. "I was 37 and the idea of having to parade myself in front of 27-year-old executives began to feel a bit silly. I wanted to be treated like a grown-up," she told the New York Post in 2007. As such, she changed careers.
Kenzle did the odd guest spot here and there, all while attending Antioch University. She graduated with a Masters in Psychology in 2002, and now works as a therapist in Los Angeles.
Of course, her old show is still in syndication, which can cause issues: "If patients recognize me right away, it takes some time to figure out who they're meeting — me or Fran." So involved is she in her practice that Kenzle didn't even return for the "Mad About You" revival in 2019.
Johnny Kastl
Johnny Kastl played Dr. Doug Murphy on "Scrubs." Playing a fatally inept doctor turned successful pathologist proved somewhat prescient about his personal life — specifically the part about a career change. After "Scrubs" wrapped, he appeared on a half dozen episodes of the Patrick Swayze vehicle "The Beast" before retiring from acting. He hasn't had another screen credit since, because he's gone into law.
Not long after leaving "The Beast," Kastl enrolled at the University of Iowa College of Law. Starting around 2010, when he was a 2L, he clerked at the US Attorney's Office for the Northern District of Iowa. He later spent time practicing law at various firms and companies before co-founding Acorn Finance, where he serves as VP of Business Development. In 2019, Kastl told the Chicago Tribune that "Law was always the end goal. When 'Scrubs' was winding down, we had reached a point where we wanted to have kids and it seemed like the right time for the exit strategy."
When asked if he ever saw himself acting again, he said: "Not immediately, but eventually." He spent some time on the Victory Gardens Theater board of directors, never fully leaving show business behind.