Life is full of ups and downs, and that's true of pretty much everyone sharing this crazy globe we call Earth. But it's extra true of some people — like Earl Simmons, better known as DMX. For starters, there were some pretty wild highs: GQ says that as of 2019, he remained the only rapper to debut his five first studio albums at the Billboard 200's Number One spot. Also in the "awesome category"? He saw two of his albums go platinum (i.e., sell more than a million copies) in the same year, and he even made a successful jump into Hollywood as an actor.
But in between those highs have been a lot of lows. DMX lived through an abusive childhood and struggled with fatherhood himself, eventually acknowledging his 15 children by 10 different women (via Nicki Swift). He was sentenced to jail somewhere around 30 times, on charges that include things like drug possession, robbery, reckless driving, and weapons possession (via the BBC).
DMX had medical issues, too: In 2016, he "stopped breathing" while in a New York parking lot, and just five years later — at just 50-years-old — he suffered a catastrophic and ultimately fatal heart attack on April 9, 2021. While everyone might be familiar with those headlines, let's take a look behind the fame and fortune at what many might not know about one of the industry's most successful musicians.
DMX was open about his traumatic first experience with drugs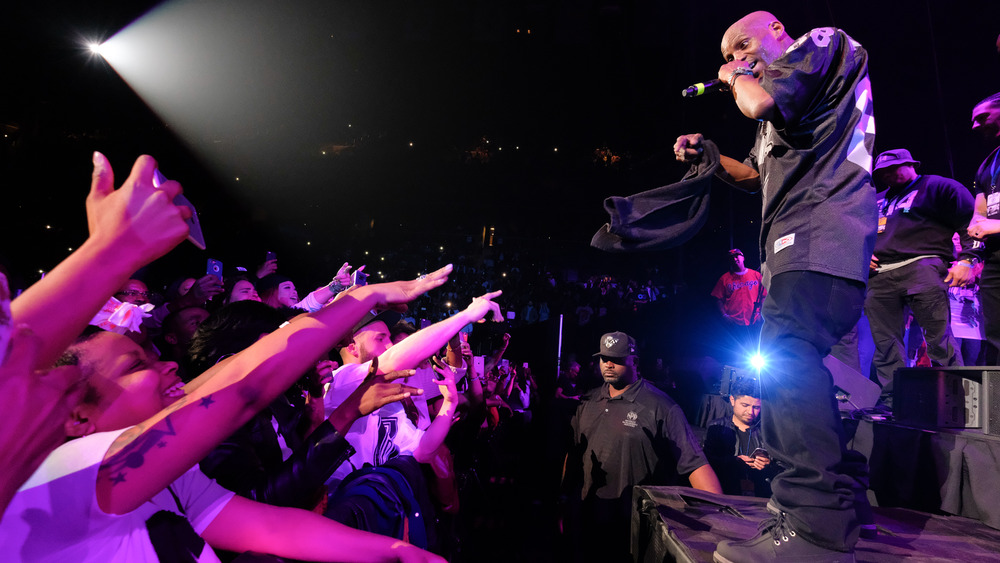 When CheatSheet compiled a list of times DMX was either sent to rehab, committed himself to rehab, or had a near-death experience because of his addiction, it became painfully clear just how long he struggled with drugs. In 2017 alone — the year after he was resuscitated after a heroin overdose — he cancelled tour plans twice to try to deal with his addiction.
It was a struggle that started years before his music career. In 2020, X got candid with Talib Kweli on People's Party, when he said that it was the same person who had introduced him to the world of hip-hop that also introduced him to the substance that he would struggle with for the rest of his life: crack. X had been just 14-years-old when he was given a blunt laced with crack, and said (via Complex): "He passed the blunt around and… I hit [it]. I never felt like this before… I later found out that he laced the blunt with crack… Why would you do that to a child? … He knew I looked up to him. Why would you do that to someone who looks up to you?"
He went on to say that drugs were never quite the problem — they were a symptom of a deeper problem that went back through his childhood, and that's what came out in his music.
DMX's deeply troubled childhood
"I didn't have much of a childhood," DMX told Rolling Stone in 2000. "It was always dark in our house, and depressing. That's what I remember."
He grew up with four sisters who, he said, his mother always favored. When it came to him, it was hand-me-down clothes and being relentlessly bullied — which, in turned, caused him to act out even more. A smart student who was easily bored, he got into his first serious fight in just first grade. That, he recalled, is when he stabbed a classmate in the face with a pencil, and from then on, he was labeled as a problem. "They thought I was a bad kid, pain in the ass," he recalled. "They wanted to treat me like every other kid in the class. Can't do that to me. … I thought a lot more than every other kid in the class."
At the end of the school year, his mother — who had knocked his teeth out when he was six (via GQ) — dropped him off at what would be the first of many institutions. The result was a complicated relationship. He told Rolling Stone: "So many times, I thought about killin' that b***h. But I would always think of how I would feel if she was gone, and I knew I wouldn't like that. No matter what she did, I knew I still loved her. I love her, though. I love her, but I can't stand that b***h."
DMX's eclectic taste in music, and where it came from
Fans are familiar with DMX's music and distinctive style, but when Rolling Stone got a peek into his CD collection in 2000, there were some surprising things there — including Earth, Wind, and Fire, Teena Marie (who was the first artist he played on a jukebox during a 2019 interview with GQ), Donna Summer, Men at Work, and Regina Belle… among others. X said that his taste in music very much came from a time, a place, and a feeling: "When it was music playin, it was' cause people were over. It was usually durin' the holidays, and they were havin' a good time. … That's why I like these songs. It was, like, the only time I was happy as a kid."
When he talked to Rolling Stone again in 2006, he was singing Bill Withers and the praises of Lou Rawls — among other R&B classics, and adding a shout-out to early Michael Jackson. He told them, "I always had an awkward attraction to music. Some people just listen to songs; I felt songs, as far back as I can remember."
And one of those earliest songs was "The Night Chicago Died." He was about 3-years-old, he recalled, and the first time he'd heard it, he had been looking out his own window to a building across the street. It had been on fire, and in that moment, music became something very real.
DMX returned to his former group home to visit the residents there
DMX was riding along on a high point in 1999 — he had released two albums that went straight to the top, but an announcement from MTV suggested that he wasn't about to forget where he came from.
He was heading back to a group home in Dobbs Ferry, New York, with the suspiciously innocent-sounding name of Children's Village. He had been a resident there for around five of his teenage years, and it was his intention to spend some quality time there. He did — he spent the weekend, celebrated his birthday there, and talked one-on-one with some of the current residents.
GQ says it was at Children's Village that he "spent his formative years" and adds that he first got noticed in 1987, when he was selling his own mix tapes. But it's also worth noting that the home wasn't a pleasant place to be. In 2020, The Hudson Independent reported on a massive series of lawsuits that were being brought against the home on behalf of former residents who accused the institution of a range of offenses, including physical and sexual abuse, and negligence, covering a time frame of 1970 to 1995.
DMX never got over his first heartbreak
Teenage heartbreaks can help us bridge the gap from childhood to adulthood, and when DMX talked to GQ in 2019, he had no trouble answering the question about the first time he'd had his heart broken. He'd met a girl from Connecticut, he said, and what followed was the kind of obsessive love that 17-year-olds are so good at. He went to jail for robbery and she went back to Connecticut, but when he got out: "I got to find my girl."
Her mother directed DMX to where she was working, and after promising to meet him after she got off of work, she left him waiting. The mall closed, security booted him off the premises, and still he said he "waited outside for like another hour. I was like, 'Damn, maybe she just had to leave, maybe she had to get a ride…" Later that night, X was at a local club with robbery on the brain. He saw her, and when he said he didn't have any money, she simply scoffed at him and walked away.
It stuck with him for years, and he always hoped he would meet her again, so he could tell her who he was and what he'd become … but not for the usual reasons: "Not to throw it in her face, but I ain't even going to front. I really just wanted to ask her why she did that."
DMX hated Ruff Ryders' Anthem
Right from the beginning, DMX always took his music very, very seriously: GQ says he once described it by saying it "isn't just for the moment — it's forever," so it's admirable that he only wanted the stuff he really liked out there for eternity. And that almost didn't include what became one of his biggest songs: "Ruff Ryders' Anthem."
"I wrote it in 15 minutes. I actually didn't want to write it. I didn't want to do that song. The beat was simple and repetitive. So many other songs had so much substance, and this one was like… like elementary," he stated. Those were some harsh words, and it was only released because producer Swizz Beatz persuaded him to definitely include the song. If he hadn't been so persuasive — or if X hadn't listened — it's entirely likely no one would have ever heard it.
As it played out, it did get released and the people did respond. When VH1 reached out to viewers for their top 100 Hip-Hop songs, "Ruff Ryders' Anthem" came in at number 79 (via Stereogum). Billboard liked it, too — it spent 20 weeks on the charts, and peaked at Number 33.
DMX spoke about having multiple personalities
Aside from a few brief mentions in various song lyrics, Complex notes that DMX was hesitant — for a long time — to talk about any mental health issues he struggled with. While speculation was rampant, he did touch on something in a 2020 episode of BET's Ruff Ryders Chronicles that wasn't just surprising but painfully honest.
DMX said that there were "a few people" inside him and continued: "They're different things. There's a few things, a few people in me — they get me through life." It very quickly became clear that he wasn't interested in elaborating: "I wouldn't want anyone to know anything. I don't talk about them. … They're there to get me through life. I don't know if I made them or if God gave them to me, or maybe circumstances and situations did."
He wasn't the only one to mention them, and his ex-wife, Tashera Simmons, added that "X" was simply another personality — and it was one that he had created to protect Earl. Earl — his birth name — was "the child that could've been," she said, and DMX once said that, "I'm Earl when I'm with my children." She said, too, that X and DMX were two separate personalities. "[X] is the angry one. DMX is the entertainer; he's another protector of Earl, but so much nicer."
According to Yahoo, it's unclear if mental health professionals ever diagnosed DMX officially with dissociative identity disorder.
The supergroup that fell apart
Rap really hit a stride in the late 1990s, and according to MTV, the world very nearly saw a major supergroup assemble. It would have been made up of DMX, Jay-Z, and Ja Rule, but according to Irv Gotti, the occasional feud, argument, or bit of trash-talk that went public at the time was just the tip of the iceberg.
It wasn't until a 2011 appearance on RapFix Live that Gotti told what might have been something akin to the whole truth, and it started with, "Jay and X didn't like each other at all. And it was always competitive."
The whole thing went back to 1994, and a rap battle. X, accustomed to being the winner, suddenly found he had some serious competition in Jay, and he didn't like it. Things just got more and more tense when the next year, X had been given the closing verse on a collaboration before anyone else had even been consulted — and that added insult upon insult. More insults were traded in verse form, and what could have been a planned supergroup fell apart before the idea even truly got off the ground.
DMX was devoutly religious since childhood
In 2016, DMX got super honest about his religious beliefs. According to Deseret News, he wanted to become a pastor, and he added that he believed the reason he had a career was because of God. "You never know how far God is going to allow me to get or how many people He is going to allow me to reach," he said, adding that if he could "just touch one person, [he had] done something wonderful with his life."
He went on to very literally practice what he preached, and in April of 2020 — just as it was becoming very clear how dangerous the COVID-19 pandemic was going to be — he held a live Bible study on Instagram, before thousands of viewers. (He had, at the time, already lost people to COVID-19, says The Christian Post.)
His devotion was nothing new: in 2020, he told GQ that his favorite book growing up had been a children's version of the Bible from the Jehovah's Witness and that he'd read the full Bible multiple times. When asked about his goals, he said, "I just need to have a purpose. And I don't even know that purpose, because God has given me that purpose since before I was in the womb, so I'm going to fulfill that purpose… whether I want to or not, whether I know it or not, because the story has already been written."
DMX's arrests for animal cruelty
Post-2014, a story started circulating that DMX had been arrested in connection with running a dog fighting ring, but according to Snopes, it wasn't true. Not entirely, at least. While DMX hadn't been connected to a dogfighting ring at all, there were multiple instances where he was arrested for animal cruelty. According to Billboard, the first came in 1999 when, after a shooting, police raided his home and found drug paraphernalia, loaded guns, two minors, and 13 dogs — all pit bulls — living in small cages. DMX avoided serving any jail time and instead pleaded guilty to 13 counts of animal cruelty (in addition to other charges), paid a fine, and recorded radio announcements on behalf of the Humane Society.
But, fast-forward to 2008, and he was in trouble again. This time, the LA Times reported that 12 "malnourished" dogs had been seized from his property, and authorities were investigating the deaths of three others (along with more drug charges.) E Online reported two of the dogs died from severe injuries (while another was so badly burned it was impossible to tell what had happened. Reuters says DMX was sentenced to 90 days in jail.
In 2006, he described his love of dogs to Rolling Stone: "I have 20 dogs. I got Randi, Reta, Bronco, BJ, Bandit, Bobby, Pebbles, Bam Bam, Sadie, Mamas, Vicki, Go Hard and six puppies — Bruno, Chris, Peezee, Missy, Wolfie, and Nat… I can't remember the dumb one's name."
What really happened with the George Zimmerman fight
Sometimes, truth really is stranger than fiction, and in 2014, Rolling Stone ran a story that sounded like it just had to be fake: DMX was, apparently, going to go toe-to-toe with George Zimmerman — the man who had been acquitted of his role in the death of Trayvon Martin — in a boxing match. Promotor Damon Feldman was already boasting that DMX had proudly said he was going to "beat his ass," but at the time, nothing about the fight had been concretely decided. Still, DMX said: "I am going to beat the living s*** out of him… I am breaking every rule in boxing to make sure I f*** him right up."
That was in the beginning of February, and just a few days later, Rolling Stone was making another announcement: The fight had been cancelled. What happened? Originally, Feldman claimed he'd had a change of heart: "Zimmerman was the wrong person to have in this. I looked into the eyes of my son and daughter today and couldn't imagine someone killing them and getting off scot-free. … It was a tough decision because I could have made two million dollars here, but at least I have my dignity."
But Sky News says that wasn't the whole story, and at the heart of the fight's cancellation was a massive backlash and a wave of threats against those involved.
DMX's 2021 overdose
On April 2, 2021, media outlets began reporting that DMX had been hospitalized. Reports compiled by Nicki Swift describe an incident in which an apparent drug overdose led to a heart attack, which, in turn, led to the rapper being rushed to the hospital. Over the next few days, news reports on his condition continued to be sketchy, with some claiming that he had been removed from life support and was capable of breathing on his own, while others — like an April 4 article from The New York Times — described him as being in a "vegetative state."
Relatives were allowed to visit his hospital room, and while the outside world waited for an update, tributes and well wishes continued to flow in. On April 9, as reported by People, DMX died in the hospital at 50-years-old.
His longtime lawyer, Murray Richman, summed him up like this: "He is truly an amazing person. He walked into a room, he lit up the room. He couldn't help making you feel good in his presence."