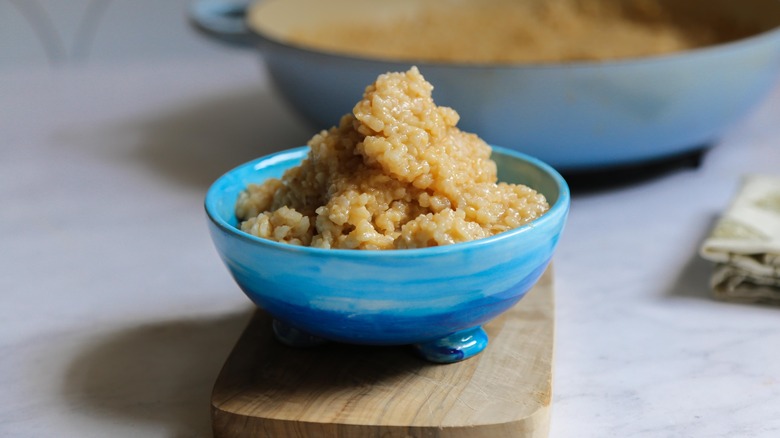 When most people think of risotto, they think of a labor-intensive and complicated process that is stressful and time-consuming to make. We're here to tell you that believe it or not, there's an easy way to make risotto that not only tastes incredible, but can be whipped up in no time. According to Our Everyday Life, the Arabs introduced short-grain rice to Italy in the 14th century B.C., but it wasn't until 1574 that an apprentice named Valerius accidentally created the dish we now know and love as risotto. Now, it's a staple Italian dish that people all over the world love and it's a hit dish at restaurants.
Chef and recipe developer Maren Epstein of Eating Works is the brains behind this quick and easy recipe that is sure to impress anyone lucky enough to try it. She shares that her favorite part of this easy baked risotto is … well … the ease! "I like that you get the creamy deliciousness of traditional risotto without any of the work," she shares. Epstein also says that baking the risotto is not only easier but it also taste just as good. Another thing that makes this recipe slightly different is that there's no wine or Parmesan. "I've made two other risotto recipes for Mashed," Epstein says. "One was with parm and another was a vegan risotto with wine. I wanted this one to be different. It still tastes amazing."
Keep reading to find out what the secret is to this easy dish!
Gather the ingredients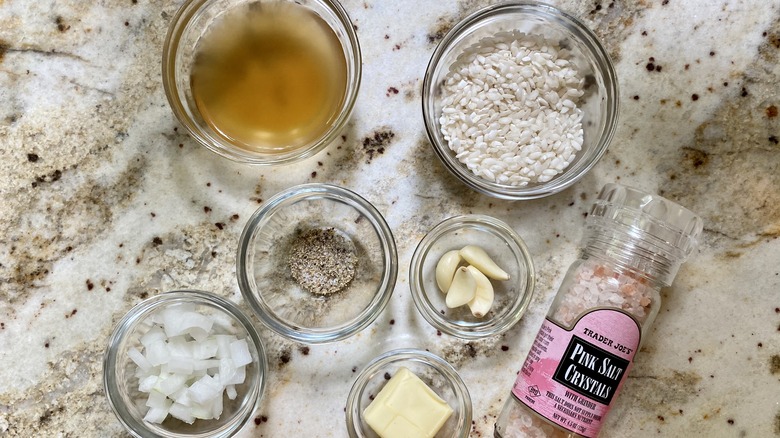 Surprisingly, this recipe requires few ingredients. All you will need to start the dish is unsalted butter, a diced white onion, salt, and pepper. "I prefer sea salt," Epstein says. In addition, you'll need minced garlic, arborio rice, and low-sodium vegetable stock. "I think that the risotto would be too salty if the stock was regular," Epstein notes. "Unless it was homemade. That would be fine."
Hopefully, you already have a few of the required items in your pantry, saving you from having to grab everything at the grocery store. Once you have everything out in front of you, it's time to begin cooking.
Preheat and prep your risotto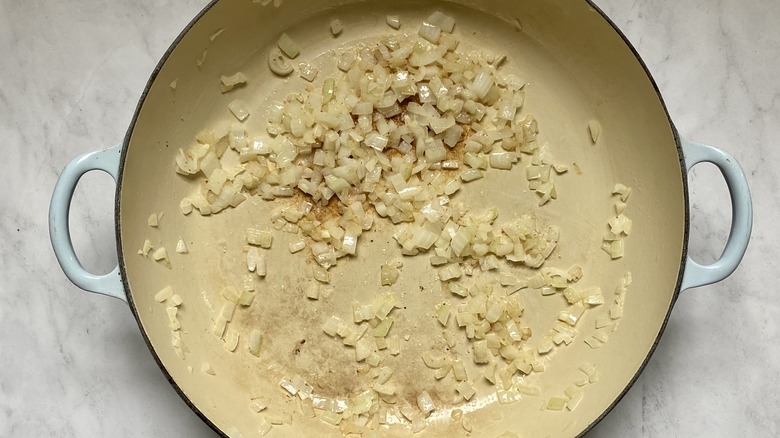 To kick things off, get your oven preheated to 350 degrees Fahrenheit. Next, take out an oven-safe deep skillet (one that has a cover) and heat two tablespoons of butter. When the butter melts all the way, you can add in your onions, salt, and pepper. Sauté everything until the onions are translucent. Remember to give everything a stir on occasion to prevent the onions from sticking to the bottom of the pan and turning brown — or worse, burning!
At this point, you'll also want to make sure you've heated up your 4 cups of vegetable stock, as we'll be adding it to the pot hot.
Add more to the skillet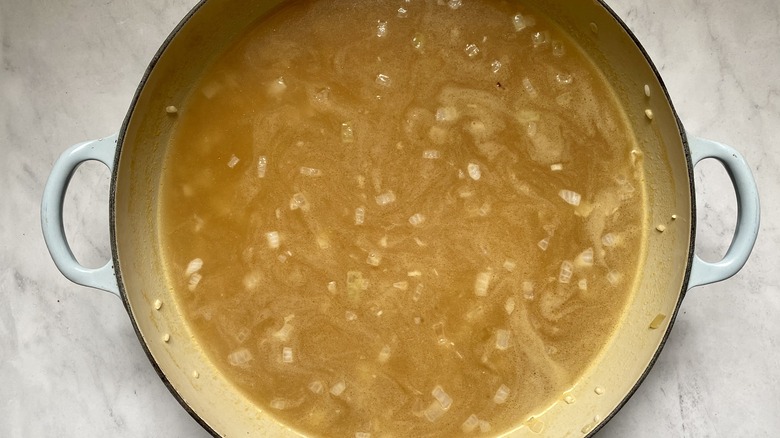 You still need to add a few more items to the skillet once the onions turn translucent. Toss in the minced garlic and sauté until it is fragrant. Be sure to stir the mix quickly to avoid anything burning. Next, add a cup of arborio rice and stir until the rice absorbs the liquid from what's already in the pan. Then, add in the warmed vegetable stock and cover the pan.
Once you've added everything to the skillet, it's ready to go in the oven. This is why you need to be sure that the skillet you used for the rice is oven-safe. Set your timer for 45 minutes and let the oven work its magic!
Fluff and prep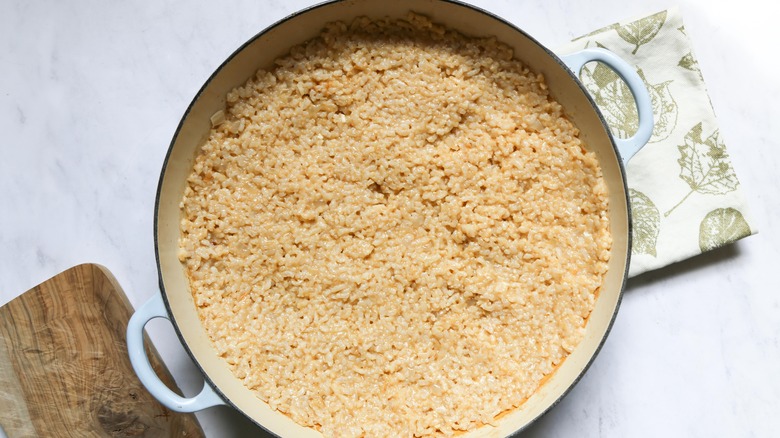 Once you take the skillet out of the oven, it's time to fluff the final product. Use a fork to fluff up the risotto. Next, add the remaining two tablespoons of butter. Stir everything vigorously for one minute or until the rice is creamy. What's the point in "fluffing" up the rice? It's actually not what you might think. "To make the rice creamier, simply mix it more. This rice doesn't really get fluffy — only creamy," Epstein shares. Now is the best part — it's time to dig in!
Serve your risotto
The great part about this risotto is that it goes with just about everything. Epstein recommends pairing it with just about anything, since it is a fairly neutral dish — try it with a salad or roast chicken. You probably won't have any leftovers when all is said and done (trust us on this one) but if you do, you can keep them in the fridge for five days. Alternatively, the risotto freezes well and lasts for three months in the freezer. We hope you loved this dish as much as we do!