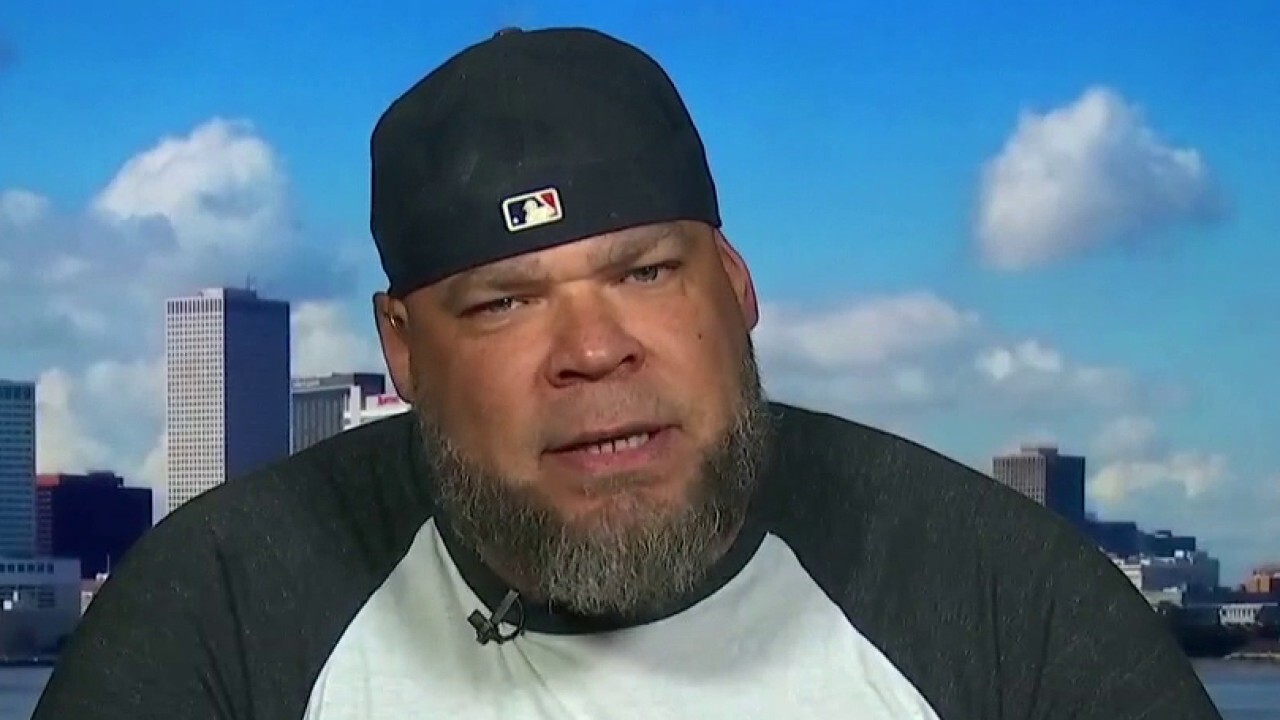 A US hammer thrower turned away from the American flag as the national anthem played while she and two other athletes stood on the podium at the Olympic trials Saturday, later saying she was "pissed" that "The Star-Spangled Banner" played as she received her bronze medal.
Gwen Berry — who qualified for her second US Olympic team during the trials — shifted to face the stands rather than the flag before holding up a black shirt that read, "Activist Athlete."
"I feel like it was a setup, and they did it on purpose," Berry said of the anthem being played. "I was pissed, to be honest.
"They had enough opportunities to play the national anthem before we got up there," Berry said in Oregon, where the trials are being held. "I was thinking about what I should do. Eventually I stayed there and I swayed, I put my shirt over my head.
Despite her own questionable antics while her nation's anthem played, Berry called out the Olympic trial organizers as being inappropriate — to her. "It was real disrespectful," she said.
'"I didn't really want to be up there," she said. "Like I said, it was a setup. I was hot, I was ready to take my pictures and get into some shade."
And so, while winner DeAnna Price and second-place finisher Brooke Andersen stood still on the podium with their hands over their hearts and stared straight ahead at the American and Oregon flags, Berry fidgeted and paced on the third step. Then turned away. And finally grabbed her T-shirt.
"They said they were going to play it before we walked out, then they played it when we were out there," Berry said. "But I don't really want to talk about the anthem because that's not important. The anthem doesn't speak for me. It never has."
"My purpose and my mission is bigger than sports," Berry said. "I'm here to represent those … who died due to systemic racism. That's the important part. That's why I'm going. That's why I'm here today."
A USA Track and Field rep disputed Berry's characterization of the anthem playing.
"The national anthem was scheduled to play at 5:20 p.m. today," said spokeswoman Susan Hazzard. "We didn't wait until the athletes were on the podium for the hammer throw awards. The national anthem is played every day according to a previously published schedule."
Unlike at the Olympics, the national anthem is not played during medal ceremonies at the Olympic trials. It has been played once per day at a set time. On Saturday, the music started at 5:25.
Berry's star-spangled snub rankled many Americans, who posted their displeasure on social media.
"We're going to see more of this," said author and activist Dinesh D'Souza.
"It's going to make patriotic Americans cheer for foreign competitors and against the anti-American Americans."
"What is wrong with people?" wondered former Wisconsin Gov. Scott Walker.
"Growing up, everyone stood for the American flag. Didn't matter your politics, race, sex, income, religion; everyone stood for the flag. It was one of those civic rituals that brought us together," he added. "It still should today."
Radio talk host Mark Davis says Berry "needs to learn that it's not about the anthem 'speaking for her,' it's about a moment of gratitude for this country that makes her Olympic dream possible."
"Shameful self-absorption," he added.
This isn't the first time Berry has caused controversy.
US Olympic athletes were prohibited in January 2020 from making political statements during anthems, after Berry was put on probation for raising her fist during the Pan-American Games in Peru in August 2019. The US Olympic and Paralympic Committee in April reversed course, allowing kneeling and other forms of protests during the national anthem.
Berry's protest follows a long line of professional athletes — Olympic and otherwise — using the national anthem as a tool to protest racism.
Most famously, Tommie Smith and John Carlos, two black track and field athletes, raised their fists, each clad in a black glove, as "The Star-Spangled Banner" played while they stood on the podium.
More recently, NFL quarterback Colin Kaepernick in 2016 began taking a knee when the national anthem played before games, to protest police brutality.
With Post wires
All five victims in the deadly hot-air balloon crash in New Mexico were identified by state authorities on Sunday.
Three more names of the deceased were released Sunday morning — Susan Montoya, 65, John Montoya, 61, and pilot Nicholas Meleski, 62, the Albuquerque Journal reported.
Retired cop Martin Martinez, 59, and his wife Mary, 62, were identified on Saturday.
The group was soaring high above Albuquerque when their passenger basket detached from the balloon and plummeted 100 feet, crashing into a power line and onto the ground at around 7 a.m. on Saturday.
John Montoya was the only passenger to survive the fall, authorities said. He was rushed to a University of New Mexico Hospital, where he succumbed to his injuries, KOAT reported.
Local authorities said the cause of the crash has yet to be determined, the Journal said. The National Transportation Safety Board is conducting an investigation.
Albuquerque is known for its world famous hot-air balloon community, and is home to the annual Albuquerque International Balloon Fiesta.
Balloon pilots gathered at the scene of the crash on Saturday to mourn Meleski, who they remembered as an upbeat guy and a "great pilot."
"Every time he opened his mouth, it would be something to be learned or experienced through his excitable story, his love for the sport and his love for life," fellow pilot Chris Jones told KOB-TV.
Friend Bill Noe said Meleski would "do anything for ya."
"If you were down in the dumps, he'd try to cheer you up, 'Come on, let's go!' If you were hesitant about putting your happy face on, he'd do what he could to help you change," Noe said.
"It's a big loss when you lose not only a pilot, but passengers as well. It's tough to take."
The mayor of Miami-Dade County on Sunday said she is optimistic that the condo collapse in Surfside "is an anomaly" — despite experts warning of sinking issues in other areas of the city similar to what was experienced at the building.
Mayor Daniella Levine Cava said she has ordered an audit of all buildings 40 years and older under the county's jurisdiction after the devastating deadly collapse of Champlain Towers South early Thursday.
"At this point, we're starting with the review of those 40-plus, and you know, look, this, as far as we know and hope, is an anomaly, but the investigation is going to be ongoing," Levine Cava said on NBC's "Meet the Press."
The mayor didn't respond directly when asked by host Chuck Todd whether the county had concerns about other buildings in the area being in danger amid reports that inspectors had detected flaws in the condo tower in the years before the collapse.
"So I've been speaking to my fellow mayors of cities, and we are talking about what we will do in the municipalities, as well as Miami-Dade County. And I can assure you that we'll be taking a very aggressive look at everything," Levine Cava responded to the question.
No cause has been identified in the condo disaster that has left at least nine dead and 156 unaccounted for, but the building was flagged as having "major structural damage" in 2018.
Experts had also warned that the condo building was sinking for years before it crumbled to the ground — and several other areas of the city have had similar subsidence issues.
Researchers Shimon Wdowinski and Simone Fiaschi said the condo building had been sinking at a rate of 1.9 mm per year from 1993 to 1999, according to a study published by the journal Ocean and Coastal Management.
Meanwhile, other nearby areas were sinking at faster rates during the same period — including the ground on Park View Island, at average rate of 2.3 mm a year, and the Flamingo/Lummus neighborhood in Miami Beach at 2.0 mm per year, the study said.
Wdowinski cautioned this week that the findings do not certainly point to the sinking being the cause of the collapse but said the rate does carry "impacts to buildings and their structures," USA Today reported.
The death toll from the Florida condo collapse has risen to at least nine, officials said at a press briefing Sunday.
Four additional bodies were pulled from the rubble of Surfside Champlain Towers South on Sunday, said Miami-Dade County Mayor Daniella Levine Cava. The new bodies were added to the five people already confirmed dead.
"Additional human remains" also were recovered from the site over the weekend, Cava said — adding that officials are having "very frank discussions" with the families of those still missing, according to the Miami Herald.
The mayor said eight of the fatal victims were found dead at the site, while the ninth person died in a local hospital.
"We've identified four of the victims and notified next of kin," she said. "We are making every effort to identify those others who have been recovered and additionally contacting their family members as soon as we are able."
But the mayor said efforts to find survivors continue around the clock.
Cava said workers had dug a 125-foot-long ditch at the site that is 40 feet deep and 20 feet wide, allowing them to access portions of the rubble to recover the four new bodies.
The 12-story building collapsed around 1:30 a.m. Thursday, burying scores of residents inside, many of them foreign nationals, authorities said. About 150 people are still reported missing.
"Our rescue teams are nonstop doing all that we can, searching every area, every bit of hope to see if we can find a live victim," Miami-Dade Fire Chief Alan Cominsky said at the briefing.
Officials said FEMA is at the scene, as are Israeli and Mexican crews, to help sift through the collapsed building.
"We'll be discussing with the county about whether we need additional personnel to backfill them," Gov. Ron DeSantis said. "Obviously, you're going to start to see a lot of major debris moved out of there.
The debris that gets out does have forensic value," he said.
Three Republican senators who hammered out a roughly $1 trillion infrastructure agreement with President Biden and their Democratic colleagues said they trust him walking back a threat to veto the legislation but another GOP lawmaker said he needs the White House to go further on assurances the bill won't be tied to a larger spending plan.
But that may not be good enough for rank-and-file GOP elected officials — or members of the increasingly powerful progressive wing of Biden's own Democratic Party, other members of Congress warned Sunday.
"I do take the president at his word. And over the weeks and weeks of negotiations with Democrats and with the White House on an infrastructure bill, the president's other agenda was never linked to the infrastructure effort," Sen. Mitt Romney (R-Utah) said on CNN's "State of the Union."
Biden's remarks last Thursday linking the success of the infrastructure deal to a larger spending package that Democrats want to pass without Republican support and that comes with a $4 trillion price tag brought instant blowback from GOP lawmakers and progressive Democrats.
One of those Democrats, Rep. Alexandria Ocasio-Cortez, warned Biden not to give too much away to Republicans in his negotiations.
"The fact of the matter is that while we can welcome this work and welcome collaboration with Republicans and in those areas where there is agreement, Republicans are more than welcome to join, so that we can get this work on infrastructure done," the New York Democrat said on NBC News' "Meet the Press."
"But that doesn't mean that the president should be limited by Republicans, particularly when we have a House majority, we have 50 Democratic senators and we have the White House, and I believe that we can make sure that he's successful in executing a strong agenda for working families," she continued.
Meanwhile, Sen. John Barrasso (R-Wyo.) said Republicans are leery of the infrastructure deal if it's connected to the $4 trillion spending plan that contains a series of tax increases.
"I talked to a number of members of the bipartisan group. They are all reluctant to move forward. They're gonna need more assurances from the president that there is no link between this bipartisan bill and the bill that the Democrats want to do," Barasso said on Fox News' "Sunday Morning Futures."
He said if Biden tries to pass the legislation through reconciliation, that will be "a high wire act with no safety net."
"There is not going to be a single Republican in the House or Senate who's going to vote for it. They're going to be left to try to get every Democrat in the Senate. They will need every one. And they can only afford to lose four in the House to get this passed, which is a massive tax increase," Barrasso said.
Sen. Bill Cassidy (R-La.), part of the GOP contingent that negotiated with the president, also said Sunday that he accepts Biden's mea culpa and will continue to support the deal.
"I sure hope it's enough. It's a great deal. It is actually going to provide the infrastructure that American people want, that they need, that will make our country more prosperous for all Americans. So I hope it's enough. We'll see going forward. But I'll continue to work for the bill," he said on "Meet the Press."
But he said while there is bipartisan support for infrastructure, Republicans aren't on board for the spending plan.
He warned Biden to keep them separate.
"We don't want to be a party of something that might coerce the passage. And lastly, it'll probably sink both. This infrastructure bill is good for America, for all Americans. It is going to make us more productive, it's going to create lots of jobs. If you sink both, we lose the advantage of that which is in our hand, which is this infrastructure bill," he said.
Sen. Rob Poltman, who also attended the impromptu news conference last Thursday, said he was "blindsided" by Biden's later comments.
But the Ohio Republican said he was "very glad to see the president clarify his remarks because it was inconsistent with everything that we had been told all along the way. We were all blindsided by the comments the previous day."
"I'm glad they've now been de-linked and it's very clear that we can move forward with a bipartisan bill that's broadly popular," Portman said on ABC News' "This Week."
Romney touted the agreement as funding "true infrastructure" – bridges, roads and electric utilities – without a tax hike.
He said Republicans are on board with the infrastructure deal, but wondered about the commitment from some progressive Democrats who are pressing to include more spending on climate change and other social programs.
"The real challenge is whether the Democrats can get their act together and get it on his desk. And I think the battle going on is not with Republicans. Republicans are going to support true infrastructure that doesn't raise taxes," the senator said.
"But Democrats want to do a lot of other things, and I think they're the ones that are having a hard time deciding how to proceed," he said.
Hours after standing outside the White House with the bipartisan group on Thursday and proclaiming "we have a deal," Biden threatened not to sign it unless it came to his desk along with a larger spending plan that Democrats intended to pass through reconciliation.
The maneuver would allow Democrats – who control the 50-50 chamber by virtue of Vice President Kamala Harris' vote – to pass it with a simple majority and bypass the filibuster, which would require 60 votes.
Biden's comments brought blowback from progressive Democrats who wanted more spending and Republicans who felt the president had duped them into agreeing to the infrastructure bill.
By Saturday, Biden released a new statement in an effort to clear up the confusion.
"My comments created the impression that I was issuing a veto threat on the very plan I had just agreed to, which was certainly not my intent," he said.
"I intend to pursue the passage of that plan, which Democrats and Republicans agreed to on Thursday, with vigor," Biden added. "It would be good for the economy, good for our country, good for our people. I fully stand behind it without reservation or hesitation."
Romney said without the statement, Republicans would haven't been able to support it.
"Had it not been clarified and had he not made it clear that these are two different measures – that the infrastructure bill stands on its own, and that his other agenda items, those things stand their own as well – had he not made that clear, it think it would have been very, very hard for Republicans to say yeah we we support this," he said.
"We're not going to sign up for a multi-trillion dollar spending spree. We're not going to sign up for dramatic increases in taxes on the American economy and the employers that put Americans back to work," Romney said.