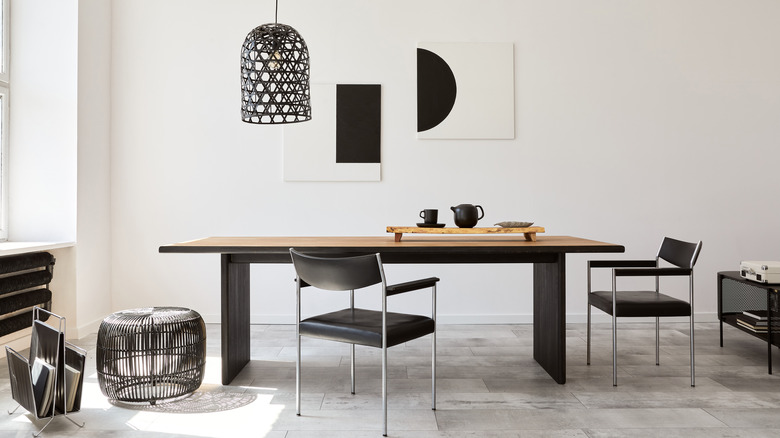 2020 was definitely the most unusual year in recent memory due to the COVID-19 pandemic. Many of us saw our routines change dramatically, with in-person work and school cancelled and entire families finding themselves confined to their homes for long periods of time. All of a sudden, we were working from home, and many of us did not even have a desk or work area to use. Unsurprisingly, these changes forced us to rethink our immediate surroundings and evaluate which interior design trends were actually working for us on a practical level. While there are plenty of new home trends which have emerged based on these experiences — like multi-purpose living spaces and a maximalist aesthetic — there are also a few that we're officially ready to retire, no matter how much we enjoyed them while they lasted.
While not all of these shifts in popularity were caused by the pandemic, many of them were impacted by the time spent at home. Read on for all of the trends it's time to say goodbye to in 2021 as well as suggestions on what to replace them with.
The Farmhouse Look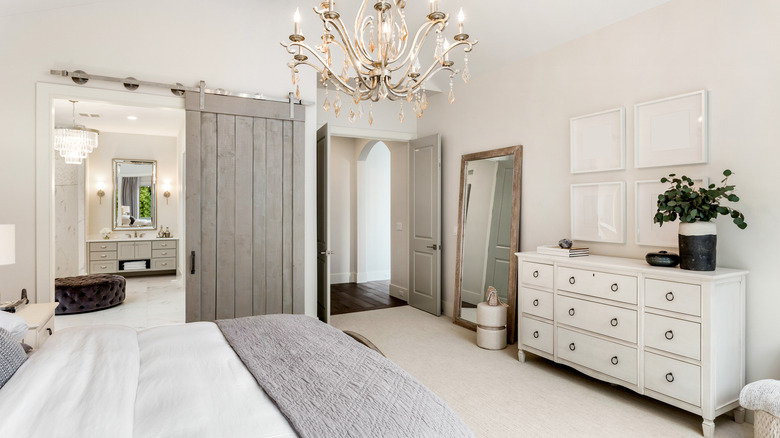 The farmhouse aesthetic had its moment in the sun for the past decade, with homey pastoral touches being added to homes and apartments alike regardless of their location. It's no surprise that this trend took off, since the look was so popular on many home renovation shows. There isn't necessarily anything wrong with the farmhouse look, but rather where it's used. While this look is appropriate in rural areas, it's starting to look a bit dated in urban and suburban homes.
As Lulu and Georgia's manager of creative and content, Kelley Mason, put it, "Shiplap wall treatments, barn doors, and other hallmarks of the modern farmhouse style are still beautiful but look clearly out of place in city apartments and suburban homes" (via Forbes). It's time to start phasing out this look unless your home is actually located on a farm. Find other ways to bring a cozy look to your space with warm colors and a variety of textures.
All-White Kitchens
For years, white-on-white has been a kitchen go-to for creating a neutral backdrop that will appeal to potential future buyers. But cookie cutter kitchens are no longer quite as desirable, and those blank canvases have started to feel quite outdated and safe. It's time to get a little more creative with kitchen remodels, with colorful cabinets and unique materials making appearances on social media and in magazines. Jesse DeSanti, Creative Director at Jette Creative, said,"Kitchens are leaning toward a warmer feel, and people aren't afraid of color right now," adding, "So white is tending to lose its moment." Don't despair if you have white kitchen cabinets, however, because according to DeSanti, there are ways to make your white kitchen feel new: "I think white still works if you add warm elements to it, like wood hardware" (via My Domaine). Even if you're not ready to renovate, you can add more visual interest to your kitchen with stand-out art pieces and other unexpected touches.
Shades Of Gray
One trend that has been everywhere for the past few years when it comes to interiors is shades of gray. Gray walls, furniture, and textiles have abounded as people look for a safe, neutral option for rental properties and house flips. While gray has long been considered a smart choice, it's beginning to look a bit dated. Not to mention, depending on the specific hue, gray can be somewhat cold and institutional-looking. Gray kitchens, in particular, seem to be fading in popularity. "Gray kitchen interiors can look cold and lack distinction," said Dennese Guadeloupe Rojas of Interiors by Design, adding, "Instead, I foresee bolder colors gaining popularity" (via Insider).
Don't panic if you installed gray cabinets while they were popular. You can keep the look totally fresh by adding natural elements like wicker and houseplants to make the space seem more alive. When seeking an alternative to gray, consider a warmer option like cream, taupe, or even the old stand-by — beige.
Matching Furniture Sets
This trend has been on the outs for a while, but we're willing to declare it officially dead as of 2021. For years (or even generations), you would go to a big box store and purchase a matching furniture set for your bedroom, living room, or dining room. We can see how that design decision is an appealing one, since it takes out all the guesswork and makes a room look coordinated without much decorating expertise. Modern trends, however, have moved away from that uniform look in favor of something a little more eclectic that shows off the homeowners' unique personality.
Principal designer at Kobi Karp Architecture and Interior Design, Kobi Karp said, "Identical furniture and matching sets don't showcase personal style," adding, "I believe matching sets will soon be seen as a design flaw" (via Insider). Mix things up by putting together different textures and finishes for a more complex and visually interesting aesthetic.
Formal Living Spaces
If there's one thing we all learned in 2020, it's that it's essential to get the most out of every single inch of your living space. With families gathered together at home so much more than usual, some rooms started to feel redundant. Unused formal living and dining rooms received new life as homework spaces and home offices. As designer Amanda Lantz put it, "People need to be able to use, sit, and relax in every room of the house, especially for the foreseeable future with limited travel and staying in," adding, "Gone are the days of the spaces or chairs that you don't sit in or only sit in once a year; we need to use every inch of our homes" (via Apartment Therapy).
As we move forward post-pandemic, it should come as no surprise that many households will opt to banish these single-use formal living spaces for good. Designer Liz Caan gave Apartment Therapy readers some pretty solid advice, saying, "Use your home to the fullest, let it reflect the way you truly live, and focus on making it functional for your family's needs, especially happiness."
Fake Plants
In 2020, many people embraced bringing plant life into their homes in order to feel surrounded by nature even when they couldn't necessarily go outside. With more time in their houses and apartments, they were also able to provide their plant babies with plenty of TLC to keep them happy and thriving. That's why in 2021, artificial plants are falling out of fashion (via Amity Kett).
Even though technology has allowed for the creation of increasingly convincing fake plants, most people can still spot one a mile away. Even if you don't have a green thumb, there are plenty of low-maintenance houseplants out there that can handle low light conditions and occasionally missing a watering. Consider options like snake plants, pothos, and philodendrons, all of which are nearly impossible to kill.
Accent Walls
After their moment in the spotlight, it seems that the era of accent walls is coming to a close (via Daily Dream Decor). Whether they're created using paint, a mural, stencils, or wallpaper, accent walls have been extremely popular for the last decade. While they do provide a striking focal point in any room, they may simply draw the eye too much and take away from other elements in the space.
Consider painting over your accent wall so that your space features a more cohesive look instead. Add pops of color or pattern with accessories that can be swapped out whenever you'd like, rather than making a commitment to something like colorful paint or wallpaper.