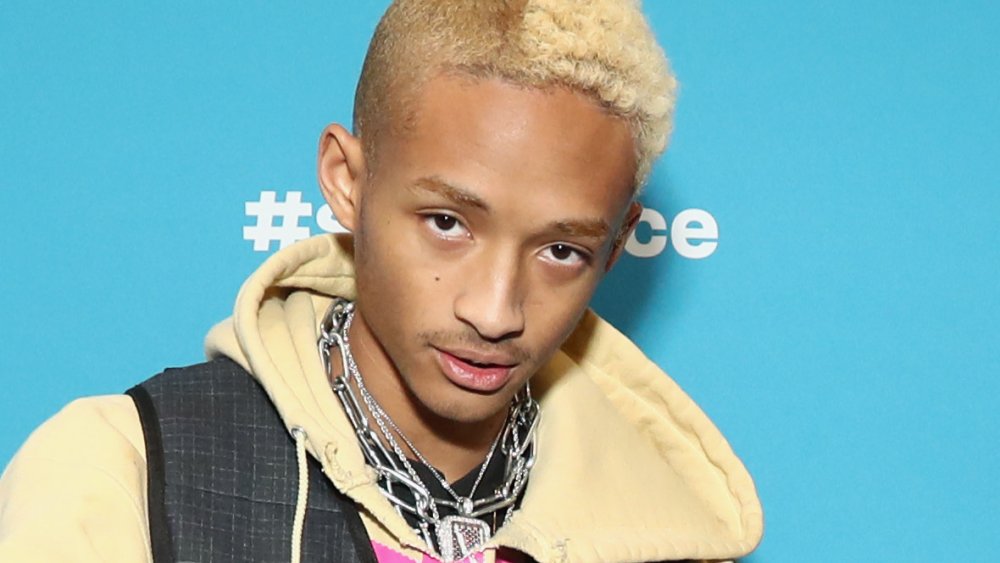 Jaden Smith, the youngest son of Will Smith, lives life a little differently, and so does his famous family. After all, when it comes to living the high life, no one does it better than Hollywood's elite. Jaden was thrust into the spotlight at a young age, but experiencing fame early on certainly had its perks. Jaden's life basically oozed glamour from the second he was born. Given that his parents are reportedly worth a combined $400 million, according to Celebrity Net Worth, it's no surprise Jaden has experienced all the finer things in life.
At the same time, the Smith family insisted their children stay grounded, and having luxurious items doesn't necessarily mean they place much value on material possessions. For instance, his dad has spoken out on the fact Jaden rarely shops for himself. "He has three pair of pants and he has five shirts," he told ABC News in 2015. "He has refused to be a slave to money. I so respect that." So, what does he spend money on and what about Jaden's life is lavish? Here are the details of Jaden Smith's extremely glamorous life.
Jaden Smith's family has always had larger-than-life plans for him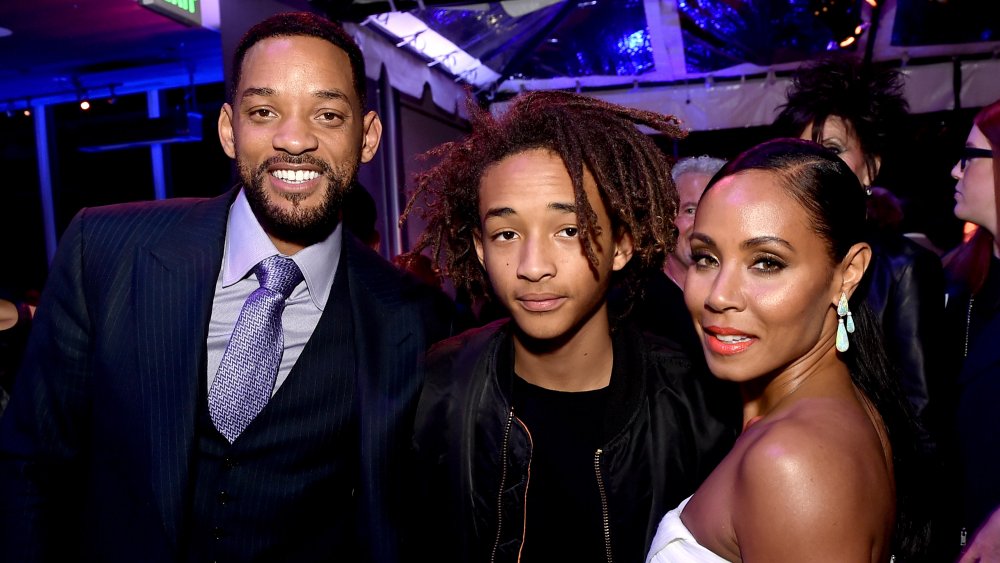 With both of Jaden Smith's parents being ultra-famous stars, it only made sense he would follow in their footsteps. Right out the gate, he was well on his way to leading a fabulous life, and that seems to be exactly what his parents intended.
When Jaden starred in the 2013 film "After Earth," it appeared that the Smith family intended to make it Jaden's big break. In a report from TheWrap, an unnamed source claimed that Jaden's presence in the film was meant to catapult the then-young actor into superstardom. "You walk away thinking it looks like a great action movie starring Will Smith and his son and that his son is a legitimate star," a former studio marketing exec told TheWrap regarding the movie's poster. "They did a great job of legitimizing him as a star without starting a conversation about why he should be legitimate."
While some celebrities attempt to shield their children from the spotlight, the Smiths were fine with Jaden experiencing fame early on, and so red carpets and high-profile friends became the norm for Jaden, presumably making a glamorous life something to be expected.
Jaden Smith's stunning childhood home cost a pretty penny
Jaden Smith and his siblings grew up in some pretty sweet digs. Will Smith and Jada Pinkett Smith began building their not-so-humble abode in 2003, and they've resided there ever since. The gorgeous mansion near Calabasas, California boasts 25,000-square-feet, and takes "architectural details from the Middle East, Africa, the American Southwest, and Asia," according to Architectural Digest.
And Jaden had plenty of room to roam as a child. Will and Jada not only own their home, but all the sprawling acres of land that surround it. Despite Los Angeles' insanely high cost of land, the family purchased an additional 150 acres of land with their house, making for a massive estate. When it comes to the price tag, it's worth an estimated $42 million, according to Hello! magazine.
Still, as lavish as the house is, Jaden's parents wanted it to feel like a home. "For Will and me this home was always a spiritual endeavor," Jada told Architectural Digest in 2011. "We're very earthy, organic people. We wanted to create a family retreat, something made by hand and as natural as possible, something that ties back to the land." No matter its "natural" ties, this was one glamorous home to grow up in.
Jaden Smith grew up on sets with high-profile actors
It was not uncommon for Jaden Smith to be brushing shoulders with Hollywood's hottest stars as a child. While most kids ended up in an office on "bring your kid to work day," Jaden ended up on blockbuster film sets such those for the "Matrix" franchise.
In 2018, Jada Pinkett Smith shared a throwback photo from when Jaden was a young kid and did some serious reminiscing. "Jaden with me on the set of the 'Matrix.' I can't believe he's about to be 20," she captioned the photo. In the pic, little Jaden can be seen sitting near a camera rig while he mom was hard at work being a total boss in the action flick.
The film series, which included "The Matrix Reloaded" and "The Matrix Revolutions," starred the likes of Keanu Reeves and Carrie-Anne Moss — whom, for most kids, meeting would be just a dream. But for Jaden, these special moments were presumably frequent thanks to his glamorous family roots — and the high-profile careers of both his mother and father.
While growing up, Jaden Smith was given Cartier jewelry
Nothing says glamour more than bling — a commodity Jaden Smith was introduced to at a young age.
When he was 14 years old, Jaden's mom, Jada Pinkett Smith, took him shopping for an especially lavish gift from Cartier, and no, it wasn't even his birthday. According to the Daily Mail, the mother-son duo took a look at a slew of pricey bracelets during a February 2013 outing, with Jaden being especially interested in a gold bangle or watch. The publication went on to report that the two stars left the luxury jewelry store with purchases in hand and beaming smiles on their faces.
The duo's New York City shopping adventure was hardly the first time Jada had spoiled her son. In fact, in a May 2013 interview with Vulture, Jaden revealed that those trips to Cartier were once pretty frequent. "There was a time in my life when I'd go to Cartier, like, every weekend for like a month," he shared with the publication. Before his love for Cartier, Jaden noted, he was a big fan of Louis Vuitton.
Jaden Smith has been known to rock sneakers worth six figures
Jaden Smith is not afraid to drop some serious cash on a pair of shoes. Need proof? When he released his 2016 music video for "Fallen," fans couldn't help but notice that he flashed a pair of Nike Air Mags — one of the most expensive pairs of sneakers you can buy. And those sneakers have an insanely high price point. While an exact figure is tough to determine, in the past, the sneaks have been known to sell for upwards of $200,000.
But the highly coveted sneakers' expensive cost didn't stop Will Smith and Jada Pinkett Smith's son from messing them up in the video. The music video showed Jaden showing off his best moves in the shoes before proceeding to lay in the dirt, causing sneakerheads everywhere to cringe. For most fans, copping a pair of the pricey sneakers would be a dream and they'd probably keep them in top condition. But apparently Jaden didn't seem to mind kicking up dirt and wrecking his.
Jaden Smith's first car was valued at how much?
After obtaining a driver's license, Jaden Smith wasn't exactly begging dad Will Smith to drive his car like most teens would. Nope, Jaden went out and bought a ride of his own, and it came with a pretty hefty price tag. Jaden became the owner of a Tesla Model X, which, according to UPI, was estimated to cost $130,000 at the time.
Thanks to Jaden's older half-brother, Trey Smith, fans got a glimpse at the moment 17-year-old Jaden got the keys to his lavish ride. "Watching my lil bro get the keys to his first car #Priceless," he captioned the photo, which he shared to his Instagram.
As if the car wasn't glamorous enough, it turns out Jaden was also one of the first to have access to it. Jaden got the keys to his new whip in February 2016, but, as UPI reported, that car model wasn't available to the public until months later. What an example of his celebrity in Hollywood!
Jaden Smith once wore hair ties worth thousands of dollars
In what was one of his most stand-out ensembles yet, Jaden Smith was seen rocking $5,000 worth of hair ties in March 2016. Jaden's love of fashion has been evident since he was a child — after all, he's been a model himself. But his high-priced hair ties designed by Cartier were next level. Touting a price tag of $1,650 each, Will Smith's youngest son wore multiple pieces totaling $5,000, GQ reported.
Jaden sported the flashy accessories on the red carpet for the New York City premiere for "Allegiant" (via UPI). The actor chose to pair his wildly expensive hair pieces with a much more casual look, rocking a plaid buttoned-down shirt and a pair of baggy black pants at the event. According to GQ, Jaden used the bands to secure his hair, but they were actually listed on the Cartier site as rings. Not only did Jaden get creative by dressing up his dreads, but the fact he casually tossed a slew of pricey jewelry into his hair was further proof of the glamorous life he embraces.
In 2017, Jaden Smith moved into a multi-million dollar home in Hidden Hills
These days, it might seem a little early for a kid to move out of the house when they're 18, but, then again, Jaden Smith hasn't exactly lived a typical life. Jaden apparently toyed with the idea of becoming emancipated from his parents as a teen, and, while that never actually happened (via People), he still sought his independence and moved out.
Mom Jada Pinkett Smith revealed details about her son's decision to move out during an episode of her Facebook show, "Red Table Talk." "At 15 years old, Jaden, and I remember this day specifically, it's probably one of the most heartbreaking moments of my life," she said. "You got to a point where you told me straight up, you were like, 'Mom, I have to leave here to live my life.'"
Jaden later moved into a ridiculously lavish five-bedroom home in Hidden Hills, California, when he was 18 with his parents' approval. Jaden's gorgeous new house was valued around $4 million, according to the Daily Mail. Not bad for a teenager.
Jaden Smith's family vacations are far from casual
Growing up as part of the Smith family has some serious perks, including an invitation to their envy-inducing vacations. In 2018, the Smiths, including Jaden Smith, took the trip of a lifetime around the Mediterranean, spending much of their holiday in Italy, as reported by Refinery29. Will Smith and Jada Pinkett Smith, who live an insanely glamorous life, pulled out all the stops for the family, renting out a luxury yacht and embarking on a picturesque afternoon of scuba diving.
Will fit in plenty of father-child time with Jaden and his siblings, which included a hike to an active volcano, and the well-documented trip likely had fans at home following their every move. The family cruised around the Amalfi coast, soaking up the sunshine and making memories. The Smiths' trip to Italy was by no means your average family vacation, but it was indicative of the kind of ultra-glamorous lifestyle Jaden was presumably accustomed to with Will Smith and Jada Pinkett Smith as parents.
Jaden Smith has enjoyed some incredibly lavish parties
Go big or go home appeared to be the motto for Jaden Smith's 21st birthday party. Just living in Malibu is glamorous enough, but partying in Malibu is another story. Jaden celebrated his milestone birthday in the coastal town, partying it up with his closest friends at his parents' stunning home on the ocean, as reported by Billboard.
In a video uploaded on July 13, 2019, the Smith family took viewers inside the party. True to form, Will Smith cracked a joke, saying, "We'll have a drink together tonight. The first legal drink, rather than all of the times you were breaking the law." But it was the gorgeous ocean views from their seaside mansion and Jaden's multiple birthday cakes that really grabbed up attention. Yep, Jaden had more than one cake on his special day.
After opting out of having a sweet 16 birthday party, Jaden definitely made up for it when celebrating his 21st.
In 2019, Jaden Smith rented a massive yacht in Australia
Jaden Smith isn't afraid to go big. In 2019, while spending time in Sydney, Australia before a show, he charted a massive luxury yacht and set sail with several members of his entourage, as the Daily Mail reported. Despite being a short while away from hitting the stage with Post Malone on his sold-out Australian tour, Jaden chilled out on the yacht looking relaxed. Though he rarely flaunts his wealth, Jaden's expensive taste was apparent as he was welcomed on board the yacht called the "Quantum," where he was greeted by staff, according to the publication.
Despite his glamorous trips, Jaden has said he doesn't particularly value money and possessions. In 2016, he told Interview magazine why his happiness isn't tied to material items. "A lot of times, people are trying to be happy in the wrong way — with money or with different things that are not true happiness. It's leading people down a rabbit hole that actually doesn't exist," he said. The interview was a prime example of the desire Will Smith's youngest son has to stay grounded while still enjoying the finer things in life.
Jaden Smith sits front row at the most exclusive fashion shows
Not only does Jaden Smith get invited to all the hottest runway shows when fashion week rolls around, but he gets seated front and center.
In March 2019, he sat front row alongside Emma Stone and his sister, Willow Smith, when Louis Vuitton debuted a new collection. It's not a surprise to see famous faces at any given Louis Vuitton show, but Jaden was a particularly special guest, seeing as he has a working relationship with the luxury brand. In January 2016, he was announced as the newest face of the label, and was photographed for their Spring/Summer 2016 women's campaign by legendary photographer Bruce Weber, according to GQ.
The strong relationship Jaden was able to forge with one of the most iconic fashion labels in the world proved that his lavish lifestyle transcends that of his family, and he's able to build new connections. In addition to attending Louis Vuitton shows, Jaden has been seen at high-profile fashion shows such as Hood By Air and Gypsy Sport.
Jaden Smith once wore one super expensive grill
In 2019, Jaden Smith flashed one of his most over-the-top accessories yet. The actor unveiled a new gold grill on his teeth, and it came with a sky-high price tag. According to MTO News, the sparkling diamonds on Jaden's teeth cost him a whopping $50,000. The diamond encrusted accessory not only stole attention from the rest of Jaden's look, but it grabbed fans' attention online. Twitter had a lot to say about the flashy mouth piece, and not all fans were impressed. But when it comes to over-the-top bling, Jaden has no problem showing it off in public for all to see.
Jaden seems to be a big fan of the blinged-out grills look because he's been seen rocking sparkly grills several times through the years. Back in 2017, Jaden showed off a different kind of bedazzled smile. As reported by the Daily Mail, Will Smith and Jada Pinkett Smith's son flaunted a bold gold-plated grill on his bottom teeth when attending an event for Louis Vuitton.