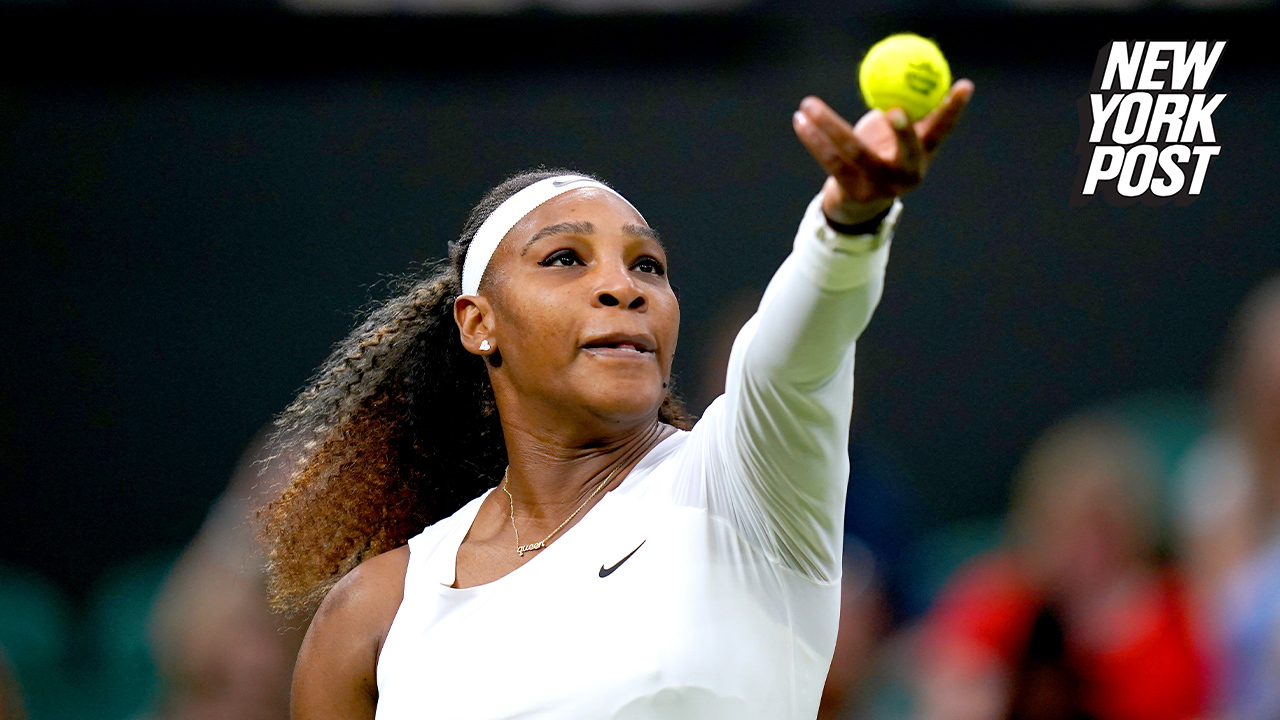 Serena Williams' chance to tie Margaret Court's record for most Grand Slam titles ended in the first set of her first match at Wimbledon.
The 39-year-old retired Tuesday from her match against Aliaksandra Sasnovich with a left leg injury. Williams, seeded sixth, slipped in the fourth game when she was up 3-1 and took a medical timeout.
When she returned to Centre Court, Williams was clearly in pain. She stumbled after hitting a forehand in the fifth game, and for the remainder of that game into the sixth, Williams' range of motion was clearly limited.
After taking a second medical timeout with the set tied 3-3, Williams attempted to continue playing through tears while biting her lip. The crowd showed its support, rising to cheer her on as she struggled to compete.
It wasn't enough, as Williams eventually dropped to her knees, unable to continue. Hand over her heart, the seven-time Wimbledon singles champ waved to the crowd as she exited the court.
Williams didn't speak to the media after her withdrawal but did later post an Intsagram message.
"I was heartbroken to have to withdraw today after injuring my right leg," Williams wrote. "My love and gratitude are with the fans and the team who make being on Centre Court so meaningful. Feeling the exrtaordinary [sic] warmth and support of crowd today when I walked on — and off — the court meant the world to me."
Her opponent also expressed her sympathies.
"Of course I'm so sad for Serena, she's a great champion," Sasnovich said. "It happens sometimes in tennis, but all the best for her and her recovery."
Williams was the second player forced to retire a match Tuesday after slipping on Centre Court. In a match against Roger Federer, Adrian Mannarino suffered a similar fate, as he slipped and suffered an injury. The roof had been closed to the rain.
"I do feel it feels a tad more slippery maybe under the roof," Federer said after his match. "I don't know if it's just a gut feeling. You do have to move very, very carefully out there. If you push too hard in the wrong moments, you do go down.
"This is obviously terrible that it's back-to-back matches and it hits Serena as well. Oh, my God, I can't believe it."
In addition, Novak Djokovic, the top-seeded men's player, slipped twice in the main stadium during the first set of his first-round victory.
Andy Murray chimed in on Twitter to emphasize the slippery nature of Centre Court.
"Brutal for @serenawilliams but centre court is extremely slippy out there. Not easy to move out there," he wrote.
Rising tennis superstar Coco Gauff discussed Williams during her post-match interview following her first-round win over Francesca Jones. Gauff mentioned how she could not bring herself to watch her idol fall.
"It was not easy to watch," Gauff said. "Actually I turned away. I was in the gym actually stretching. I turned away because stuff like that makes me really emotional. I mean, I wish [Serena] the best. I wish that hopefully she can have a speedy recovery. Yeah, you could tell she was really emotional. Nobody ever wants to retire, but especially at a Grand Slam, a place as special as Wimbledon after waiting two years to come back. The only thing I can do is wish her well wishes and hope she'll be back in time for the hard court season."
Over the 26 years Williams has been playing tennis professionally, this marks just the second time she has retired a match at a major. The previous occurrence took place in 1998 at the All England Club.
Williams entered Wimbledon with the intention to clinch her 24th major title to tie her with Margaret Court. Her last Grand Slam win took place four years ago at the 2017 Australian Open. Since giving birth in September 2017, she's made her way to four finals, including Wimbledon in 2018 and 2019. This season, Williams earned her way into the semifinals of the Australian Open but ended her run at the French Open last month in the fourth round.
The American tennis legend has one more shot to tie Court's record before she turns 40 in September, as the U.S. Open begins Aug. 30.
At Wimbledon, the already wide-open women's draw has become even more so following Williams' retirement. Defending Wimbledon champion Simona Halep and four-time major champ Naomi Osaka withdrew from the tournament before it began.
Bruuuce! The Boss is back on Broadway. Springsteen's show reopened to a full-capacity audience Sunday. Bruce sent a subliminal message to the crowd before it dispersed onto dangerous Times Square with a heartfelt version of "Born to Run." Mayor Bill de Blasio is doubling down, promising when suspects are apprehended, they will be prosecuted to the fullest extent of the (his) law. Translation: processed, released, offered a Dunkin' Donuts gift card AND two tickets to a Mets game or "Springsteen on Broadway." #worstmayorever.
And by George, Springer is back too! Seattle plays Toronto at Buffalo. Both teams have won seven of their last 10. The Mariners' Chris Flexen has been solid but in his last road start he allowed three runs over six in Detroit. Robbie Ray throws for the Jays. Ray enters off a quality start (one run, four hits over six) in Miami. 20 units on the Blue Jays.
A thriller. Kyle Freeland pitched a three-hitter over five and the Rockies got by the Pirates 2-0. Loss has our account at -1,415 candelarias.