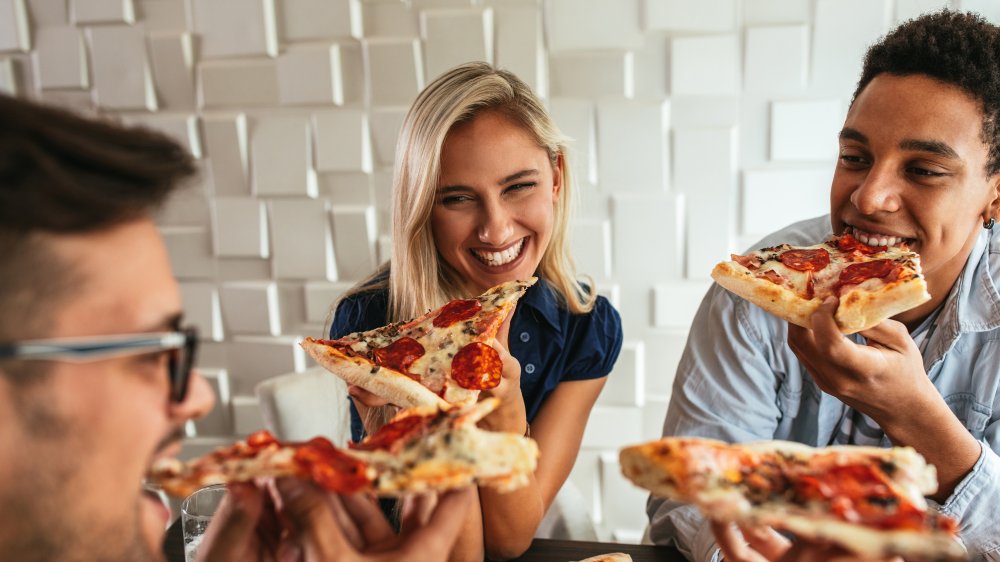 Although you can find satisfactory pizza if you visit a major chain, be sure to pamper yourself now and then by visiting a pizza place that serves high-quality pies. After you eat pizza that is topped with fresh, hand-selected ingredients, you'll understand why cheap, mass-produced pizza is such a letdown.
Thankfully, each state in the country is home to at least one fabulous pizza joint. In the following alphabetical list, we will point you toward the best pizza place in each state — starting with Alabama and ending in Wyoming. While each eatery is a little bit different in terms of technique and pizza toppings offered, they each have one thing in common: They will leave your pizza-craving taste buds in a state of bliss.
With more than 60,000 pizza places in the United States, it'd be a colossal waste of time and money for you to go out and do your own research. Thankfully, by listening to recommendations, reading reviews, researching awards, and doing some taste-testing of our own, we've arrived at the best of the best. Avoid bad pizza by sticking to our recommendations.
Alabama: Davenport's Pizza Palace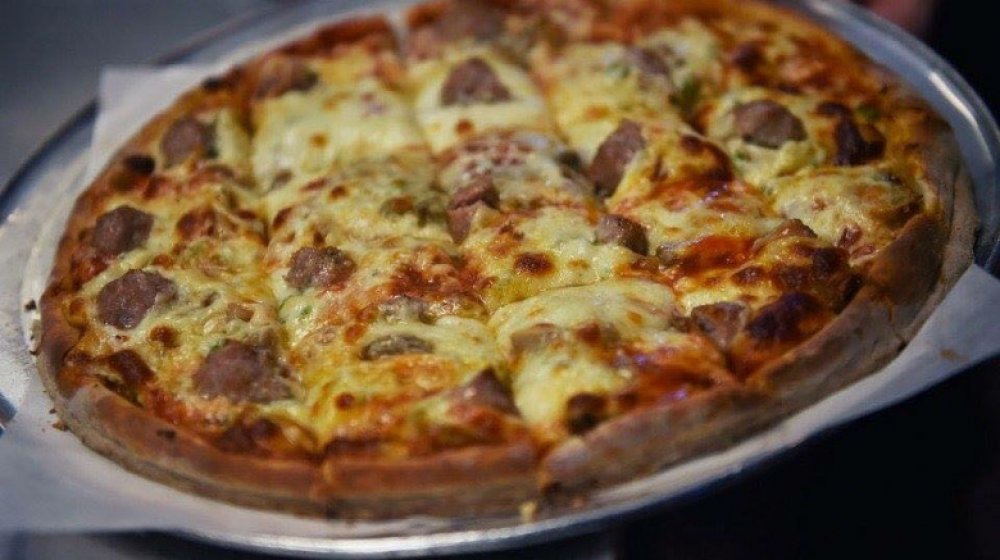 Not only is Davenport's Pizza Palace the best pizza place in Alabama, it's been claimed that this restaurant has the world's best pizza. This family-owned restaurant was named after a Major League Baseball player named Jim Davenport and has a history that dates back to the mid-1960s. It's located in the city of Mountain Brook, which is just outside of Birmingham.
Davenport's Pizza Palace gets praise for having fresh toppings, with options ranging from pepperoni to anchovies.
Alaska: Moose's Tooth Pub & Pizzeria
Reviews for Moose's Tooth Pub & Pizzeria are so good that not many pizza places in the entire United States can compete. If you're tired of pizzerias with the same old toppings you've tried dozens of times before, this Anchorage, Alaska, restaurant is a place you should visit. The menu is both extensive and inventive. For example, the Spicy Thai Chicken pizza is beloved and features roasted chicken, peanut sauce, bean sprouts, onions, carrots, tomatoes, and both provolone and mozzarella cheese.
Arizona: Federal Pizza
Federal Pizza is a drive-thru pizza place that serves sophisticated slices of goodness. With options like the Casanova that includes prosciutto, ricotta, and dates, or the Manifesto with sausage, mushrooms, fennel, and goat cheese, you're sure to find something that catches your eye and pleases all of your senses.
When you get to the drive-thru window of this Phoenix, Arizona, eatery, you'll also be given a recommendation for a beer or wine that perfectly complements your pizza selection.
Arkansas: U.S. Pizza Company
U.S. Pizza Company has won a laundry list of awards for its pizza — and the recognition is well deserved. The Supreme Pizza is a classic choice with pepperoni, beef, sausage, green peppers, onions, and mushrooms. This restaurant also has a number of sandwiches that are cherished by their patrons.
With more than a dozen locations across Arkansas in cities like Little Rock, Fayetteville, and Jonesboro, you're never too far from a U.S. Pizza Company when you're in this state.
California: Pitfire Pizza
Pitfire Pizza is regarded by many as the best pizza in Los Angeles and gets credit for being a trendsetter when it comes to the explosion in popularity of wood-fired, fast-casual pizzerias in Southern California. The reviews are consistently spectacular for each of the seven locations.
Favorites pizza possibilities at Pitfire Pizza include the Honey Bear with ricotta, sausage, and honey, the Burrata with pesto, hazelnuts, arugula, and caramelized onions, and the Vegan Margherita with tomato, basil, and a special vegan mozzarella cheese that is actually made out of cashews.
Colorado: SliceWorks
Customers couldn't love SliceWorks any more than they already do. This pizza place has three locations in Denver and it also serves pasta, salad, wraps, and specialty breads. However, it's their pizza expertise that was honed in Long Island that keeps clients coming back again and again. If you love New York-style pizza, there aren't many better choices that you can find in America's Rocky Mountain region.
Tip: If you're planning a visit, go during Happy Hour to wash down the glorious pizza with cheap pints.
Connecticut: Zuppardi's Apizza
With a history in Connecticut that dates back decades, Zuppardi's Apizza is unquestionably the place to be in this state if you want a memorable pizza pie. One bite and you too will be a believer and will become another in a long line of satisfied patrons.
Even if you can't make the trip to this West Haven establishment, you can actually order their pizza online and have it delivered anywhere in the United States. You truly have no excuse to miss out on this tasty pizza.
Delaware: Wood Fired Pizza Shop
If you want a flavorful wood-fired pizza at a fair price, hop on over to Newark, Delaware, and pay a visit to the Wood Fired Pizza Shop. This top spot for pizza in the state doesn't have an amazingly extensive menu, but everything is worth trying at least once. The Fighting Blue Hen comes with grilled chicken, buffalo sauce, mozzarella cheese, and gorgonzola cheese, while the Mamma Mia includes meatballs made by hand with pork sausage and ground beef.
Florida: Andiamo Brick Oven Pizza
While nothing about the look of the restaurant or the presentation of the pizza will blow you away, each slice is so flavorful that you will be counting down the hours until you can eat at Andiamo Brick Oven Pizza again. Though everything on the menu is spoken highly of, it's the Ratatouille pizza with portobello mushrooms, zucchini, eggplant, peppers, and onions that gets the most acclaim.
You can find Andiamo Brick Oven Pizza in Miami, Florida, on Biscayne Boulevard.
Georgia: Antico Pizza Napoletana
Antico Pizza Napoletana is all about pizza greatness, and it successfully lives up to that standard. This pizza place serves authentic Italian pizza, and its visitors couldn't be much more impressed with the results. Favorites from the menu include the Capricciosa pizza with prosciutto cotto, mushroom, artichoke, and mozzarella cheese made from the milk of Italian buffalo. Additionally, the Margherita pizza (topped with tomatoes, garlic, and basil) also garners heaps of praise.
Antico Pizza Napoletana has three locations. Its first was in Atlanta, and all three restaurants are in the state of Georgia.
Hawaii: James Angelo's Underground Pizza
In the small town of Waimea on the Big Island of Hawaii lies the state's best pizza place. James Angelo's Underground Pizza bills itself as an East Coast pizzeria, and it doesn't disappoint. When you're ordering at this pizza joint, go ahead and customize your pie with the huge array of toppings. From goat cheese to cherry peppers and from local favorites like Kalua pig to artichoke hearts, if you can dream it, there's a good chance that James Angelo's Underground Pizza has the exact topping that you want. If you just want stereotypical Hawaiian pizza, go elsewhere.
Idaho: Guido's Original N.Y. Style Pizzeria
After you finish dining at Guido's Original N.Y. Style Pizzeria, you'll be stunned that you have found an authentic New York-style pizza place in Boise, Idaho. If you're eating on the run, come here for a slice. The slices are huge, yummy, and will set you back less than three dollars. In addition to pizza, Guido's Original N.Y. Style Pizzeria also has stromboli, Italian sausage rolls, a variety of salads, and garlic bread that is freshly baked every day.
Illinois: Chicago Pizza & Oven Grinder Co.
Chicago Pizza & Oven Grinder Co. came alive in 1972 and has been a local institution where visitors can chow down on the best pizza in Illinois. Patrons give this pizza place sterling grades even though you might have to fight long lines when you go to order.
The signature dish at Chicago Pizza & Oven Grinder Co. is something they call a Pizza Pot Pie. It's an individual serving of goodness that everyone should try at least once in their life.
Indiana: Jockamo Upper Crust Pizza
Back when Jockamo Upper Crust Pizza first opened its doors back in 2007, it was the monkey mascot that got most of the attention. While the bespectacled primate still draws curiosity, it's the pizza that now takes center stage. This pizza joint, which has three locations in Indiana, is a place where weirder is better. Instead of going with a boring choice, dig into the menu and go with something like the Slaughterhouse Five that has pepperoni, Italian beef, crispy bacon, ham, and sausage.
Iowa: Zipp's Pizzaria
If the impeccable reviews for Zipp's Pizzaria don't convince you to give this pizza place a try, gazing at its delicious-looking pies should do the trick. Located in Adair, Iowa, a tiny town with a population of less than 800, this eatery has gained enough recognition to have been named the home of the state's best pizza. While options are plentiful at Zipp's Pizzaria, the Taco pizza with salsa, cheddar cheese, and tortilla chips is easily the most popular item on the menu.
Kansas: AJ's NY Pizzeria
AJ's NY Pizzeria, a pizza place with locations in the cities of Topeka and Manhattan, is routinely recognized as having the best pizza in Kansas. And, yes, that recognition is deserved. As you'd guess from the name of this joint, it sells New York-style pizza — and the results impress. In fact, the restaurant only uses ingredients that are used in New York's top pizza restaurants. If you're looking for a recommendation, go with The Big Apple, which features pepperoni, sausage, Canadian bacon, meatballs, ground beef, ham, bacon, and a host of vegetables.
Kentucky: Miguel's Pizza
Even though it's located in the middle of nowhere in rural Appalachia, Miguel's Pizza has become a legendary outpost in the Red River Gorge for those who recreate in the area. If you're ever anywhere close to this historic pizza place with a past that goes back more than 35 years, it's a must that you stop by for a bite. The reviews are close to perfect, and in addition to delicious pizza pies, Miguel's Pizza also has a popular pizza sandwich.
Louisiana: Dean-O's Pizza
Dean-O's Pizza has been around for nearly 50 years, and it's made a name for itself by successfully merging Cajun flavor and pizza artistry. If you can't get enough of extremely spicy food, the Cajun Executioner pizza will quickly set your mouth on fire with enough cajun goodness so that you will thoroughly enjoy it. This bad boy has flavorful pepperoni, hot shrimp, spicy sausage, and a ton of jalapeno slices. If you can't handle the spice but still want a Cajun offering, consider the Marie Leveaux pizza. It has crab, onions, and a whole lot of mushrooms.
Maine: Pizza By Alex
Pizza By Alex is known for its customizable ten-inch pizza pies with a crispy, buttery crust. This Biddeford, Maine, establishment has been in business for more than 60 years and is still run by the same family. Take one glance at the menu, and you'll notice just how dedicated this pizza place is to its craft. It only sells one item: pizza. The stellar reviews that the restaurant gets indicates that the dedication and years of hard work have paid off.
Maryland: Matthew's Pizza
Matthew's Pizza brags about being Baltimore's first pizzeria, and the staff's vast experience gives them ample reason to boast. The list of awards that they've won over the years is quite lengthy, and the restaurant seems to be getting more popular as the decades go by. Of all its pizza pies, it's the 3 Cheese Pie that is prized by children and adults alike. It features hand-grated mozzarella cheese, imported reggianito cheese, and extremely tasty ricotta cheese. You also can't go wrong with the Crab pizza. Order the pies in Piccolo (eight inches) or Grande (ten inches).
Massachusetts: Regina Pizzeria
Regina Pizzeria was recently selected as the best pizza place in the United States, and that's a difficult claim to dispute. This has been the place to go for pizza in the North End of Boston since 1926. It was created by a man named Luigi D'Auria and it was the first pizzeria in the city. All its pizza pies are cooked in a brick oven with family recipes that date back decades. No matter what you decide to decorate your pizza with, you'll be impressed by the quality of the toppings.
Michigan: PizzaPapalis
With a handful of locations across Michigan, PizzaPapalis is where you should always go for pizza when you're in this state. With a bevy of satisfied customers to its name, you're sure to be pleased with your meal. PizzaPapalis gets especially high grades for its scrumptious deep dish pizzas like the Papalis Gourmet with chicken breast, garlic, spinach, black olives, and feta cheese. The restaurant sources its ingredients from around the world so that your taste buds are sure to be thrilled.
Minnesota: Mama's Pizza
When it comes to the best pizza places in Minnesota, Mama's Pizza is always in the discussion. It's crafted picture-perfect pizzas in the city of St. Paul for almost 60 years, and the restaurant is often frequented by athletes, politicians, and other celebrities. If you like big, gooey slices of pizza that seem to melt in your mouth, this should be your joint. When in doubt, go with the Flavor Explosion pizza with its pepperoni, sausage, bacon, banana peppers, and pineapple. Even if you usually shun pizza with pineapple on it, you'll enjoy this pie.
Mississippi: Pop's Pizzeria
Biloxi is where you will discover the best pizza place in Mississippi. The memorable pizza at this restaurant is supercharged by a yummy crust that has the perfect texture after its trip into a brick oven. For meat eaters, The Carnivore is a real treat. This monster is loaded with pepperoni, ham, ground beef, bacon, and two kinds of sausage. In addition to the delicious food, Pop's Pizzeria earns high marks for its service and competitive pricing.
Missouri: Waldo Pizza
Where's the best pizza in Missouri? You don't need to search high and low, just head to Waldo Pizza. With more than two decades of experience, this pizza place gets kudos for its delicious pies and the restaurant's laid-back atmosphere. If you need help deciding what to get, go with a specialty pizza. The Cheeseburger pizza with dill pickle chips, hamburger, cheddar cheese, and yellow mustard sounds questionable, but it's actually a favorite with the locals.
Waldo Pizza has locations in Kansas City and Lee's Summit.
Montana: Biga Pizza
Biga Pizza is far and away the best pizza place in Montana. Its pies are beautiful and look like works of art. But even more important than its outer beauty is the fact that this pizza tastes really, really good. The Caramelized Goat might have an unappetizing moniker, but it's amazing. It gets its name due to the presence of goat cheese and caramelized onions, plus it features thyme, garlic oil, and a generous amount of mozzarella cheese.
Nebraska: Isles Pub & Pizza
Isles Pub & Pizza, referred by locals as The Isles, is a pizza place in Lincoln, Nebraska, with a story that dates back decades. The Chicken Bacon Ranch pizza has fans throughout the state. It includes grilled chicken, ranch dressing, bacon, mushrooms, green peppers, onions, tomatoes, mozzarella cheese, and parmesan cheese. The Leaning Tower of Pizza (pepperoni, hamburger, pepperoncini, and onions) is also a hit. As you would expect, this pub has a wide selection of beers and wines.
Nevada: Naked City Pizza Shop
While it's not the case everywhere you may visit in Las Vegas, all the employees are completely clothed at Naked City Pizza Shop. The popularity of this pizza place exploded after Guy Fieri was blown away by his slice of pizza on an episode of Diners, Drive-Ins and Dives. The pizza here tastes like it's straight from Buffalo, New York, which makes sense because that's where the founding brothers are from.
If you want to try what Guy Fieri feasted on, go with the Guinea Pie. It has meatballs, spinach, ricotta, mozzarella, and more.
New Hampshire: Tilton House of Pizza
It'd be a difficult task to find any pizza restaurant in the country with reviews that are as glowing as the reviews you find for this place. Tilton House of Pizza is located in the city of Tilton, which is about thirty minutes north of Concord, New Hampshire. THOP is primarily known for having the best pizza in the state, but it also has other options like gyros, spaghetti, seafood, and a collection of yummy sides.
New Jersey: Razza Pizza Artigianale
Is it true that New York's best pizza is actually in New Jersey? According to The New York Times, that's a valid question. Try the pies at Razza Pizza Artigianale, and you too may rethink everything you thought you knew about pizza. This restaurant aspires to create the best possible pizza, and many customers believe they're doing just that. While the menu tends to change depending on the season, the pepperoni pizza is a tried-and-true classic.
New Mexico: Trail Rider Pizza
Located in Cedar Crest just outside of Albuquerque, Trail Rider Pizza is universally loved by its customers. Their most talked-about pizzas are the ones that are uniquely New Mexican. The Tijeras pizza has yellow squash, spinach, pine nuts, mushrooms, onions, ricotta, and mozzarella on top of a base of olive oil.
Trail Rider Pizza has been around for more than a dozen years and is a comfortable place to eat and discuss life with your friends.
New York: Di Fara Pizza
It's estimated that New Yorkers eat more than half a million pizzas every day of the year. That's a lot of pizza. With so many pizza places in this state to pick from, it's difficult to narrow it down to just one. However, if you listen closely, Di Fara Pizza gets the highest praise from experts and from hungry patrons — so this is our pick.
Di Fara Pizza has two locations, one in Williamsburg and the other in Midwood. The Classic Pie isn't fancy, as it just has sausage, mushrooms, pepper, and onion, but its flavor will take your breath away.
North Carolina: Blue Mountain Pizza
Blue Mountain Pizza is known for its superb pizza and excellent service. It is located in the town of Weaverville, North Carolina. If you're in Asheville, the 20-minute car ride is definitely worth your time and effort to get your mitts on this delicious food.
Don't hesitate to bring your kids along, as Blue Mountain Pizza is a family-friendly eatery. Individuals of all ages will also be happy to learn that the restaurant also offers handmade ice cream.
North Dakota: A&B Pizza
A&B Pizza is the brainchild of Alvin Heier (A) and Barb Barth (B) and has stayed in the family for three generations. Once you try a slice of this pizza, you won't be surprised to learn that this place has been pleasing hungry people in North Dakota since 1969. Of all its pizzas, The Northern and Buffalo Chicken are some of the most popular. The Northern has pepperoni, Canadian bacon, sausage, chicken, and alfredo sauce, while the Buffalo Chicken features chicken drenched with tangy buffalo sauce.
Ohio: Pizza Whirl
If you want an outstanding lunch in a hurry, Pizza Whirl in Cleveland, Ohio, is tough to beat. This pizza place can whip up a meal in about three minutes that will leave your taste buds completely satisfied.
Do you believe that mushrooms are the best topping for a pizza? If so, Pizza Whirl's Mushroom Madness is something you need to stuff into your face. This pie is made with a porcini mushroom cream sauce that you will adore.
Oklahoma: Empire Slice House
Not only is Empire Slice House the best pizza place in Oklahoma City, it's the best pizza place in the entire state. Reviewers agree that this eatery has exquisite pizza and a friendly staff.
The Notorious P.I.G. is layered with a delicious pound of pork in the form of pepperoni, Canadian bacon, Italian sausage, and bits of bacon. Alternatively, you can try the Doug E. Fresh that has fresh basil, tomatoes that have been expertly roasted, and mozzarella cheese.
Oregon: Apizza Scholls
Join the happy crowd of pizza eaters at Apizza Scholls. This Portland, Oregon, hotspot is loved by locals, and they can't stop talking about the Bacon Bianca pizza. In case the bacon alone doesn't convince you to try it, this pie is also arranged with garlic, black pepper, olive oil, herbs, and multiple types of cheese. Unless you are one of the people who hate anchovies, the Surf and Turf pizza with anchovies and sausage is also highly recommended.
Pennsylvania: Fiori's Pizzaria
When it comes to the best pizza eateries in all of Pennsylvania, Fiori's Pizzaria is a "cut above the rest." At both of the restaurant's locations (Pittsburgh and McMurray), the pies are made fresh daily and tossed by hand. Where this restaurant really stands apart from the competition is the size of its pies and the flavor of its toppings.
Fiori's Pizzaria takes pride in being a full-fledged Italian restaurant, so it also has a tasty assortment of calzones, hoagies, and pasta dishes.
Rhode Island: Fellini Pizzeria
With restaurants in the Rhode Island cities of Providence and Cranston, Fellini Pizzeria will tantalize your tongue with its pizzas powered by its stupendous New York-style crust. Among the pies that cause this pizza place to get such immaculate reviews are The Wickenden (mushrooms, garlic, and red peppers), The Satyricon (sausage, basil, and plum tomatoes), and The Garden Vegetable (tomatoes, scallions, onions, black pepper, and olive oil). At Fellini Pizzeria, you'll find comfy seating inside and outside so that you can be relaxed when you're chowing down on the scrumptious pizzas.
South Carolina: Pizza Kovachi
Even if you're a certified pizza connoisseur, you will love the pies at Pizza Kovachi. Situated in Lexington, South Carolina, it has a long list of specialty pizzas that you should work through over time. The Italia pizza features salami, pepperoni, ham, and sausage and is quite popular. The Pepperoni Lover pizza has three kinds of pepperoni on it, and each one has a unique taste. The Bobby Q pizza is a high-rated option with barbecue sauce, bacon, chicken, and onions.
South Dakota: Lintz Bros Pizza
Is it true that South Dakota is home to some of the best pizza outside of New York? You'll have to travel to the minuscule city of Hermosa to find out. With a population of fewer than 500 people, this is the setting where you will find Lintz Bros Pizza. Its ratings couldn't be much higher, with customers pointing to an abundance of cheese as a reason for the love affair. If you want something different, go with the Flaming German Samoan. This pie comes equipped with sausage, Canadian bacon, pineapple, jalapeno peppers, and sauerkraut.
Tennessee: Tennessee Pizza Company
It's easy to remember where the best pizza in Tennessee can be found, as you simply need to make your way to the Tennessee Pizza Company. Located in Seymour, Tennessee, and featuring a giant orange "T" on the building, this pizza place can stand toe-to-toe with any competition anywhere in the country. In addition to the super yummy pizza, Tennessee Pizza Company gets good marks for its service, speed, and the diversity of its menu.
Texas: Home Slice Pizza
Take your homeslice and head to one of the three locations of Home Slice Pizza. At this hip Austin eatery, you will not just be eating the best pizza in Texas, you will be eating some of the best pizza in the country. Home Slice Pizza calls itself an Austin landmark — and it's not exaggerating. It's New York-style pizza gets magnificent reviews. Specifically, the epic Pepperoni & Mushroom pizza gets a ton of attention, and it's worth every penny.
Utah: Rusted Sun Pizzeria
It's a no-brainer that Rusted Sun Pizzeria is the best pizza place in Salt Lake City and, thus, the state of Utah. Even if you're a New Yorker with high standards for pizza excellence, this humble eatery can scratch your itch for a marvelous pie. Rusted Sun Pizzeria's reviews are great for its offerings across the board, with extra excitement aimed at the Mediterranean Pizza, which is loaded with salami, red pepper, red onion, artichoke heart, green olives, marinara sauce, feta cheese, and mozzarella cheese.
Vermont: Piecasso Pizzeria & Lounge
Piecasso Pizzeria & Lounge has award-winning pizza that draws people to the quiet community of Stowe, Vermont. Eduardo Rovetto, Piecasso's owner, has been at it in the same city for two decades, and his patrons are obviously overjoyed with this restaurant's pies. If you need a nudge in the right direction and you're sufficiently hungry, select the Heart Stopper. It has a double serving of spicy sausage, a double serving of pepperoni, a double serving of cheese, and an ocean of red sauce.
Virginia: Pupatella
With locations in Arlington, Richmond, and Washington D.C., Pupatella should be your destination of choice if you're looking for a top-notch pizza that is so good that it's been considered one of the best in America. How is the pizza there so yummy and so authentic? Pupatella was actually founded by a Naples, Italy, native and it serves only Neapolitan pizza that is prepared the same way it was prepared before it was ever brought over to America.
Washington: Proletariat Pizza
Many pizza eaters agree that Proletariat Pizza deserves recognition as the best pizza place in the state of Washington. At this restaurant, the staff has mastered the art of the thin crust pie. Add in a fun menu with unique choices, and you'll begin to understand why Seattleites adore this eatery so much. Even if Spam isn't your favorite food, you need to trust us and go with The Real Hawaiian Pizza. The mix of Spam and pineapple on a pizza may sound gross, but your taste buds will thank you for your bravery.
West Virginia: Vito's Pizza and Restaurant
Vito's Pizza and Restaurant has blessed Clarksburg, West Virginia, with glorious pizza pies for more than three decades. This restaurant is family-owned and family-operated and aims to offer food that is authentically Italian. Vito's Pizza and Restaurant's strong reviews speak loudly, as customers point to the crust and the sauce as definite highlights. You can order by the slice or opt for a thin Neapolitan round pizza or a thick Sicilian square pizza. Whichever way you decide to go, you'll love the result.
Wisconsin: Dells Pizza Lab
With a collection of spotless reviews, Dells Pizza Lab runs away with the title of best pizza place in Wisconsin. The pizza here is made right before your eyes and uses only the freshest ingredients. You just need to tell them what you want on your pizza, and an expert will create an 11-inch, thin crust pizza to your specifications in no time.
Dells Pizza Lab is situated in the city of Wisconsin Dells and is popular for both lunch and dinner.
Wyoming: Grandpa's Downtown Pizzeria
Located in downtown Cheyenne, Wyoming, it is difficult to track down a bad word uttered about Grandpa's Downtown Pizzeria. What's said about this place is overwhelmingly positive. It has a number of pizza options, but the Meat Lovers Pizza generates the most discussion.
Grandpa's Downtown Pizzeria also serves tasty calzones. However, be warned that these things are huge. Your best bet is to split one with a friend or eat half for lunch and half for dinner.