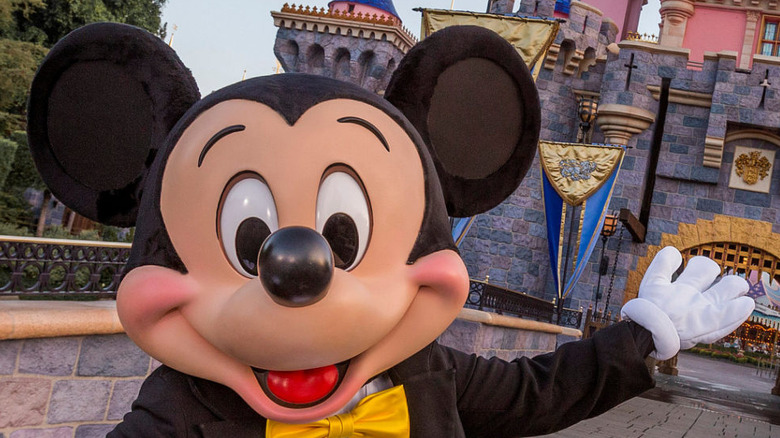 When Disneyland opened on July 17, 1955, it was dubbed "Walt's Folly" because of several issues, including rides breaking down. But it survived, growing from one park with 20 "attractions" — Disney-speak for rides, shows, and other experiences — to two parks, three hotels, and the Downtown Disney shopping district, all collectively known as the Disneyland Resort. Disney's California Adventure, the second park, opened on February 8, 2001, and was rededicated in 2012 as Disney California Adventure, though avid park-goers refer to it simply as "DCA."
Taken together, the parks boast 91 attractions, though Disneyland has more than Disney California Adventure. Only 14 of the original Disneyland attractions from 1955 remain — 13 rides plus the Main Street Cinema, which runs classic Mickey Mouse cartoons. Disney California Adventure has undergone similar changes, having revamped its aesthetic entirely in 2012 from celebrating California to a more Disney-themed affair, and more recently, replacing A Bug's Land with Avengers Campus.
Though everyone has a favorite ride, these rankings are based on Touring Plans, a popular site for Disney fans which conducts extensive research on all Disney parks, including attendee surveys and theme park experts' opinions. Where there were ties or no expert rating, we reviewed average attendee rankings, wait times, and ride load capacity per hour (and maybe a little insider knowledge from the author's long-time standing as an Annual Passholder) to break the ties. Here, then, are all the rides at the Disneyland Resort ranked from least favorite to most.
54. Jumpin' Jellyfish – Paradise Garden Park – Disney California Adventure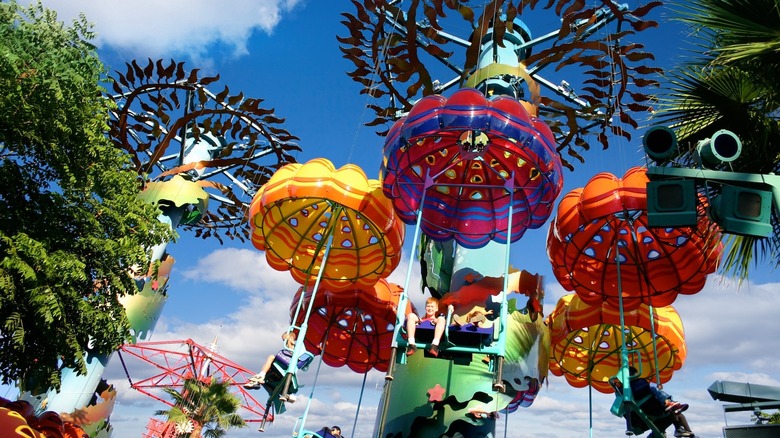 Jumpin' Jellyfish is one of the few remaining original rides at Disney California Adventure, as well as the ride ranked last.
Unlike the long-gone Maliboomer — which shot you straight up a 183-foot tower before "bouncing" you back down — this pee-wee friendly parachute-style ride gently glides up its 40-foot tower, then drops you serenely part of the way, with a few more ups and downs before slowly lowering to the ground. Although it's fun to get a high-up glimpse of Paradise Bay from your seat, the slow ride itself isn't a big thrill.
53. Main Street Vehicles – Main Street USA – Disneyland
Main Street Vehicles come in four old-timey varieties: the horse-drawn trolley, the jitney, the fire engine, and the double-decker omnibus.
All four rides are one way and slowly take you up or down Main Street. The drivers are generally congenial, and the ride is very much like winding down the main drag of a sleepy town. Not a huge thrill, but it's immersive enough in Americana that everyone should try it at least once. It's also a good way to bypass the shops on Main Street if you're trying to avoid spending whatever money you have left after getting through the admission gate.
52. Golden Zephyr – Paradise Gardens Park – Disney California Adventure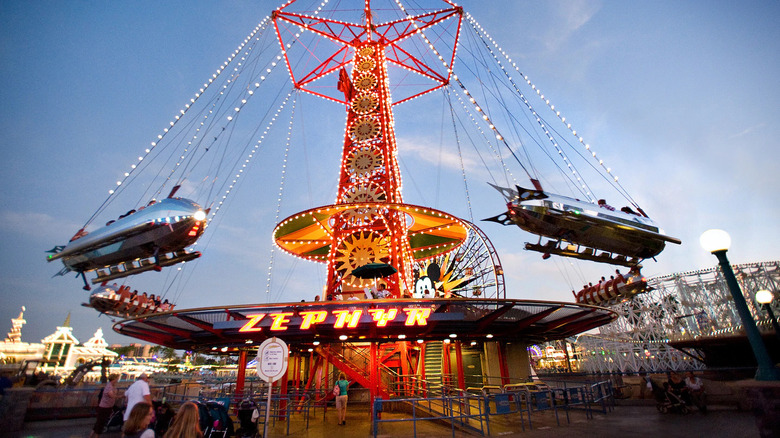 The Golden Zephyr is a circular rocket ride that swings your ship over Paradise Bay … and that's about it.
Unlike the Astro Orbitor at Disneyland, you can't control your rocket. You can, however, let your imagination run wild, pretending to be a rocketeer heading to outer space to seek the unknown. The Golden Zephyr is pretty at night, too — its tower is covered in lights, as are the cables connecting the rockets to the tower. It's one of the original rides left at California Adventure from its opening days.
51. Inside Out Emotional Whirlwind – Pixar Pier – Disney California Adventure
Occupying the space where the Maliboomer once stood, Inside Out Emotional Whirlwind is a reskinned Flik's Flyers from the old A Bug's Land, but built up on a platform so you fly higher than before.
Riley's Emotions from "Inside Out" are depicted on the baskets which are connected to Riley's memory balls, resembling a balloon ride. The tower tilts from the top as the ride spins around, giving an "up and down" sensation similar to the Silly Symphony Swings, but without that ride's chaotic nature.
50. Astro Orbitor – Tomorrowland – Disneyland
The frequently misspelled Astro Orbitor is another circular rocket ride, except you can control your own rocket to go up or down at your whim.
Sitting majestically at the front of Tomorrowland off Main Street, the Astro Orbitor and its golden tower announce the future in all its gleaming glory. The ride itself can be an easy spin if you don't move your rocket, or a dizzying — and somewhat nauseating — ordeal if you continuously push and pull your controller to hit the highs and lows of the ride. It's your choice!
49. Gadget's Go Coaster – Mickey's Toontown – Disneyland
Gadget, a character from the "Chip 'n Dale Rescue Rangers" cartoon, has made a small-fry-friendly steel-track coaster that packs in a few turns and drops for such a small footprint.
A cartoon hand cranks the gears taking the acorn train up the first hill. Other fun touches include a cartoon frog spitting water over the tracks. Though each car is designed to hold one adult and one child, don't be surprised to see two adults crammed in together. It may be a kid's ride, but it's fun for kids of all ages.
48. Mater's Junkyard Jamboree – Cars Land – Disney California Adventure
Mater's friends square dance on a figure-eight track as you're pulled behind each tractor in a little trailer that swings side to side, depending on centrifugal force as it rounds each curve.
Tolerance for the ride is on two planes — how much you enjoy pulling sideways G's and how much you like Larry the Cable Guy's crooning as Mater sings and puns away. Mater's Junkyard Jamboree gets holiday overlays for Halloween and Christmas, as Mater plows through more jokes and themed songs, giving the ride a different feel.
47. Mad Tea Party – Fantasyland – Disneyland
The Mad Tea Party from "Alice in Wonderland" is a spinning ride where visitors ride an oversized teacup on a rotating platform and control how fast their individual cup spins or doesn't.
Sometimes you'll see a family in their cup taking it easy, while other cups are a whirling blur of flying arms feverishly turning the control wheel. Dozens of lanterns dangle overhead for a colorful time. In the eyes of some die-hard Disneygoers, this fun and crazy ride, with its looped "The Unbirthday Song" piping in, would be much higher in the rankings.
46. Casey Jr. Circus Train – Fantasyland – Disneyland
Straight from "Dumbo," the Casey Jr. Circus Train is a miniature railroad with an engineer, an internal combustion engine, and circus-themed riding cars.
The track goes past several of the same tableaux as the Storybook Land Canal Boats, but the views are different and much quicker. The high wait time when the Park is crowded probably dropped this fun, fast jaunt down the rankings, as only two trains run at a time and riders are allowed to choose which car they want to ride in, making the load time a bit longer, too.
45. Pinocchio's Daring Journey – Fantasyland – Disneyland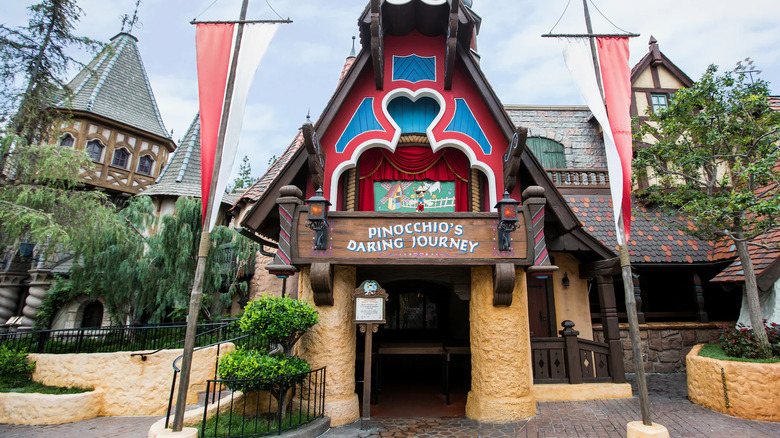 Pinocchio's Daring Journey is a dark ride that debuted in 1983 as part of Fantasyland's overhaul.
The ride follows the trajectory of the Disney film "Pinocchio," as the little wooden boy is taken by the evil Stromboli and forced to perform as a living puppet. Pinocchio's conscience, Jiminy Cricket, tries to help, but Pinocchio's a bit of a blockhead. The best part of the ride is nearly getting swallowed by Monstro the Whale. The lack of line most days compared to the other rides in Fantasyland is a big clue as to why this ride ranks so low.
44. Dumbo the Flying Elephant – Fantasyland – Disneyland
Dumbo the Flying Elephant is yet another original 1955 spinning ride.
As with the Astro Orbitor, riders can control whether their elephant cockpit goes up or down, though this ride is gentler than the Tomorrowland attraction. Timothy, Dumbo's mouse pal from 1941's "Dumbo," sits atop the tower. The line for this ride can be up to an hour on a busy day, as it's quite popular for families to ride together. That family friendliness may be why it ranks higher than the Orbitor, however. What it lacks in thrills, it makes up for in bonding time.
43. Autopia – Tomorrowland – Disneyland
Although Autopia's been through multiple changes since it debuted on July 17, 1955, some things remain the same, such as the noxious gas fumes emanating from the backs of the cars as they travel the winding Disney "freeway."
While not as bad as before Honda became the sponsor in 2016, they remain a little stinky. The cars travel a whopping six miles per hour along a guided track, though riders may control the pedal and steering wheel to a degree. This one's more for kids, but adults can have fun playing bumper cars, which we totally don't advocate doing.
42. Pixar Pal-A-Round – Pixar Pier – Disney California Adventure
Modeled after the Wonder Wheel in New York's Coney Island and previously known as the Sun Wheel and then Mickey's Fun wheel, Pixar Pal-A-Round is 150-foot tall and is listed as two rides on Disneyland's official site, though there's only one wheel.
The highest ranking part of the ride is the Swinging gondolas, then the fixed ones. Thrill-seekers will want the Swinging cars, which slide back and forth toward the interior of the wheel. Be forewarned: The ride is slow, not just in revolutions, but because there are 24 cars to load.
41. Red Car Trolley – Buena Vista Street & Hollywood Land – Disney California Adventure
The Red Car Trolley has four stops along Buena Vista Street and Hollywood Land, and like its Main Street Vehicle counterparts, is a bit of nostalgia for guests who want a short ride on a vintage-looking transport.
The trolleys are also used for a song and dance show throughout the day, which may be the source of the ranking for this ride. If you don't feel like walking from near the park's entrance to Hollywood Land, hop the Red Car Trolley and roll down the street in style.
40. Mark Twain Riverboat – Frontierland – Disneyland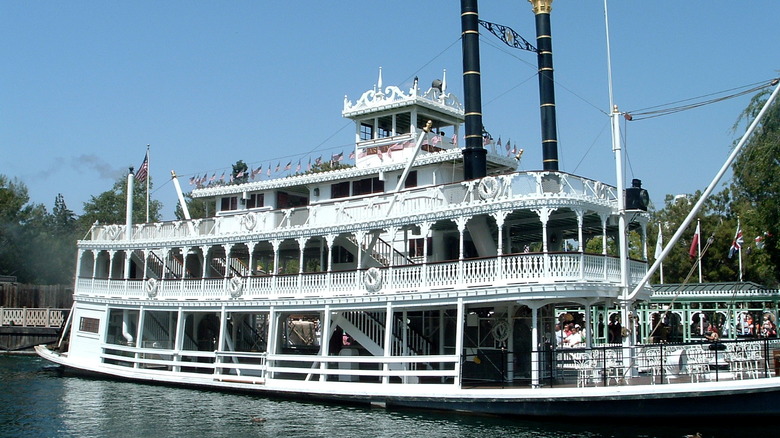 The Mark Twain Riverboat ride has survived since 1995 and remains a beloved attraction, even if it's not the highest-ranked.
Guests can sail down the Rivers of America in Frontierland on this giant paddle-wheel steamboat and pretend they're on the Mighty Mississippi while exploring its four decks or just chilling out on the rail taking in the sights. The boat is named after the pen name of one of Walt Disney's favorite writers, Samuel Langhorn Clemens. It's a serene trip and pretty tame — and also 14 minutes long, which may be why it's ranked number 40.
39. Davy Crockett's Explorer Canoes – Critter Country – Disneyland
Grab a paddle as you and 19 other guests all row your way down the Rivers of America in a real canoe — though the truth is, your guides are capable of doing most of the job.
You'll get in some arm work to balance all the walking at Disneyland, plus you may ride alongside the occasional duck, as several besides Donald, Daisy, and Donald's three nephews live in the park. However, the amount of paddling does tire some people out, which is probably why the ride is ranked at number 39.
38. Disneyland Monorail – Tomorrrowland – Disneyland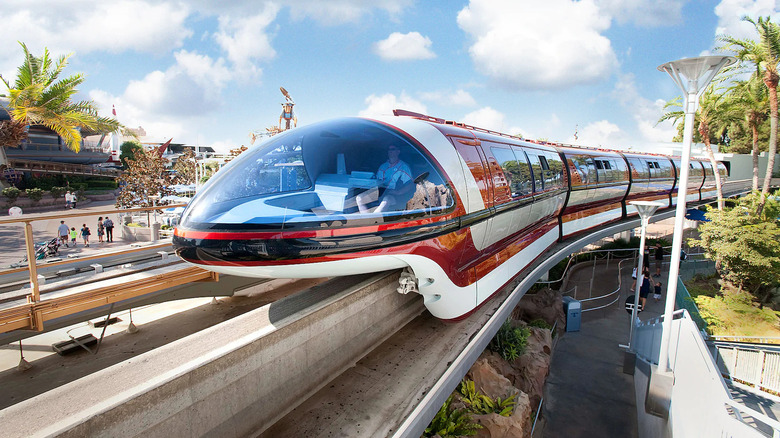 Unlike the cars of Autopia, the Disneyland Monorail is powered by electricity as it cruises around the park.
You can board either in Tomorrowland or Downtown Disney, as the ride no longer has a Disney hotel stop since the hotel was relocated. Though the ride only travels 2.5 miles, it takes 20 minutes round trip, which is a big time commitment if you're trying to cram in a lot of rides. The ride shuts down in extreme heat because it is not air conditioned, and closes for the fireworks shows, which may affect its ranking.
37. King Arthur Carrousel – Fantasyland – Disneyland
The ride that started it all — sort of.
King Arthur Carrousel, one of the original 1955 opening day rides, was inspired by the Griffith Park Merry-Go-Round in Los Angeles that Walt Disney used to love visiting with his children. It was also the scene of a key moment in the 2013 film "Saving Mr. Banks."
It's a majestic creation with ornate jumpers (the horses that go up and down), a bench for sitting, and jaunty organ music. The Carrousel may be a lower-ranking ride probably because it's the type of attraction you can find in, well, a regular park — but it's an old-fashioned classic that's the most "Disney" ride in all of Disneyland.
36. Snow White's Enchanted Wish – Fantasyland – Disneyland
First known as Snow White and Her Adventures on Disneyland's 1955 opening day, and then redone as Snow White's Scary Adventures in 1983, the ride now called Snow White's Enchanted Wish has received another makeover.
Unveiled on April 30, 2021, the dark ride features new effects, including the smell of baked pies, according to Disneyland's website. The Evil Queen still makes an occasional appearance through the window of the ride's façade. The improvements may change the ride's future ranking, and given the new moniker, it's probably fair to say it's less-than-scary.
35. Silly Symphony Swings – Paradise Gardens Park – Disney California Adventure
The Silly Symphony Swings features individual and tandem swings that whirl you through the air over Paradise Bay.
The telescoping tower undulates as it spins, giving a more exciting ride than the static Golden Zephyr rockets. It's not uncommon to see riders with their arms extended as though they are flying while the "William Tell Overture" from the Disney cartoon "The Band Concert" plays. Though it's the type of ride you could find at a carnival or county fair, this one has extra Disney magic that kicks its rank up.
34. Storybook Land Canal Boats – Fantasyland – Disneyland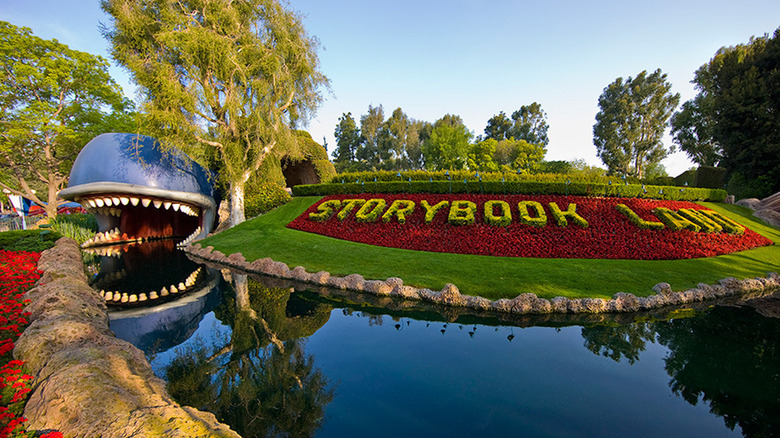 The Storybook Land Canal Boats covers most of the same territory as the Casey Jr. Circus Train, except much closer to the models depicting various Disney stories.
Starting at Monstro's mouth, a tour guide narrates your placid trip. Though ranked the same as Silly Symphony Swings (both are in the 3-range on Touring Plans), it edges the more kinetic ride out because it has longer lines and loads more people per hour. Also, sometimes you just want to hear a good story while you rest from a day of running around.
33. Jessie's Critter Carousel – Pixar Pier – Disney California Adventure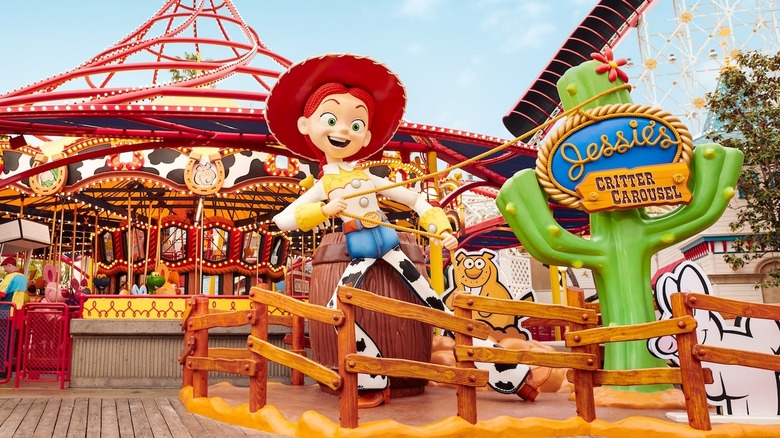 Jessie's Critter Carousel is a smaller merry-go-round than the King Arthur Carrousel that features various varmints from the "Woody's Roundup" cartoon in "Toy Story 2" instead of horses.
Guests can hop on a bunny if they like, for instance. It used to be King Triton's Carousel of the Sea and featured fish and seahorses, but after the area was rebranded as Pixar Pier, that theme no longer fit. The ride is more geared towards kids and revolves slower than its Disneyland counterpart but it's pretty cute, all told.
32. Jungle Cruise – Adventureland – Disneyland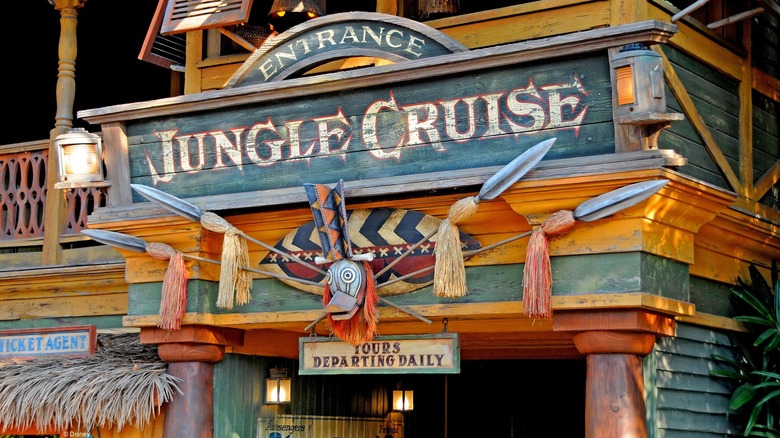 The Jungle Cruise, one of the 13 original rides, is getting a facelift, and is reopening in July 2021.
The ride is known for its tour guides and their corny jokes, which will remain, but several of the older scenes which were problematic are being modernized. Depending on the refurbishment, the ride may rise up in the rankings. The ride has had holiday overlays in the past, including a Christmas-themed "Jingle" Cruise, though it's unknown if those will reappear. One thing that hopefully remains: getting to see the backside of water.
31. Goofy's Sky School – Paradise Gardens Park – Disney California Adventure
Leave it to Goofy to take a "wild mouse"-style coaster and make it sillier.
Goofy's Sky School is a reskinned version of Mulholland Madness, but with a somewhat smoother ride and nicer individual cars. Goofy's Sky School is a bit wilder than Gadget's Go Coaster, though much tamer than the Incredicoaster. Still, it does have scary moments because each sudden turn makes it appear the "plane" is about to go flying off the tracks. Adults and more adventurous kids will probably prefer the larger coasters.
30. Sailing Ship Columbia – Frontierland – Disneyland
The Sailing Ship Columbia is a replica of the real "Columbia" vessel, which was "the first American ship to circumnavigate the globe," according to Disneyland's website.
It's a leisurely 15-minute trip around the Rivers of America, where you'll see many of the same sights as from the Mark Twain Riverboat and the Davy Crockett Explorer Canoes, albeit from a different perspective. You can also pretend you're repelling pirates, though the Columbia is used as a pirate ship during "Fantasmic!" Or, you can marvel at the detailed craftsmanship of the boat itself, which is quite impressive.
29. Disneyland Railroad – Various Stops – Disneyland
The Disneyland Railroad has four rankings on Touring Plans, one for each of its stops — Tomorrowland, New Orleans Square, Mickey's Toontown, and Main Street Station, in that order.
The trains are steam-powered and can take guests around the parks in 18 minutes, though most people hop on and off to get from one land to another. The Tomorrowland stop tops the list because between it and Main Street, guests are treated to scenes from the Grand Canyon and the Primeval World. Yep, you get to see dinosaurs fighting at Disneyland.
28. The Little Mermaid – Ariel's Undersea Adventure – Paradise Gardens Park – Disney California Adventure
The Little Mermaid – Ariel's Undersea Adventure is a dark ride with clamshell cars that go "underwater" to follow Ariel as she gives up her voice to pursue Prince Eric while her friend, Sebastian the Crab, pops up here and there to keep an eye on her.
It's super-colorful and filled with song, but it's also kind of short and skimps on Ursula's defeat, possibly to avoid scaring children. The ride replaced the "Golden Dreams" Theater, which had been a popular place to cool down.
27. Monsters, Inc. Mike & Sulley to the Rescue! – Hollywood Land – Disneyland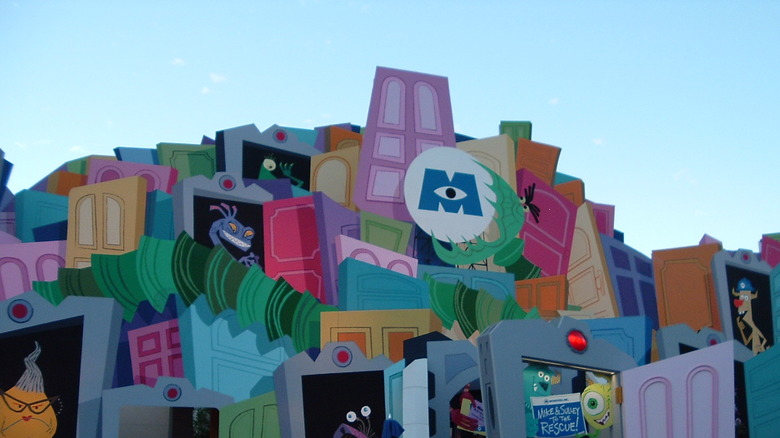 Filled with animatronics and so many doors, this ride is based on 2001's "Monsters, Inc."
It replaced one of Disney's least-successful rides ever, Superstar Limo, in which you were a paparazzo trying to take pictures of celebrities. Instead of that baffling premise, one where you follow Mike and Sulley on their adventure getting baby Boo back to her own bedroom is a much better fit, especially once the park started leaning into its Pixar partners. The line for the ride is filled with cool Monsters touches as well.
26. Alice in Wonderland – Fantasyland – Disneyland
Alice in Wonderland is a dark ride with a bit of outdoor travel through Alice's adventures in the mythical Wonderland.
The caterpillar cars twist and turn on the winding "leaf" track and down the rabbit hole as a combination of animatronics and animation provide entertainment. It also has several scenes from the Disney movie of Lewis Carroll's classic tale, telling a cohesive story from beginning to end. It's both kid- and adult-friendly and colorful, too. The shortest wait on a good day is usually about 20 minutes, an indicator of the ride's popularity.
25. Roger Rabbit's Car Toon Spin – Mickey's Toontown – Disneyland
Based on 1988's "Who Framed Roger Rabbit," Roger Rabbit's Car Toon Spin combines the fun of a dark ride with two connected cars that can be spun independently.
Benny the Cab drives you through Roger's adventures while Judge Doom's hench-weasels try to erase you with Dip. Part of the ride's repeatability is going back to see the things you missed if you've spun your cab too fast. It's a boisterous, wacky ride that almost always has a long line, but with plenty of Toontown-based items to view while you wait.
24. Mr. Toad's Wild Ride – Fantasyland – Disneyland
Mr. Toad's Wild Ride has been driving guests to Hell since Disneyland's opening day in 1955, though its façade was thoroughly revamped in 1983 and the ride touched up.
Each buggy is on a guided track that barrels through London as Mr. Toad's terrible driving skills have you narrowly avoiding certain death … until you don't. The dark ride combines moving painted scenes, blacklighting, and loud noises. It's one of the more popular rides in Fantasyland, with waits up to 45 minutes on busy days. Semper Absurda!
23. "It's a small world" – Fantasyland – Disneyland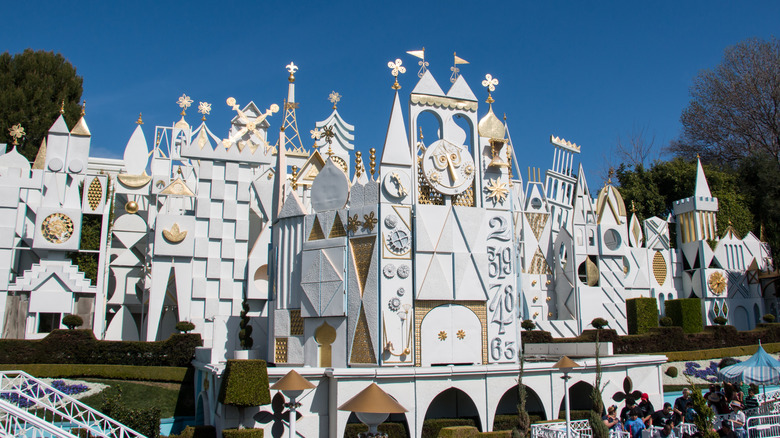 This boat ride features animatronic children and animals from all over the world singing "It's a Small World (After All)" on a loop that will inevitably become an earworm you'll be humming the rest of your day at the park.
Though the ride experienced a controversial upgrade in 2008, it's essentially the same, with an exterior display every 15 minutes. The ride gets an annual Christmas overlay, with animation projected on the façade at night. Though there are some Disney fans that hate it, most seem to adore it, given the line can get up to 90 minutes or longer on crowded days.
22. Matterhorn Bobsleds – Fantasyland – Disneyland
The Matterhorn Bobsleds ride is not only unique to Disneyland, but it was also the first coaster at the park.
The ride has two different tracks that wind and dip through the interior and exterior of the mountain while a yeti tries to catch your sled. The ride has been refurbished many times over the years, from new cars to an upgraded yeti (one of the old ones is part of Tivan's collection), and may rise in the rankings after its latest refurbishment. Though guests will argue which track is more thrilling, they line up in droves for it, sometimes waiting up to two hours.
21. The Many Adventures of Winnie the Pooh – Critter Country – Disneyland
This dimly-lit ride is based on the 1977 film of the same name, with A. A. Milne's stories set to songs and brought to life with projections and animatronics, and a palpable whimsy sure to delight.
A wobbling beehive car takes a guided track through three tales as Pooh tries to get his beloved honey and his friends plan him a heartwarming birthday celebration. Though it's ranked the same as the Matterhorn Bobsleds, it just edges that ride out because of its cuteness — and the fact that no height limit means even babies can ride.
20. Luigi's Rollickin' Roadsters – Cars Land – Disney California Adventure
Luigi's Rollickin' Roadsters is one of the few rides that didn't have an expert ranking, but gets high marks from guests of all ages.
It replaced original attraction Luigi's Flying Tires, which itself was based on Disneyland's short-lived Flying Saucers from the 1960s. Apart from being totally adorable, the ride has thrills galore, even though it doesn't appear to be moving fast from the outside. Trackless GPS technology allows the cars to "dance" with each other. Each dance depends on the song playing, giving it high repeatability for riders.
19. Finding Nemo Submarine Voyage -Tomorrowland – Disneyland
Formerly an underwater attraction with mermaids and a goofy-looking sea monster, the Submarine Voyage was closed and eventually updated with a Pixar theme.
Leaps in technology led to Imagineers using underwater projection to present characters from 2003's "Finding Nemo" going about their daily lives as guests view them from the submarine's portholes. The ride can be a bit claustrophobic and the seats are small, but it's also really cute. The line for this is generally long because it takes a while to load and unload the submarines, but guests find it worth the wait.
18. Buzz Lightyear Astro Blasters – Tomorrowland – Disneyland
Both a ride and a game, Buzz Lightyear Astro Blasters lets guests control the direction their spaceship faces as they use oversized laser guns to shoot targets and save earth from Buzz Lightyear's nemesis, Zurg.
Certain targets are worth more points than others, and "hidden" targets are worth the most. The competitive aspect of the ride — you can go up against your co-rider or try to beat the high score of the day — combines with the colorful and chaotic "space battle" to land Astro Blasters in the top 20.
17. Peter Pan's Flight – Fantasyland – Disneyland
Peter Pan's Flight is the highest-rated ride in Fantasyland, as well as the last of the original 1955 rides on this list.
It's the kind of ride that Disney fans flock to as early as possible in the day in order to ensure a short wait time because once that time hits about 40 minutes, it doesn't ever seem to go down. Sail the skies over London to Never Land with Peter and the Darling kids. The ride has small drops for excitement, and the forced perspective makes it feel higher than it really is.
16. Star Tours: The Adventures Continue – Tomorrowland – Disneyland
Star Tours is a flight simulator ride that has added several destinations from the "Star Wars" franchise over the years, as well as simulator upgrades, 3-D, and special effects inside the cabin.
Original pilot droid Rex (voiced by Paul Reubens, aka Pee-Wee Herman) was replaced by C-3PO, with R2-D2 appearing in both versions. The unpredictable appearances of other "Star Wars" characters, as well as the different destinations possible to visit each trip, make Star Tours one of those rides guests get off and get right back in line for. Wait times can go up to 90 minutes or more on heavily visited days.
15. Big Thunder Mountain Railroad – Frontierland – Disneyland
Big Thunder Mountain Railroad isn't just a runaway mine train — it's a haunted one.
The engineer-less "train" races through pitch-dark tunnels, over hills and around banked corners at a top speed of 36 miles per hour that feels faster at night and will also have you sliding side to side if you don't hang on. It's a rush-and-a-half and includes a mine explosion, as well as benign and dangerous critters on the side of the tracks watching you go by. Watch out for snakes — and skunks ready to spray!
14. Incredicoaster – Pixar Pier – Disney California Adventure
Originally called California Screamin', the rethemed Incredicoaster takes you on a wild ride as the Incredibles chase baby Jack-Jack, who doesn't have control of his 17 powers yet as he blips around the coaster.
Incredicoaster is 121 feet tall, with one inversion and a max speed of 55 miles per hour. Speakers in the back of each seat play music and narration. You can even smell the Num Num cookies Mr. Incredible waves at Jack-Jack. Some coaster enthusiasts complain about the lack of air time and G-force, but others enjoy the ride, landing it at number 14.
13. Millennium Falcon: Smugglers Run – Star Wars: Galaxy's Edge – Disneyland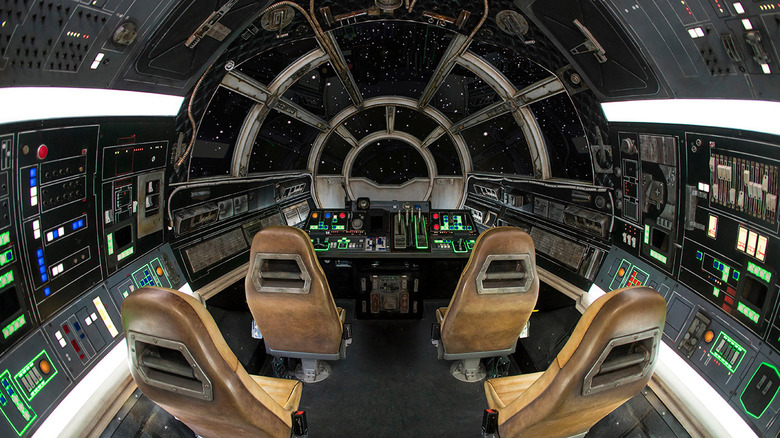 If you've ever wanted to see if you can beat the Kessel run in less than 12 parsecs, you can pilot the Millennium Falcon at Disneyland for practice.
The cockpit seats six: two each of pilots, engineers, and gunners. Each smuggling run is different, depending on the skill set of all involved. The ride is like a video game, as you earn or lose credits based on what you steal and how much you damage the ship. There's also a hack to unlock "Chewie Mode" if you're fast enough. Everything about it is really well-done.
12. Haunted Mansion – New Orleans Square – Disneyland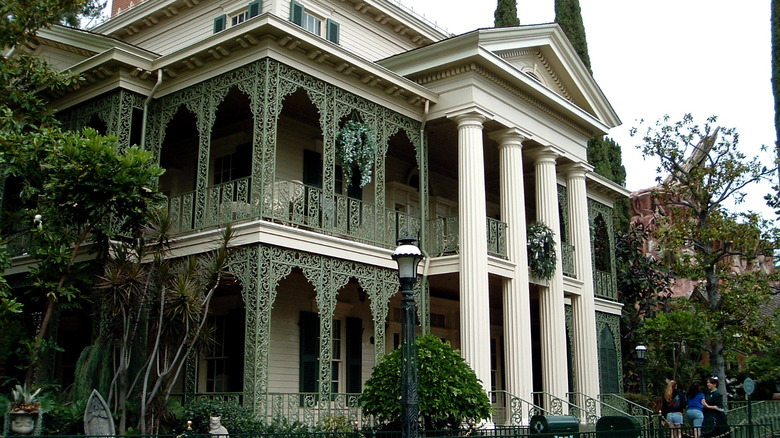 Hop into a Doom Buggy for a truly dark ride as you visit the "other side" populated by ghosts and ghouls and Pepper's Ghost illusions.
Parts of the ride can be scary for children, but most of it is simply fun. The ride gets an overlay from September through the Christmas holidays each year as Jack Skellington from "A Nightmare Before Christmas" takes over, so keep an eye on the calendar because the ride closes for the makeover. The line for Haunted Mansion can get up to three hours long due to its massive popularity.
11. Grizzly River Run – Grizzly Peak – Disney California Adventure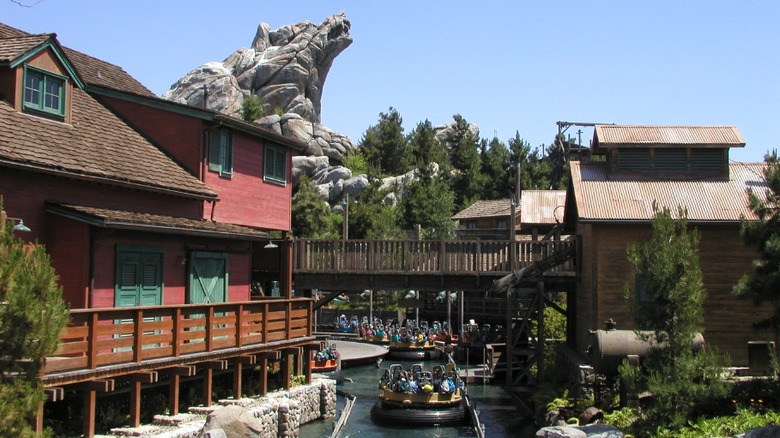 Grizzly River Run is a whitewater raft ride where you may get a little wet — or soaked to the bone. The hotter the day, the longer you'll have to wait to board, too.
Each raft holds eight riders and floats freely in the rushing river. The rafts are designed to spin, especially on the final drop, which adds to its unpredictability. It's probably safe to say no two rides are ever alike. All that's keeping it out of the top ten is its longest average wait time, which is 20 minutes less than its closest competitor.
10. Splash Mountain – Critter Country – Disneyland
Splash Mountain combines elements of a dimly-lit ride with a flume as your log floats down a snaking river, dips three times, and then drops five stories into a briar patch.
The ride may rise higher in the rankings after it is re-themed to 2009's "The Princess and the Frog," depending on how well the Imagineers do with the indoor scenes. Most people who ride it now enjoy the songs and that massive drop, plus it's a good one for cooling off because of the water splashing into the log.
9. Toy Story Midway Mania! – Pixar Pier – Disney California Adventure
Toy Story Midway Mania! is another combination ride/game, but in 3-D and with a toy cannon you operate by pulling a rope.
How fast you shoot depends on how fast your arm gets tired. Each game presented is different than the last, and the ride only spins between games. The ride is so popular that the usual lowest average waiting time is 45 minutes. Like many of the rides in the top ten, you want to hit this ride as soon as you get into the park or you will have a long wait.
8. Soarin' Around the World – Grizzly Peak – Disney California Adventure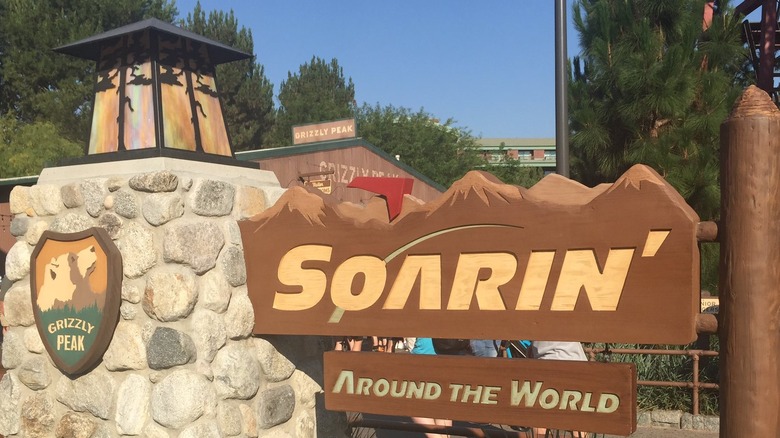 Soarin' Around the World replaced 2001's original attraction, Soarin' Over California, though the ride's popularity hasn't seemed to wane.
Guests are taken "hang gliding" around the world on an Erector set with majestic views. Originally done in Omnimax, with wind and smells for a 4-D effect, the ride is now in digital IMAX with wind intact, but with subtler smells — the original's pine tended to overwhelm the others. The ride also has one of the largest hidden Mickeys in the parks. It's almost impossible to ride "Soarin' Around the World" and not hear clapping at the end — which might be the most effective ranking metric of all.
7. Space Mountain – Tomorrowland – Disneyland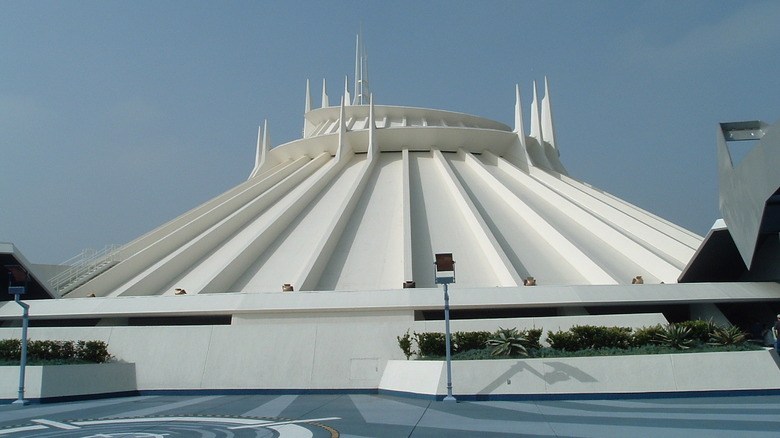 This indoor coaster has a surprise drop and deeply banked curves to simulate hurtling through space in a rocket.
Because it's mostly in darkness, Space Mountain's top speed of 35 miles per hour feels much faster, especially when sitting in front. There are speakers in each seat playing music timed with the ride, and a great special effect in the beginning that makes it feel as if the ride is slowly spinning before launch. The ride has had two overlays: Halloween's Ghost Galaxy and the Star Wars-themed Hyperspace Mountain. The wait for this popular coaster averages 45 to 160 minutes.
6. Guardians of the Galaxy – Mission: BREAKOUT! – Avengers Campus – Disney California Adventure
This free-fall gantry lift ride was the first Marvel-themed one in a Disney park.
When it was originally "The Twilight Zone" Tower of Terror, it had one pattern of drops, but in keeping with the Guardians' more chaotic nature, the ride now has six different drop patterns depending on which of its six songs plays over the mayhem. That unpredictability, coupled with the enhanced graphics and story (not to mention Rocket's hilarious banter) has boosted the ride's popularity. The ride is now part of the Avengers Campus.
5. Pirates of the Caribbean – New Orleans Square – Disneyland
Yo ho, yo ho, a Pirates ride is ranked 5!
The darkly-lit boat ride lasts 16 minutes as you witness various pirate shenanigans, with an occasional sighting of Jack Sparrow from the "Pirates of the Caribbean" film franchise. Though the ride has undergone updates and additions throughout the years to keep it fresh and modern, the pirates still plunder and the ride still has a couple of good drops to boost your adrenaline — and the long lines in New Orleans Square that frequently exceed the ride's actual queueing area attest to its popularity, arr.
4. Indiana Jones Adventure – Adventureland – Disneyland
Indiana Jones Adventure features a long, hidden line that winds through the Temple of the Forbidden Eye (and keeps you thinking you're nearing the front of the line before another room disappoints you) before you ever even get to the transports.
Once onboard, it's a herky-jerky jaunt past poison-dart blowing skeleton warriors and a gigantic snake as you try to survive those and several other perils. The ride is so popular that in April 2021, Disneyland temporarily introduced a virtual queue for it to control the crowds waiting outside. Despite the long wait, there's plenty of entertainment in the temple (hint: ignore the sign and pull the rope!).
3. Radiator Springs Racers – Cars Land – Disney California Adventure
Slot car toys come to life in this combination dark ride/"coaster" that is themed to 2006's "Cars."
Drive through beautiful Ornament Valley and past several of the "Cars" characters, after which your vehicle is prepped in Luigi's Casa Della Tires or Ramon's Body Shop before a side-by-side race over rolling hills. The biggest race, however, may be trying to grab a FastPass for this ride before they're all gone. Otherwise, unless you use the Single Rider option, you'll wait an average minimum of 70 minutes to board. The ride came out of the gate popular, and that has not abated.
2. WEB SLINGERS: A Spider-Man Adventure – Avengers Campus – Disney California Adventure
WEB SLINGERS is the first new ride to open at Avengers Campus, and from all accounts, it's a fun, if short, hybrid game/ride.
Because it's so new, it can only be ridden if you get in one of the virtual queue boarding groups available at 7 a.m. and 12 p.m. Whether it will remain in the top 10 is to be determined. Many reviews are positive, but some on the various Disney-related Facebook groups have noted wrist pain from the motion needed to "shoot webs," while others have grumbled that in order to get the highest scores, you need to purchase $60 in accessories, which don't seem to make a whole lot of difference.
1. Star Wars: Rise of the Resistance – Star Wars: Galaxy's Edge – Disneyland
Star Wars: Rise of the Resistance is hidden away in Batuu's forests to avoid detection by the nefarious First Order.
It is really like five rides in one, including flight simulation, trackless GPS, and … well, we don't want to give it all away. Suffice to say it is one of the best attractions ever devised. When the virtual queues go live in the parks, you can feel the anticipation as people try for boarding groups, after which cheers of jubilation mix with moans of defeat as groups are randomly assigned.