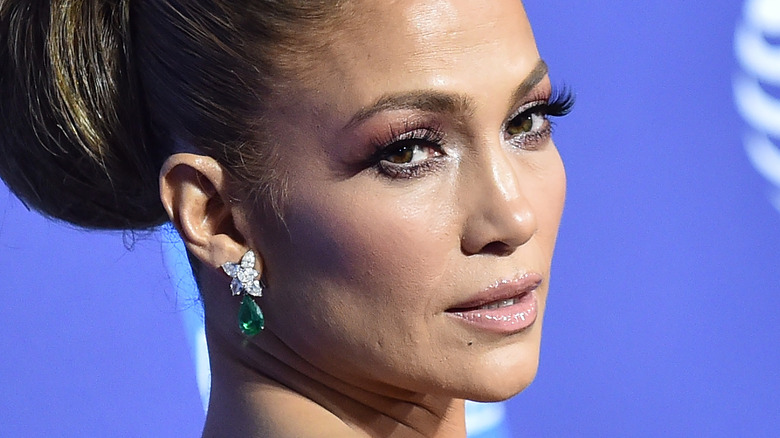 One of the most famous lines from the movie "Dirty Dancing" is "Nobody puts Baby in a corner," but for Jennifer Lopez, the statement should be "Nobody puts J. Lo in a box." The world-renowned performer, actress, producer, entrepreneur, and not to mention a mother of two spoke about the many facets of her life during her acceptance video for WSJ. Magazine's 2020 Pop Culture Innovator (via Hola).
"From very young I never wanted to be put in a box," Lopez recalled. "I wanted to be smart and athletic and sweet and tough and a Tom boy but also very glam" (via Hola). This desire to not fit into a predetermined mold meant accepting who she is, including that she "wasn't trying to be the size zero model." In her 50s, Lopez encourages her audience to stay determined even in the face of obstacles. Of course, this is something that she has learned and relearned over the years even when it comes to basic wellness needs like diet and exercise.
Although Lopez won a prestigious award in 2020, she, like so many others, found it difficult to keep doing her healthy routines during the pandemic (via Yahoo). "I've never struggled more with my health and nutrition," she said. In the end, it was being a mother that helped her through this difficult time, and while her exercise routine evolved to include dance parties with her children, other aspects of her wellness regimen have remained set in stone.
J. Lo's diet is as important as her exercise routine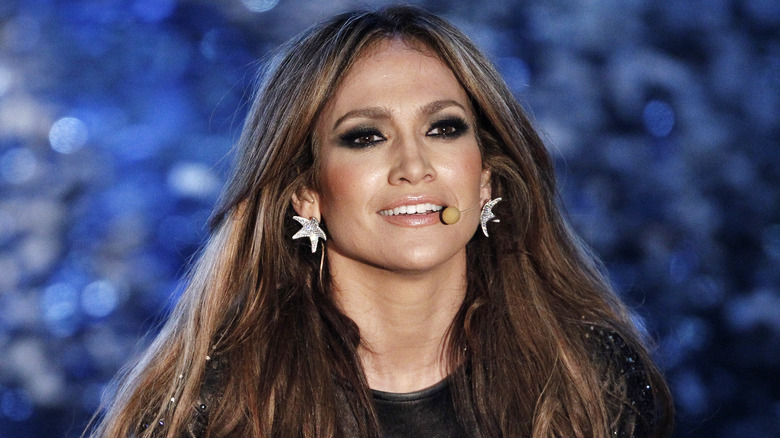 While most people break up their diets into five major food groups as fruits, vegetables, grains, protein, and dairy, Jennifer Lopez breaks down what she eats a little bit differently. According to Us Weekly, the superstar still separates vegetables and protein into their own categories, but she swaps out the other three for carbs, fats, and water. In fact, her life coach and trainer Dodd Romero says Lopez begins her day "with a glass of fresh lemon water" and drinks at least six more glasses of water before she goes to bed.
Even the foods that technically fit into Lopez's personalized nutrition categories may still not be part of her diet. For example, while she eats vegetables, she avoids carrots and corn because of their sugar (via Us Weekly). She also limits herself to eating lean proteins like chicken breast, egg whites, and grass-fed beef and only three or four times per week. In addition, she sticks to foods like nuts, sea bass, and salmon for the fat in her diet, and despite her trainer admitting that she likes cookies, Lopez usually only eats complex carbs like quinoa, sweet potatoes, brown rice, and oatmeal with fresh berries.
While Lopez regularly consumes a variety of different types of foods, she avoids all things processed, according to Romero. And although her lifestyle as a performer is usually associated with drinking and partying, Lopez stays away from alcohol.
She gives '500 percent' to her workouts
While Jennifer Lopez likes to post photos of herself working out on Instagram with funny captions like how her workout is targeting her "biceps, back, and booty" (via Women's Health) she also knows how to balance the lighthearted with the serious. Her trainer David Kirsch told People that Lopez is very dedicated to her workout and gives "500 percent." While he varies up her routine, Kirsch has Lopez do "a full-body circuit workout" that focuses on cardio and so sculpting and toning.
Besides circuit training, Lopez works out four or five times a week with trainer Tracy Anderson. These sessions start with an upper-body workout that involves both weights and no weights, followed by "a muscular structure sequence" like a combination of lunges and arabesques (via People). And although Anderson says Lopez is up for challenges, she also is aware of her body's limitations, so they can make adjustments on the fly.
Although Lopez's routines can be intense, she also knows how to keep the fun in staying fit. Just as dancing with her kids during the pandemic helped keep her spirits up (via Yahoo), she finds dancing more than just a good form of cardio. "Dance has always been a huge part of my life and taking the time to move my body and do something that's so good for me is key to my happiness," she told Hello.
Is Jennifer Lopez's diet good for you?
While Jennifer Lopez's diet does allow for a small cheat treat every now and then, is her strict eating plan a good guide for others or something more tailored to her needs that shouldn't be duplicated? Well, as Healthline noted, Lopez's approach has its pros and cons.
For starters, Lopez does consume a fair amount of protein, which may give your metabolism a boost, help you control your appetite, and decrease the amount of fat in your body. Plus, her emphasis on fish, whole grains, and certain vegetables, and her elimination of processed foods could reduce your chances of developing type 2 diabetes, heart disease, and cancer. In fact, just avoiding processed foods alone could help you keep your blood pressure at proper levels and prevent excessive weight gain, especially if you combine this diet with both cardio and weight training.
Despite the possible positive aspects of Lopez's diet, though, there are also some notable shortcomings. As Healthline pointed out, some processed foods can be high in nutrients, and since these types of foods are usually inexpensive and easy to come by, avoiding them could mean eliminating a convenient source of nutrition. In addition, her meal plan permits sugar-free foods and artificial sweeteners, which may cause health problems. And, of course, eating organic foods is going to mean higher grocery bills.
Exercise secrets from J. Lo's personal trainer
During her acceptance video for WSJ. Magazine's 2020 Pop Culture Innovator, Jennifer Lopez talked about her early years as a performer, commenting, "I had a big butt, I embraced that" (via Hola). These days, "Jenny from the Block" still has a curvy figure because she incorporates exercises into her routine that target her glutes.
"If you want to enhance the shape of your butt, as well as tone and tighten, the most important exercises are squats and lunges," Lopez's personal trainer Gunnar Peterson told Shape. In fact, Peterson advises doing squats from different angles since this will target more muscle groups. He also stressed the importance of using weights to get the same types of results as Lopez.
While strength training is important, trainer and nutritionist Kathy Kaehler, who has helped Lopez with her workout routines, said a variety of cardio is also a vital part of Lopez's famous figure (via Shape). "Just change it up and try different things — like the elliptical, the bike, and the treadmill to more explosive moves like sprinting, the stairs, and plyometric exercises that will kick up the heart rate and demand that power," she recommends for anyone who wants similar results to Lopez.
Jennifer Lopez's typical meal plan
Jennifer Lopez's personal diet emphasizes foods like complex carbs, leafy greens, and lean proteins. But is this difficult to maintain day after day especially with such a busy schedule? As Lopez told People in 2015, "I don't deprive myself. But I've learned the importance of maintaining a healthy lifestyle." To demonstrate, Lopez described a typical day of meals in her life.
For breakfast, Lopez would pot a smoothie that includes protein powder, strawberries, blueberries, raspberries, Greek yogurt, cinnamon, honey, and fresh lemon juice. Lunch is a kale salad with toasted pumpkin seeds, queso, fresh lemon juice, extra virgin olive oil, minced shallots, and sea salt. While Lopez said, "I always have healthy snacks like fruit and vegetables with me," she opted on this particular day for a medium-sized apple. As for dinner, she sat down to a lean protein-packed grilled chicken breast (with the skin removed), sautéed brussels sprouts, and baked yams with sea salt.
And what about dessert? Before you say her diet is too strict to allow for anything besides more fruit or berries, Lopez admitted to People that she had a chocolate chip cookie. These days, Lopez seems to stick with a similar meal plan. However, cookies would only be something she'd eat once a week (via Us Weekly). And, of course, with water being its own "food group" on her diet plan, Lopez continually drinks water throughout the day.
What's the secret to those killer abs?
In 2019, Jennifer Lopez returned to the big screen in the movie "Hustlers" (via "Jimmy Kimmel Live"). Her role as Ramona, a stripper who takes on some rich members of Wall Street, led Lopez to try pole dancing. "It's like acrobatic; it's [working] different muscle groups," she told Kimmel.
Before Lopez stepped foot on the film set or near a pole, however, she had already been conditioning her abs into what Oprah Daily called "her 42-pack." As her trainer Dodd Romero explained, Lopez combines three different exercises — hanging ab raises, rope crunches, and incline situps with a 45-pound plate — to really target the muscles in her midriff and get the results she wants. Typically, she'll do 50 of each of these exercises for a single set, then follow up with a second set of 35 reps and a final set of 21 without a break in between.
While this may sound intense (and it is!), Lopez would not be able to maintain her abs the way she does if she did even this high-intensity workout inconsistently. In fact, despite her busy schedule and responsibilities as a parent, Lopez told Us Weekly that she "very rarely skips a workout."
J. Lo's favorite protein smoothie
Although Jennifer Lopez is dedicated to her meal plan, that doesn't mean there hasn't been some trial and error in finding just the right combination of foods. As her trainer David Kirsch told People, Lopez is "very connected to her body." So it's not surprising that she noticed certain foods weren't the best choices for herself and her family. "I knew the stuff that I was eating wasn't giving me energy," she told Health back in 2014. "I realized that after a while, and I was feeding this to my kids. Is this good for them?"
Knowing she needed to change up breakfast time in particular, Lopez tried a smoothie made from spinach, banana, rice milk, protein powder, and either almond or sunflower butter. While a combination like this might sound a bit unusual, this drink is packed with nutrients. "It makes an unbelievably healthy [drink] full of fiber, full of omega 3, protein, and it's a really great meal replacement or recovery drink," exercise physiologist Marco Borges confirmed to Health. In fact, Borges, Lopez, and her sister, Lynda, made this smoothie at a health fair event co-sponsored by the Montefiore Health System and the Lopez Family Foundation, a medical nonprofit founded by the two sisters (via Variety).
Jennifer Lopez didn't lose her baby weight all at once
Ask any woman who's given birth and she will tell you that pregnancy changes the body in surprising ways. And Jennifer Lopez is no exception. She told Us Weekly that her rib cage moved while she was carrying her twins. "Before I was always able to fit into sample-size clothes from designers, and now they have to take them out just a bit. … It's no big deal," she noted. While Lopez was fine with this change to her ribs, she wasn't entirely happy with her weight.
"I'll be honest with you guys, since I had the babies about six years ago, I had that really stubborn 8 to 10 pounds on me," she told Extra in 2014. Lopez made the decision to go vegan for about a month, which she claimed made a huge difference. "When I started eating [vegan], right away I dropped like 8 to 10 pounds. It was a real change, but more than that I felt better and people were like, 'Your energy's better' … everything's better."
Although Lopez is no longer vegan, she encourages others to incorporate more plant-based foods into their diet. "Even if you're 70-80 percent vegan, it's so much better having those vegetables, greens, plant-based stuff. It's going to change your life and health," she explained.
J. Lo takes on a triathlon
By the time a woman is eight months pregnant, strenuous physical activity is not usually high on her list of things to do even in the near future … unless that woman is Jennifer Lopez. While watching TV in her third trimester, when she described herself as "beached like a whale," the superstar saw a triathlon and was inspired. "I said, 'I think I could do that.' … Maybe we could raise some money and do something really great"," she told Good Morning America (via ABC News).
She waited six months after giving birth, but soon enough Lopez had signed up for the 22nd Annual Malibu Triathlon, a race involving running, swimming, and biking. While she had become well-known for taking on physical challenges, Lopez admitted that the swimming leg of this competition would be the hardest part for her. Nevertheless, Lopez was determined to complete the race even if she had to "crawl across that finish line."
On race day, Lopez found family, friends, and fans were cheering for her as she took on each part of the race (via People). With a time of 2 hours, 23 minutes, and 28 seconds, the then-still-new mother of twins pumped her fists in the air triumphantly after crossing the finish line. Was she tired? More like exhausted, but she met her goal and raised money for the Children's Hospital of Los Angeles.
Jennifer Lopez doesn't like all healthy foods
With spinach smoothies and kale salads making regular appearances on Jennifer Lopez's personal menu, it's hard to imagine there are many healthy foods she doesn't like. But according to her personal chef Kelvin Fernandez, a couple of surprisingly common ones are not her first choices.
Although Lopez will eat salmon, this popular fish known for its high amounts of omega-3 and omega-6 fatty acids is not her favorite by any means. "I know Jennifer doesn't love salmon, so if I'm cooking salmon for the [table], I always do a sea bass or a halibut or cod for Jennifer," Fernandez told Us Weekly. He continued, saying, "She's just not a fan of the texture and taste of salmon." Fortunately for Lopez, sea bass is also an excellent source of healthy omega fatty acids.
In addition, Fernandez said that Lopez is not a big fan of fruits or berries. Granted, this doesn't mean she won't have berries in a smoothie or even as a snack (via Us Weekly). But at the same time, her meal plan doesn't include a category specifically for fruits the way it does for vegetables and protein. In fact, Fernandez confirmed that regular items in Lopez's fridge and pantry include turkey bacon, eggs, celery, cucumbers, and spinach, as well as fresh berries like strawberries for her children.
J. Lo's upper arms routine
If you think about everything you use your arms for in a day, it's easy to assume they automatically get all the exercise they need. But targeting different muscle groups (even often-used ones) can be a great way to develop additional toning, as well as increase your strength. With this in mind, Jennifer Lopez pays special attention to her arms during her weekly workouts.
Her trainer David Kirsch told Health that he has Lopez do a bicep exercise called the bent over resistance row with curl. As the name suggests, it involves using resistance bands, a piece of equipment that the trainer has found very useful for his clientele. "I like using resistance bands because these workouts are something my clients can easily do with no time at the gym, and they are so transportable," Kirsch said.
Besides toning Lopez's arms, Kirsch said that this exercise is good for her core, glutes, and quads. And as if this wasn't enough of a workout for her arms, Lopez started boxing again in 2020 for her role on the cop drama "Shades of Blue." Lopez told People, "It's very hard, but I did pick it up again for [the show]." Originally, she learned the sport for the action-comedy film "Money Train" and said it had "always been a good workout."
Jennifer Lopez is no stranger to restrictive challenges
For anyone who is unfamiliar with the 10-day challenge, Jennifer Lopez summed it up on the "Today" show: "It's no sugar, no carbs" (via Women's Health). While this might sound like not much of a challenge for someone as disciplined as Lopez, remember, one of her five food and drink categories is carbohydrates (via Us Weekly). So, it wasn't long before even she felt the effects of this 10-day detox.
"[The] first and second day is when you realize you're addicted to sugar," she said, adding that "it's like a drug" (via Today). For Lopez, this no-sugar reset for her body meant she ate no fruits, yogurt, or milk except for maybe a little half-in-half in her coffee. Although she said she experienced some mild sinus issues, she noticed big changes by her fifth sugar- and carb-free day (via Women's Health). "You will lose a bunch of pounds on it, you will lose inches because … once you get rid of that sugar and those carbs it just starts coming off."
In addition to physical changes, Lopez said the diet could have longer-term impacts on your choices when you're craving something sweet (via Women's Health). "Now when I go back to eating fruit in 10 days, it's going to taste like an ice cream sundae," she said. If you're interested in trying this or a different type of diet to "reset" your body, you should first speak with your health care professional.
The lowdown on J. Lo's full-body workout
Yes, Jennifer Lopez carves out time to target specific muscle groups during her weekly workouts. But that doesn't mean she doesn't see the value of exercise sessions that help her "feel the burn" throughout her entire body. As her trainer David Kirsch told Shape, he uses more than one type of full-body circuit, each designed to give Lopez an intensely effective full-body workout.
One such circuit involves incorporating a medicine ball into several different exercises like sumo squats, high planking, and the overhead slam. It also includes lunges like the reverse lunge and the glider lateral lunge. In addition, Lopez does side plank crunches and plank dumbbell row to triceps extensions, as well as shoulder taps (planks where you alternate touching each of your shoulders with your hands) and several different resistance band exercises like the torso rotation, the squat to biceps curl, and the tricep extension.
Although Kirsch praised Lopez for taking on such workout challenges, you should speak with your health care professional before you step into her shoes sneakers. Remember, when Lopez was training for a triathlon, she advised, "You got to start slow, give yourself time" — especially if you're just starting your fitness journey (via ABC News). "You have to start little by little and work up."
Will Jennifer Lopez's diet and exercise routine make you look and feel fit and fabulous?
This truly is the million-dollar question. On the one hand, Jennifer Lopez had demonstrated commitment to her fitness. She's made adjustments to her diet and tried different workouts, including a triathlon (via ABC News). But there is an elephant in the room that needs to be addressed.
Lopez is very well off financially; Celebrity Net Worth estimates her net worth at $400 million. This means she can easily do things like hire trainers and purchase organic foods. This very point was addressed by Lopez's trainer David Kirsch, who told The Wall Street Journal, "The haters say, 'She has unlimited wealth, she has chefs, she has trainers.' And I say, there are ways to move your body that don't cost a million dollars. … It's easy to make smarter food choices. And there's a plethora of information out there. Jennifer talks about what she eats."
At the end of the day, though, everyone is at different points in their lives both in terms of age and health. For some, Lopez's diet and exercise regime might be a good fit. But others may want to focus on certain aspects like cutting back on sugar or using resistance bands more often during their workouts. And, yes, some of her choices you may not choose for yourself — and that's fine. Just as Lopez didn't want to be put in a box, you shouldn't either when it comes to your own health and fitness.