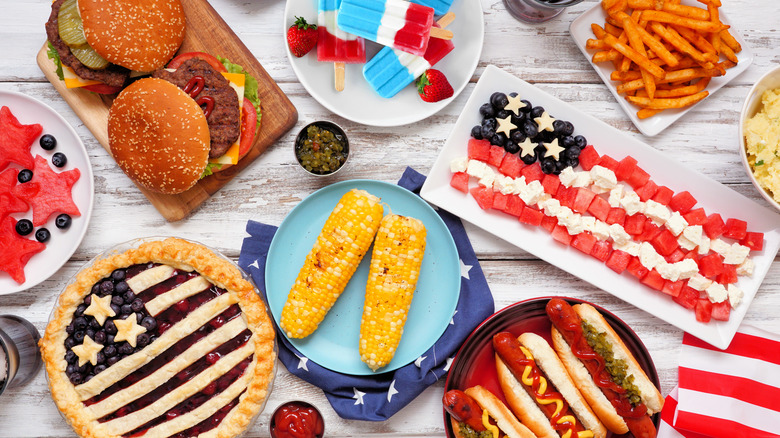 The Fourth of July is just around the corner and for many people, that means cooking up a spread of classic American dishes. Whether you love firing up the grill for hot dogs and hamburgers or slicing up a perfectly ripe watermelon, food tends to be a central component of celebrating Independence Day. But if you find you don't feel like cooking up several meals on the Fourth or simply want to take a break from the grind, then there will be plenty of deals and freebies from all kinds of restaurants, chains, and retailers.
From Krispy Kreme to Sonic and even Walmart, there are tons of places you can take a spin by to get food deals and freebies over the weekend or specifically on the Fourth of July. Even if you find you're tuckered out after cooking all weekend, you can still look forward to taking Tuesday, July 6 off for National Fried Chicken Day, by swinging by Taco John's, according to a press release received by Mashed. You can get a free chicken taco when you make a purchase in the app. But until then, focus on taking advantage of these red, white, and blue deals.
Breakfast bargains for Independence Day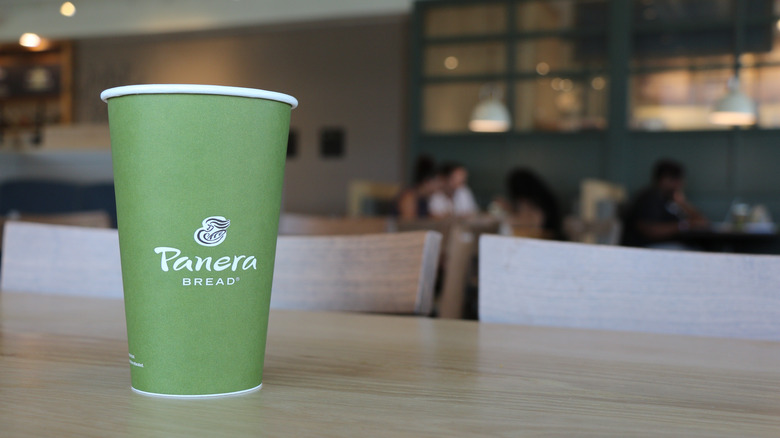 Kick off Independence Day the right way with free donuts and coffee. Krispy Kreme is always in on celebrating holidays and even just celebrating with free donuts because everyone could use a little sugary treat from time to time. This holiday, according to Krispy Kreme, the chain is rolling out themed red, white, and blue donuts topped with festive sprinkles, an eagle, and some are even filled with creme. There's also a flag-shaped box of 20 mini donuts available too. When you buy any dozen between June 28th and July 4th, you'll get a dozen free original glazed donuts. So swing by for a sweet start to the day.
If you're more of a savory breakfast fan, there's also a deal for you. At Panera bread, if you show your vaccination card, you can be eligible for a free bagel from July 2nd to July 4th, per Parade.
Fast food deals on the Fouth of July
Sub lovers are in luck this holiday. Firehouse Subs is giving rewards members who make a purchase on July 4th an additional 1,776 bonus points which can be used for free subs among other rewards (via WNCT). Just make sure you're signed up by the Fourth of July to get the bonus points.
Jimmy John's is giving customers half off their second sandwich when they buy an eight- or 16-inch sandwich through July 5th. Just use the code SAVEON2 in the Jimmy John's app to get the buy one get one half off deal.
If you sign up for emails from Carl's Jr, you will be able to feast on two of their Angus Burgers for just $7 this Fourth of July, according to Parade.
Restaurants with celebratory deals
Several restaurants are also running deals. For one, the Cheesecake Factory is offering a delicious brunch from 10 a.m. to 12 p.m. on Saturday and Sunday featuring Fried Chicken Eggs Benedict, Bruleed French Toast and Lemon Ricotta Pancakes, per iHeart Radio.
Red Lobster also has a family meal deal that averages about $7 per person for a family of four. The meal includes chicken strips, shrimp scampi, salmon, or other options with two large sides and eight of their signature biscuits.
Families who dine at Fogo de Chao can get free kids meals between July 1st and 5th for kids 12 and younger. The full churrasco meal is available to kids who dine-in with those who purchase a full-price meal.
Cheddar's Scratch Kitchen is offering a Family Bundle to go that will feature baby back ribs, chicken tenders, two sides, and croissants. You can purchase this kit for $24.99 on the Fourth of July, according to iHeart Radio.
Drink deals to snag
According to a press release received by Mashed, Instacart will have a couple of drink deals to take advantage of. The first deal is $3 off select Brita pitchers through the 4th. So if you need a new filtered pitcher, now's the time to pick it up.
PepsiCo and Instacart are offering $1 off select Bubly products. Coca-Cola and Instacart also have a July 4th deal. When you spend $25 on select Vitaminwater, Powerade, AHA, or Smartwater products, you can save $5 or get free delivery. So stock up now.
Budweiser is also celebrating both the Fourth of July and how far the country has come in the last year since the pandemic. In addition to a film the beer company is releasing, they'll also be giving folks a free round over the holiday weekend, according to a press release received by Mashed. Adults over 21 can visit MyCooler.com/beer between July 2nd and 5th to upload a photo of themselves in their favorite place to get a free beer. They'll then get an email with a $5 digital gift card valid through July 5th. There's also a sweepstakes for $10,000 to throw a proper Fourth of July party. Just follow @BudweiserUSA and comment on a social post across Twitter, Facebook, and Instagram with #GoFourthAmerica #Sweepstakes and your Venmo handle between July 1st and 2nd by noon for a chance to win.
Some summer favorites are also returning. Sonic has also launched its Red, White, and Blue Slush Float across the U.S. so everyone can try the Blue Raspberry Slush topped with ice cream and Classic Sonic Slush with real strawberries (via Chew Boom).
Save on retail deals for the Fourth of July
According to a press release received by Mashed, Instacart has a lot of exciting retail deals too. Through August 1st, you can get $1 to $1.50 off select Siete products or $1 off Good Foods guacamole. SkinnyPop Sweet Vanilla Kettle Popped Popcorn and Pirate's Booty Cheddar Blast are $1 off through July 31st.
Get $1.50 off select Hidden Valley Ranch products through July 31st or $3 off Kingsford charcoal, lighter fluid, or wood pellets through July 4th. Through July 31st, General Mills will offer $0.50 off two select Chex Mix, Chex Mix Muddy Buddies, Bugles Corn Snacks, Gardetto's Snack Mix, and Food Should Taste Good products, or two select Nature Valley snack products. There's also $1 off Totino's Pizza Stuffers Pizza Snacks products and $1.50 off two select Yoplait Yogurt multipacks. You can also get $5 off or free delivery when you spend $25 on General Mills products through July 25th.
Applegate will also offer $5 off or free delivery through July 18th when you spend $15 on select products like burgers, cheese, and hot dogs. The final Instacart deal is from PepsiCo. Through July 11th, spend $30 on PepsiCo products like Lay's, Doritos, and Tostitos to get $5 off or free delivery.
According to Eat This, Walmart is also offering discounted prices on party size, snack packs, and family-friendly sized snacks and sides. From Cheetos and kettle chips to Oreos and ground beef, expect marked-down prices at the budget-friendly retailer. Finally, Misen.com is giving 20% off their whole collection between July 1st and July 4th when you use the code JULY21 at checkout.
Sweet treats to save on
No Fourth of July celebration would be complete without a sweet treat. Naturally, ice cream tends to be a favorite go-to during the sweltering summer months too. Fortunately, Alden's Organic Ice Cream has you covered with their new summer collection, according to a press release received by Mashed. The new flavors include a certified vegan strawberry lemonade bar, a certified vegan horchata bar, and a certified gluten-free root beer float bar. Five lucky people will win a year's supply of ice cream on July 1st, but everyone can take advantage of a special coupon that's valid through all of July.
Dreyer's Ice Cream has also paired with Instacart, according to a press release received by Mashed. When you spend $20 on select Dreyer's ice cream products, you can also get $5 off or free delivery through the end of July. So you can definitely stay cool this month with refreshingly ice-cold sweet treats for the Fourth of July and beyond.