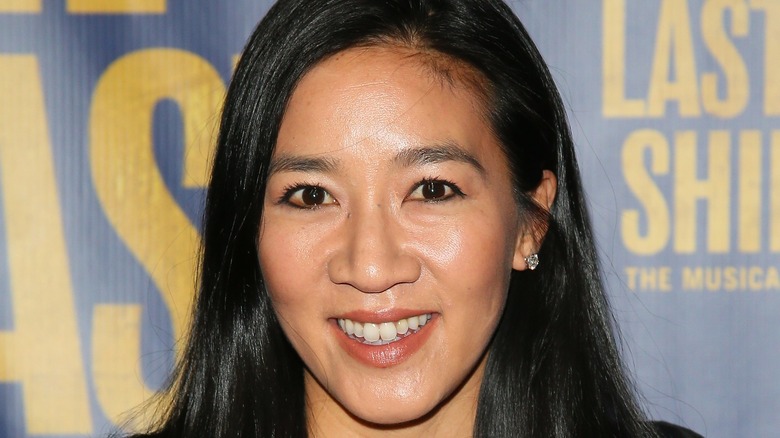 At the turn of the millennium, Michelle Kwan was on top of the world. She overcame broken bones, supposed skater rivalries, and an unexpected growth spurt to win the silver medal for Team USA at Nagano in 1998. Then she medaled again, this time taking home the bronze, in 2002 at Salt Lake City. With her slick fashion sense, wholesome image, commercial endorsements, and record-breaking list of wins, Kwan was unstoppable … until an unexpected injury took her out of the running in 2006, and her career started to cool off (but more on all that below).
Since then, Kwan has been relatively quiet on the public front, despite joining the U.S. Figure Skating Hall of Fame in 2012. Even as her once-"nemesis" Tara Lipinski was staging daily fashion shows at the 2018 Winter Olympics in Pyeongchang, Kwan has mostly stayed on the sidelines. So, what's behind Michelle Kwan's lowkey lifestyle over the last few years? Let's take a look at some of the reasons you don't hear much from the supreme figure skater anymore.
Michelle Kwan left the ice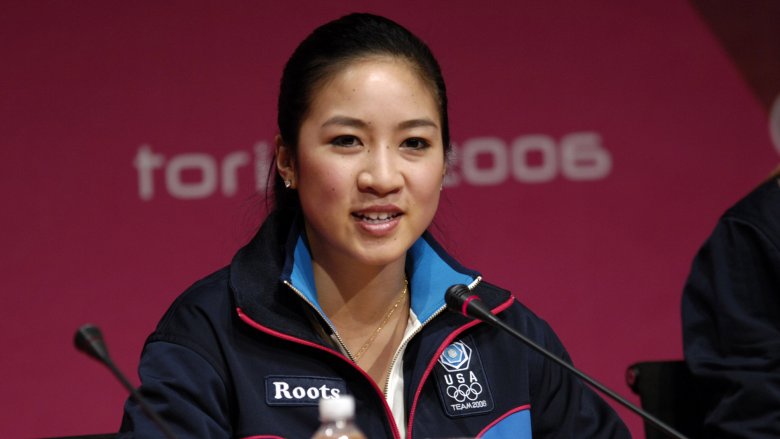 Following her successful runs at the 1998 and 2002 Olympic games, Michelle Kwan seemed likely to win big at the 2006 Olympics in Turin, Italy. However, she ultimately dropped out of the competition just days before it would begin, citing continued pain from a groin injury. And at that, her career paused at just 25 years old. "There's no easy transition for professional athletes, Olympians, because you focus your whole life — for 20 years of my life, it was all about skating," she told People TV. "And then, when I finished it was like, 'Now what?' I think athletes struggle with the identity."
Luckily for Kwan, that familial support system that helped her keep her head on her shoulders during her Olympic career also helped guide her in the right direction after her time on the rink was done. Immediately after she withdrew from the 2006 Olympics, she enrolled in college at the University of Denver and worked as a volunteer State Department diplomat while attending school. Kwan found a second passion for diplomacy during her time with the government, and, instead of trying to stage a comeback for the 2010 Olympics, she went on to earn Master's Degree from Tufts.
"It didn't feel like it was a hard choice, but it was the right one for me at this time," Kwan told The Boston Globe. "Grad school, new experience, everything that I've always wanted. It's a new path.'"
She's her own worst critic
Being thrust into the international spotlight can put a lot of pressure on a young woman, especially one whose figure is such an essential element of her success. For Michelle Kwan, she quietly battled with body image and self-esteem issues when she was younger.
In 2017, she opened up to Cosmopolitan about her silent struggle, telling the magazine, "I was a teenager and going through puberty very publicly, it was tough. You're on [magazine] covers, being interviewed, and just trying to be the best — and there's a lot of pressure that comes with that." Kwan credits her mother's devotion and care to her ability to overcome her self doubts and has decided to be that source of strength for others who might need it. "Whether it's competition, setbacks, fear of failing, or body image. I hope that [younger skaters] know I'm here for them to give honest advice," she said.
She added that the social media generation can only serve to heighten that intense self-scrutiny, what with the barrage of comments from outsiders. While Kwan maintains an energetic digital presence, she doesn't get too personal with her posts and is certainly not scoring any headlines as a result of them.
Michelle Kwan refused to fan the feud flames
Another reason Michelle Kwan doesn't make so many media waves as she did during her time on the ice is that she has declined to continue her supposed feud with Tara Lipinski.
In January 2018, Kwan denied that there was ever really any bad blood between them. "I think what the media likes to play up is this like rivalry between athletes. When in fact, you're only competing against yourself and you're trying to do your very best," she told NBC. "In figure skating, you have four minutes to do your best. It's your time, you do your best. You know? As opposed to — it's not a tennis match. I'm not directly against a person. I'm there to do my best."
However, Kwan has admitted that she did have a minor rivalry with Russian skater Irina Slutskaya, whom she competed with throughout her youth. "We were both able to be very serious; in the locker room, there was always a very thick tension because we were so focused and in our zone," she told theChicago Tribune. "But we were able to be on tour together and joke around. We definitely rooted for one another. It was like, 'Let the best person win.'"
Inside Michelle Kwan's tough break
The conclusion of her competitive skating career isn't the only difficult ending Michelle Kwan has had to endure. In 2017, her husband of four years, Clay Pell, filed for divorce from Kwan, citing irreconcilable differences. Pell, a former Obama Administration staffer who once ran for governor of Rhode Island, told People, "It is with deep regret that I share that Michelle and my marriage is coming to an end. This is a sad and difficult turn of events for our family. I love Michelle, and wish her the very best as her life takes her in a new direction." While that may sound like standard fare when it comes to divorce statements, there was a lot more to it than that.
Court documents later revealed that Kwan was caught completely off guard by Pell's filing and in fact had only found out that he was ending their marriage through Twitter. "Plaintiff initially learned that the Defendant had filed for divorce in California by means of a 'Tweet' on March 29, 2017 and shortly thereafter from the online copy of an article published in the New York Daily News," paperwork revealed. She later filed for divorce, as well (via Providence Journal), and the whole ordeal marked an unusual moment of messiness in the media for Kwan, who'd otherwise maintained a steady image.
This former figure skater got political
In addition to working with the State Department and supporting her ex-husband's career in public service, Michelle Kwan has also done a lot of political work behind the scenes. In 2016, she began working for then-presidential candidate Hillary Clinton's campaign, even running a phone bank for the former secretary of state.
Kwan's title for the campaign was "surrogate outreach coordinator," which essentially meant that she was on hand to help bring in other celebrity voices to support Clinton's bid for the White House. "There was no way that I could sit on the sidelines and watch it without getting involved. It was a very quick decision," she told New York Magazine. Kwan added that, for her, supporting Clinton was a no-brainer, given her family's own immigrant history. "Every day I'm reminded about my personal story, about what's at stake in these elections. I think of my parents, and as I look around the room, we probably share similar stories, of how our parents, grandparents, or great-grandparents might have immigrated to the U.S.," she said. "It's so the next generation of Americans have the ability to dream that dream."
Alas, Clinton was not successful in winning the 2016 race, and two years later, Kwan was still not ready to publicly discuss the loss. She told Mic simply, "Let's not talk about that. I don't think there would be enough time to talk about that."
Michelle Kwan returned to the rink
Although 2017 was difficult for Michelle Kwan on a personal level, she did get the chance to return to the rink and seemed to enjoy it quite a bit. She shared a video of herself performing a few key moves on the ice and captioned it, "I need to ice skate more often I forget how fun it is!!" She's since shared more glimpses of herself getting back to business, including shots of her completing some impressive jumps.
She told W magazine that she decided to lace up her skates once again after watching other youngsters like Mirai Nagasu prepare for the world stage, saying, "I said, 'You know, I should do it before I'm 40.' You don't realize how quickly age crawls up to you." Of course, it's not been so easy for Kwan to slip right back into her old routines. "Once you're on the ice, there are so many things: It's rhythm, once you're up in the air, and falling … I fall, and I'm like, 'Wow, that hurt,'" she told the magazine. Still, she always seems to get right back up.
As Kwan told Time, "You fall every day, whether it's in a job, or you miss something else, but you learn how to do it better next time. You learn it in sports. That's a life lesson."
She steered clear of a certain stage
Olympians — figure skaters, in particular — gravitate toward "Dancing With the Stars" pretty naturally these days, but Michelle Kwan doesn't seem to want that kind of attention. Although she is reportedly in high demand for the show, with audiences showing a significant interest in seeing her dominate the world of dance, she has politely declined on multiple occasions. "I've been asked a few times, but each time I was either going to school or touring," she told Forbes. Part of the reason Kwan has been hesitant about doing a reality competition series like that, as so many of her peers have done, is that she's reticent to re-approach the spotlight. "It just doesn't come naturally to stand up and speak in front of people. And that's kind of crazy since I skated in front of thousands of fans for years," she told ESPN. "It takes a lot of effort for me to come out of my shell."
Although Kwan has admitted that such an opportunity looks "fun," she also knows that it would require a lot of personal investment. "I just don't know if I can find the time right now, moving to Los Angeles for the show," she explained. "I love all these new challenges I'm facing. I still need to see what I can do with this life."
Michele Kwan's passion projects keep her super busy
Michelle Kwan's history as a diplomat has served her well in recent years, as she has exhibited a passion for promoting humanitarian causes. In May 2018, she was part of the Coalition of Asian Pacifics in Entertainment's campaign to promote American and Pacific Islander Heritage Month, recalling her own family's journey that informed her own. "My parents sacrificed so much to give me the opportunity to figure skate," she explained in a video. "My parents immigrated to the United States in their early twenties with nothing in their pocket but a seed of hope to build a better future for their children."
She's also worked with the Women's Sports Foundation for years in hopes of supporting other ambitious young women who may benefit from the same grant that helped to fund her own early athletic work. "My parents struggled to make ends meet, let alone pay for skating bills," she toldNew York Live. "Whatever Women's Sports Foundation needs, whatever I can do to empower young girls to participate in sports, [I'm in]."
We doubt Kwan's momentum for doing good will be slowing any time soon.
She's inspiring a new generation of Asian ice skaters
While Michelle Kwan hasn't taken to the ice professionally in years, her legacy is always there. Case in point: Alysa Liu, the 15-year-old Chinese-American figure skater who is blowing up the junior circuit. In a 2020 profile on Kwan in the Los Angeles Times, Liu's father credited the figure skating legend with introducing his daughter to the sport.
"I always knew the responsibility of being looked up to by young girls and boys who watched me closely, watched my every move," Kwan said, noting that her fame came before social media. "I know that they watched every interview and it kind of felt like they knew me, which they did. The backstory of my family and my upbringing, I think, really connected with the Lius. I feel very honored that they thought of me as somebody to look up to."
Kwan added, "You hope that you made an impression and an imprint, a positive impact on people." Revealing that being so open about her life helped others relate, she noted, "I was never afraid to emote. I feel like the people who partook in [my] journey experienced a lot of emotional moments during those 20 years with me, and looking back, I was a part of their lives."
Michelle Kwan joined Joe Biden's presidential campaign
Michelle Kwan added another political post to her resume when she joined Joe Biden's presidential campaign as a surrogate in April 2019. "She comes in with a lot of relationships that maybe people on the Biden team don't have. She knows celebrities. She's known people at the State Department for a long time. She's going to jell very well with the people over there," Democratic strategist, Adrienne Elrod, said (via The Washington Post). "And any time that we needed a last-minute surrogate to go somewhere or we needed someone with star power to go somewhere on behalf of the campaign, we could just send Michelle."
While campaigning for Biden in New Hampshire, Kwan revealed why she was supporting the former vice president. "I had the opportunity to figure skate," she told the Des Moines Register. "That was beyond what parents could dream of. But that's the American Dream. And that's, to me, what's at stake. And that is why I proudly support Joe Biden. He always is a fighter for everyone — not just those at the top." The figure skating legend, who turns out to have been a Biden fan from day one of his campaign, added, "Joe Biden is, to me, has our best chance of winning."