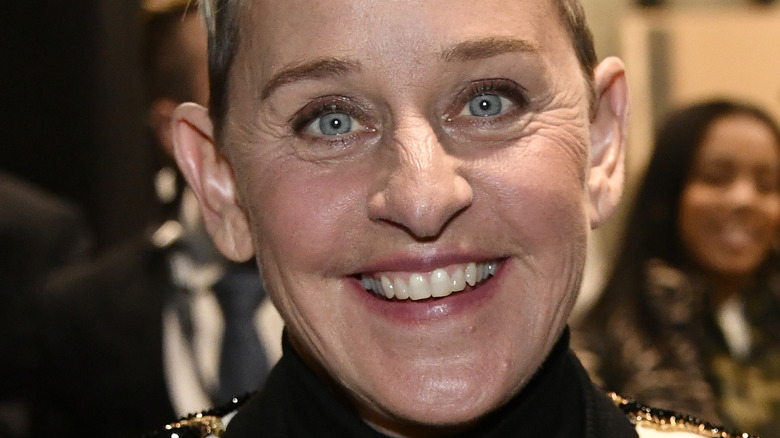 It's safe to say that 2020 wasn't the easiest year for most people. The world was ravaged by a pandemic, which completely upended life for millions. Additionally, Ellen DeGeneres had a pretty … messed up 2020, and not just because she had to shift her popular talk show to a remote format. In July 2020, BuzzFeed News published a scathing article that recounted the stories of several ex-employees of "The Ellen DeGeneres Show," all who recounted workplace troubles.
The story cast the once-beloved host under a cloud of judgement, and in May 2021, she announced that her long-running show would come to an end (via The Washington Post). "Next season, Season 19, is going to be my last season," DeGeneres said of the decision. "You all have changed my life … This show has been the greatest experience of my life and I owe it all to you."
Since the bombshell report and announcement that her show is coming to a close, it seems as though DeGeneres has kept a pretty low profile. But for a woman who has dominated show business for decades, we want to know what's next and what she's been up to. This is what Ellen DeGeneres has been doing since announcing her show was ending.
Ellen DeGeneres has been planning for a Hollywood A-lister final season of her talk show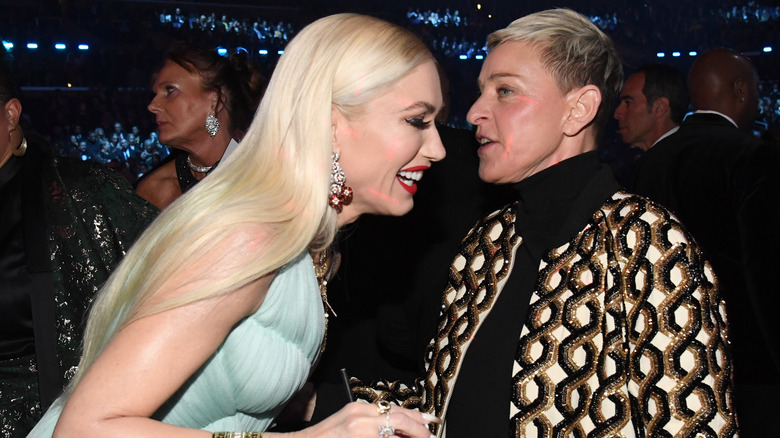 Ellen DeGeneres has been known for her bold humor and her show's top notch celebrity guests. Given that she herself is a huge star, it doesn't come as a big surprise that Hollywood A-listers have all wanted to sit across from her. But since it was announced that "The Ellen DeGeneres Show" is coming to an end, DeGeneres and her team have been busy planning a celeb-packed final season. As noted by Page Six, DeGeneres has been "gearing up" for her departure from the show, and as such, is working with some of her closest famous friends to make the final season the very best it can be.
Page Six reported that some of Hollywood's most prominent representatives have been contacted by DeGeneres' producers, so expect to see celebrities such as Kevin Hart, Jennifer Aniston, and Justin Bieber on the screen with the talk show host in her final season. "Ellen's staff has already been out to high-profile reps to get their talent on board for one big final week," a source told Page Six. "The plan is to tape a job lot together, so Ellen leaves with a bang."
Ellen DeGeneres has been spotted, experiencing a wide array of emotions, in her home of Montecito
When Ellen DeGeneres announced that her show was coming to a close, she was visibly upset. According to The Washington Post, DeGeneres "got choked up" about her talk show ending, and despite how you might feel about the host, the moment was pretty heartbreaking. Given that the conclusion of her show marks such a huge shift in her life, it makes sense as to why DeGeneres has been spotted looking pretty upset.
As per the Daily Mail, DeGeneres was seen in her residential town of Montecito, California in June 2021 looking "emotional" as she went on errands. She was photographed looking visibly upset, as if she had been crying, as she left the Montecito Country Mart with a water bottle in hand. The Daily Mail caught up with DeGeneres a few days later, and she looked to be in higher spirits. But it's safe to say that this period of DeGeneres' life has been an emotional time — to be honest, we can't imagine what it must feel like to have such a monumental part of your career take its final bow.
Ellen DeGeneres has been focusing on her furniture competition show on HBO Max
While Ellen DeGeneres' talk show might be coming to a close, that doesn't mean that she doesn't have other programs out there. One of those ventures includes her new furniture design competition show that is streaming on HBO Max. As noted by Architectural Digest, DeGeneres' show, "Ellen's Next Great Designer," is full of fantastic home design projects and is a must watch. "Where is design heading? What are the exciting things that the most talented and creative people are thinking about that don't exist yet?" DeGeneres told Architectural Digest. "No other show is asking and answering these questions, so I've created one that does." So while one of DeGeneres' television ventures is coming to a close, it seems as though she has poured her focus into one of her passions.
May we remind you, as well, that DeGeneres is responsible for an entire line of home products, ED by Ellen. The online store features clothing, rugs and decor, bedding, bathroom products, dining features, lightning, and more. It's safe to say that while we might not see DeGeneres on-screen in her talk show capacity anymore, she's got a lot of irons in the fire.
Ellen DeGeneres has bought her third home since announcing her show was ending
When you know that you're going to be out of a job, it makes sense to try to hold onto every penny you have. But that doesn't really seem to be a concern for Ellen DeGeneres, because in the aftermath of her announcement that "The Ellen DeGeneres Show" was coming to an end, she made a pretty hefty real estate purchase. According to Architectural Digest, DeGeneres and her wife, Portia de Rossi, purchased their third Montecito, California home — a $2.9 million bungalow style property, to be specific.
DeGeneres' real estate portfolio is already pretty impressive, and the new addition added yet another stunning abode to the celebrity's assets. As reported by Architectural Digest, the house is 1,691 square feet and features two bedrooms and two bathrooms. It sits on about an acre of land, and is very close to the Montecito site, Butterfly Beach. The purchase came about a year after DeGeneres dropped $49 million on a four acre property in the same area. It seems like Montecito has really captured DeGeneres' heart, and from the looks of it, her real estate investments will only continue to grow.
Ellen DeGeneres has been particularly bold on her show since announcing that it's coming to a close
You might as well go out with a bang, and that certainly seems to be the case for Ellen DeGeneres. After announcing that her talk show is coming to an end, DeGeneres has been particularly bold on-camera, and has even made some eye-widening remarks about her departure. As per Cinema Blend, DeGeneres had comedian Yvonne Orji on her show, and had a "ready to enjoy her freedom" attitude during the interview.
Orji shared that she would one day love to be a talk show host herself. DeGeneres was ready with a joke, and told Orji that she should go for it. "There's gonna be an opening. I got one more year," she quipped, addressing her departure from the screen in a pretty open and upfront way. "I'm not going away right now … I think that's good to put it out there, because manifestation is how you do it."
DeGeneres then told Orji that she should guest host the show to "see how it feels." If one thing is for sure, DeGeneres is ready to march to the beat of her own drum.
Ellen DeGeneres has received an outpouring of support from this on-screen partner
Ellen DeGeneres typically doesn't appear on her talk show by herself, but is joined by a DJ. The role has been occupied by Stephen "tWitch" Boss for some time, and the two share a fantastic on-screen dynamic (plus, tWitch dances on the show from time to time, which is always a treat). Since announcing that "The Ellen DeGeneres Show" is coming to an end, DeGeneres has received support by a number of people, but few match the bolstering that she has received from Boss.
In a sit down with E! News, Boss shared that he thought DeGeneres would renew her contract because, "She's been working really, really, really hard," but after the allegations of workplace assault tanked her ratings, concluding the show became inevitable. However, Boss has stood firmly beside DeGeneres in the wake of her shocking announcement, and he told E! News that he is "really proud of her." "I know that she's been at it for 18-plus years now. And it's not easy," he explained. "I'm proud of her that she's kind of put an earmark on the closing of a saga to begin her next chapter."
Ellen DeGeneres had to deal with this tough news
Ellen DeGeneres' daytime talk show will be on the air for one more season, but the television world has already signaled that it's moving on from her — talk about a devastating change. As reported by the BBC, DeGeneres' time slot has already been replaced by Kelly Clarkson's daytime talk show, which as of publication is in its second season. Starting in the fall of 2022, viewers will see Clarkson grace their screens during the time slot that has belonged to DeGeneres for years, and it's certainly a change that will take some getting used to.
Tracie Wilson, who serves as the executive vice president of NBCUniversal Syndication Studios, said about the shift, "Kelly and our entire production team put their heart, intent and incredible passion into making a show that resonates with people of all ages, cultures and backgrounds. We're … looking forward to becoming the premier show in daytime for years to come." So not only has DeGeneres dealt with the allegation fallouts, the ending of her show, and all the personal shifts that have come with the decision, but she's watched the entertainment world move on. Talk about a blow.
Ellen DeGeneres made this real estate decision after announcing that her show was ending
Yes, we're here to talk again about real estate, and no, it's not about the purchase Ellen DeGeneres made that was aforementioned. As noted by Fox Business, DeGeneres made yet another real estate decision after announcing that her show was coming to an end, and this time, the huge expense seems a little odd. Back in 2017, DeGeneres and Portia de Rossi purchased a sprawling ranch in Montecito, California for $7.2 million. It was (brace yourselves) a fixer upper, and the two had the property flipped before selling it in 2018 for $11 million. Only in California are fixer upper homes worth millions of dollars (our condolences to anyone who wants to buy property in the Golden State).
But as Fox Business reported, DeGeneres repurchased the home for $14.3 million shortly after revealing the news that she'd be leaving daytime television. Why did they sell the house, only to purchase it again? We're not entirely sure, but it's obvious that the couple have money to spend. DeGeneres and de Rossi will of course inherit some A-list neighbors as well with this purchase, including Oprah Winfrey (who just so happens to live next door) and Prince Harry and Meghan Markle.
Ellen DeGeneres has continued to use her platform to support charities and social causes
Ellen DeGeneres has used her platform to champion good causes. While her time on daytime television is concluding, it looks like she has every intention of maintaining her support for different charities, and she has made a point of posting about her support since announcing her show was ending. DeGeneres took to Instagram in June 2021 to express her support for St. Jude Children's Hospital, writing, "I'm so proud to support @StJude and their life-saving mission. Families never receive a bill from St. Jude for treatment, travel, housing, or food, and #StJudeWontStop until there's a cure!" DeGeneres then encouraged supporters to purchase t-shirts in order to help raise money for the hospital.
DeGeneres has been an outspoken champion of St. Jude's for years. In 2016, she won the People's Choice Award for Favorite Humanitarian, and donated the $200,000 award to St. Jude, according to WMC5. Since letting the world know that the "The Ellen DeGeneres Show" would be coming off the air, DeGeneres has also maintained her vocal support for the LGBTQIA+ community, taking to social media to express her admiration of the newly designed Pride flag.
Ellen DeGeneres revealed that she had planned on finishing the show after Season 16
Since announcing that "The Ellen DeGeneres Show" would be coming to an end after Season 19, Ellen DeGeneres spent some time cleaning up some confusion surrounding the timing of the bombshell news. In her first interview given after the announcement was made, DeGeneres sat down with The Hollywood Reporter and explained that while the workplace allegations made things really difficult, she had actually planned on ending the show three seasons earlier.
DeGeneres revealed that she was going to end the show after Season 16, but production wanted her to agree to four more years — she countered and said that she'd sign on for one more year, but was told that affiliate stations needed programming that was more consistent. The two parties compromised, and agreed to a three year agreement, taking Degeneres to Season 19. "Everybody kept saying, even when I signed, 'You know, that's going to be 19, don't you want to just go to 20? It's a good number.' So is 19," she revealed. "It's going to be really hard on the last day, but I also know it's time."
Ellen DeGeneres and her wife adopted a new pet after the cancelation news broke
Animals have a distinct way of making us feel better (just think of all the pandemic pets), and it looks like Ellen DeGeneres leaned on her furry friends for support in the aftermath of her announcement. Namely, she and her wife, Portia de Rossi, adopted a new kitten in late May 2020, and her name is an ode to one of their former pets. In 2017, DeGeneres sat down for an interview with Good Housekeeping and dished about her furry friends. "They offer unconditional love in ways humans can't," she explained, and talked about her animals at the time: her three dogs, Wolf, Augie, and Kid, and her three cats, Charlie, George, and Chairman. "Do I have a favorite? I couldn't possibly answer that! It's Charlie," DeGeneres continued.
Sadly, DeGeneres' favorite kitty, Charlie, died in January 2020, much to her heartache. She took to Twitter with the news, and received an outpouring of support from fans. It looks like in her time of change, DeGeneres has found her new Charlie; her newly adopted kitten is named Charlie, too, as the little cat reminded the couple of their beloved late pet, via Instagram.
Ellen DeGeneres has been sharing some private life footage with her followers
In the time since informing her viewers (and the world, for that matter) that "The Ellen DeGeneres Show" would be leaving the air, Ellen DeGeneres has been keeping herself busy. The tactic that many of us implore when things are changing, DeGeneres has taken to enjoying her property and life on the down low, and luckily for us, she's taken social media followers behind the scenes.
In a video posted on Instagram, DeGeneres walked her followers through her home's luscious vegetable garden, pointing out the different fruits and vegetables along the way. The talk show host highlighted the onions, bell peppers, artichokes, strawberries, and blackberries that she and wife Portia de Rossi grew in their "beautiful garden," and to be quite honest, we're 100% jealous. The garden looks stunning, and when we find out that we're out of a job, we want to escape to a magical garden full of gorgeous food, too.
DeGeneres also gave her followers an insight into her kitchen, as she shared a video of herself cooking dinner for de Rossi. Needless to say, despite the changing circumstances around her show, DeGeneres looks to be thriving at home.
Ellen DeGeneres doesn't know what her career will look like after her show comes to an end
Typically when you find out that your career is shifting gears, you automatically go into "search" mode. But Ellen DeGeneres has been using her time since announcing that her show is ending to just "sit still." In an interview with The Hollywood Reporter, DeGeneres shared that while she has some ideas for what she wants to do next, she has been encouraged by her agent to relax. "I don't know how long I'll be able to do that," she confessed. "So, that's my first challenge, and then I'm going to figure it out." When asked if she would return to starring in a sitcom, DeGeneres said that she's not sure if that's "really what I want to do next," although she did reveal that she's interested in film roles, if the right project were to come along.
In the meantime, DeGeneres shared that she wants to spend some time after her talk show ends by focusing on her Rwandan campus and the conservation initiatives she's launched. "I want to be more involved with … everything that matters to me as far as the environment and animals," she added.
Ellen finally addressed the workplace allegations in an interview
Ellen DeGeneres addressed the workplace allegations that captured the attention of people everywhere at the beginning of Season 18, but she sat down with The Hollywood Reporter to discuss the issue further after announcing that "The Ellen DeGeneres Show" would be coming to a close. She said the allegations were "very hurtful," but they weren't responsible for her deciding to end the show. "If I was quitting the show because of that, I wouldn't have come back," she explained. "So, it's not why I'm stopping, but it was hard."
DeGeneres also shared that some of the stories she read about her presumed behavior in the workplace were "ridiculous" and that the unsubstantiated claims against her "just didn't stop." After an internal investigation was conducted, a number of producers were fired, but DeGeneres' reputation had taken a hit. "It broke my heart when I learned that people here had anything other than a fantastic experience," she continued. Taking the time to share her truth after her big announcement was clearly an important use of DeGeneres' time, and we're curious to see what project she turns her attention to next.